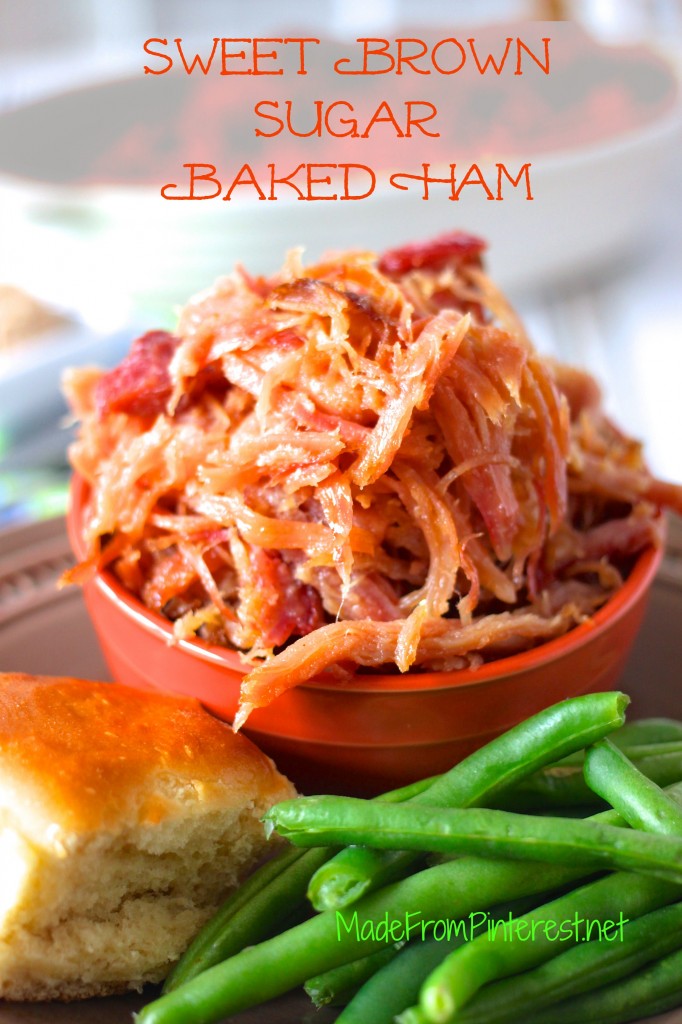 This Sweet Brown Sugar Baked Ham is SAWEET! As in really good. Very delectable. Give me some more. No you can't have some. It is all mine.
Honestly, it is that good.
This recipe is so tasty you are going to make a pig of yourself. Not because you are what you eat. No, because you are going to want to devour every yummy bite. Each morsel of ham is coated in brown sugar glazed, moist goodness. It has the perfect blend of salty, sweet meat.
And tender? It fell of the bone! It shredded with a fork! You may feel that I am overusing exclamation points, but I really feel strongly about this ham. I might be in love. And not the infatuated, twitterpated kind of love. The long lasting, real deal. I made this for Easter last year. I have been waiting all year to make it again. I didn't make it until Easter. I just couldn't wait.
You, dear reader, are my excuse. I did it for you. I made ham for dinner, and it was not a holiday. This ham won't wait for holidays. You will want to make all year long. And every day for the rest of your life. I have never had ham like this. It is the most unique way of making ham, E-V-E-R!
And the leftovers. Even people who don't like leftovers will be happy to eat this for days. Delicious in biscuits, casseroles, soups, and omelets. All of which doesn't really matter, because there won't be any leftovers. Unless you are like me and make an entire ham all for yourself and eat it every way you can think of.
Mel at Mel's Kitchen Cafe has shared what is our new Easter dinner. And I think we might have it for Thanksgiving and Christmas too. But really there are a lot of holidays are reasons to celebrate, I might just need to make it for all celebratory meals. This is an any excuse will do main dish!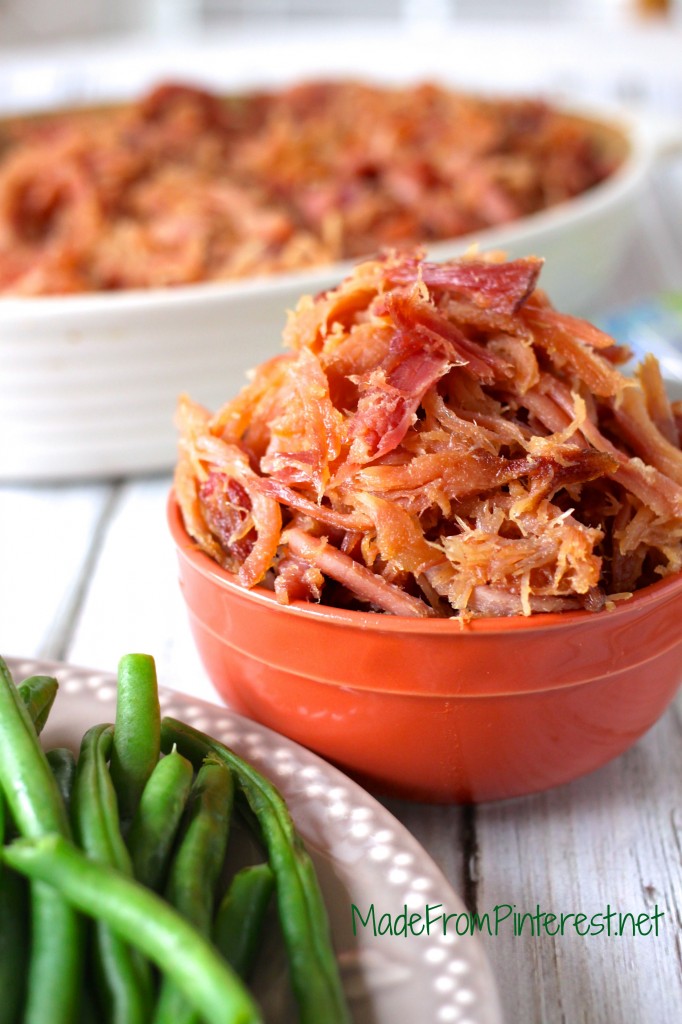 You won't be surprised when I tell you that this pin rocks!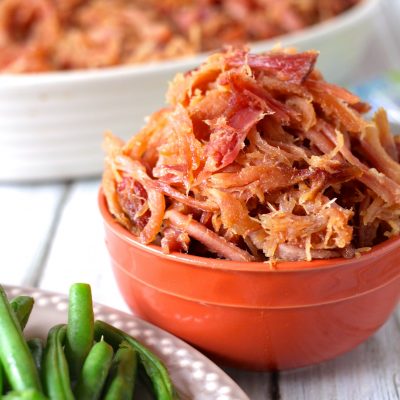 Sweet Brown Sugar Baked Ham
Ingredients
7-9

pound

precooked bone-in ham - NOT sliced

NOT spiral! Make sure it is bone-in. Mine was labeled butt. Shoulder or shank will work as well.

White distilled vinegar

around 1-3 cups

Water

2

cup

brown sugar

3

Tablespoons

ground dry mustard
Instructions
Put the ham in a large pot and cover with 2 parts water to 1 part vinegar until the ham is covered by at least an inch or two of liquid. Bring to a boil and cook at a vigorous boil for 2 to 3 hours. You will know when it is done because it will shred easily and fall off the bone. Once the water is boiling, turn down the heat to medium Watch your temperature to make sure you keep it at a boil, but not splashing out of the pot. Take care to check the meat at two hours so you do not overcook the meat. If it does not shred easily, continue boiling.

After the meat is cooked, remove the ham from the pot. Dispose of the leftover water. Let the meat cool enough that you can handle it to shred it. The meat should fall off the bone. Throw out the fat and the bones. Spread half the meat in a 9X13 baking dish. Mix together the brown sugar and dry mustard. Scatter half of this mixture over the ham. Lay the rest of the ham on top and cover with the remaining brown sugar/ dry mustard mixture. cover the dish tightly with foil and bake at 325° for 1 hour. Remove from oven, take off the foil and mix all meat around until it is coated in the juices and brown sugar mixture. It is ready to serve. Enjoy!
Notes
You will smell vinegar when boiling this. I turned on my fan to cut down on the odor. You can also cook it outdoors on a camp stove to cut down on the odor. Trust me, it is worth it!
You can boil it a few days in advance and bake it on the day you will serve it, to save time.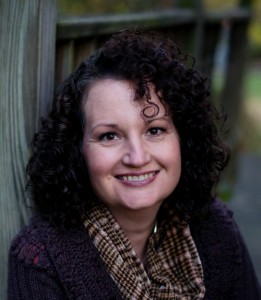 Perfect sides to go with this meal are:
Lipton Onion Potatoes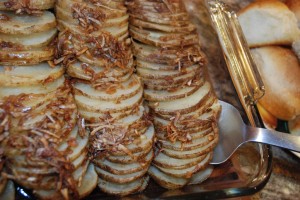 Texas Roadhouse Rolls {Copycat}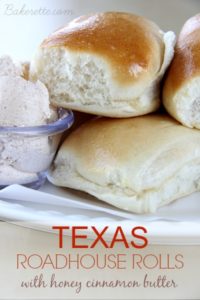 Williams Sonoma Cheesy Potato Gratin