I am a peanut butter girl through and through. That's why I just HAD to create this post about 24 ways to bring peanut butter to the next level! For all of my fellow peanut butter lovers out there, and for those who are not yet converted–this post is for you. Here are 24 things you've probably never thought to do with peanut butter, including savory, sweet and healthy recipes, plus some crazy-awesome hacks that I can't wait to try! This post may contain affiliate links. For more information, click to see our disclosure policy.
A lot of cuisines feature peanut butter as a savory component, and ohmygosh it is magical. Check out these recipes, starting clockwise from the top left corner: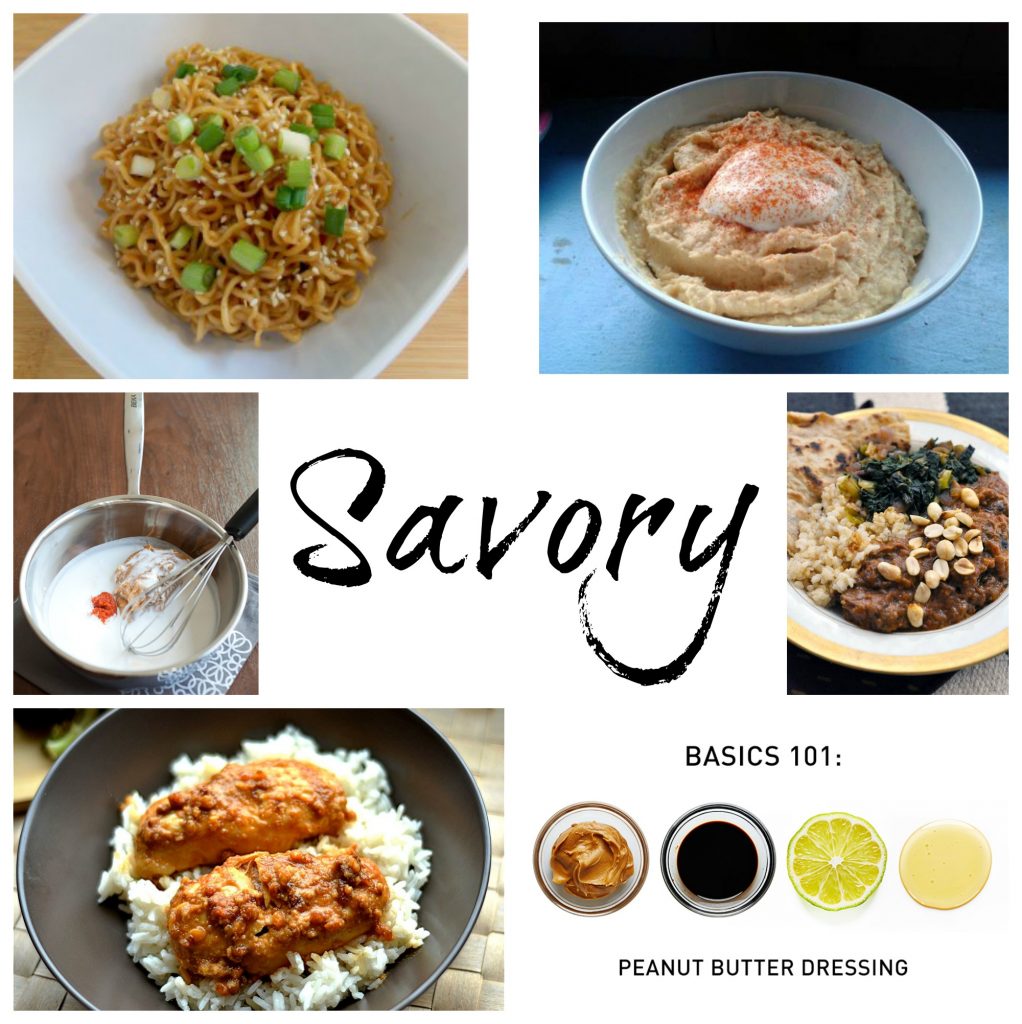 Sesame Peanut Butter Noodles: I LOVE this recipe. Not only is it crazy delicious, it comes together in a flash! It makes a great accompaniment to your favorite Asian dish, or add some protein and make it your main! Peanut Butter Hummus: Okay, this sounds totally weird. But think about it. Carrots and pita chips are great with hummus, and they're also great with peanut butter…so why not combine hummus and peanut butter? I'm dying to try this out! African Beef and Peanut Stew: When I roomed with my best friend at college, she would make "peanut butter stew." It was AMAZING. I tried to find a recipe as close as possible to the recipe she used. Try it! You won't be disappointed! Peanut Butter Dressing: With few exceptions, the only reason to eat salad is for the dressing. Amirite? I bet this dressing would be delicious on a number of things. I can't wait to try it! Slow Cooker Peanut Butter Chicken: Slow cooker recipes are awesome because they save you time. And this recipe puts peanut butter front and center! This will definitely become a part of my dinner rotation…yum! Thai Peanut Sauce: I always order something with peanut sauce when I get Thai food…I'm so excited to be able to bring it home with this spicy sauce!
Once you've had dinner, it's time for dessert! I've listed these recipes going clockwise from the top left corner.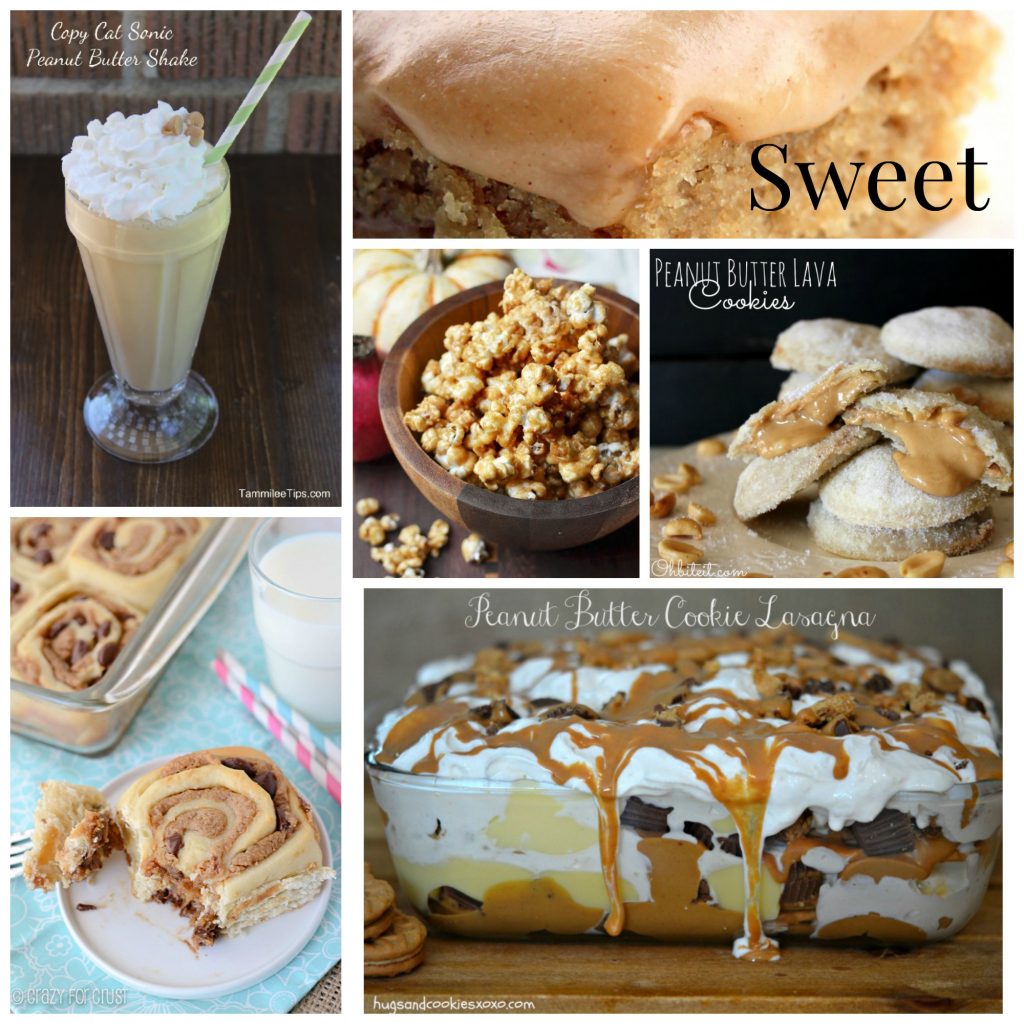 Copycat Sonic Peanut Butter Shake: I can never get the proportions right for my milkshakes. Here's a peanut butter milkshake recipe with all the right stuff, in the right amount. It's sure to be exquisite! Peanut Butter Sheet Cake: While I love to eat peanut butter straight from the jar with a spoon, this cake would be a classy and delightful way to step up my peanut butter game! Plus, it includes a peanut butter frosting recipe, which could be used to top brownies or cookies as well! Oh the decadent possibilities…. Peanut Butter Lava Cookies: If you're looking to make easy peanut butter cookies, look no further than this recipe for peanut butter cookies. Not only are they a snap to make, they're unlike any peanut butter cookie you've ever made, in the best way. Just three ingredients, and you get molten peanut butter goodness. Mmmmmm. Peanut Butter Cookie Lasagna: Wait. Lasagna? Did you read that right? Yes you did. If you need a dessert that will impress people, this is it. Not only is it totally luscious, it's gorgeous to behold. It's just like an icebox cake, except it uses nutter butter cookies and includes vanilla pudding. Excuse me, I need to go buy ingredients. Peanut Butter Cinnamon Rolls: This blogger admits that these rolls are not correctly named, because there is, in fact, no cinnamon in them. But I bet if you added a little cinnamon, they would still be amazing. Cinnamon or no, these are definitely what I want to wake up to on a Sunday morning. Peanut Butter Popcorn: In addition to loving peanut butter, I also love movies. I cannot imagine a more perfect snack to eat as I watch Legally Blonde for the hundredth time.
Did you know that there are a ton of peanut butter benefits?
Peanut butter is chock full of protein, potassium and heart-healthy monounsaturated fat. It's been shown to reduce the risk of cardiovascular and coronary heart disease, type two diabetes, and even prevent gallstones! It's also high in niacin, which has been show to lower the risk of developing Alzheimer's.
Like anything, of course, peanut butter should be eaten in moderation–that's why these recipes are healthy-ish.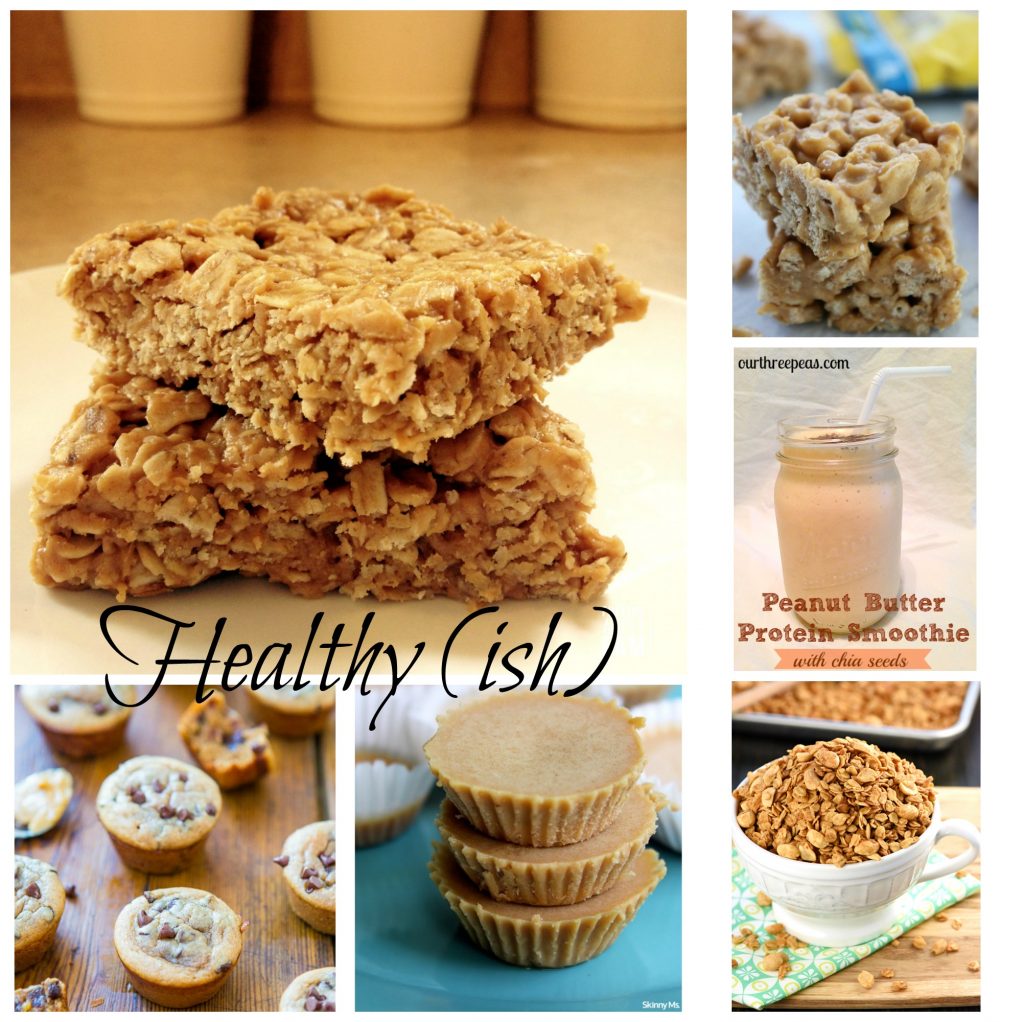 Peanut Butter Oat Bars: With only three ingredients, this is like the peanut butter oatmeal cookie recipe of your dreams–you know, those dreams where you can eat as much as you want and not gain weight? Is that just me? Oh well. These bars look totally amazing–perfect to have on hand for a quick breakfast or snack! Peanut Butter Cheerio Bars: Another great snack to put in lunches, or have after work or school–or for breakfast, why not? These bars would be perfect if you're looking for a little more crunch than oat bars can give you. Both of these recipes are no-bake, too! Peanut Butter Protein Smoothie: Remember how peanut butter is high in protein? It makes a GREAT addition to smoothies! Here's a recipe for a peanut butter protein shake that maximizes peanut butter flavor. Good for giving you energy all day! Peanut Butter Granola: This blogger suggests adding chocolate chips to the mix if you're into that sort of thing (I am. I so am). Or you could be a peanut butter purist (which I am. Sometimes) and forgo the chocolate chips. Either way, this granola is sure to be tasty! Peanut Butter Cups: Don't get me wrong, chocolate and peanut butter belong together. But sometimes, I just really want peanut butter…and these peanut butter cups seem like an incredible way to get it! Plus they're only three ingredients. I LOVE recipes with just a few ingredients. Flourless Peanut Butter Chocolate Chip Mini Blender Muffins: Whew! That is a mouthful! But the awesome thing is, by the time you're done saying the title of this recipe, you can have them made! This is another one of my go-to recipes. It is SO yummy and simple! Plus, low-carb and gluten free. Word to the wise: first of all, you can make regular size muffins with this recipe too. The bake time is about the same–be sure to just check them after eight minutes. Also, Nutella does NOT work the same as peanut butter in a recipe. Maybe you already knew that, but I learned the hard way…by swapping peanut butter for Nutella in the above recipe. It was still delicious, but a total mess that had to be scraped from the muffin tins. Learn from my mistake!
Hacks
Maybe you've been counting and you've realized that we've only reached eighteen ways to bring peanut butter to the next level. This is the part that I've been waiting to share with you…peanut butter HACKS. Uses for peanut butter that have nothing to do with food that you never knew about (probably). Here are my favorite hacks that I've found. Eliminate odors. Did you cook something on the stove that left a stink in your kitchen, like fish? Throw a tablespoon of peanut butter in the pan you used and saute it for a minute or two–it will absorb the odor! Remove sticky residue. You know that sticky stuff that gets left behind stickers? Isn't that just the worst? Well, by rubbing a little peanut butter on it, you can get that off, too! Fix a scratched CD/DVD. Rub a little peanut butter (smooth, of course!) onto the scratched surface of a CD or DVD, and wipe clean with a soft cloth. This is something I need, I hate it when my cds skip!! Clean vinyl and leather furniture. The oils in peanut butter are great for cleaning and polishing the surface! Use a small amount on a soft cloth and rub in a circular motion. Be warned, the surface you've cleaned WILL smell like peanut butter. Fix furniture scratches. Rub a good amount of peanut butter onto the scratches and let it sit for an hour. Buff away with a soft cloth. Ice cream cone sealant. Before you scoop ice cream into a cone, put some peanut butter in the bottom–that way, you won't get any sticky drips, PLUS it will be a delicious surprise! Well, there you have it. Twenty-four ways to bring peanut butter to the next level. Let me know how it goes when you try these out, or if you know of any other interesting or scrumptious uses for peanut butter!
You may need some stuff to get you started…I definitely recommend using parchment paper for easy clean up, and of course you're going to need peanut butter! Check out the Amazon links below!