Hello MFP peeps! I hope you had a fabulous Thanksgiving! I'm Jen from Bakerette.com and I love my friends at MFP and am always so honored that I get to share recipes with you here.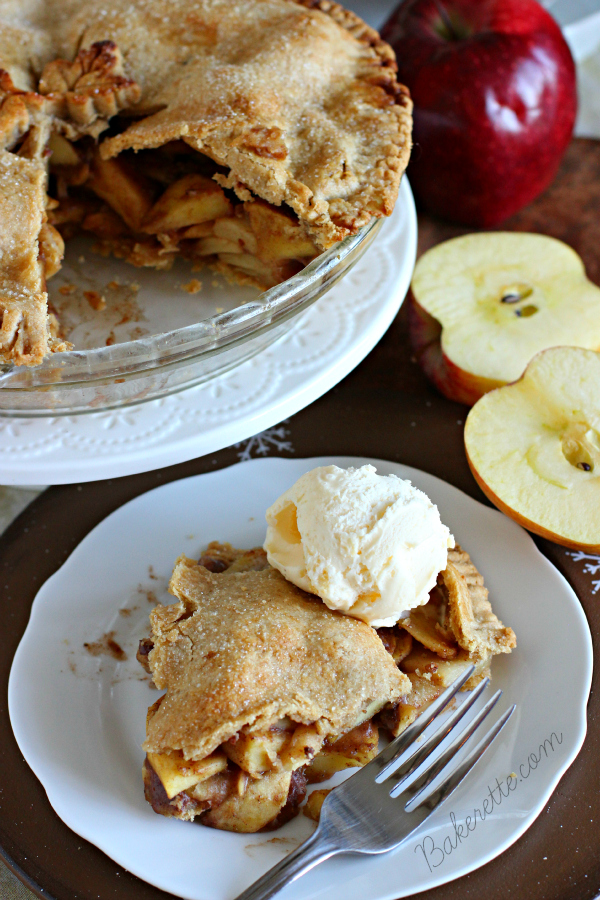 I've got a great dessert recipe to share today! Nothing says fall or winter like a warm homemade apple pie, especially when it's topped with a dollop of ice cream oozing through the pie! Mmmm, lecker! You will love this homemade apple pie recipe with chai spices–a mixture of cardamom, nutgmeg, cinnamon and ginger spices. It has a wonderfully distinct flavor and smells so heavenly!
Cardamom is the key spice in this pie. If you haven't baked with cardamom before, you will love it! It's a little more on the expensive side, but oh does it ever give a great flavor to your baked goods.
This homemade apple pie recipe with chai spices is jazzed up to be more of a healthful apple pie–although, I don't know if any dessert filled with sugar is healthful! LOL–But the wheat crust, dairy-free non-hydrogenated butter, pecans, apples, and more make this a step above other homemade apple pies.
If you don't like wheat, no problem, just substitute white pastry flour; if you love it, use all wheat pastry flour! Either way, this recipe will be flaky and light.
If you end up having extra pastry, try cutting out leaves, acorns, or Christmas trees with a mini cookie cutter to make it more festive. I chose to put leaves on mine because I made this apple pie for Thanksgiving, but it's perfect for Christmas, too!
When you cut the apples, make sure they are uniformly cut and no bigger than 1/2-inch wide, or you will have a crunchy apple pie–that's fine if you like crunchy tho! I like my apples baked through.
If you like this recipe, I think you will also like these other plant-based recipes on my blog that are perfect for your Christmas menu!
German Christmas Star Cookies
Christmas Star Cookies are such a festive Christmas cookie. Great for a neighbor gift.

Christmas Snowball Cookies
These Snowball Cookies are not too sweet with an almost shortbread-like taste. A melt-in-your-mouth cookie.
Powerhouse Chocolate Chocolate-Chip Cookies
These chocolate chocolate-chip cookies are made with a secret ingredient that make these cookies a power house.
You can also follow me on Pinterest, Facebook, Twitter, or Instagram. I love making new "friends" and would love to see you there.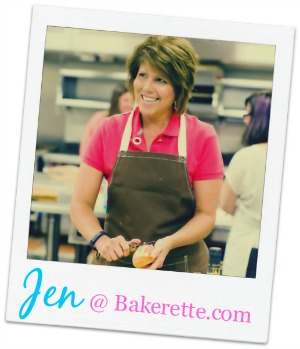 Homemade Apple Pie Recipe with Chai Spices
Ingredients
Flaky Wheat Crust:

1

cup

wheat pastry flour

1

cup

white pastry flour

1

teaspon salt

3/4

cup

dairy-free non-hydrogenated butter

such as Earth Balance, chilled and cubed

5 to 8

tablespoons

ice water
For Pie Filling:
5 - 6

large assorted** apples

peeled, cored, and sliced into 1/2-inch slices (about 8 to 10 cups)

2

tablespoons

lemon juice

1/4

cup

all-purpose flour

2

teaspoons

ground cinnamon

1

teaspoon

ground cardamom

1/2

teaspoon

ground nutmeg

1/2

teaspoon

ground ginger

1/8

teaspoon

ground black pepper

1/2

cup

packed dark brown sugar

1/2

cup

finely chopped pecans

optional

1

teaspoon

vanilla

1

tablespoons

dairy-free non-hyrogenated butter

such as Earth Balance, cubed

1

tablespoon

soy milk + 1 tablespoon agave or corn syrup

used as an egg wash**
Instructions
To Make Pie Crust:

In a large bowl, sift together pastry flours and salt.

Using a pastry knife, cut in cubed butter into flour mixture until mixture resembles course meal with pea-size pieces.

In a measuring cup, add 1/2 cup cold water and 2 ice cubes and stir. Drizzle cold water one tablespoon at a time into the dry flour mixture using a wooden spoon or spatula mixing in completely. Repeat until your dough forms large clumps of dough. You may not need the full amount of ice water.

Form dough into one large ball, cut in half and press each piece into a disc shape. Cover with plastic wrap or wax paper and chilld in the refrigerator for 30 minutes before rolling it out.

Yields two 9-inch single pie crusts.
To Make Filling:
Preheat oven to 400 degrees Fahrenheit.

Make the dough first before making the filling:. In a large bowl, mix together apples, lemon juice, flour, spices, sguar and vanilla until well combined; set aside.

Roll out pastry dough: Tear off a large piece of wax paper (large enough to roll pastry dough onto). Place one disc of the dough on the wax paper. Keep the other disc in the refrigerator until ready to use. Dust rolling pin with flour and roll out pastry dough into a circle 12-inches in diameter. Keeping the pastry on the wax paper, flip it over (pastry-side down) on a 9x2-inch deep-dish pie pan. Gently peel the wax paper away from the pastry and discard wax paper. Cut off any extra long pieces of dough with a paring knife and set aside. Tuck in and smooth the edges of the dough with your fingers making it smooth.

Transfer filling to crust and if there is any juice at the bottom of the bowl, discard it. Dot the cubed butter on top of the filling.
To Finish Assembling:
Take the second chilled disc of dough and roll it out onto another sheet of waxed paper as before that is also rolled out into a circle that is 12-inches in diameter. Carefully flip it over onto the filling (pastry-side down) and gently peel the wax paper off. Using a paring knife, trimm off any exccess dough around the edges and set aside. Crimp the edges to seal by either using your fingers or pressing down with a fork around the whole pie.

Optional:

Using the extra pastry dough, cut out leaves, acorns, or Christmas trees with a mini cookie cutter. Arrange on the pie.

With a paring knife, gently cut 4 to 5 slits on the top of the pie toward the center to create steam vents.

Mix together soy milk and agave and with a pastry brush, lightly brush the top of the pie crust. Sprinkle the top with coarse sugar.

Place pie on a baking sheet and bake for 20 minutes; reduce heat to 375 and continue baking an additional 25 to 30 minutes. If you see that the edge of the crust is browning too quickly, place either a pie shield over the edges or gently place small length pieces of foil around the edges.

Allow pie to completely cool on a wire rack to allow the filling to thicken. Refrigerate any leftovers in the fridge up to 5 days.
Notes
*Using an assortment of apples makes for a more flavorful pie. !
**Because I am vegan, I use an eggless wash by mixing together soy milk and agave. The soy encourages browning while the agave carmelizes.
Recipe inspired by Sally's Baking Addiction