Children learn important character lessons best when taught by example. All children are faced with situations where they need to have courage and bravery. Outside of situations that present physical danger, children need to learn courage and bravery in the social situations they will face in everyday life. They need the courage to stand up for what is right and bravery to stand up for those being mistreated. Most importantly they must learn to hold to their standards when faced with peer pressure. You can help your grandchildren learn these important character traits by sharing and reading books like these that explore different types of courage and bravery in engaging and powerful stories.
This post contains affiliate links to take you directly to the products listed.
Sheila Rae, the Brave
by Kevin Henkes
Big sister Sheila Rae is not afraid of anything – She growls at stray dogs, and bares her teeth at stray cats. But it's hard demonstrating courage without new and terrifying challenges. When Sheila Rae decides to go home from school a new way she gets lost and becomes lonely and….well, scared. Her younger sister Louise courageously helps her find her way home. The trip home is a triumph for both girls as they learn the value of courage and sisterly support. Written and Illustrated By Kevin Henkes.
Wildest Brother
by Cornelia Funke Illustrated by Kerstin Meyer
Ben is a fearless young boy, Brave as a lion, strong as an elephant. When it comes to protecting his big sister, Ann, nothing can stand in his way! Gallantly he spends his day battling monsters and all sorts of ferocious beasts. Ben is a fearless young boy, Brave as a lion, strong as an elephant. When it comes to protecting his big sister, Ann, nothing can stand in his way! Gallantly he spends his day battling monsters and all sorts of ferocious beasts.
Spaghetti in a Hot Dog Bun: Having the Courage To Be Who You Are
By Maria Dismondy Illustrations by Kimberly Shaw-Peterson
How can Ralph be so mean? Lucy is one of a kind and Ralph loves to point that out. Lucy's defining moment comes when Ralph truly needs help. Because she knows what she stands for, Lucy has the courage to make a good choice. This charming story empowers children to always do the right thing and be proud of themselves, even when they are faced with someone as challenging as Ralph.
The Bravest of Us All
By Marsha Diane Illustrated by Brad Sneed
By Marsha Diane Illustrated by Brad SneedDaring ten-year-old Velma Jean walks barefoot over sandburs, swims in the new horse tank, even stands up to Alfred the Bull. Every day Velma Jean does something that amazes her siblings. To her sister Ruby Jane, she is the bravest of them all. But when a tornado sets down near the edge of their farm, Velma Jean is afraid to seek shelter in the dark storm cellar. It is Ruby Jane who stands up to the weather and brings her sister to safety.
The Story Of Ruby Bridges: Special Anniversary Edition
By Robert Coles, Illustrated by George Ford
This is the true story of an extraordinary 6-year-old who helped shape history when she became the first African-American sent to first grade in an all white school. This moving book captures the courage of a little girl standing alone in the face of racism.
Thank You, Mr. Falker
By Patricia Polacco
Patricia Polacco is now one of America's most loved children's book creators, but once upon a time, she was a little girl named Trisha starting school. Trisha could paint and draw beautifully, but when she looked at words on a page, all she could see was jumble. It took a very special teacher to recognize little Trisha's dyslexia: Mr. Falker, who encouraged her to overcome her reading disability.
Stuart's Cape (pb)
Illustrated by Martin Matje
A quirky, inventive chapter book featuring an unusual hero–an 8-year-old worrier. Now in paperback! Stuart's got problems. It's raining. He's bored. And worst of all, he's new in town, so he's got a lot to worry about. What does a kid like Stuart need in order to have an adventure? A cape, of course!
Mirette on the High Wire
By Emily Arnold McCully
Mirette on the High Wire By Emily Arnold McCully
Mirette was always fascinated by the strange and interesting people who stayed in her mother's boardinghouse. But no one excited her as much as Bellini, who walks the clothesline with the grace and ease of a bird. When Mirette discovers that fear has kept him from performing for years, she knows she must repay him for the kindness he has shown her — and show him that sometimes a student can be the greatest teacher of all.
Not Afraid of Dogs
by Susanna Pitzer Illustrated by Lary Day
Daniel is the bravest boy of all! Daniel isn't afraid of spiders. He isn't afraid of snakes. He isn't even afraid of thunderstorms. And no matter what his sister says, he's certainly not afraid of dogs ― he just doesn't like them. But there's no avoiding them when he comes home and his mother is babysitting his aunt's dog. Susanna Pitzer's humorous look into the nature of courage, fear, and friendship has a touching outcome for both the brave and the frail of heart.
Wallace's Lists
Illustrated by Gerald Kruglik, Olof Landström
Wallace, a mouse, could do almost anything. Anything that is, as long as he had a list. Wallace is a shy mouse. He writes lists. Lists of recipes, funny words, and frightening experiences. Wallace meets his lively neighbor named Albert. His world is swiftly opened to new delights, such as painting and music. Wallace and Albert experience the excitement of an adventure, and Wallace discovers a new joy. Friendship.
The Invisible Boy
by Trudy Ludwig Illustrated by Patrice Barton
Meet Brian, the invisible boy. Nobody ever seems to notice him or think to include him in their group, game, or birthday party . . . until, that is, a new kid comes to class. When Justin, the new boy, arrives, Brian is the first to make him feel welcome. And when Brian and Justin team up to work on a class project together, Brian finds a way to shine.
Elmer by David McKee
Elmer the elephant is bright-colored patchwork all over. No wonder the other elephants laugh at him! If he were ordinary elephant color, the others might stop laughing. That would make Elmer feel better, wouldn't it? The surprising conclusion of David McKee's comical fable is a celebration of individuality and the power of laughter.
Hilda Hen's Scary Night
by Mary Wormell
Night has fallen and Hilda is late getting back to the henhouse. On her way she sees strange, mysterious shapes-a snake, a monster-lurking in the shadows. What are these creatures? Where do they go during the day? Children will soon identify the troublesome shapes as everyday objects found in the farmyard-things that can look a lot spookier at night.
Pete & Pickles
by Berkeley Breathed
Pete is a perfectly predictable, practical, uncomplicated pig. At least, he was . . . before a runaway circus elephant named Pickles stampeded into his life, needing a friend. Pickles is larger than life and overflowing with imagination. She takes Pete swandiving off Niagara Falls. (Sort of.) And sledding down the Matterhorn. (Sort of.) Pete goes along for the wild ride and actually begins to enjoy himself . . . until Pickles goes too far. And Pete tells her she must leave. Yet sometimes the simple life isn?t all it?s cracked up to be.
Willow Finds a Way
by Lana Button Illustrated by Tania Howells
In this simple but substantial picture book by Lana Button, shy, quiet Willow silently wishes she could find a way to say no to her bossy classmate Kristabelle's demands, but the words never seem to come when she needs them.Surprising everyone, even herself, Willow steps up and bravely does something shocking, and it changes the entire dynamic of the classroom.
The Story of Fish and Snail
by Deborah Freedman
Every day, Snail waits for Fish to come home with a new story. Today, Fish's story (about pirates!) is too grand to simply be told: Fish wants to show Snail. But that would mean leaving the familiar world of their book—a scary prospect for Snail, who would rather stay safely at home and pretend to be kittens. Fish scoffs that cats are boring; Snail snaps back. Is this book too small for the two feuding friends? Could this be THE END of The Story of Fish and Snail?
Brave Irene
by William Steig
Brave Irene is Irene Bobbin, the dressmaker's daughter. Her mother, Mrs. Bobbin, isn't feeling so well and can't possibly deliver the beautiful ball gown she's made for the duchess to wear that very evening. So plucky Irene volunteers to get the gown to the palace on time, in spite of the fierce snowstorm that's brewing– quite an errand for a little girl.
The Empty Pot (An Owlet Book)
by Demi
A long time ago in China there was a boy named Ping who loved flowers. Anything he planted burst into bloom. The Emperor loved flowers too. When it was time to choose an heir, he gave a flower seed to each child in the kingdom. "Whoever can show me their best in a year's time," he proclaimed, "shall succeed me to the throne!" Ping plants his seed and tends it every day. But month after month passes, and nothing grows. When spring comes, Ping must go to the Emperor with nothing but an empty pot. Demi's exquisite art and beautifully simple text show how Ping's embarrassing failure is turned triumphant in this satisfying tale of honesty rewarded.

Rotten Teeth
by Laura Simms, David Catrow
Speaking in front of the class isn't easy for small people like Melissa Herman. Especially when there's nothing very special to say about her house or her family or herself. But with the help of her older brother, Melissa borrows a bottle from her father's dental office to take to show and tell. The teacher is appalled, but the children are intrigued.
The Princess Knight
by Cornelia Funker, Illustrator Kerstin Meyer
Violetta is a princess. But she wants to be a knight. At night, she practices at becoming the best knight in the land. When her father, the king, stages a tournament for Violetta's hand in marriage, she knows she must win the greatest battle yet, for the most important prize of all – herself.
The Kissing Hand
by Audrey Penn Illustrator Ruth E. Harper & Nancy M. Leak
School is starting in the forest, but Chester Raccoon does not want to go. To help ease Chester's fears, Mrs. Raccoon shares a family secret called the Kissing Hand to give him the reassurance of her love any time his world feels a little scary. This heartwarming book has become a children's classic that has touched the lives of millions of children and their parents, especially at times of separation, whether starting school, entering daycare, or going to camp.
Little Polar Bear Lars and the Brave Little Hare by Hans de Beer
One quiet day at the North Pole, Lars, the Little Polar Bear, hears a cry coming from a deep hole in the ice. It's Hugo, a scared little hare, who is trapped and needs to be rescued. The two fast become friends, but Lars teases Hugo for being timid, and Hugo wishes Lars would be just a little more careful! Then Lars lands himself in trouble, and Hugo has to show just how brave he can be in an emergency.
Courage
by Bernard Waber
What is courage? Certainly it takes courage for a firefighter to rescue someone trapped in a burning building, but there are many other kinds of courage too. Everyday kinds that normal, ordinary people exhibit all the time, like "being the first to make up after an argument," or "going to bed without a nightlight." Bernard Waber explores the many varied kinds of courage and celebrates the moments, big and small, that bring out the hero in each of us.
Mystery of the Spooky Junkyard – A Tale of Courage (Auto-B-Good)
by Phillip Walton
Mystery of the Spooky Junkyard – A Tale of Courage
A terrifying encounter with the spooky thing that lurks in the junkyard leaves EJ shaken up. But when a fast-talking ghost hunter shows up in town and promises to catch it for him — for a small fee, of course — EJ would do anything to avoid his fear. Back in the spooky junkyard, they all discover things are not as they seem and EJ finds the source of true courage.
Rainbow Fish to the Rescue by Marcus Pfister Illustrator Alison James
In this exciting new adventure, Rainbow Fish is torn between his newfound friends and a lonely striped fish who is not allowed to join the group because he lacks a shiny scale. When a dangerous and hungry shark suddenly appears, Rainbow Fish must decide: Should he risk losing his new friends – maybe even his life – for the little stranger?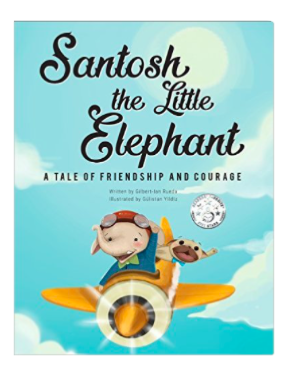 Santosh and the Little Elephant Santosh the little elephant has a problem. A BIG, HUMONGOUS problem. His family has to move. Not just to another neighborhood, but across the ocean to another continent.
YES, ACROSS THE OCEAN!
That though isn't the biggest problem he has. There is a SUPER-HUGE, GINOMOROUS problem on top of that. His dog, Cooper, isn't able to go with the family to their new home.
What is Santosh to do? How can he convince his parents to let Cooper go with them?
Santosh has an idea! He has a great idea! But, will it work? And, if it doesn't, then what? Will he accept his fate?
My oldest granddaughter (2 1/2) is already an avid book lover. I usually bring several books to "surprise" her with on each of my visits. I can't wait add these to her collection.
Being a Nana is the BEST!