Tired of just plain ol' s'mores at your campfire (I know, I know. No one can ever really be tired of s'mores!)? If you're looking for some ideas to liven up the campfire, you'll love our list of 25 mouth-watering campfire desserts!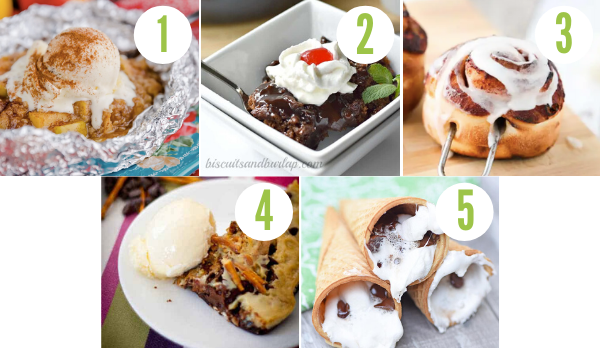 1. Foil Packet Apple Pie– Make this American classic a campfire classic with Love from the Oven's apple pie!
2. Skillet Hot Fudge Pudding Cake– Omg, this picture has me drooling! Find it at Biscuits and Burlap.
3. Campfire Cinnamon Rolls– I can't wait to watch these babies grow with Dessert Now, Dinner Later's recipe!
4. 7 Layer Brownies– That's right. 7. Layers. Check it out at Pulling Curls!
5. Sugar Cone S'mores– This treat from Adventures of Mel is sure to be a hit with the kids!
6. Campfire Eclairs– Who says camping can't be fancy? Try this fancy camping dessert from This Grandma is Fun.
7. Dutch Oven Peach Cobbler– Easy and delicious! Find it at Well Plated.
8. Chocolate Chip Skillet Cookie– Oh man, I can already taste this cookie from Julie's Eats & Treats!
9. Reverse S'mores Bites– We love this original take on s'mores from Clean and Scentsible.
10. Cherry Hand Pies– You'll love these quick and easy pies from The Kitchen Magpie!
11. Toasted Marshmallow Strawberries– Strawberries are good in just about anything, especially toasted marshmallow! Find this yummy recipe at Good Cook.
12. Banana Boats– If you want to feel a little bit healthier, you'll love these banana boats from Fresh Off the Grid.
13. S'mores Nachos– S'mores nachos from Let's Camp S'more are perfect for an appetizer or dessert!
14. Apple Cinnamon Skillet Blondie– This blondie from Life, Love and Sugar is the dessert of my dreams. Yum!
15. Dutch Oven Raspberry Cake– REI's raspberry cake will make camping feel like glamping!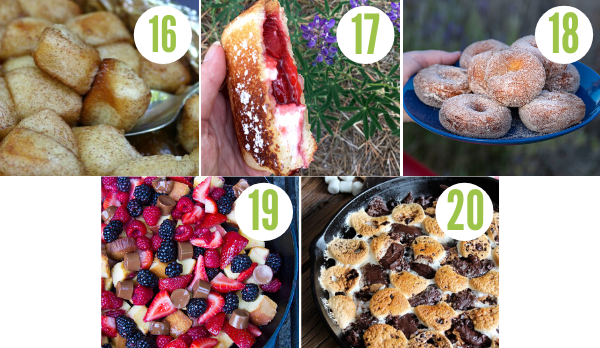 16. Monkey Bread– Sticky, sweet, and ooey-gooey, Say Not Sweet Anne's monkey bread is a campfire favorite!
17. Strawberry Cheesecake Pudgy Pie– It's title is "pudgy." Need we say more? Get this dessert at The Frugal Girls.
18. Cinnamon Sugar Donuts– Who knew donuts were so easy? Try this recipe out at Oma Darling.
19. Pound Cake and Berry Campfire Skillet Dessert– This recipe from Taste and Tell is making my mouth water.
20. Skillet S'more Brownies– I could eat this whole brownie in one sitting. Check it out at Satori Design for Living.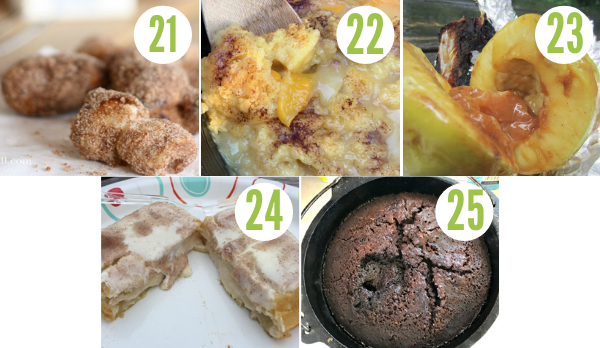 21. Campfire Churros– Liz on Call's churros are nice and toasty for a cool camping night.
22. Peach Dump Cake– You know it's easy if it says "dump" in it, like this delicious cake from Dutch Oven Daddy.
23. Roasted Caramel Apple– If you're looking for something nice and simple, you'll love Violet's Silver Lining's caramel apple treat!
24. Sopapilla Cheesecake– I can't wait to get my hands on these sopapillas from Making Memories with Your Kids!
25. Chocolate Lava Cake– Warm everyone up with this tasty cake from Happily Home Grown.