What kinds of things do you think of when you think about the 4th of July? Red, white and blue? Hot dogs, corn on the cob and watermelon? Hey….ME TOO!
Well you are in luck as these things are in the lineup for this week's posts as we get closer and closer to America's Patriotic Holiday!
When I was a teenager, I was able to visit Czechoslovakia when it was still considered behind the "Iron Curtain" and under a communist regime. I remember being very scared as we went over the border. We were in our travel bus but had to wait for the bus to be cleared. As we waited we were instructed not to take any pictures of the border. Coiled barbed wire topped the cement grey chain link fence. Soldiers that wielded guns took the guard dogs to sniff the bus for drugs. Our bus was relieved of our luggage as they laid out and opened all of our suitcases to check its contents.
I wanted to go home.
As a young and unseasoned traveler, this experience made me so grateful for the security, liberties and freedoms that I enjoyed in my home country. It was good for me to see how other people lived and to appreciate the country, as imperfect as it is, in which I grew up.
After my european trip was over, when the plane landed on the runway in the United States of America, I wanted to kiss the ground. Very few times since have I felt as patriotic as I did then. And every year when the 4th of July rolls around, this memory refreshes itself in my mind and makes me grateful once again for the life that I have been blessed to lead.
In preparing for the 4th, I was looking for some red, white, and blue food ideas when I found and pinned these 4th of July Strawberries from The Sisters Cafe. Don't these just jump out at you?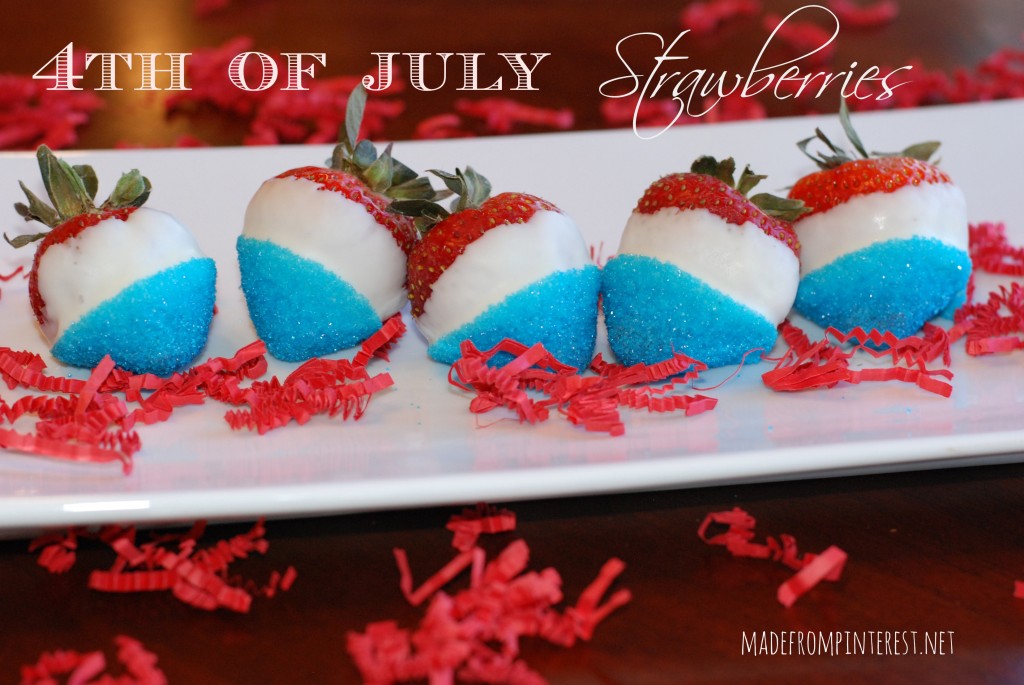 Super easy to make, here is all you need:
Strawberries
White chocolate or vanilla candy melts. (I used candy melts)
Blue Sugar Crystals. Here is what I used: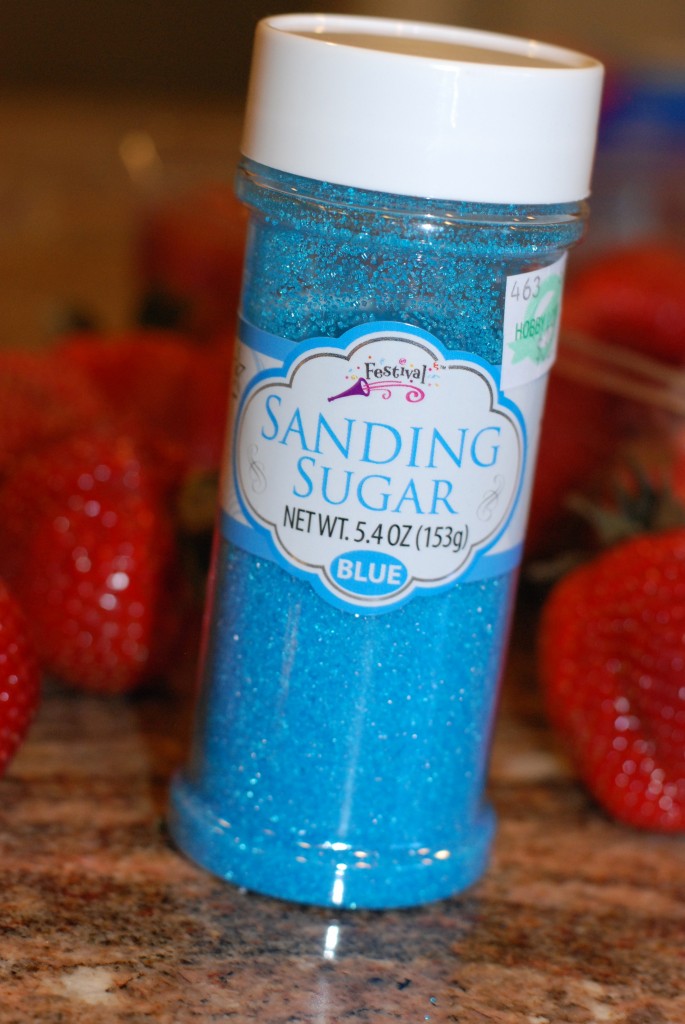 Wash and thoroughly dry your strawberries.
In a microwave safe bowl, melt your white chocolate or candy melts until thoroughly melted. Make sure you don't overcook and burn your chocolate.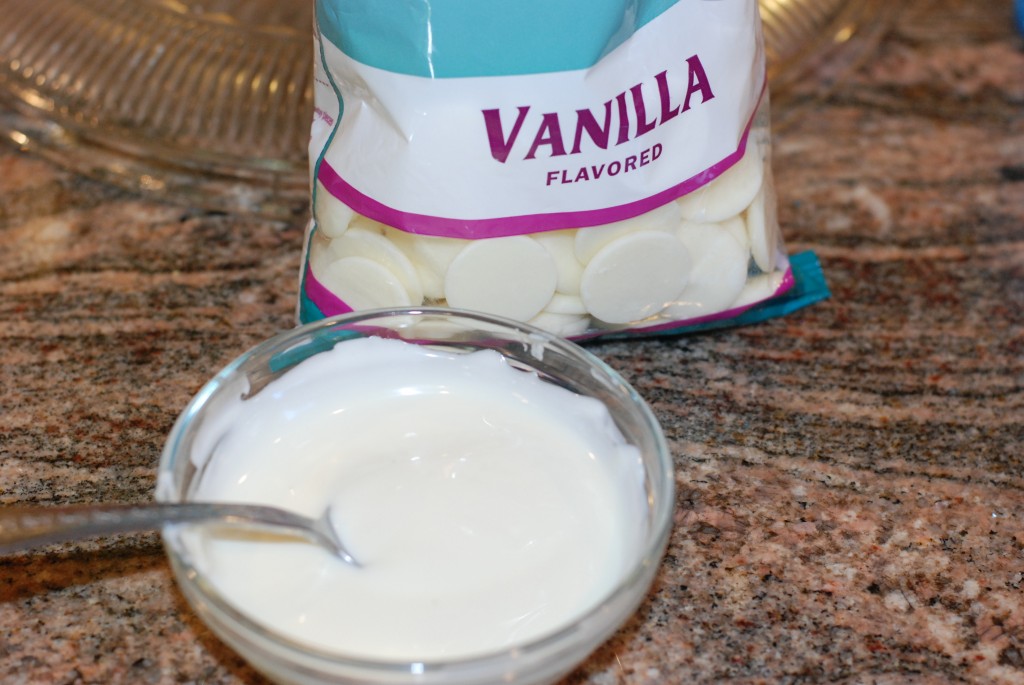 Dip your strawberry but don't dip all the way. Leave some of the red of the strawberry at the top so you can clearly see all three colors, red, white and blue.
This is no muy bueno. See how you can barely see any red at the top?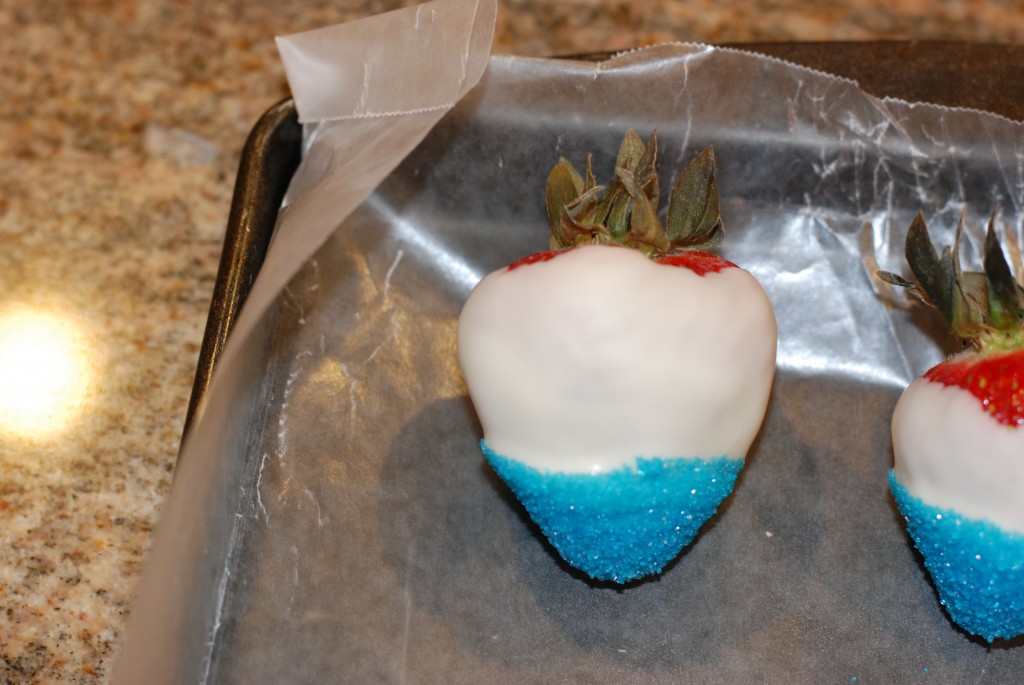 This is muy bueno. Make sure you leave a stripe of red berry at the top!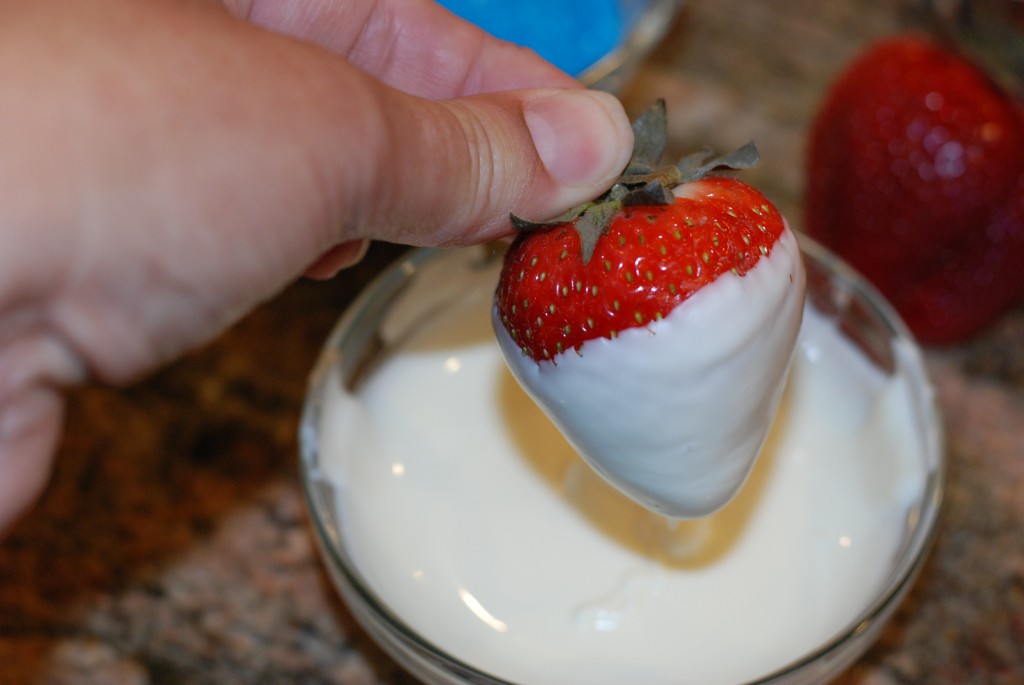 Drain off all excess white chocolate from the strawberry until it no longer drips and then dip into the blue sugar crystals. Place on waxed paper until dry.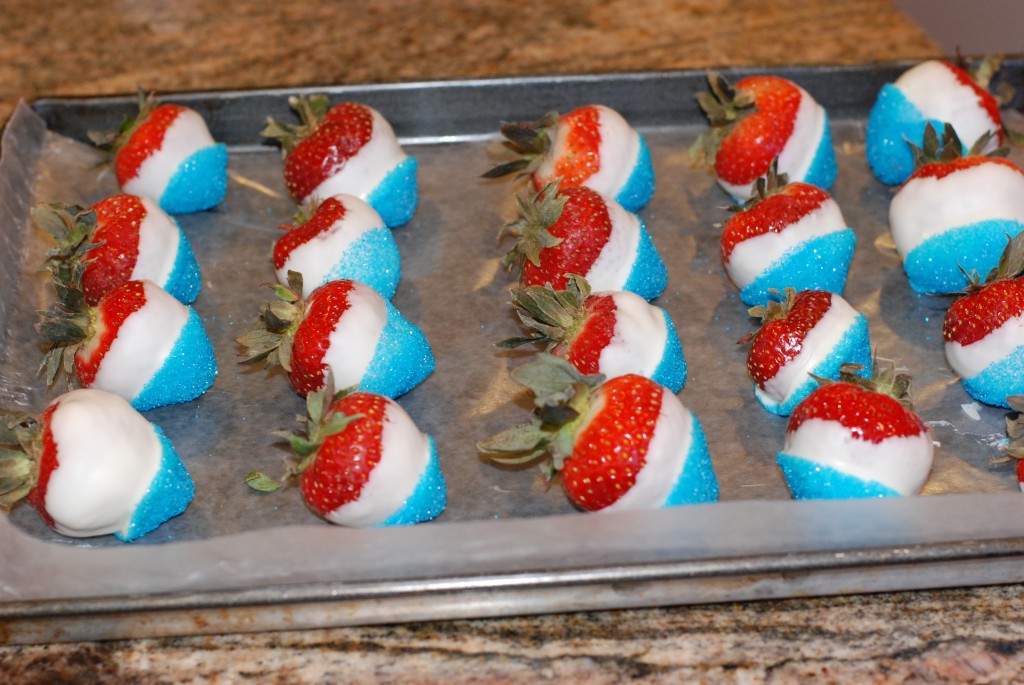 These firmed up very quickly and made a beautiful presentation of red, white and blue!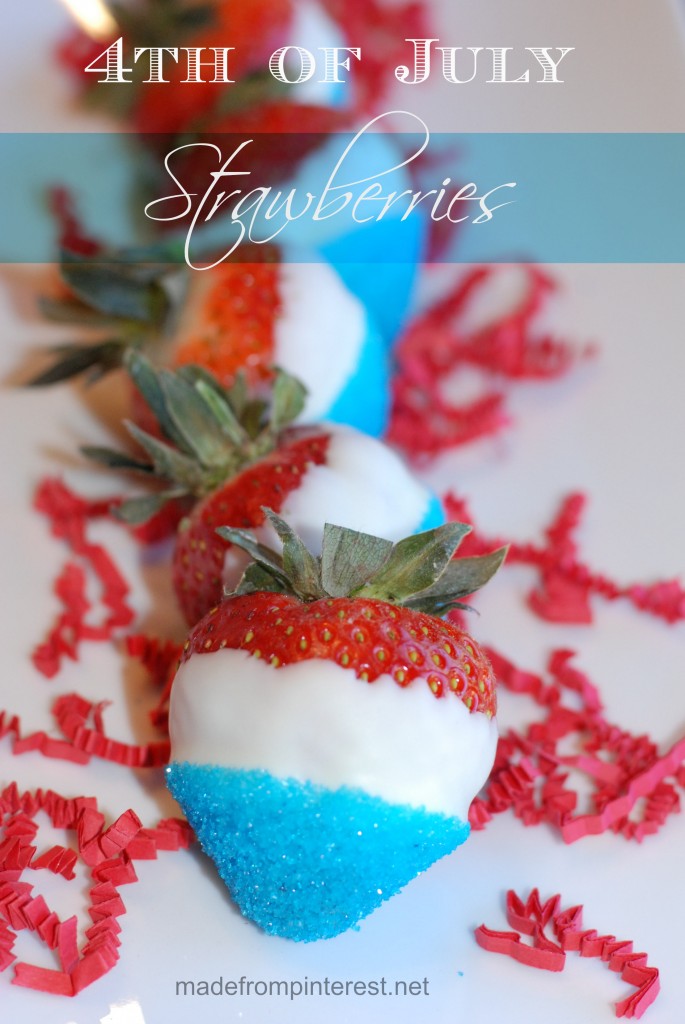 Your guests will think that you slaved all day but I promise…with these you can impress without stress! They are so easy!
Easy AND impressive? Those two things alone ensure that This Pin Rocks!

Are you looking for some other ideas for the Fourth of July? You are? Then check out these great posts!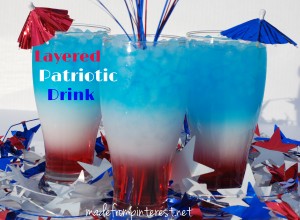 Patriotic Ice Cream Sandwiches.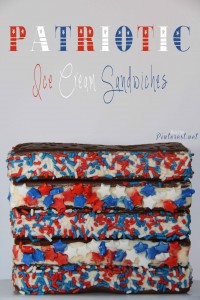 Sand Candles are a quick craft.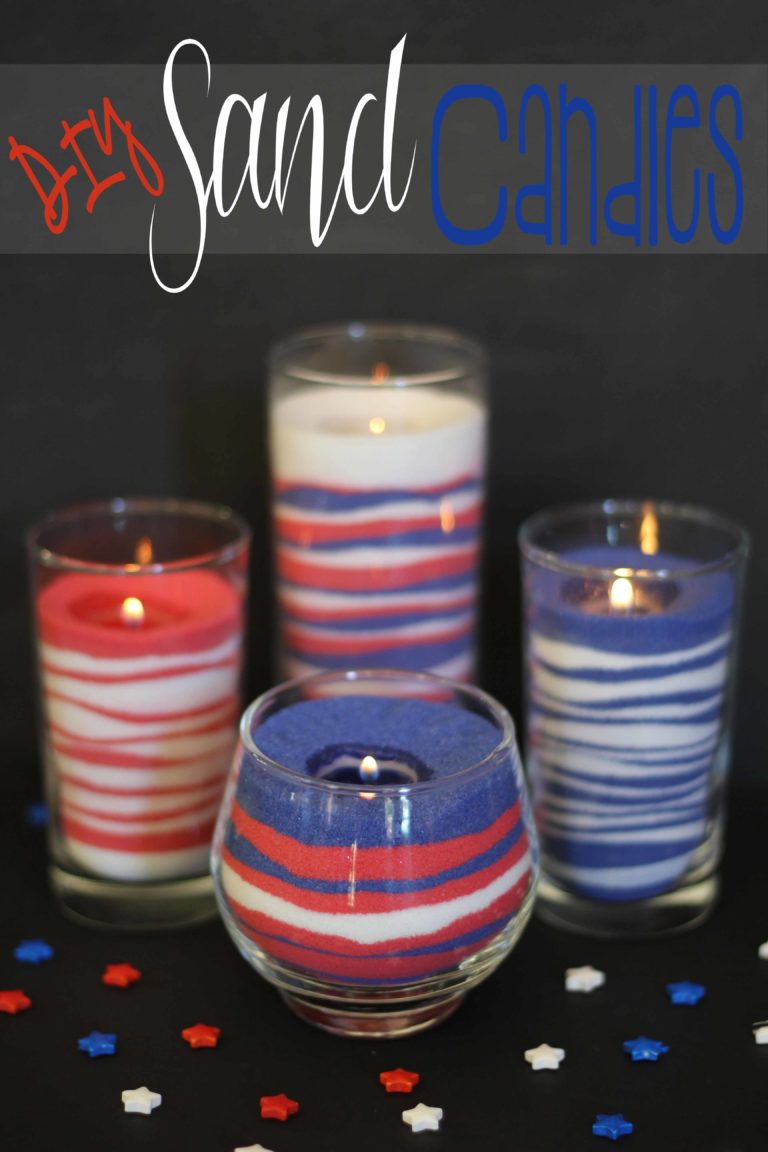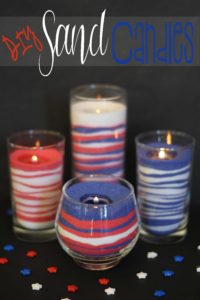 Or try these Paper Whirligigs.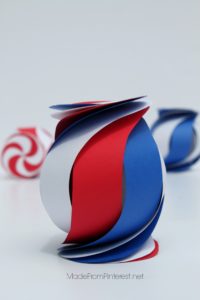 And every holiday needs it's own wreath.
Partying with these great sites today:
Org Junkie – Mad in Crafts – Keeping it Simple – DIY Showoff – This Gal Cooks – I should be mopping the floor – A Pinch of Joy – Flour Me with Love – Southern Fairy Tale – Jembellish – Plaid and Paisley Kitchen