I don't like watermelon.
I know what you are thinking right now.
"What? You don't like watermelon? I've never met anyone who doesn't like watermelon!"
Yeah, I've heard that all my life. I don't know what it is, but watermelon does absolutely nothing for me. People will tell me…Oh, if you just had a really good one, then you would like it! Or….if you just had a really cold one, then you would like it. Put it in a cold river, then you would like it.
Nope.
Don't like it.
So why would I be posting about watermelon? Because my family loves it! My favorite son LOVES watermelon! He could eat an entire watermelon for dinner. In fact, I think he might have tried that once.
P.S. In case you are worrying about me saying that I have a favorite son, truth is that I only have one son. So he has been my favorite son for his whole life. It's kind of our thing.
So how do I pick a good watermelon for my family to eat?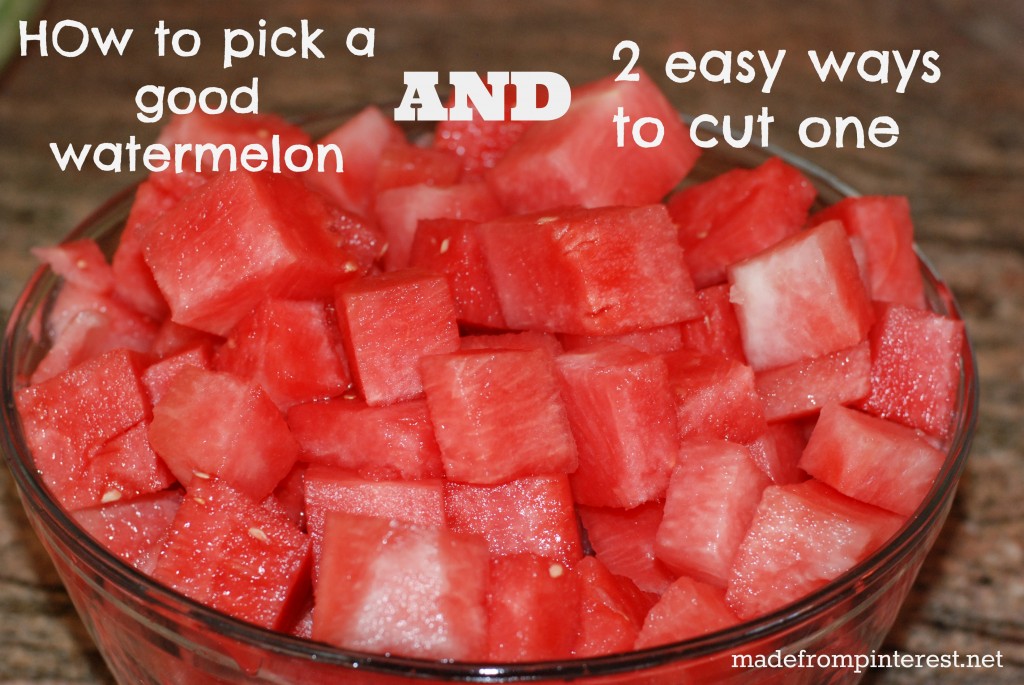 Taking direction from The Food Channel I look for these five things:
1. I look for watermelons that are nicely shaped and ones that feel firm. Make sure that they don't have any cuts in them either.
2. Pick your watermelon up to see if it feels "heavy". Watermelons are 90% water, so the riper ones will have more water and weigh more
3. I look for watermelons that have a bright skin and vibrant green color
4. I used to not pick a watermelon that has a yellow side but have since found out that this yellow spot is a good thing and should be creamy looking. This is where it laid on the ground to ripen instead of being picked too early.
5. When "thumping" your watermelon, a solid sound means it's not ripe enough, if it's too ripe, it will sound thick but if it sounds hollow, that's the one you want!
Below is a picture of the coveted "yellow spot"!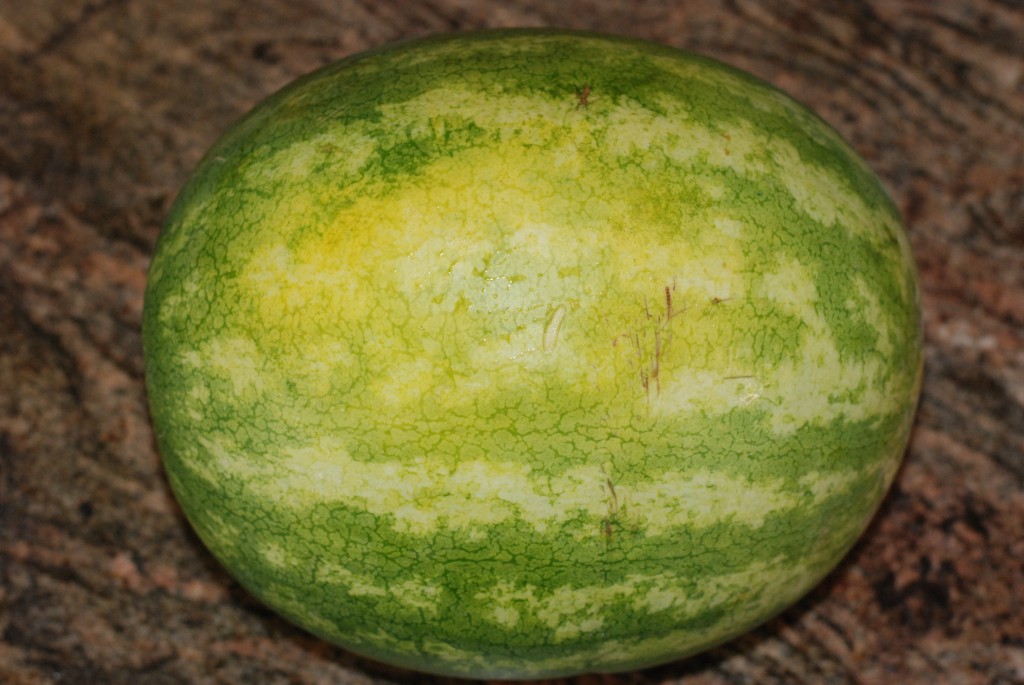 Now that you've found your perfect watermelon, how do you cut it?
Here are two EASY ways to get a beautifully cut watermelon!
The first method comes from a pin that I pinned from Fifteen Spatulas. First cut the bottoms off both ends of the watermelon: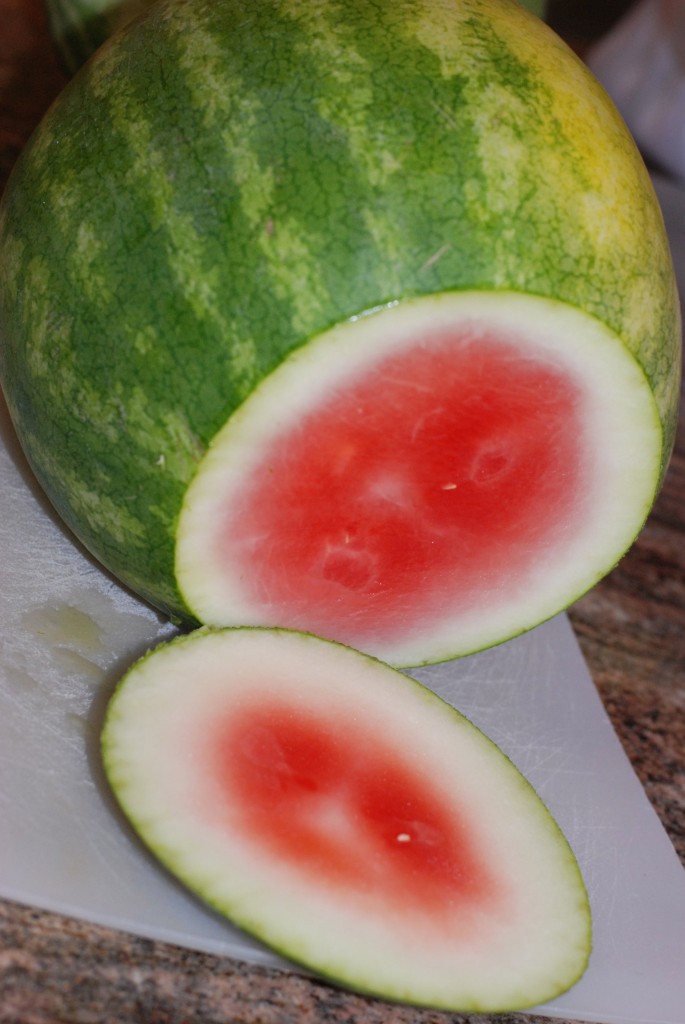 Then stand it on one end: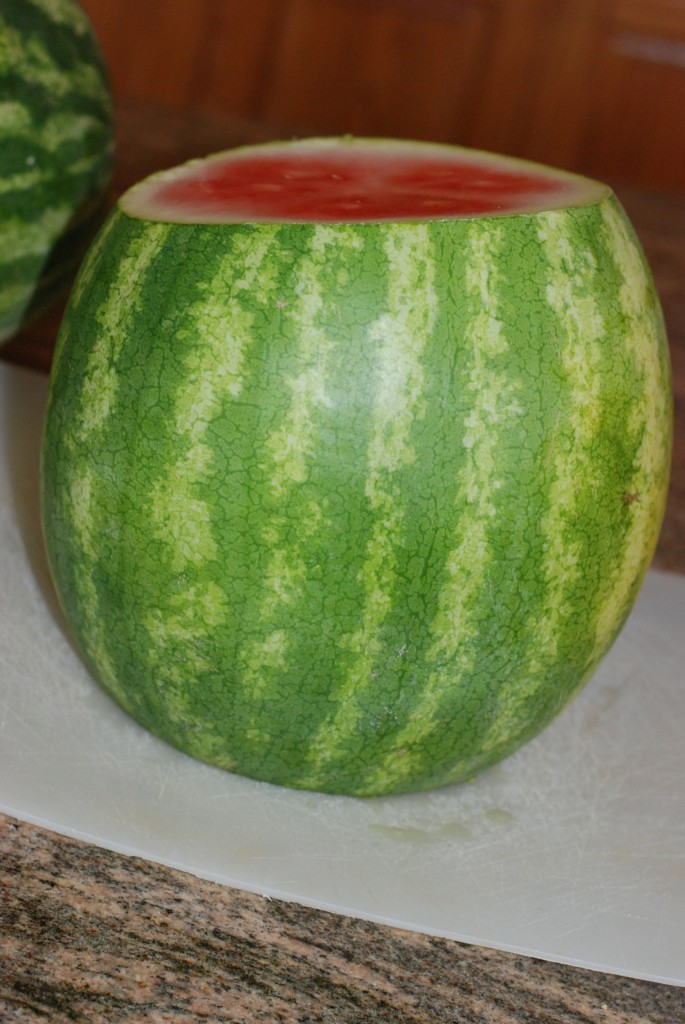 Taking a knife, slice down and cut off the rind: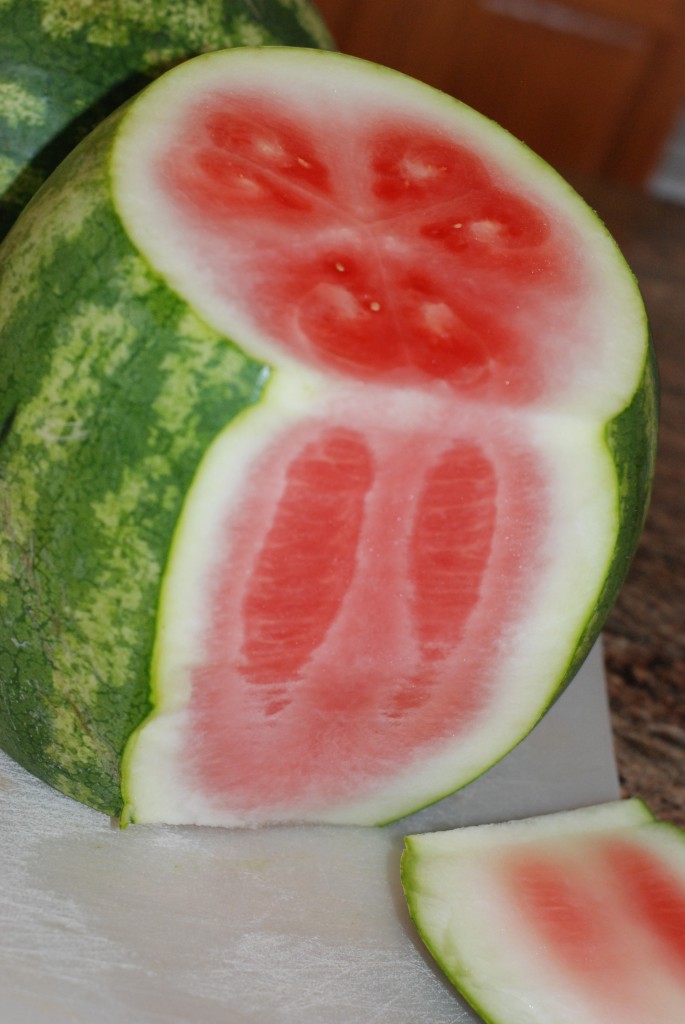 After removing all of the rind, cut into disks and then into strips and then into cubes: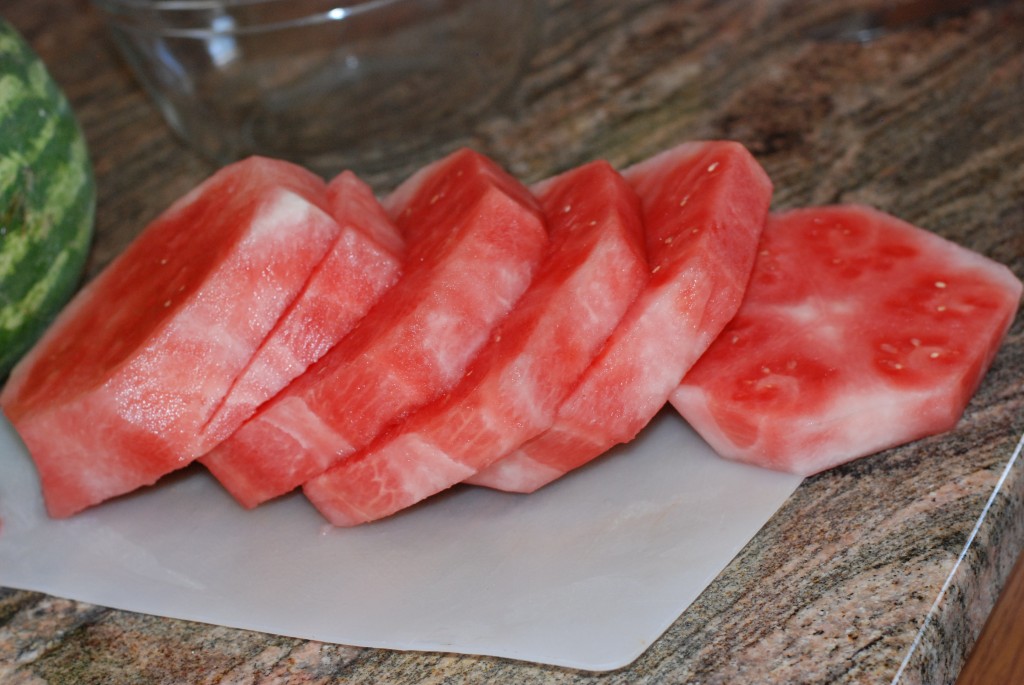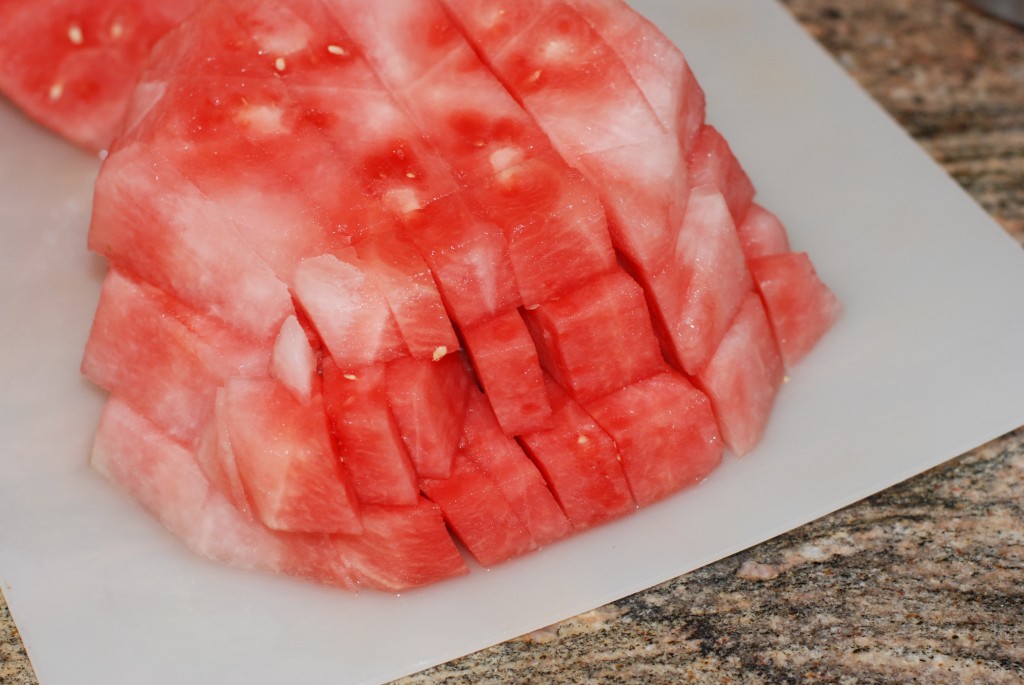 Look how beautifully cubed the watermelon turned out!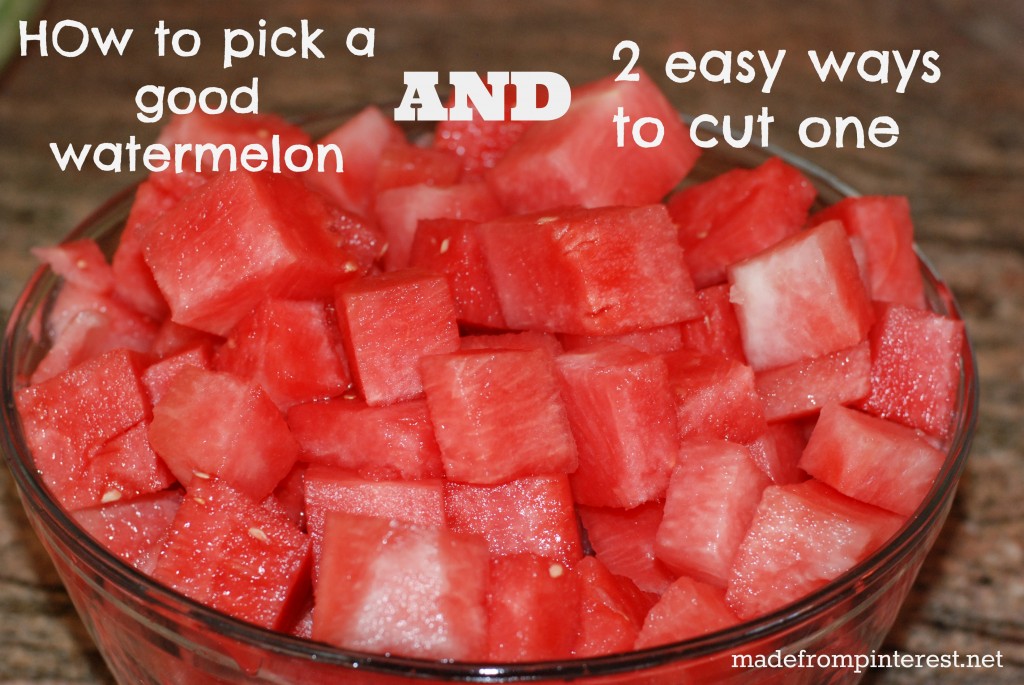 Next up is a great way to cut watermelon if you have little bodies with little fingers as this takes out all the mess of eating sliced watermelon! This great idea comes from Mama Say What. The above method of cutting does a better job with larger melons. This next method works best for small to medium sized watermelons.
Cut your melon in half: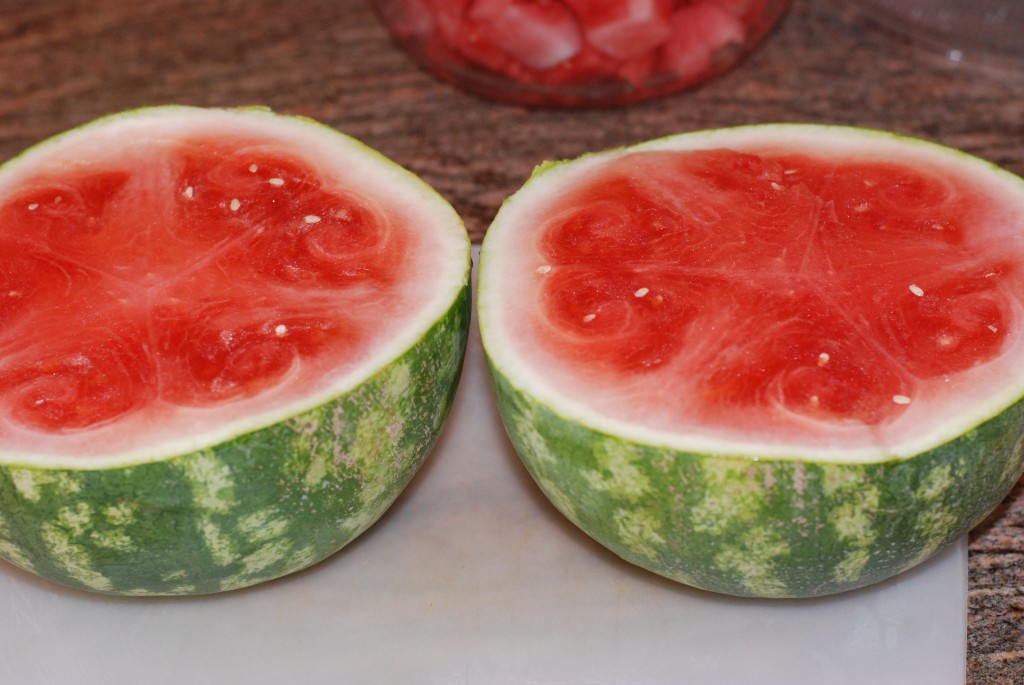 Lay the watermelon flat side down and cut into strips about 1 to 1/2 inches wide: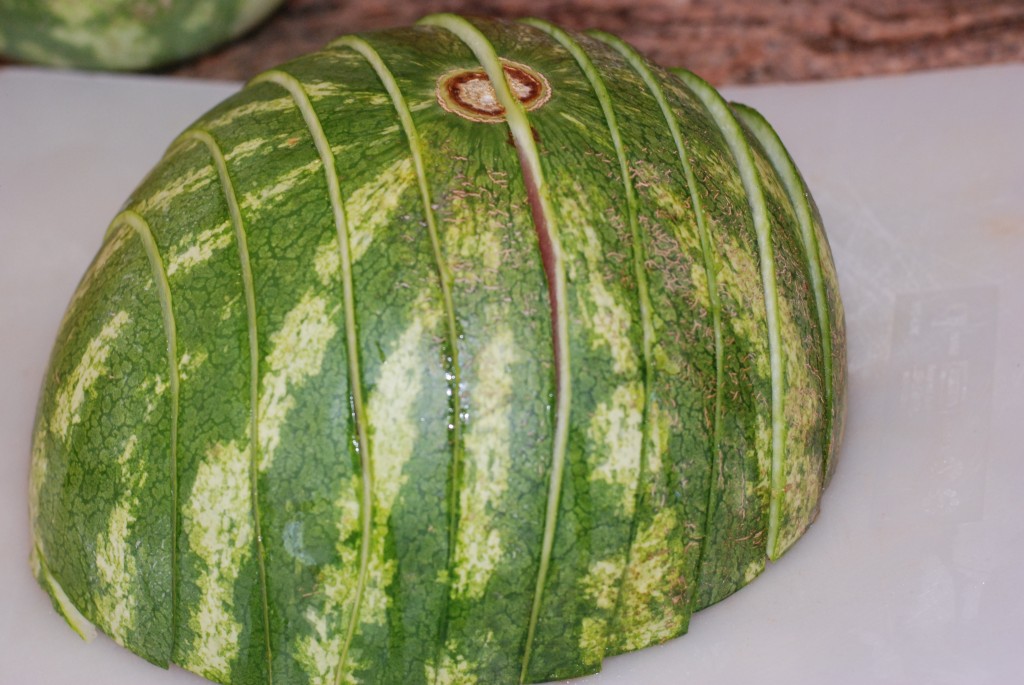 Then turn your watermelon and cut in the same size strips in the opposite direction: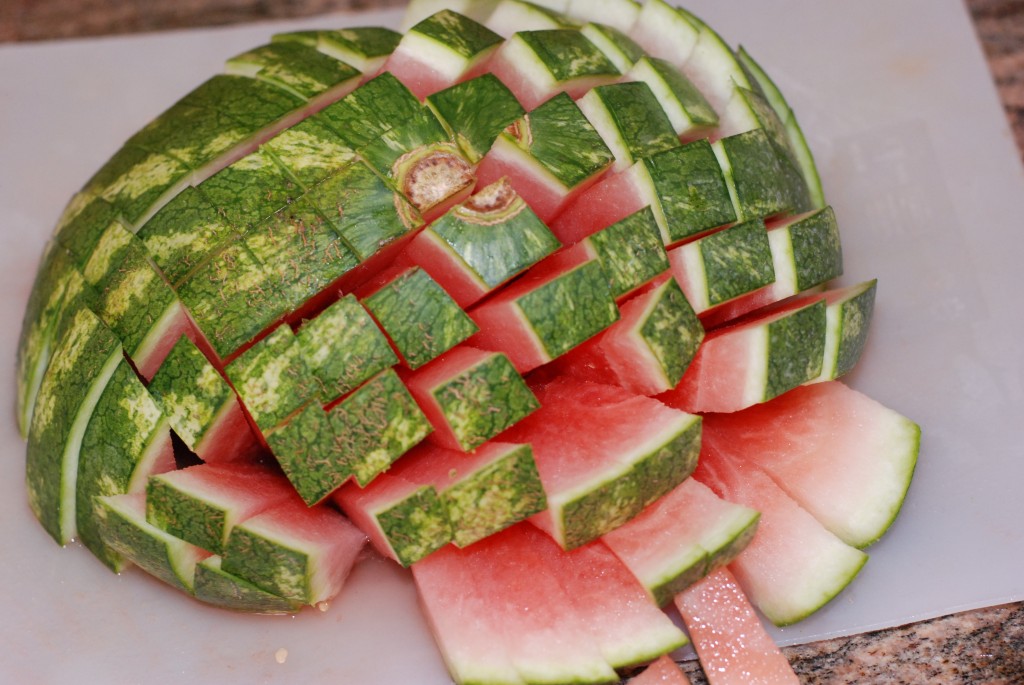 What you will end up with are watermelon "strips" perfect for just picking up and eating!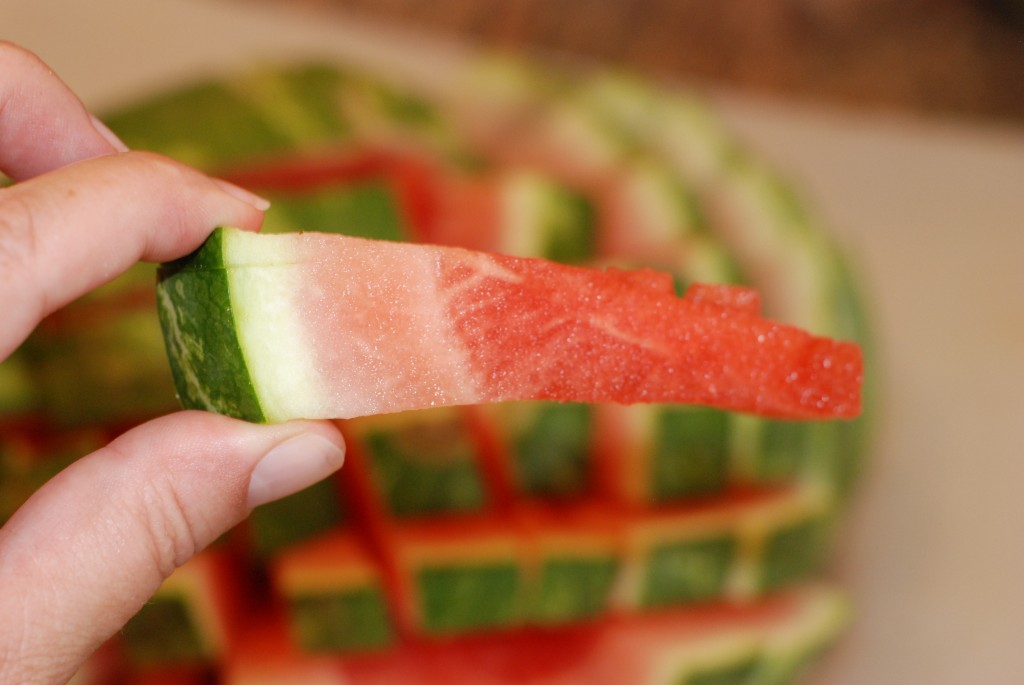 Well, I'd love to sit around and eat watermelon with you (NOT) but my favorite son is calling.
Change the way you cut a watermelon, because This Pin Rocks!

It's a Par-tay with these great sites today!
The Recipe Critic – Home Stories A to Z – ShareAtopia – A to Z Celebrations – Lady Bug Blessings – Chef in Training – Memories by the Mile – Nap Time Creations – Hun What's for Dinner? – Cupcakes and Crinoline – Sugar Bee Crafts – Mandy's Recipe Box