Hi friends! I'm Annette, from Tips From a Typical Mom, and I'm a new contributor here on Made From Pinterest. I'm so happy to be here! Today I'm sharing with you one of my all time favorite soups. It's made in the crock pot which makes it so much better, in my opinion, and it only requires 5 ingredients. YEP! You read that right! 5 Ingredients. It's so flavorful and so healthy for you too. So let's get started on our 5 Ingredient Crock Pot Chicken Curry Soup!
It's 5 Ingredient Crock Pot Chicken Curry Soup
You can serve this recipe as a soup, or you can make it a little thicker and serve it as Massaman Curry over rice. My kids absolutely love this 5 Ingredient Crock Pot Chicken Curry Soup and ask for it regularly. You're family will love it too!
I love to teach my kids about other cultures and curry is definitely a great way to teach your kids about foods from around the world. There are many different types of curry. Just look it up online and you'll see that different countries use different spices and serve it with different meats and veggies. It's actually quite interesting.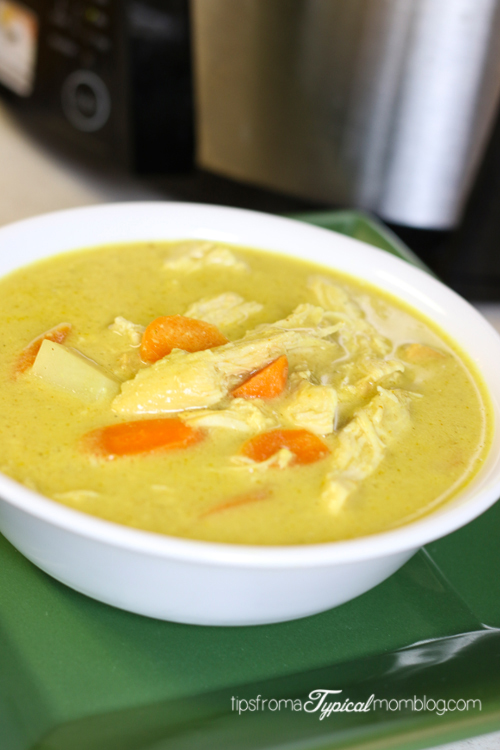 Before we get cooking, let's talk about slow cookers, shall we? Not all slow cookers are created equal. I've had my fair share of them, but I've finally found my favorite. It's a Crock Pot brand Cook and Carry Oval 6 quart and it is programmable. You can latch the lid closed for easy transportation. I don't know about you, but I am taking my Crock Pot to all sorts of pot luck dinners and that lid has saved my life. You really need to check it out. You can learn more about my crock pot HERE on amazon. (affiliate link)
But you are not here for a history lesson or for me to tell you about my slow cooker, are you? You want the yummy, EASY recipe, right? Your wish is my command.
5 Ingredient Crock Pot Chicken Curry Soup
4 chicken breasts, diced
2 – 13 1/2 oz. cans coconut milk
4 large carrots sliced on an angle
4 or 5 potatoes peeled and diced (you can use any type of potato)
2 tablespoons curry powder
1 cup water
peanuts (optional)
coconut (optional)
Combine coconut milk and water in the crock pot. Stir in curry powder, chicken, carrots, and potatoes. Cover and cook on low for 4 to 5 hours or on high for 2 to 2 1/2 hours. Ladle soup into bowls and garnish with peanuts and coconut if desired. Serve with warm Naan Bread. Alternately, you can serve over rice.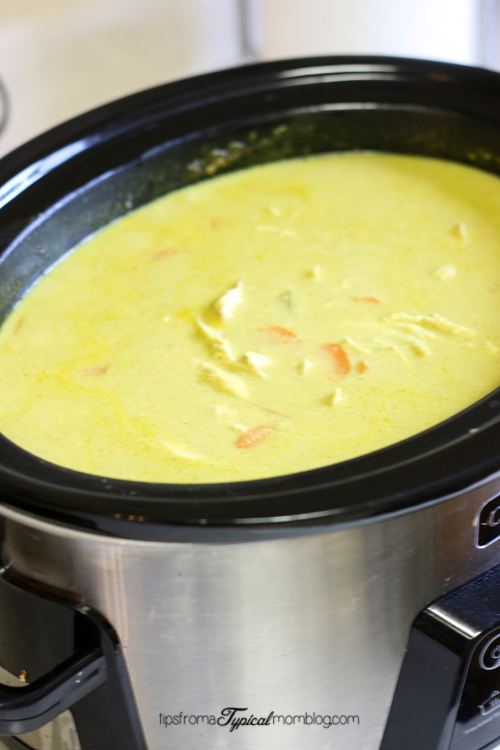 You will add this recipe to your menu after you try it. It's so delicious and the flavor is just right. I have eaten at many Thai restaurants, and this recipe tastes just like the Massaman Curry I order there.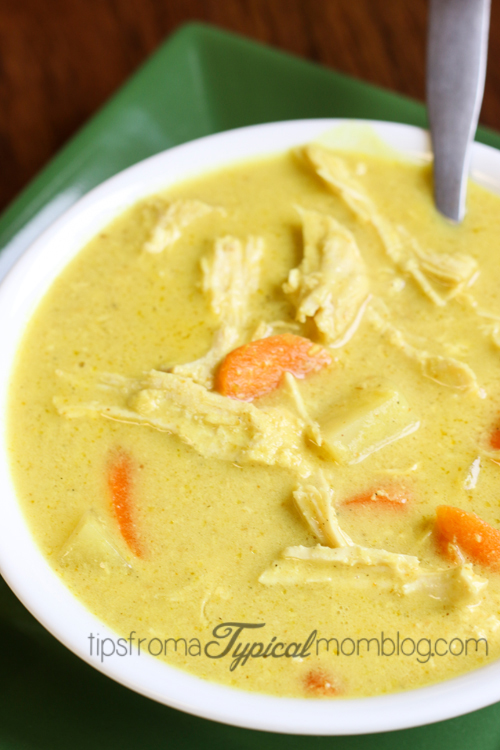 Here is a printable version for your convenience.
[amd-yrecipe-recipe:5]
Be sure to head over to my blog at Tips From a Typical Mom and get more family friendly recipes, free printables, parenting tips, product reviews, and family fun activities. While you're at it you might as well follow me on Pinterest too!
Check out some of my most popular posts:
How to Organize Your Home in Just 6 Days!
Thanks for stopping by everyone! I hope you enjoy the rest of the winter with your family eating all sorts of yummy soups!
Love, Annette