If you workout or exercise in any way, you know how difficult it can be to properly wash and clean your workout clothes, especially to get rid of the stink that seems to linger no matter what you do. I have found the secret 5 Solutions for Stinky Workout Clothes you are looking for!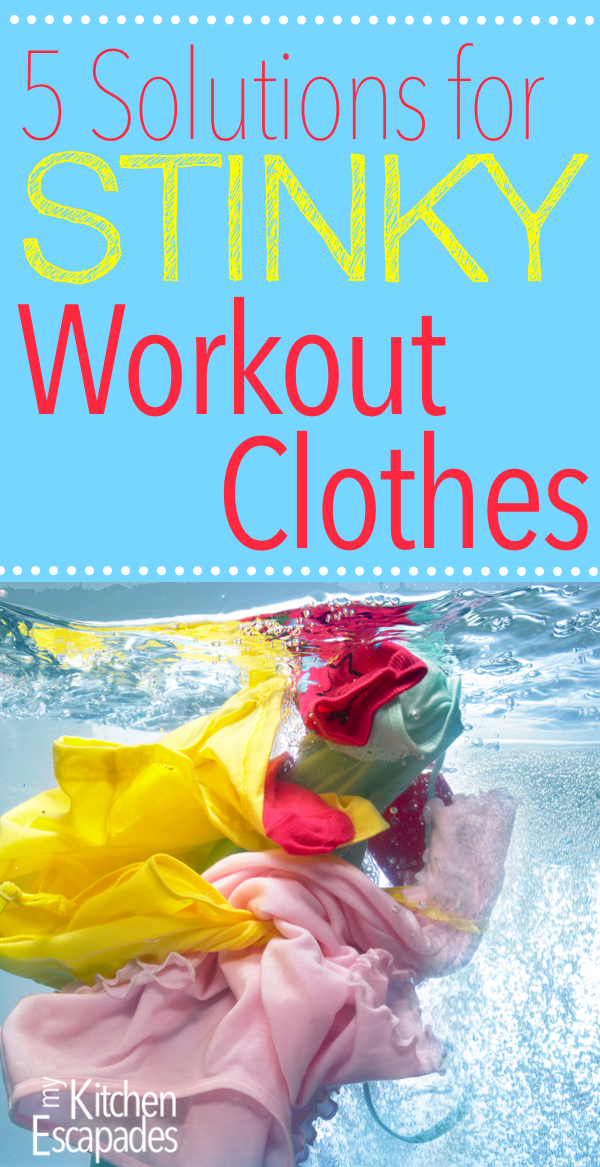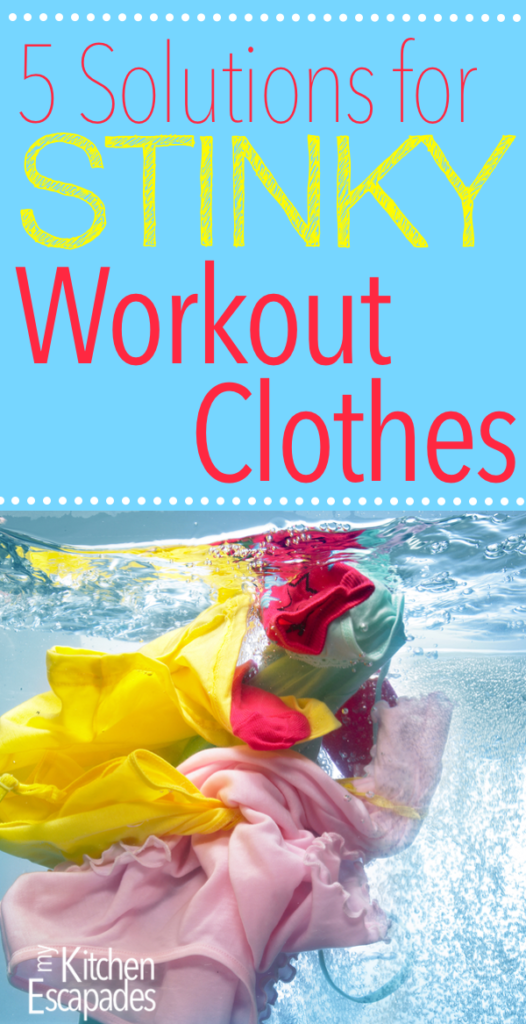 Hey this is Carole from My Kitchen Escapades and personally, I was "blessed" with the ability to sweat and stink within the first few seconds of my workouts. Currently, I am a Les Mills BODYPUMP instructor and I always wonder what my class members think when they see me dripping with sweat just a few minutes into the hour. Oh well…..I guess they can't doubt whether or not I am working hard 🙂
Between BODYPUMP and training for whatever race is next on the calendar, my workout gear gets used almost daily and because that part of my wardrobe was such an expensive investment, I am very careful about how I wash those clothes. Here are my favorite tips I've learned over the years!
5 Simple Solutions for Stinky Workout Clothes
1. Presoak Your Clothes – it is really simple to do and makes a world of difference. Just combine 1 C of plain, cheap white vinegar with a couple gallons of cold water and let your clothes soak in that mixture for an hour. The vinegar does a great job of breaking down the built up sweat, dead skin (gross) and dirt. When the hour is up, just gently squeeze out your clothes before tossing them in the washing machine. No need to rinse them! This is perfectly safe on all types of fabrics so don't be afraid of doing this with your expensive compression clothing.
2. Toss Out the Fabric Softener – I know this seems illogical because your fabric softener does such a great job making all your other clothes smell better, BUT it is one of the biggest offenders on multiple levels when it comes to work out clothes. First off, the fabric softener leaves a small coating all over the fibers of your clothes which only traps the smells and oils even more. Secondly, fabric softener KILLS the elasticity of your favorite, mega-expensive running tights. Any workout gear that own that has stretch or support will slowly be ruined with fabric softener. Instead, just use some white vinegar in your fabric softener dispenser. It is a natural softener and as mentioned above, does a great job removing stink instead of trapping it, without damaging the elasticity and hold of your clothes.
3. Toss Out Your Dryer – Again, this one is a multiple offender. The heat of your dryer does nothing good for expensive work out gear. Nothing! The heat ruins the stretch and support of performance gear and shrinks your favorite Nike running shirt that you paid way too much for. The best drying solution for exercise gear? A good old fashioned outdoor clothing line provides the air drying your clothes need without any damage to the fibers, plus the direct sunlight will help kill any lingering odors from your last yoga class.
4. Supplement Your Washing Detergent – For myself, my sweat is killer enough that every few months, I have to break out my strongest anti-stink weapon, 2Toms Stink Free Detergent. I don't use this on a regular basis because it is a bit pricey and the above mentioned options work for me most weeks. There are quite a few different brands of sports laundry detergent but this one just happens to be the one that works best for me.
5. Wash Your Exercise Clothes Separately – This may not seem important, but I have ruined some expensive gear washing it with other clothes. When you only have your workout clothes in a load, you can be sure that all the above mentioned items are done correctly and no zippers or buttons from other clothes are going to snag your expensive running tights. You can always do this by hand as well if you don't want to run a small load in your large washer.
**My friend, this post contains Amazon affiliate links which means I receive a small compensation, at no additional cost to you, if you make a purchase using my link. If you decide to give these products a try, I will be your bestie if you would use the links from this post. And no worries…. I only link to products that I both use and love! ~Carole