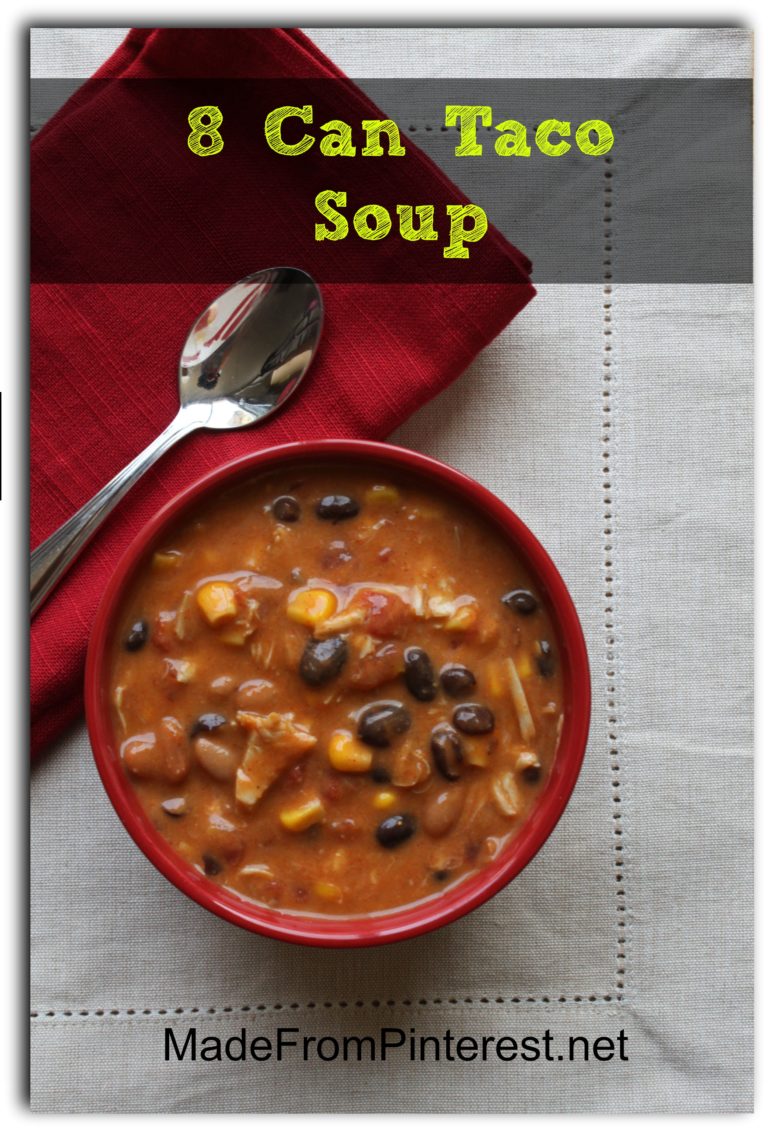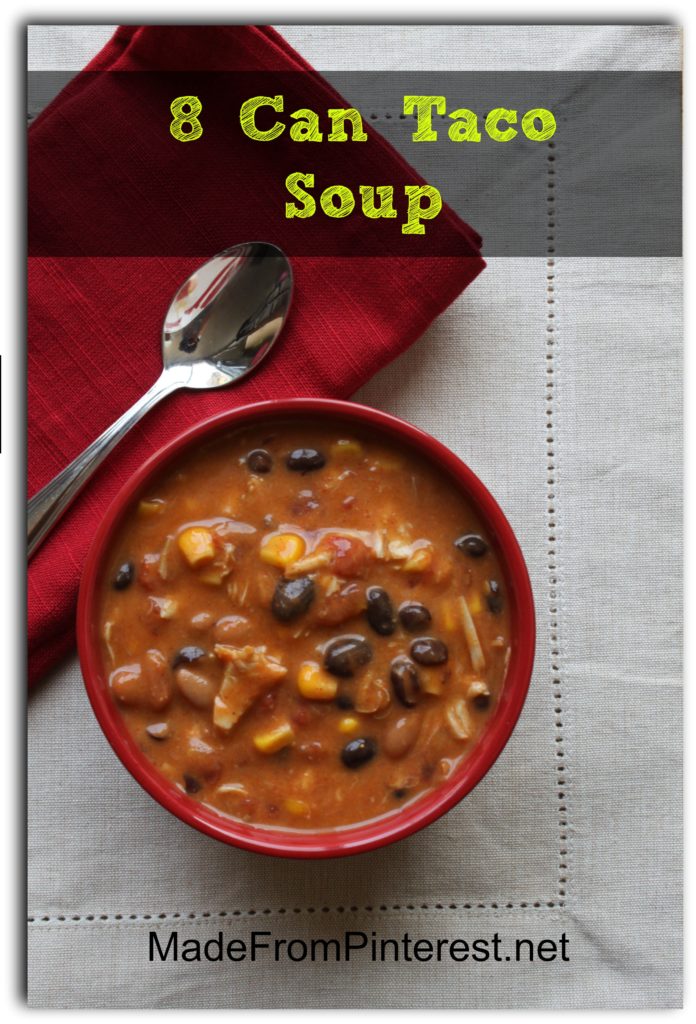 We love our wonderful readers! This pin was recommended to us by one of our faithful followers, Donna of Virginia. She is a busy mother of 6, who is dedicated to family meal time and told us that this 8 Can Taco Soup is a winner! Did you know that you can send us a pin? We love it, because sometimes readers share an idea they found on Pinterest they would like us to review, but without a link, it is pretty tough to be sure we are reviewing exactly what you wonderful readers are talking about. If you are not already following us on Pinterest, make sure you do! Then, when you find something you would like to recommend, or if you have found a pin that flopped for you, and you think it would make a great post here on MadeFromPinterest, send it to us! Even if you have never tried it and would like us to test it out for you, we will give it a shot! We love this great feature from Pinterest and would love to hear from more of you. All you have to do is hover over the pin you want to send us and then click the send button that has a paper airplane icon. For the name, type in MadeFromPinterest. Wait, don't send it yet! In the upper right hand corner there is a little conversation bubble. Click on that and you can send us a little note about why you are sending us the pin. We can't wait to hear from more of you!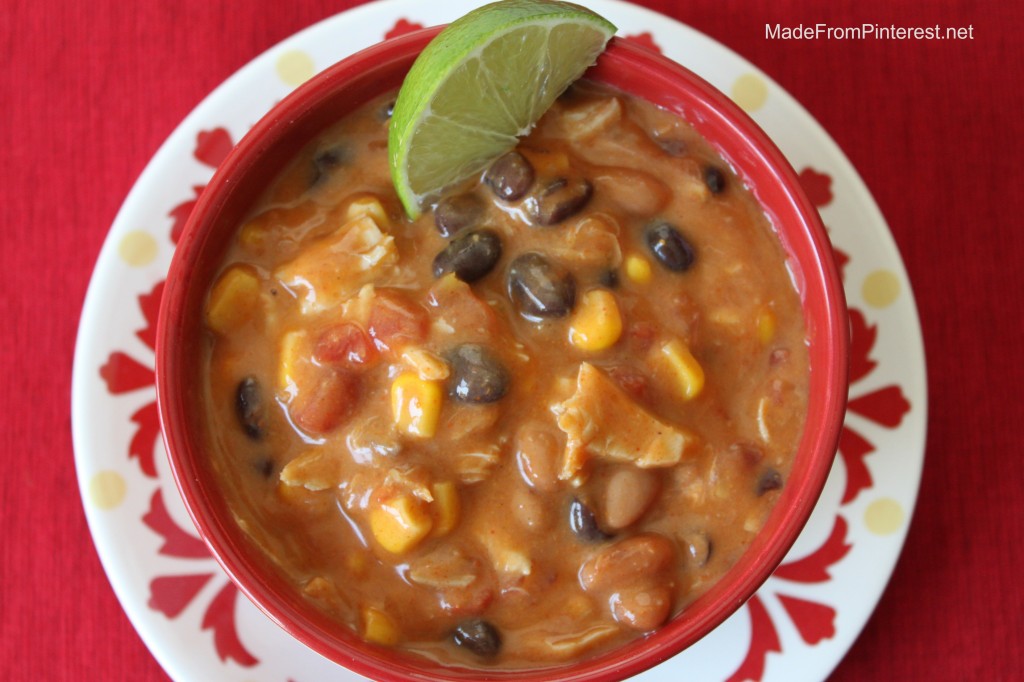 Donna says this recipe is a life saver on a busy night and she is not kidding. I call this kind of recipe an emergency dinner. I have a list of emergency dinners that I always have the ingredients on hand for. To truly qualify as an emergency dinner, the ingredients have to be either shelf stable, or in the freezer and must not require thawing (that is code for sometimes we eat chicken nuggets and fries). It also has to be something that I can have on the table in 20-30 minutes. This is important in our household, we are very scheduled. I always have a plan. The problem is, not everything goes as scheduled, and not everything goes as planned. This is where your list of handy, dandy emergency dinners comes in. On the night when you have forgotten to take the meat out of the freezer, when one of your kids announces they need to go to the store to get poster board for their major project that is due tomorrow that they haven't started on, and when on that same night there is a football game and your son is performing for the first time with the band, and all of this is happening when your husband is out of town (I am not making this up), you don't need to order out. Because honestly, you probably don't even have time for that. Just pull your 8 cans out of the pantry (16 if you are Donna, she doubled it to feed her crowd.). The hardest thing you are going to have to do is open all the cans and do some rinsing and draining. Pour it all in the pot, stir, simmer, done! This a perfect meal on a busy game night. You can even put it in a thermos and eat it on the way!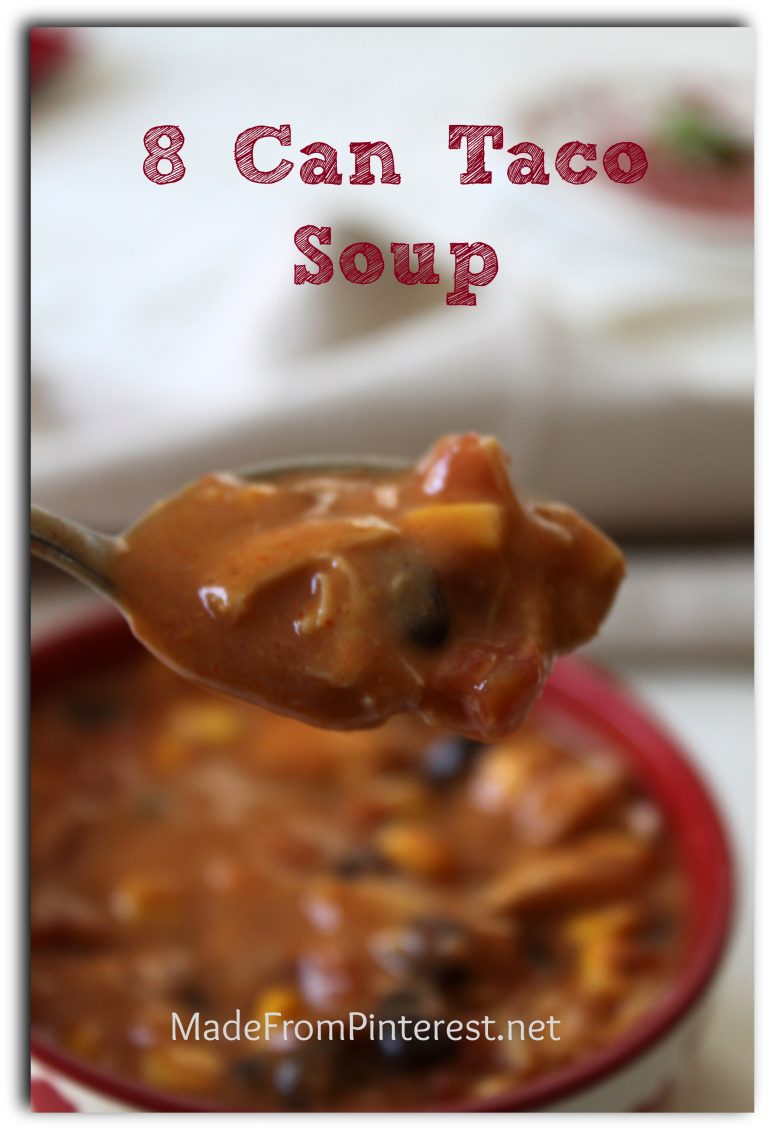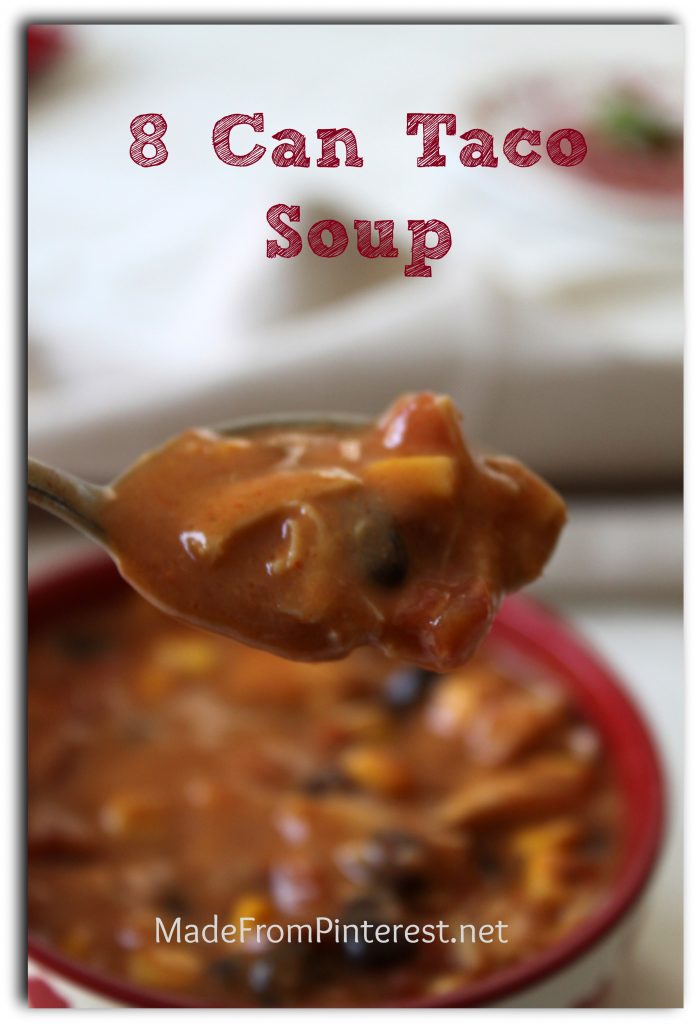 This pin from High Heels and Grills is a life saver! It rocks.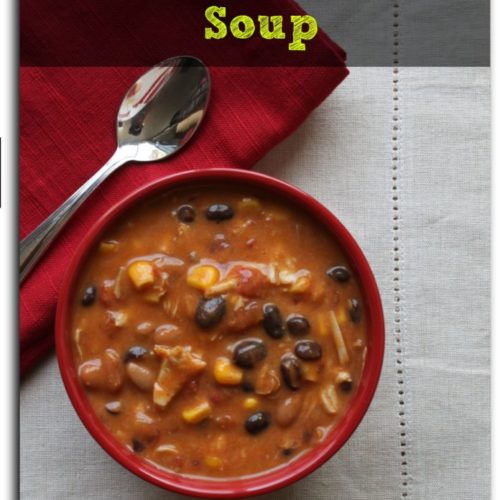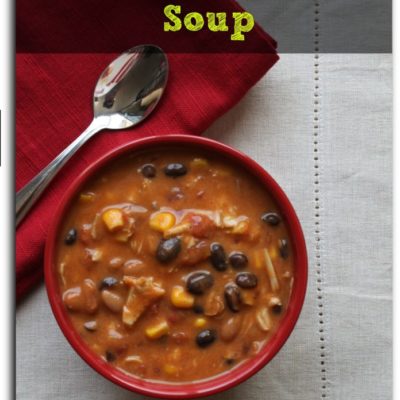 8 Can Taco Soup
Ingredients
1

15 oz. can black beans, drained and rinsed

1

15 oz. can pinto beans, drained and rinsed

1

14.5 oz. can petite diced tomatoes, drained

1

15.25 oz. can sweet corn, drained

1

12.5 oz. can white chicken breast, drained

1

10.75 oz. can cream of chicken soup

1

10 oz. can green enchilada sauce

1

14 oz. can chicken broth

1

packet taco seasoning
Instructions
Put all the ingredients in the pot, heat and serve!
Notes
It really is that good and it really is that easy!

Linking today with these parties: Simply Sweet Home, Thirty Handmade Days, Living Well Spending Less, The Pin Junkie, Serenity Now Blog, French Country Cottage, The Frugal Girls, While He Was Napping, Romantic Home, The Answer is Chocolate, Simply Designing, Shaken Together Life, Naptime Crafters, Truly Lovely Blog, Chic on a Shoestring Budget, Shabby Nest