Wisconsin Cheddar Cauliflower Soup. Doesn't it just sound…hmmm, weird? Honestly, I would not have chosen to try this soup based on the name and ingredients. I don't know, I guess I just didn't think of cauliflower as a good soup item. It wasn't in any soups I had ever tried. Until…I went to lunch with a friend.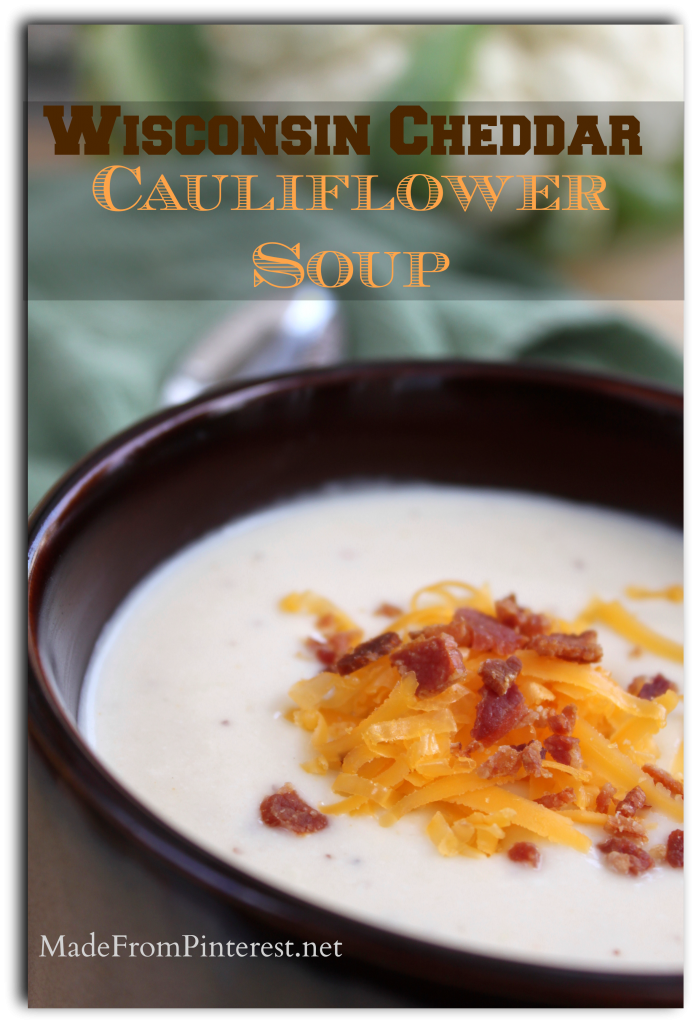 Have you ever gone to a new restaurant and been so overwhelmed you just seriously could not decide what to order? I was visiting a friend in Utah and she suggested we meet at Zupa's. Being from the east, I had never been there. We don't even have Cafe Zupa's here. It is a Utah thing. Everything on the menu looked great, so I just followed behind my friend and said, "I'll have whatever she is having." Which was one of the smartest things I have ever done. I don't remember anything else that was on my tray, just the cauliflower soup. It was like nothing I had ever tasted before! And it didn't really taste of cauliflower. It tasted like wow, and felt in my mouth like mmmm! I came very close to getting back in the very long line of people and ordering 4 more bowls. When I got home and realized there was no such thing as Cafe Zupa's in my area, I went through a mourning process, I was so sad I would never have that soup again. It took some time on Pinterest, but I found it. A copy cat recipe that satisfied! Woohoo! Now it is one of my all-time fall faves for dinner. It is easy, quick, and perfect with a fresh loaf of bread. (Don't think you have time to make bread? Try this trick for getting the dough to rise in half the time!) I don't think it needs any other sides, cause, ya know, the veggies are already in it!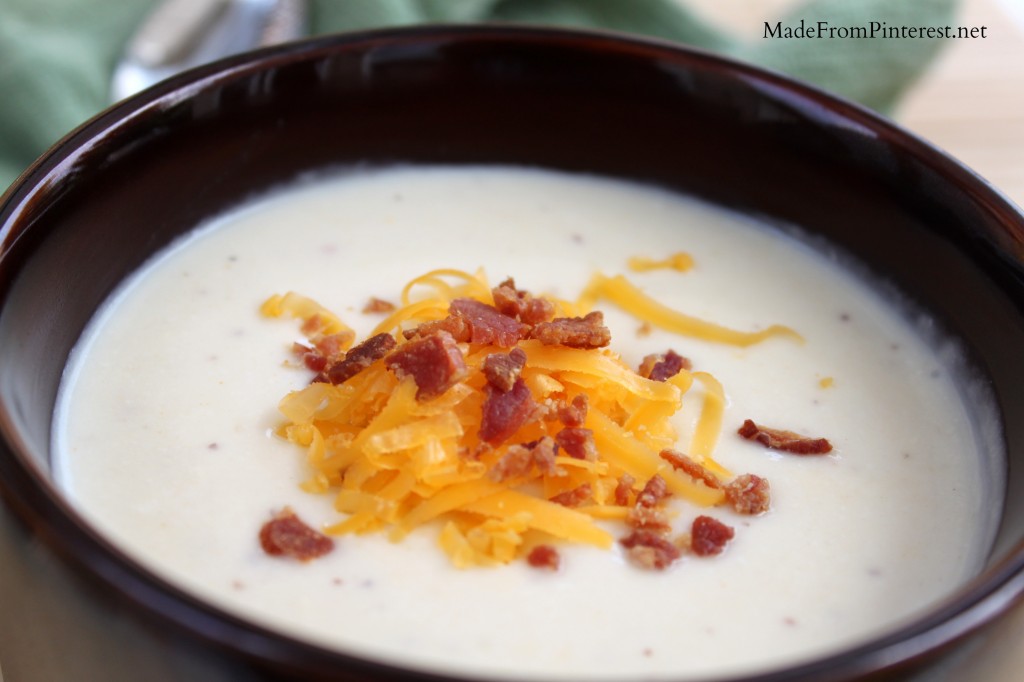 This is creamy, smooth, velvety and hearty. It is everything you want it to be. Only it isn't, because until now, you probably didn't know you wanted Wisconsin Cheddar Cauliflower Soup. Well now you do. Trust me. Once you try it you will have to resist the temptation to skip a spoon and just drink it. Unless you are home alone, and then you should just go ahead and slurp away in whatever manner pleases you. Bon Apetit!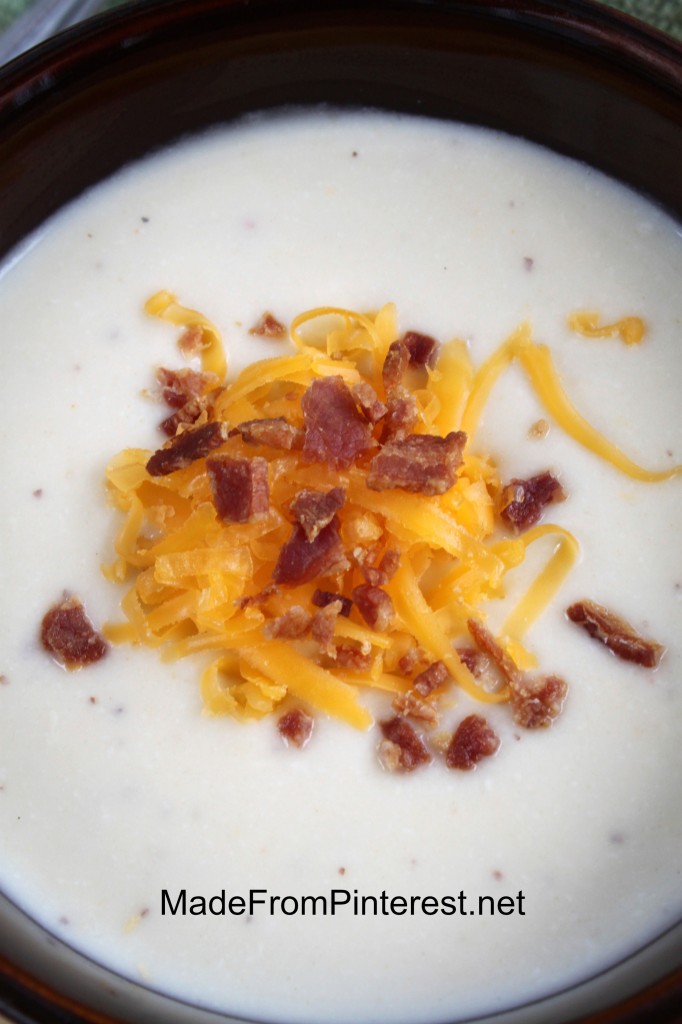 This soup rocks! Glad we found it at Butter With a Side of Bread.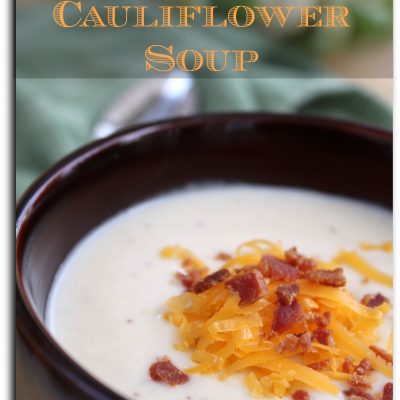 Wisconsin Cheddar Cauliflower Soup
Ingredients
2

tablespoon

butter

1

medium onion

chopped

1/4

cup

all-purpose flour

1/2

teaspoon

salt

2

cups

milk**

1 1/2

cups

water**

1

can

13 3/4 to 14 1/2 ounces chicken broth

1

head

2 1/2 pounds cauliflower, cut into 1-inch chunks

1

teaspoon

Dijon mustard

1

cup

sharp cheddar cheese

shredded

1

cup

Pepper Jack cheese

shredded
Instructions
Melt butter over medium heat in large saucepan.

Add onion and cook until translucent, 10 minutes while stirring occasionally.

Whisk in flour and salt, then slowly add milk, chicken broth, water and mustard.

Add cauliflower and bring to a boil. Bring down the heat and simmer until cauliflower is tender about 15 minutes.

Puree mixture in batches and return to pot.

Add 1 1/2 cup cheeses and mix until melted through and incorporated into the soup.

Top with remaining 1/2 cup cheese.
Notes
**1 can of evaporated milk and 2 cups of water can be substituted for the 2 cups milk and 1 1/2 cups water.

Great parties we are linked with today: Not Your Ordinary Recipes, Simply Sweet Home, Thirty Handmade Days, Living Well Spending Less, The Pin Junkie, Serenity Now Blog, French Country Cottage, The Frugal Girls, While He Was Napping, Romantic Home, The Answer is Chocolate, Simply Designing, Shaken Together Life, Naptime Crafters, Truly Lovely Blog, Chic on a Shoestring Budget, Shabby Nest