Two weeks ago, I got to travel with my dear hubby on a business trip to Hawaii. While we were there we walked around in shorts and flip flops in 90 degree weather knowing that the temperature back home was in the low 40's. I know…hard to take, right?
One of the treats that we like to get over there is shave ice. And don't call it shaved (with a "d") ice. You'll be showing your touristiness! (I like to make up my own words.) We made a beeline to Matsumoto's and had our shave ice but normally whenever I go anywhere the treat that I usually get is a caramel apple.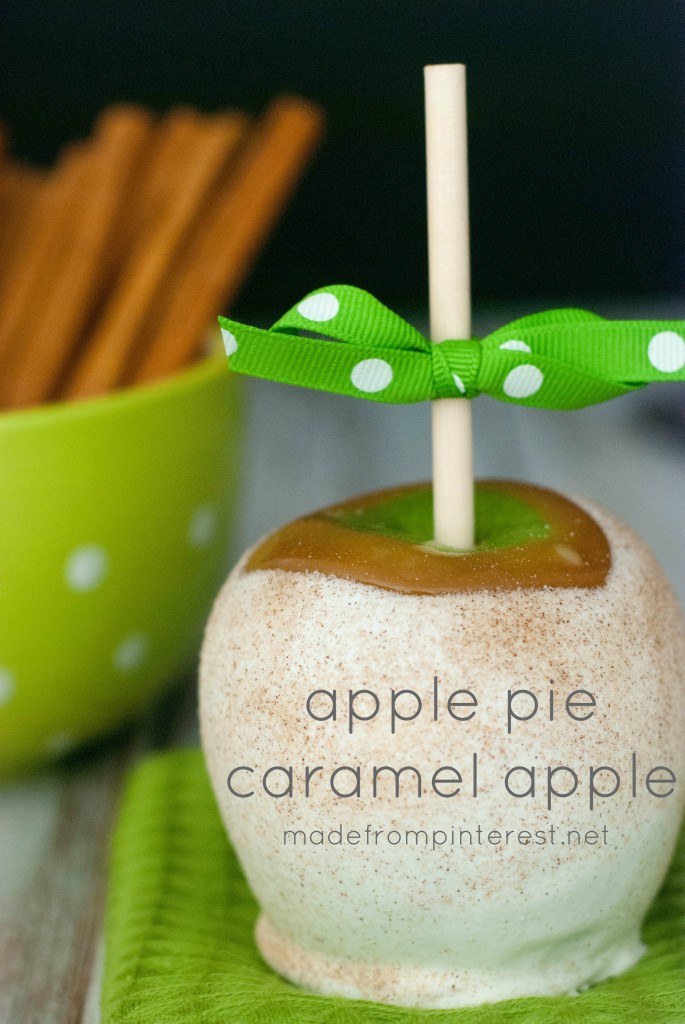 No matter where we are, if they have caramel apples, I will get one. I even have my kids conditioned to watch out for me. Often, before I even see them, one of them will exclaim…"Hey Mom!! There's a caramel apple!"
Have I told you how much I love my kids?
So imagine my happiness when I pinned this Apple Pie Caramel Apples from Miss CandiQuik. It was so easy and the results were professional. (Being the professional caramel apple snob that I am!)
So let's get cookin'! Here is what you will need:
Parchment or wax paper
Lollipop sticks (or popsicle sticks)
12 tart, green apples, I used Granny Smith's
Peter's Caramel (about a 1/3 to 1/2 of a block- see post) or 2 (11 oz.) bag Kraft Caramel Bits (or caramels)
Vanilla Candy Melts
Cinnamon-sugar, for sprinkling. Mix together cinnamon with some sugar to your liking. Make sure you don't go too heavy on the cinnamon though. It really shows up brown on the white chocolate.
Instructions: Wash and dry your apples really well. Make sure that there is no remaining water on them. Remove stems and then insert lollipop or popsicle sticks. Place apples on parchment or wax paper.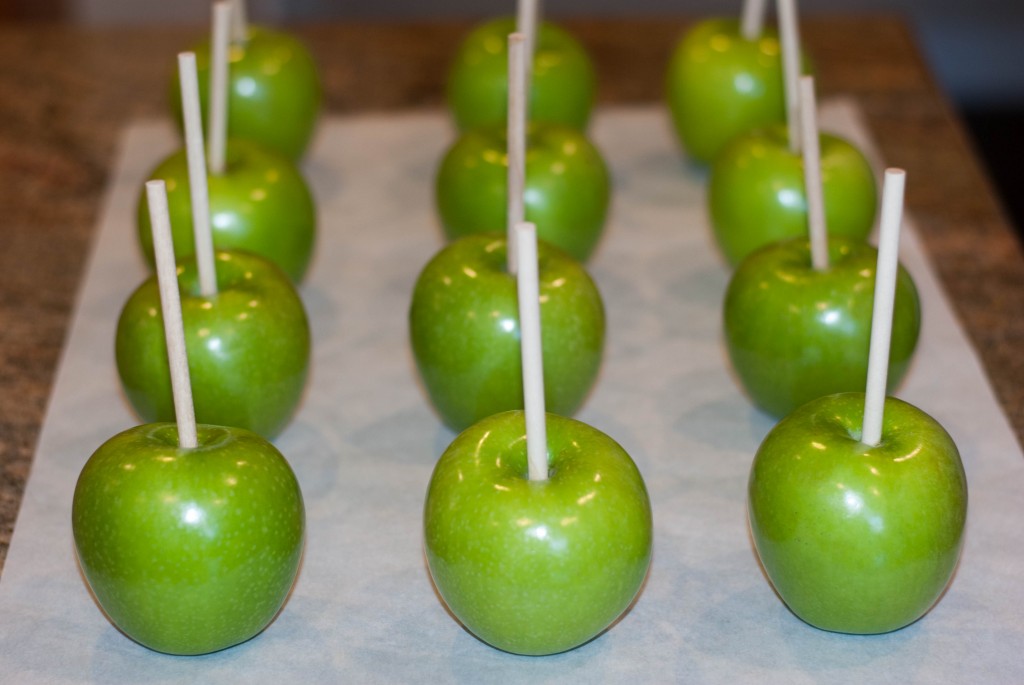 In a deep microwave safe bowl, cut some caramel off of your block and place in your bowl. Microwave until your caramel is melted. Every microwave has different cooking temperatures so just watch closely while melting. I use Peter's Caramel because it so easy and it can be found in kitchen stores or bought on Amazon.com. Plus you don't have to unwrap a bajillion wrappers! Here is what it looks like: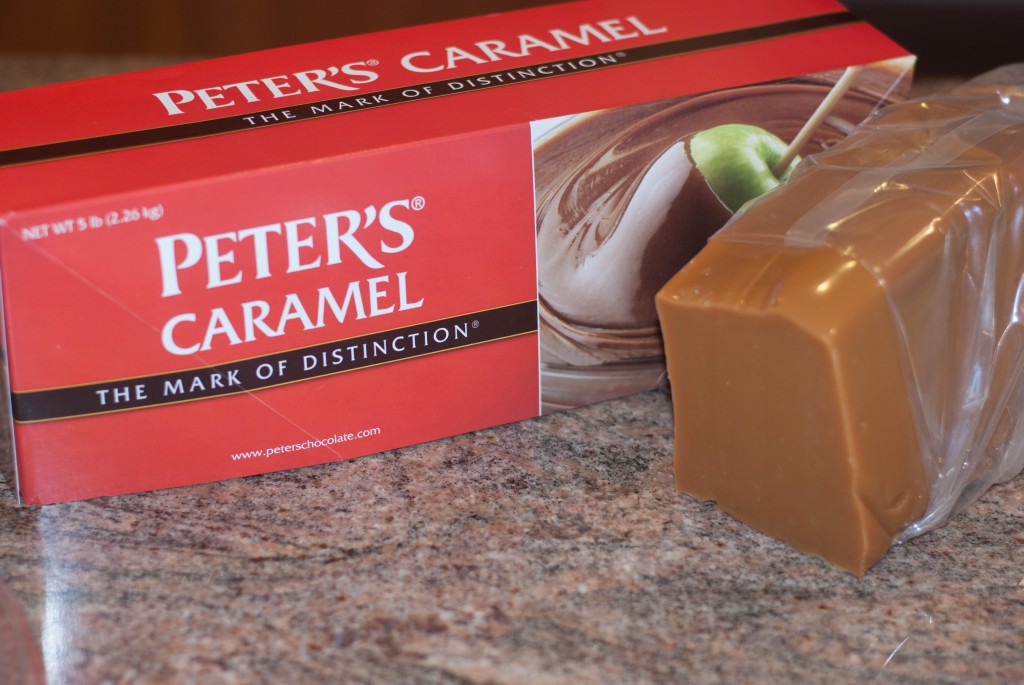 When your caramel is ready, dip your apple into the caramel and then turn to coat.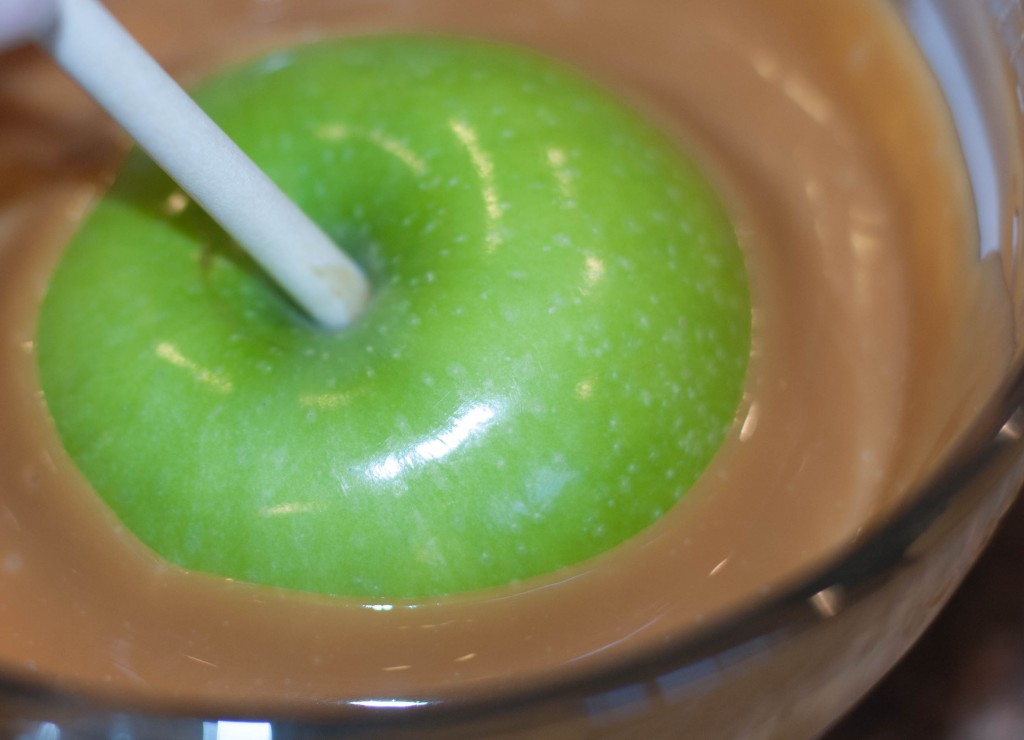 Allow as much caramel as possible to drip back into your bowl.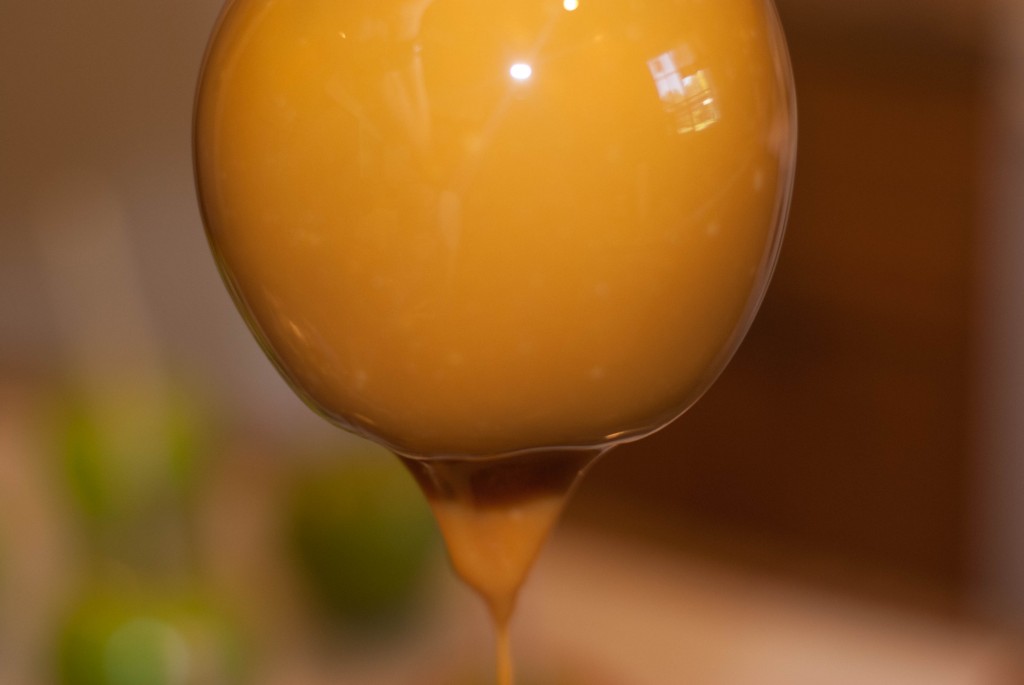 Here is a great tip! When the dripping has stopped, take a knife and scrape the caramel from off the bottom of the apple. This will cut down on the "pooling" of caramel at the bottom when you set your apple down.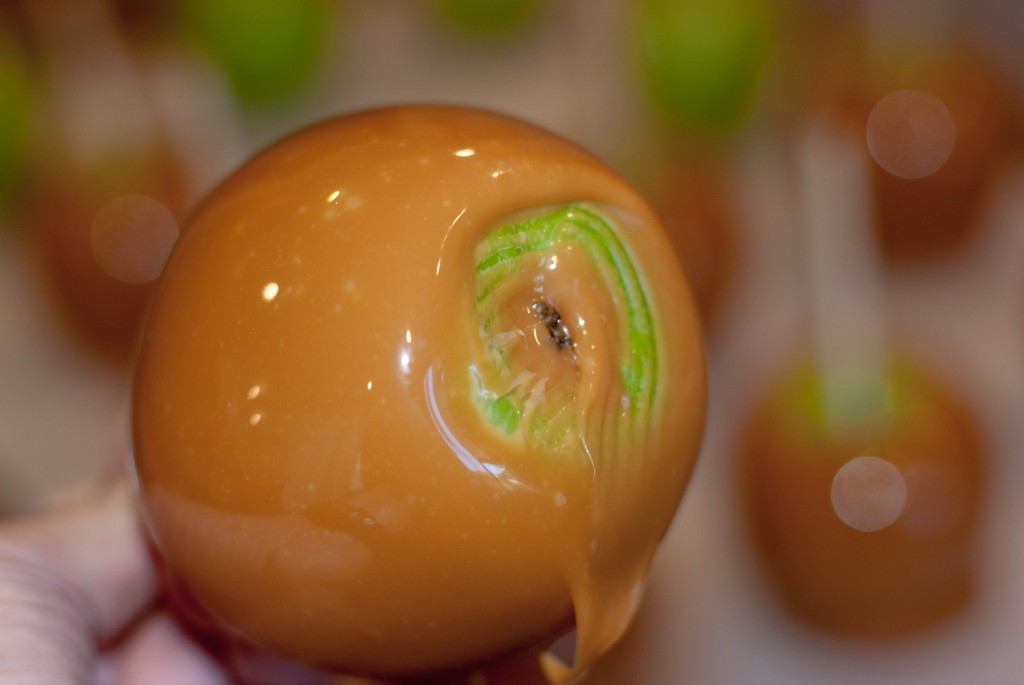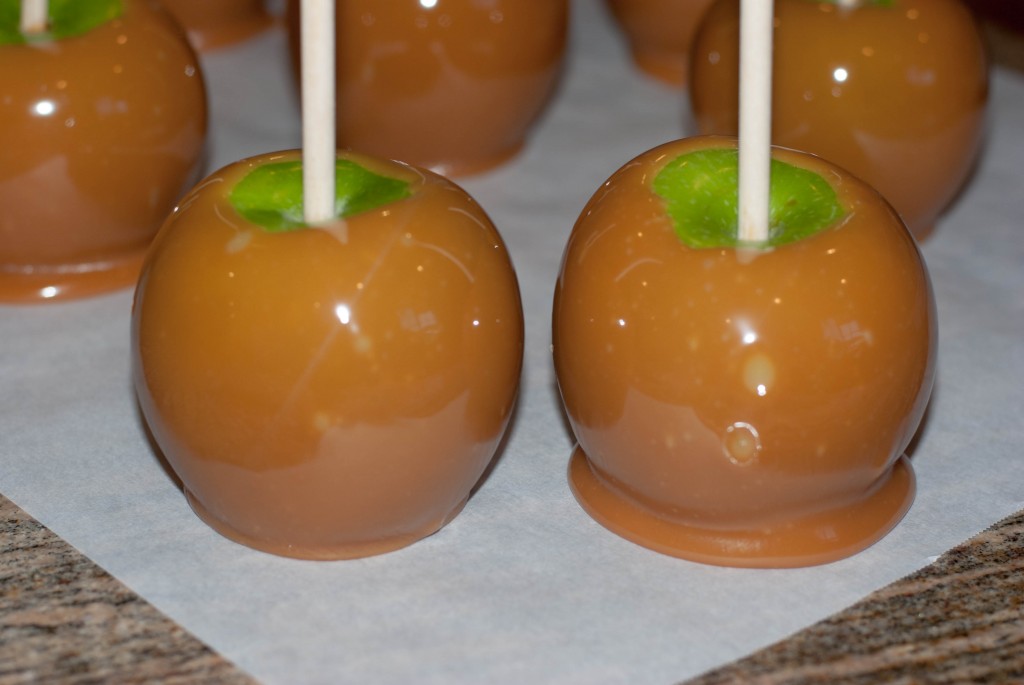 See the one on the left? Muy bueno! The one on on the right? Not so much muy bueno! Of course, if your caramel just HAPPENS to pool at the bottom, that just means more caramel for you to eat, right? Yumm!! If you need more caramel, then just melt some more. It's hard to determine exactly how much stays on each apple and how much you will need.
Let your apples cool. In separate deep microwave safe bowl, melt two cups of your Vanilla Candy Melts. I used Guittard's Vanilla Melts. They are so wonderfully creamy!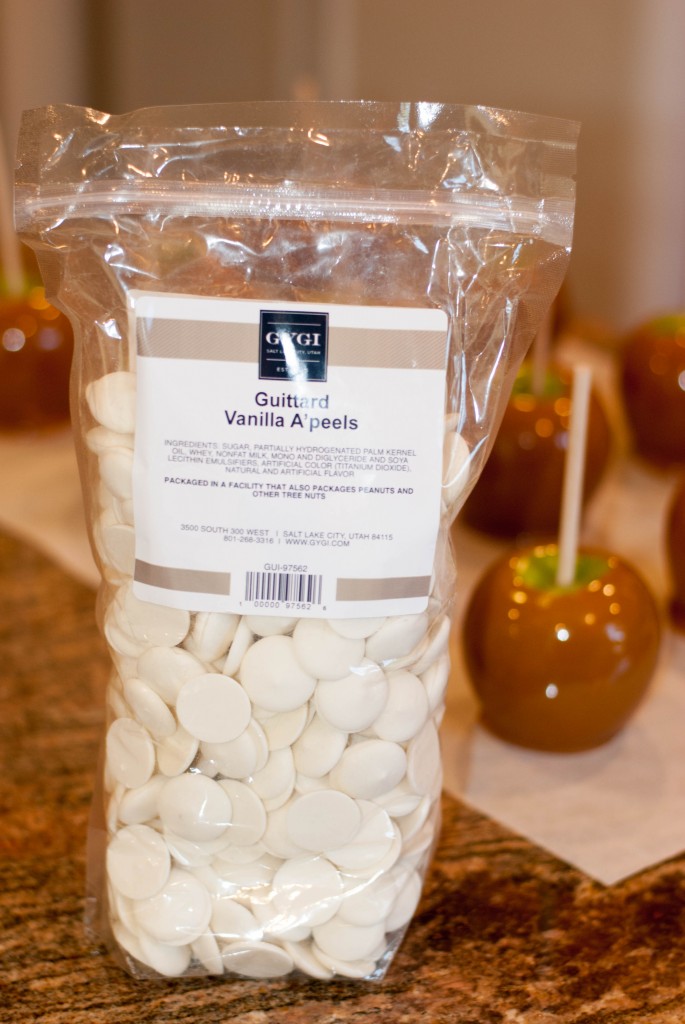 Dip your caramel coated apples into the melted vanilla melts making sure you don't dip all the way to the top of where the caramel is. It looks nice to see a little apple, then caramel and then the white candy melts. Let as much as possible drip back into your bowl and then with a clean knife, scrap the excess chocolate off the bottom of the apple and set back on your parchment paper. And just like the caramel, if you need to melt some more vanilla melts, then just melt some more to cover all of your apples.
While the vanilla coating is still wet, sprinkle some of your cinnamon sugar mixture all over the vanilla coating.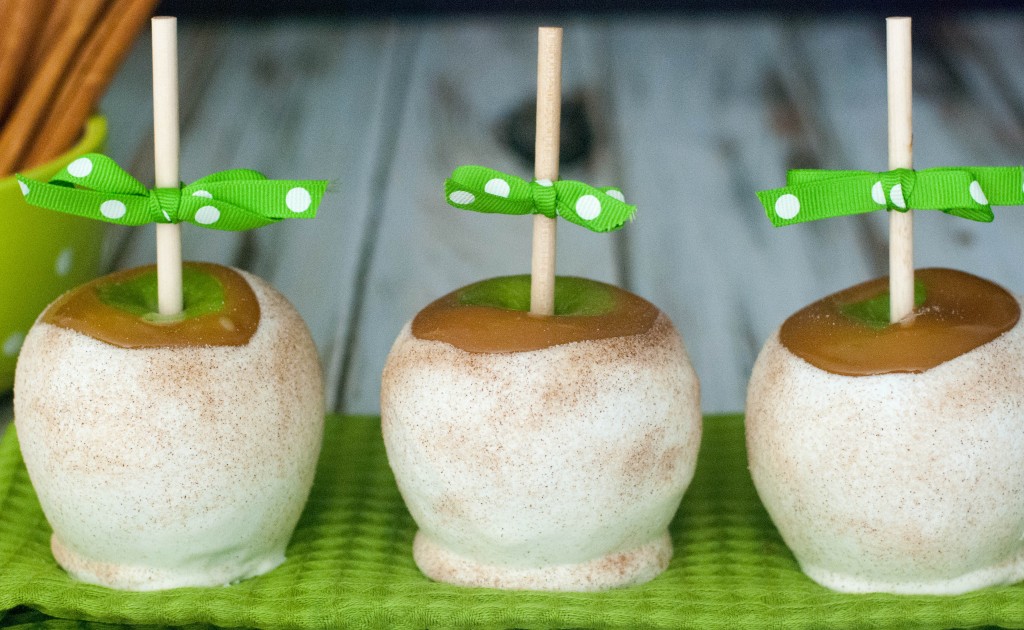 Let the apples cool and then dig in! It is also nice to take a knife and slice them up for easier eating. And I promise, these really do taste like an Apple Pie! It might just become YOUR new favorite treat!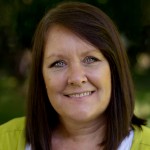 You can also find us on Pinterest │ Facebook │ Twitter │ Instagram │ StumbleUpon │ Hometalk
This awesome post has been shared with: Home Stories from A to Z