Hi guys, it's Judy from I'm Bored Let's Go and I'm so excited to share with you a really cool thing I did with bacon in this Bacon Egg Breakfast Stack. I'm a little obsessed with these breakfast stacks lately. I've made them several times last month and absolutely love them. I know you will too!
These yummy stacks start with a frozen hash brown patty for the base. Then add some cheese, bacon, green chili, guacamole and finally a fried egg to top it off. You can even garnish with salsa and cilantro if you like.
But let's get to it… The coolest thing about this breakfast stack is the BACON WEAVE. Your friends and family will think you're a genius when you serve these at your Sunday breakfast!
Here's how it's done:
These bacon weaves are not hard to make at all. Once they're assembled, just bake them in the oven and you have yourself a BIG, delicious piece of bacon. Oh, by the way…these are awesome on bacon, lettuce and tomato sandwiches too!
I guarantee you are going to love these delicious Bacon Egg Breakfast Stacks. They even make a fun "breakfast-for-dinner" meal too!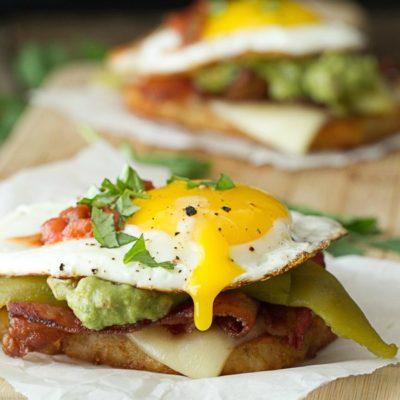 Bacon & Egg Breakfast Stack
Ingredients
For one bacon & egg stack you need:
1

frozen hash brown patty

3

pieces

bacon

you could use less if you're not weaving the bacon together

1

slice

cheese

cheddar, monteray jack or your favorite

1

fried egg

1

whole green chili

I used canned

heaping spoonful of guacamole

Optional: garnish with chopped cilantro and salsa
Instructions
Preheat oven to 400°

Cut bacon in half. On parchment lined baking sheet, weave bacon pieces. Place frozen hash brown patty on baking sheet next to the bacon. Bake until bacon is cooked and hash browns have crisped up, about 15-20 minutes. Flip the hash brown patty half way through cooking.

To serve, layer hash brown patty, slice cheese, bacon, green chili, guacamole and top with a fried egg. Garnish with chopped cilantro and a spoonful of salsa.
Notes
To weave the bacon, lay 3 half pieces of bacon on a parchment lined baking sheet next to each other vertically. Fold the middle piece a third of the way back. Lay one half piece of bacon horizontal. Fold the middle piece down over the horizontal piece. Now fold back the two outside pieces. Lay another piece of bacon down horizontal. Fold those 2 pieces back down over the horizontal piece. Repeat process.
If you are making several, I suggest cooking the hash browns on a separate baking sheet so they don't get too greasy.
For more delicious recipes please visit my blog at I'm Bored Let's Go and catch up with me on Facebook, Pinterest, Instagram or Twitter. I'd love for you to follow along!
See you next month! Judy
Here's a couple more delicious breakfast recipes I think you'll enjoy:
Hasselback Potatoes with Chorizo and Eggs