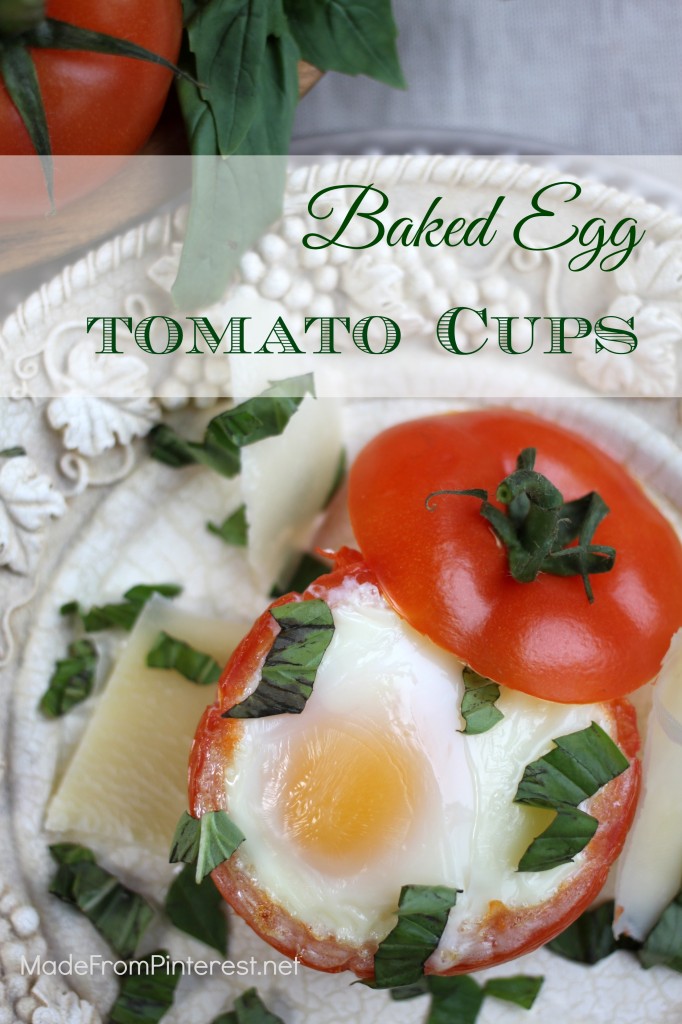 I have made these at least twice a week since I tried the recipe. Scrumstumblyumptious! That is what these Baked Egg Tomato Cups are! When my daughter was little, scrumstumblyumptious was the word she would use for any food she fell in love with. It's a made up word, based on a made up word. So I can use it however I want. Roald Dahl originally coined the term scrumdiddlyumptious in Willy Wonka's Chocolate Factory. Can you use a word intended to describe chocolate for eggs baked in a tomato cup? I think I can. I am going to. I did. Like I said, it's a made up word, so I can use it however I want. I am so glad I made two of these for breakfast instead of just one. One would not have been enough. Since I am doing whatever I want today, I am going to pause here and eat the second one before it gets cold. I ate the first one and got so excited to tell you about it that I ran over to the computer, but now………I yus can't wait. Vith ith tho good! Ou eally ave to make thethe! Gulp! These are so good you will forget your manners and tell people how good they are with your mouth full! These are fall down good! ScrumSTUMBLYumptious. I am stumbling over my words trying to tell you how much I enjoyed this breakfast.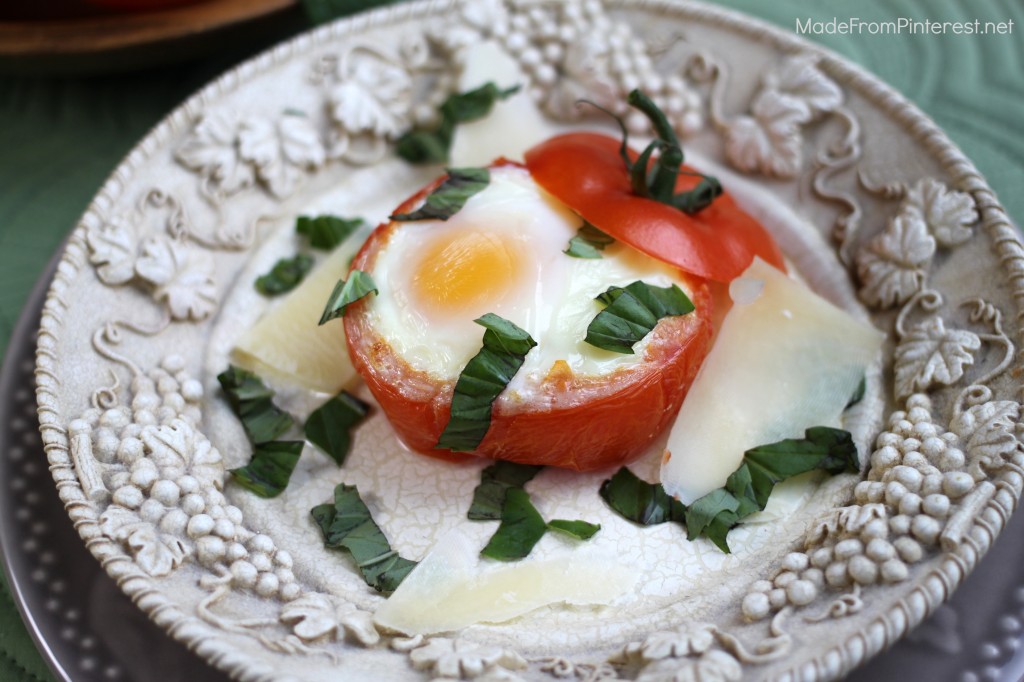 If you were to eat a Willy Wonky chocolate bar for breakfast, it would taste good. Let's just keep it real. But afterwords, your tummy might not feel so good. And there might be guilt. I say might, because honestly, I am fine with a chocolate bar for the occasional breakfast. But you could have a healthy breakfast. A healthy breakfast that makes you forget your manners and stumble over your words. I think you should. I am sure your deserve a healthy breakfast that tastes amazing and helps you keep that New Year's Resolution. You know the one I'm talking about. The one you are have either already given up on, or are tempted to. You can do it. Healthy does not have to be boring. Besides, it is easy to make. Just cut of the top of a tomato, scoop out the insides (a grapefruit spoon or knife is handy here), and crack an egg into the tomato. Place it on a foil lined, rimmed baking sheet and bake at 350° for 1/2 an hour. Top it with basil and shaved parmesan. Or parsley and some bacon. Or Canadian ham and swiss cheese. Add a little salt and pepper to taste and buon appetito! This recipe is adapted from Fed and Fit, thanks for a great idea.
This pin rocks!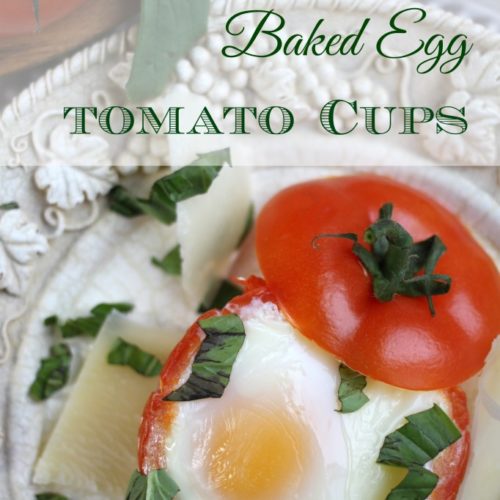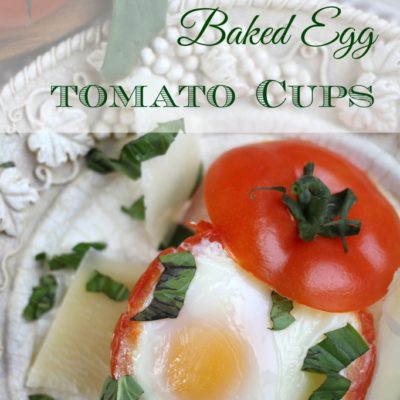 Baked Egg Tomato Cups
Ingredients
2

medium tomatoes

2

large eggs

Toppings: basil and parmesan

parsley and bacon, Canadian ham and swiss cheese, salt and pepper to taste
Instructions
Preheat the oven to 350°. Cut off the top of the tomato and scoop out the insides with a spoon. A graperfruit spoon or knife is handy here, but it can be done just as well with a regular spoon.

Place the tomatoes on a foil lined, rimmed baking sheet.

Crack an egg into the hollow of the tomato. Bake at 350° for 30 minutes.

Add your desired toppings.
This post was also shared at It All Started With Paint.
Interested in some more healthy breakfast ideas? Try these: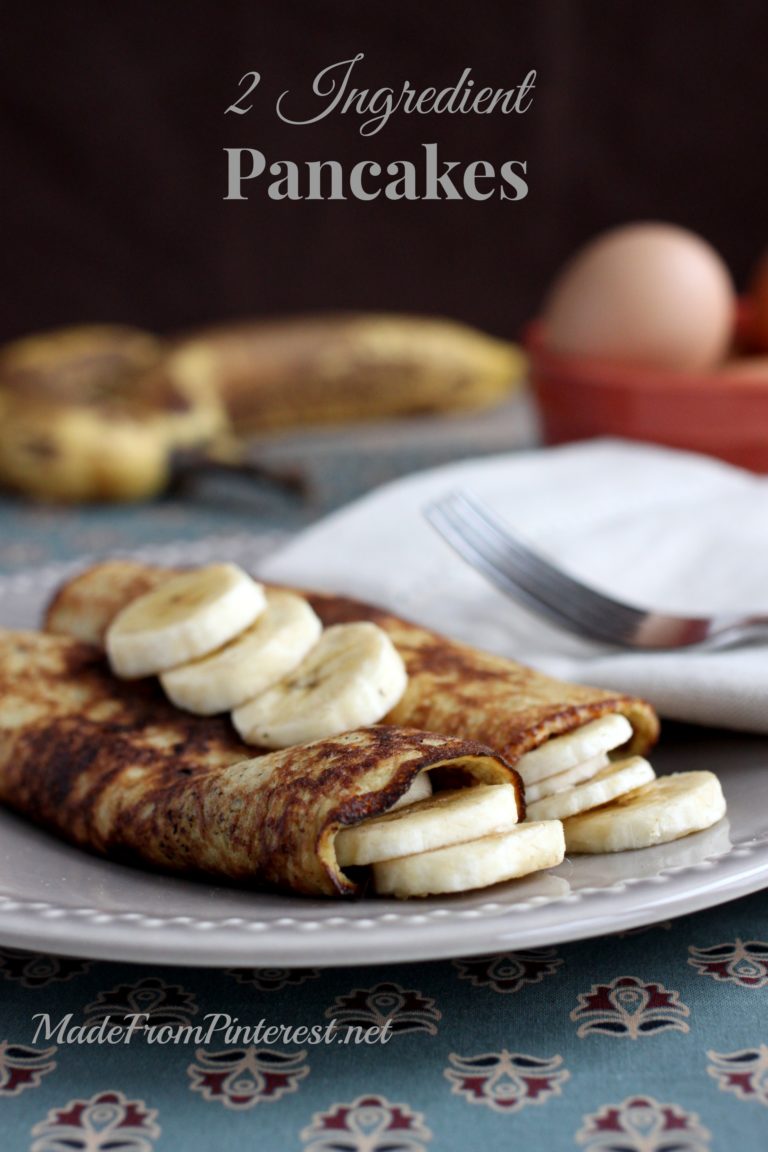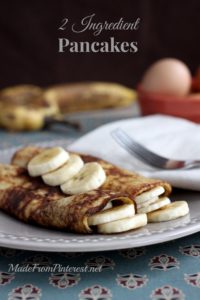 Bell Pepper Sautéed Eggs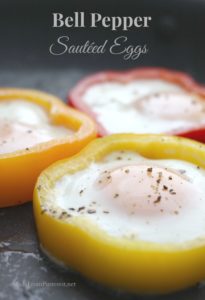 We are sharing this yummy recipe with:Mandy's Recipe Box , Inside BruCrew Life, Hun What's For Dinner, The Recipe Critic, A Bowl Full Of Lemons, Living Well Spending Less, Lamberts Lately,Tatortots And Jello, Cheerios And Lattes, Kitchen Fun With My 3 Sons