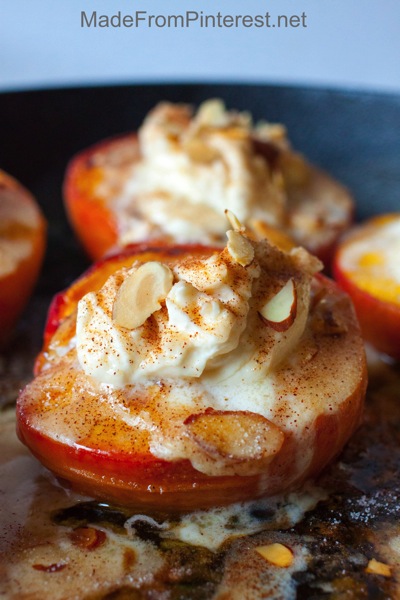 The last hurrah. That is what we call our Labor Day weekend. In our area, schools begin the day after Labor Day. Every year, we go away for the weekend and sort of tip our hats to the last of summer. It's bittersweet. And a little bit hectic as we try to get everything done to get ready for school, and at the same time, getting everything ready for the last hurrah. Usually there are summer assignments getting finished in the car on the way to the lake. And there is always something we have forgotten. But we have found that wadded up beach towels are a fine substitute for a pillow.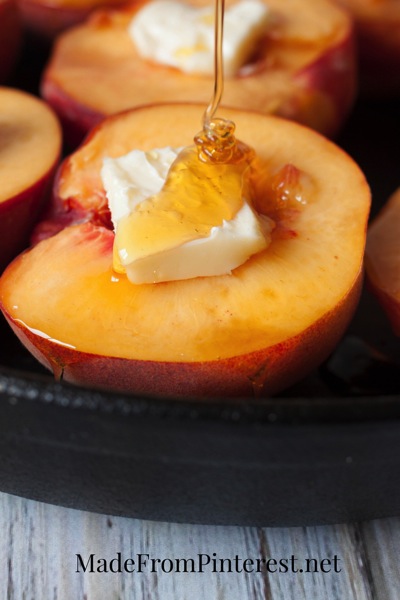 One part of summer I don't want to forget is the sweet taste of ripe peaches in season. This recipe is my last hurrah to peach season. I am tipping my hat to the pretty fruit with this recipe I have had my eye on since last year. It was worth the wait, and worth you hurrying to enjoy the last bit of peaches at the tail end of the season. This terrific recipe from the Rosie on the Londoner is simple, classic, with complex flavors that will have you eating both halves of the peach. If you prepare these as a dessert after a filling dinner, perhaps one half per person would be enough. But I prefer to make a meal of them, and a pig of myself, and indulge in the whole peach with a healthy dollop of cream. One thing I added to suit my sweet tooth, was a generous sprinkle of cinnamon sugar. Good golly miss molly, that really sends this recipe over the top. The whole affair is rather decadent.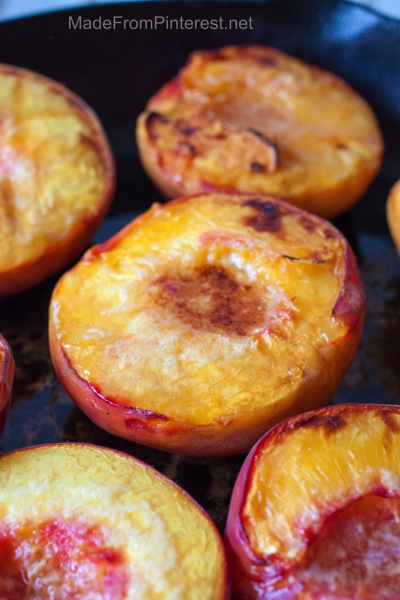 Don't wait a year to try this recipe like I did. You will want to hurry and make it before the last of the peaches are gone, because…this pin rocks!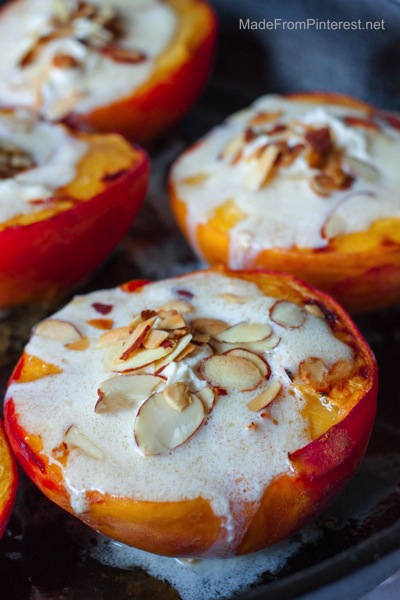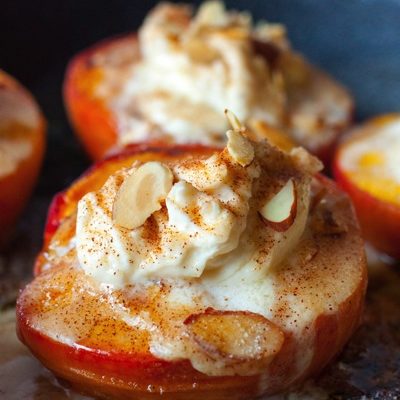 Baked Peaches and Cream
Ingredients
4

Peaches

Butter

Honey

1

cup

mascarpone

1/2

cup

Heavy whipping cream

1

tsp

vanilla extract

flaked almonds

cinnamon sugar
Instructions
Preheat your oven to 350°. Cut the peaches in half and remove pits. Place in a baking dish. I used a cast iron skillet.

Place a pat of butter on each peach half and drizzle with honey.

Bake for 25-30 minutes. Make sure to keep an eye on them so they brown but don't burn. The time is dependent on the size of your peaches.

While they are baking and browning, mix your cream, mascarpone and vanilla extract. Lightly toast almonds in pan.

When your peaches are baked and browned remove them from the oven.

Place peach on plate. Spoon remaining butter and honey in pan and pool over the peach. Place a heaping spoonful of marscapone cream on peach and top with almonds and cinnamon sugar.

Serve and enjoy!
This post is being shared with: Whipperberry, Tatertots and Jello, Home Stories A to Z, Living Well Spending Less, Skip to my Lou and Making the World Cuter