Easy to make yet impressive to serve for dinner. This beef roast recipe is easily adaptable to cook to your own taste. Enjoy!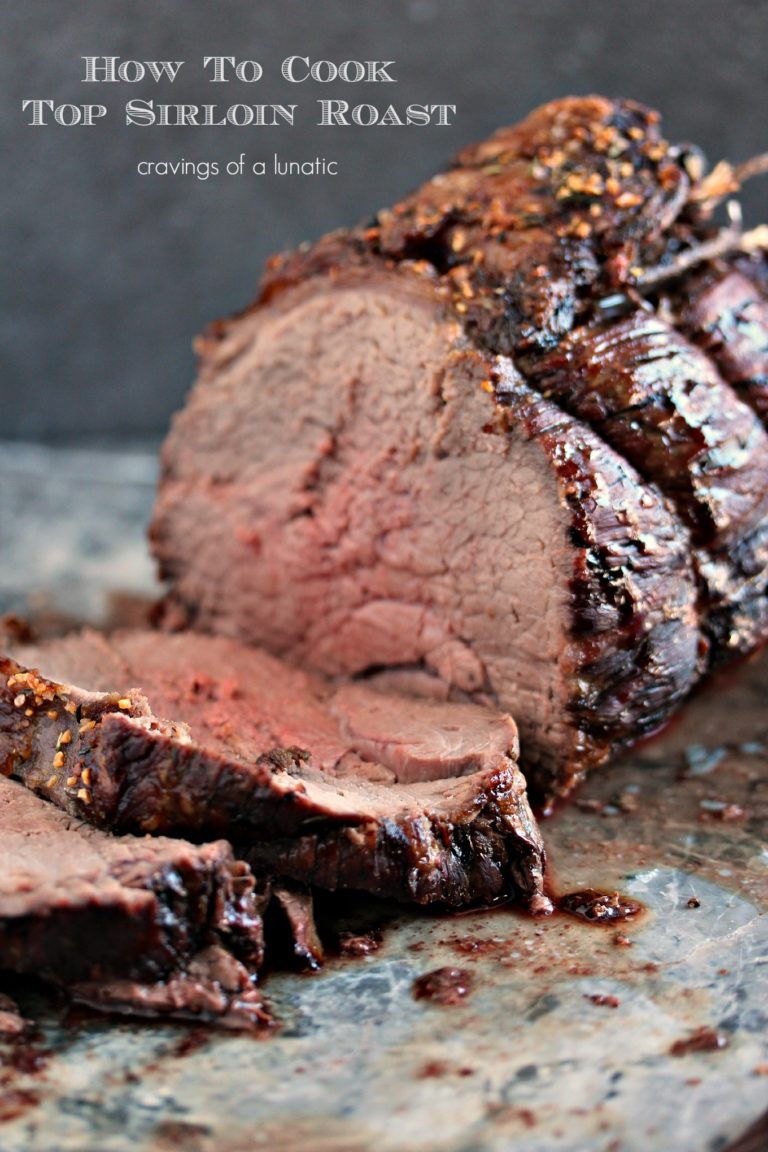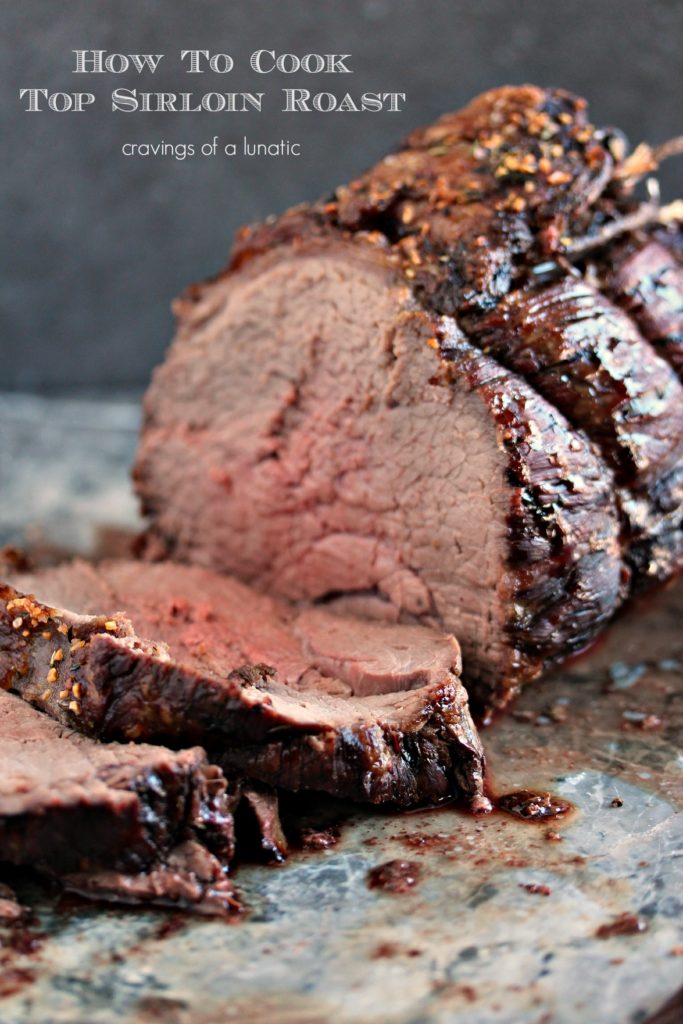 Hello to all of you Made from Pinterest peeps out there! Happy to be here to share another recipe with everyone.
I'm going to admit I was never a sirloin fan. So this recipe comes via a mistake made by my hubby. I'm all for being honest. It's sort of my thing.
We were planning a big dinner for a special occasion. Hubs was hitting Costco for me on his way home from work. We live in a small town about 20 or 30 minutes from a bigger city. Since he works in the city he'll occasionally stop at Costco for me. Sweet, right?
Not this particular day. He was in a bit of a mood because Costco was hopping. I think it was a Thursday, and by now I should know better than to send him there on a Thursday, a weekend or before a holiday. Hubs hates shopping. As a lot of folks do.
I made a list which he forgot to grab. It had detailed notes on what to get. Then I texted him with very specific information on what to get. Then he called me from Costco to clarify the list. I thought we covered all the bases on which kind of roast to buy.
So when he walked in the door with a sirloin roast I think I may have thrown it at him. Not hard, but it's possible it was hurled across the room. It tenderizes the meat so it served a dual purpose.
Now you're thinking "why is she hurling sirloin roasts at her sweet, helpie hubs", am I right??
Yeah, I asked for a Standing Rib Roast.
You feel me now, right?
Okay, I did not hurl it at his head, or anywhere else. Although I'll admit I was tempted.
Needless to say, we had a good giggle. He was a sweetheart and offered to take it back. I did my best "understanding wife" impersonation and told him no. Not because I was being nice but I was afraid he might come home with lamb or pork at this point.
He's cute though, so I let him off the hook. Marriage is all about balance, and keeping your wicked sense of humour.
So why did I have the reaction of disgust when he brought home sirloin?
Well, I have very, very, VERY bad memories of sirloin. My dad loved sirloin, but my mom was not a great cook. So any sirloin we had was dry or chewy. That is what I knew sirloin to taste like.
At that moment I had an epiphany. Maybe it was time to learn how to cook sirloin so it wasn't chewy. I remembered pinning a sirloin roast from my pal Steve of The Black Peppercorn. So I peeked through my pins and sure enough, there it was.
Steve is a great cook so I used his beef roast recipe as a place to start. I cooked mine a wee bit longer because my daughter is not a huge fan of pinkish meat. It turned out fabulous. So kudos to Steve for the recipe inspiration.
A big kudos to hubs, too, for picking this up for me to experiment with. I was pleasantly surprised by how much I liked it. And hubs was pleasantly surprised no meat was hurled at him.
So all in all it turned out good for everyone in the end. Although he hasn't been back to Costco since.
P.S. No hubs were hurt in the making of this story.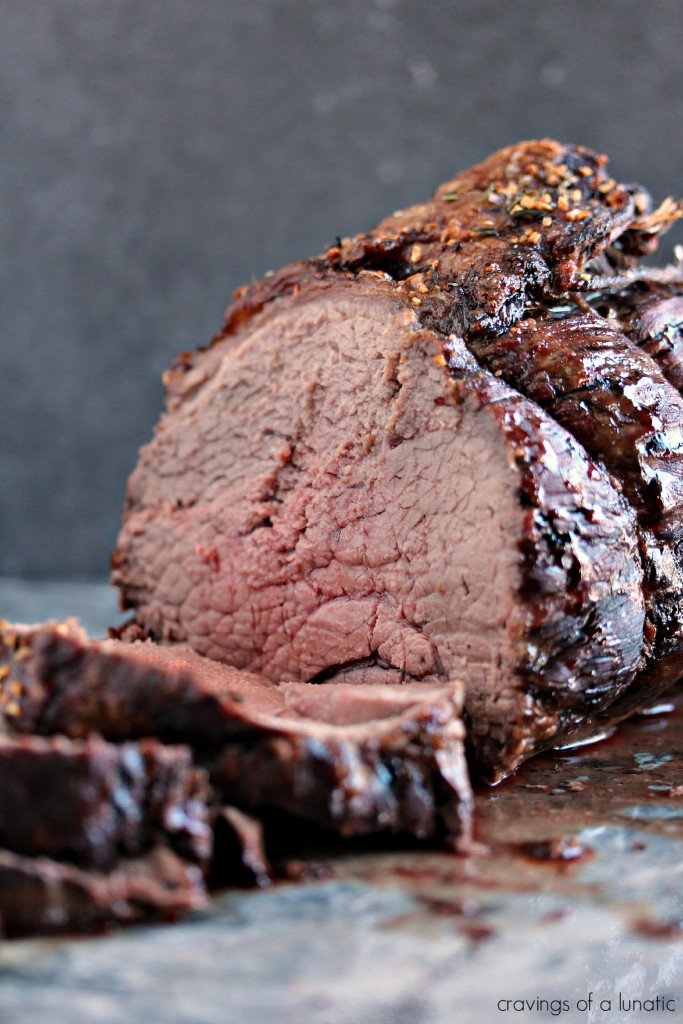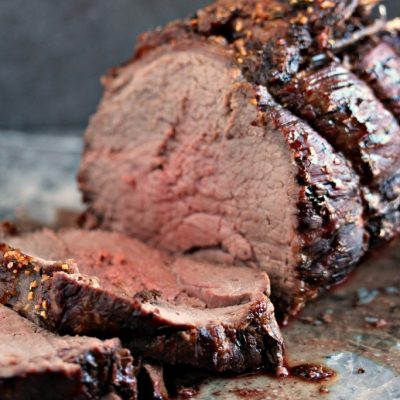 How to Cook a Top Sirloin Beef Roast
Ingredients
Top Sirloin Roast

about 5 to 7 pounds

2

tablespoons

coarse salt

or to taste

1

tablespoon

white pepper

or to taste

1

tablespoon

garlic powder

1

tablespoon

of Herbes de Provence
Instructions
Pull the roast out of the fridge about 30 minutes before cooking!

Preheat oven to 450 degrees F.

Make sure roast is tied, most butchers will do it for you. If not, use butchers twine to tie it.

Season the meat with spices, make sure you season it all over.

Place the roast fat side up on a rack, this is crucial. You want dry heat for this type of meat, braising in liquid is not an option for this one. Use a rack inside your baking pan, most come with one.

Place the roast in the preheated oven. Cook for 15 to 20 minutes (depends on size of roast) at 450 degrees F. Then, without opening the oven door, turn the heat down to 325 degrees F.

Cook until meat thermometer inserted reaches about 140 degrees. Generally this should take about 2 1/2 to 3 hours, but it varies on oven and roast size.

Pull the roast out of the oven. Remove the rack and place roast on a cutting board. Allow to rest for about 15 minutes. This is crucial, do not be tempted to cut into it right away. Letting meat rest is a thing of beauty. The juices redistribute and the result is succulent meat.

You can make gravy while it's resting if you like.

Slice the roast. Place on platter.

Serve with a big old "I no longer hate sirloin" smile!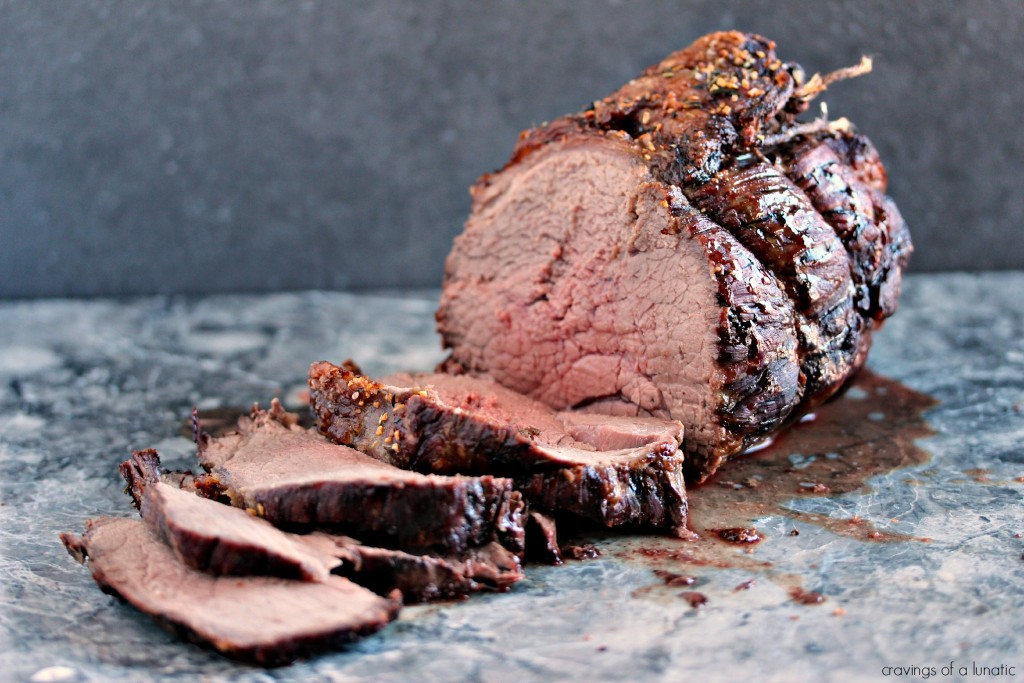 Thanks to everyone reading. Have no fear, hubs is alive and well, just not making many trips to Costco any more.
Actually, the more I think about this the more I'm convinced he bought the wrong one on purpose so he never has to go there again.
Ah, sneaky. Well played hubs, well played.
But revenge is sweet. *evil giggles*
Toodles and smoochies! xx
This amazing post has been shared with Living Well Spending Less and Whipperberry.