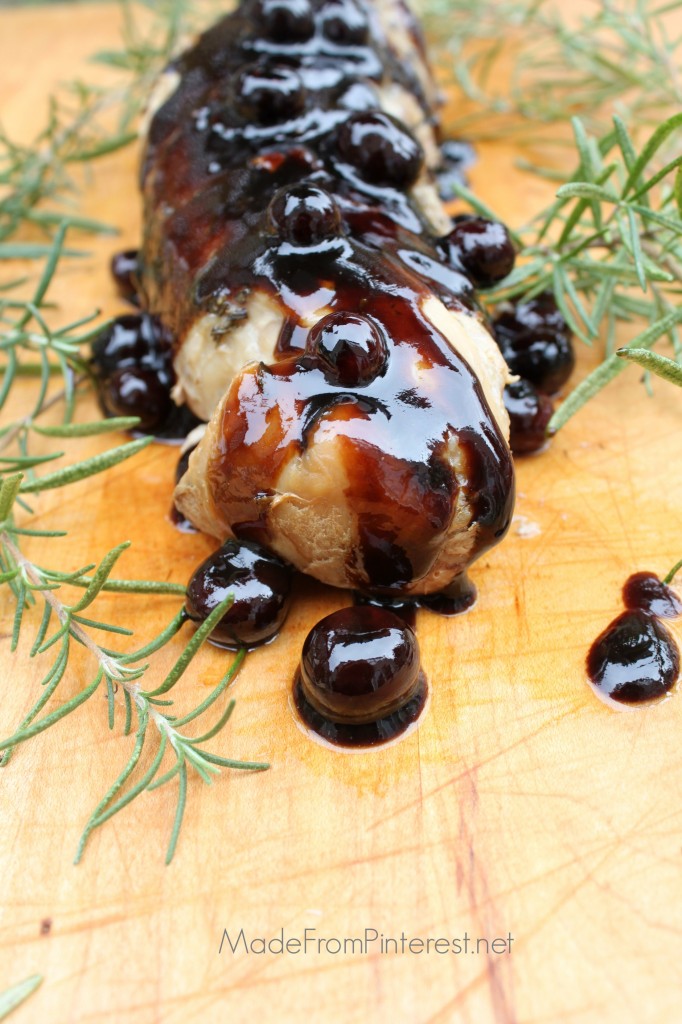 I'm so blue-hoohoohoo. Actually, I am really happy. Last night I got email from my son who is on a mission for our church and hearing from him made my day! We were able to email back and forth for an hour. After making this Blueberry Balsamic Glazed Slow Cooker Pork Tenderloin, it had me thinking about how when he was little he and his sister loved Madame Blueberry from Veggie Tales. She was so blue because she didn't have all the latest and greatest things. Eventually she learned that things did not bring her joy, that when she was grateful for the things she had, she was happier, and her relationships with people she loves are the most important things to have. Great message as we approach Thanksgiving. I love this holiday because no matter what religion, culture, or llifestyle you live, in America, we all celebrate Thanksgiving. And a season of giving thanks before all the Christmas shopping is a good reminder of what is most important. I like that. Plus, the food is good. Food like Sweet Potato Souffle and Pumpkin Crunch Cake with Cream Cheese Frosting.
Madame Blueberry might not like this recipe, but it is amazing. When we were approached by the U.S. Highbush Blueberry Council about a "Blueberries Meet Their Match" contest calling for recipes using blueberries, I knew exactly what I wanted to make. You can see more recipes with blueberries on their site at Little Blue Dynamos. Blueberries are one of the things I am grateful for. Love 'em. And in this recipe they really shine. This is so beautiful, simple to make, and the glaze. THE GLAZE! It is silky, sweet, tart, perfect. I like to have some pork tenderloin with my glaze. But I am not being fair to the pork here. Rubbed with a simple combination of salt, pepper, fresh garlic and fresh rosemary, it is a star in its own right. Slow cooked the pork stays tender and moist. It almost falls apart on its own. (I love my crockpot and this is the one that I love!)

I am slightly embarrassed that I am well qualified to tell you this tastes good cold straight from the fridge in the morning. That little burst of blueberry drenched in silky glaze is like mmmm!mmm!mm! I want to put this blueberry glaze on everything.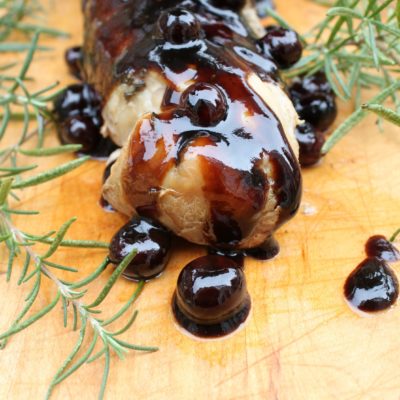 Balsamic Blueberry Glazed Slow Cooker Pork Tenderloin
Ingredients
2

pound

pork tenderloin

1

teaspoon

fresh rosemary

chopped fine

3/4

teaspoon

salt

1/4

teaspoon

pepper

1

clove

garlic

minced

1/2

cup

water

1/2

cup

brown sugar

1

Tablespoon

Cornstarch

1/4

cup

Balsamic Vinegar

1/2

cup

water

2

Tablespoons

soy sauce

1

cup

fresh blueberries
Instructions
In a small bowl, combine rosemary, salt pepper and garlic. Rub over tenderloin.

Pour 1/2 cup of water in the slow cooker and add the tenderloin. Cook on low for 5-6 hours.

While tenderloin is cooking, in a small pan whisk together brown sugar, cornstarch balsamic vinegar, water and soy sauce. Heat over medium and stir until mixture thickens, about 4 minutes. Add blueberries and simmer until warm, about 2 minutes.

When tenderloin is done, remove from slow cooker and let rest 5 minutes. Drizzle glaze over tenderloin.

Slice and serve.
May your Thanksgiving be filled with good food, good times, blueberries and not the blues. Enjoy!