Hi all, it's Jen from Bakerette.com and I'm back in action to hopefully bring you another great recipe. Thanks for your added support in visiting my foodie site, Bakerette.com where I bring you all sorts of FREE yummy, comforting, delicious, and inspiring recipes.
So who loves The Pioneer Woman? Both of my hands went up. I've followed her since she was a small-time blogger to a now famous blogger. If you aren't familiar with her, she's become an icon in the blogging world and on Food Network.
Today I am featuring The Pioneer Woman's "The Bread". Yep, that's all to the name "The Bread".
It's a favorite of her family's and friends'. Anyone who is invited to dinner inquires if she's going to make "The Bread" because they absolutely adore it. Yes, I realize that Adore is a girly-girl's term, but there's no other word to describe it.
I hope you, too, will enjoy The Bread. It's rich and buttery and flavorful. I guarantee it will become your family's and friend's favorite bread to go with meals! Make it with any of your favorite dishes like steak, seafood, or spaghetti.
Smother it in butter making sure to get ALL of the surface fully covered in butter.
The trick to this bread? You don't want it lightly browned, you want it very darkly browned with some areas blackened 🙂 You have my permission to blacken the edges. Seriously. It's the deep, DARK browning that brings out the rich tasty flavor, otherwise it will just be warm, buttered bread. You don't want ordinary, you want extraordinary.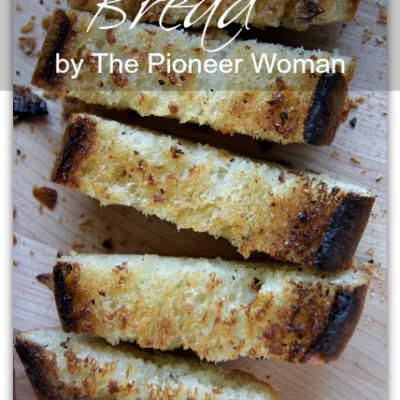 Pioneer Woman's "The Bread"
Instructions
Preheat oven to 350 degrees Fahrenheit.

Slice the loaf of bread lengthwise and cover each half with 1/2 cup butter. Smother it on; making sure to get ALL the surface of the bread covered in butter.

Place on an ungreased baking sheet, uncovered, and bake in the oven for 10 minutes or until the butter is completely melted through.

Turn off the oven and turn the broiler on high and bake for a couple of minutes. You don't want lightly browned bread, you want it very dark brown to the point where some areas will be blackened. You want that. Seriously. The longer it bakes under the broiler, the richer the flavor. If you don't darkly brown it, it will just be warmed buttered bread. That's NOT the goal. You want THEE Bread.

Remove from oven and slice into thin strips. It's very rich, so slicing it thin is recommended. That is, if you can just stop at two slices! The bread is crunchy, crispy and very flavorful!
Thank you so much Sherri, Tracy, and Debbie for inviting me to share with your followers some of my fave recipes. You can also find me on the Web at:
You might also like these other recipes at Bakerette.