When you're in the mood for a treat for one, this Cookies and Cream Mug Cake will satisfy that craving. It takes less than 5 minutes to make and is a great quick dessert.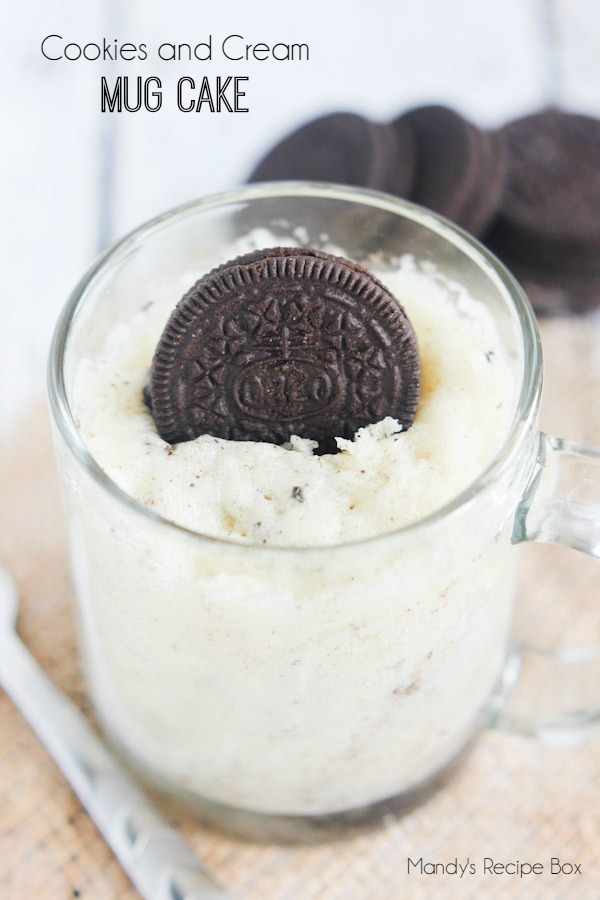 Hello! Mandy's Recipe Box here with a fun quick and easy treat! Sometimes you're home alone and you want a piece of cake, but you don't want to bake an entire cake for just yourself. Well, maybe you do want to, but realize that it would not be the best idea. This Cookies and Cream Mug Cake is the perfect solution. You can make as many individual portions as you'd like. Top it off with some whipped cream and you're all set!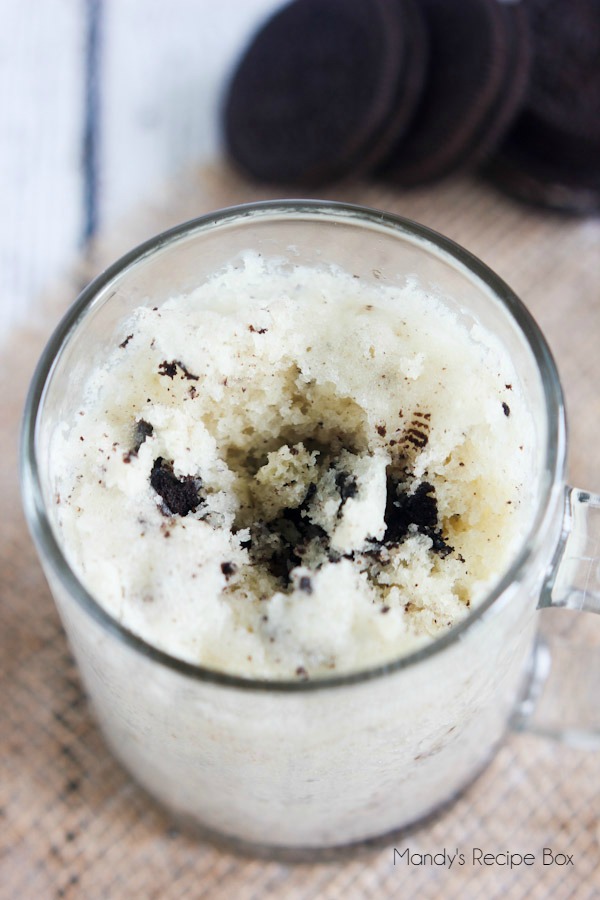 I love all the bits of Oreo cookies inside. I found this recipe on Pinterest and knew I had to give it a try. It comes from Kirbie's Cravings via BuzzFeed. What a fun treat! The directions say to make this in an oversized mug which I tried first. When it cooked up, it was only about 3/4 of the way up the mug. That is fine for normal purposes, but I wanted it to come to the top so I could take photos so I made it again in a regular mug and that's what is show in this post. I just watched it closely to make sure it didn't spill over. Grab some ice cream and pop it on top of this mug cake and you are all set!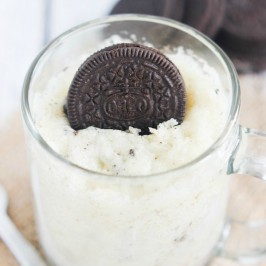 Cookies and Cream Mug Cake
Ingredients
1/4

cup

white chocolate chips

3

Tbsp

milk

4

Tbsp

all-purpose flour

1/4

tsp

baking powder

1/2

Tbsp

vegetable oil

2

Oreo cookies
Instructions
Combine white chocolate chips and milk in an oversized microwave-safe mug. Microwave for about 40 seconds. Mix with a small whisk or fork until chocolate is completely melted.

Add flour, baking powder, and oil and mix until batter is smooth.

Smash Oreos and mix into the batter.

Cook in microwave for about 1 minute. Let cake cool a few minutes before eating.

Eat warm.
Be sure to follow Mandy's Recipe Box on Social Media:
Facebook | Pinterest | Instagram | Twitter
You may like these recipes:
This awesome post has been shared with Home Stories A to Z