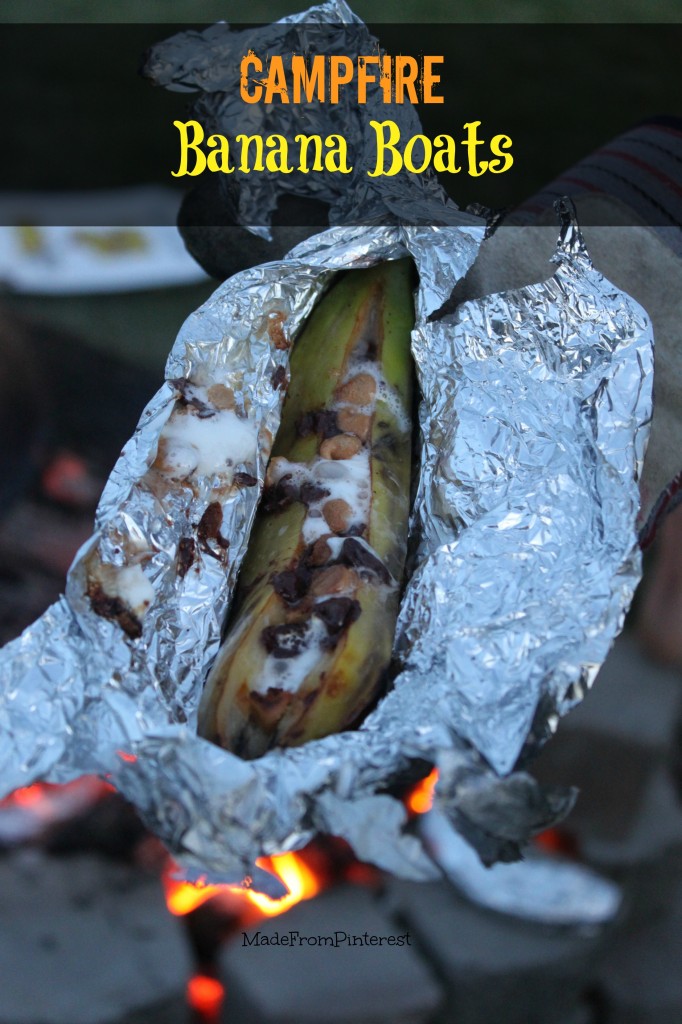 Woohoo! Weeeee! Woot Woot! It is camping season! Our family loves camping and our first outing is always Memorial Day weekend. For the last few years we have taken our trailer and boat to the lake and this year was no exception. We had a great weekend at the lake with friends. So this time, we went bananas! Really, we all are a crazy bunch, each family with their own boat, a few jet skis, inflatable tubes, all havin' a good time. What's a perfect treat for a bunch of monkeys hanging out like us? Campfire Banana Boats, my friends. Can't have S'mores every night! Shake it up, man. Change is good.
To make Campfire Banana Boats, start by cutting a slit in your banana. Cut all the way through the top skin, through the banana, but leave the peel at the bottom intact. It should look like this: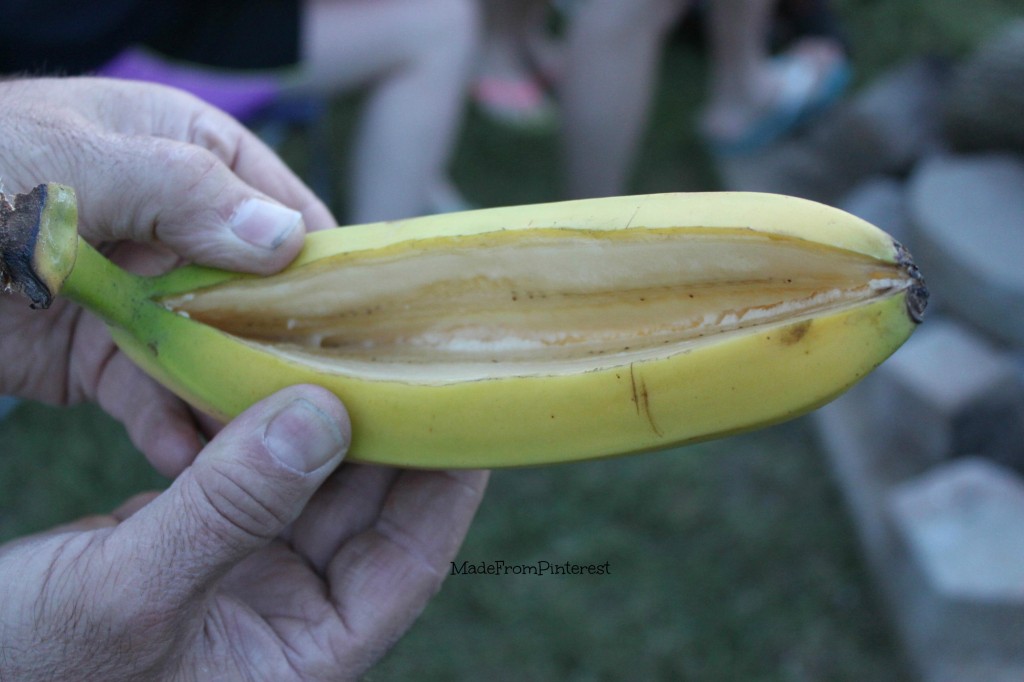 Next, fill her up. We did peanut butter chips, chocolate chips and mini marshmallows. Yummy melted goodness. It's healthy. Don't forget, bananas are a fruit.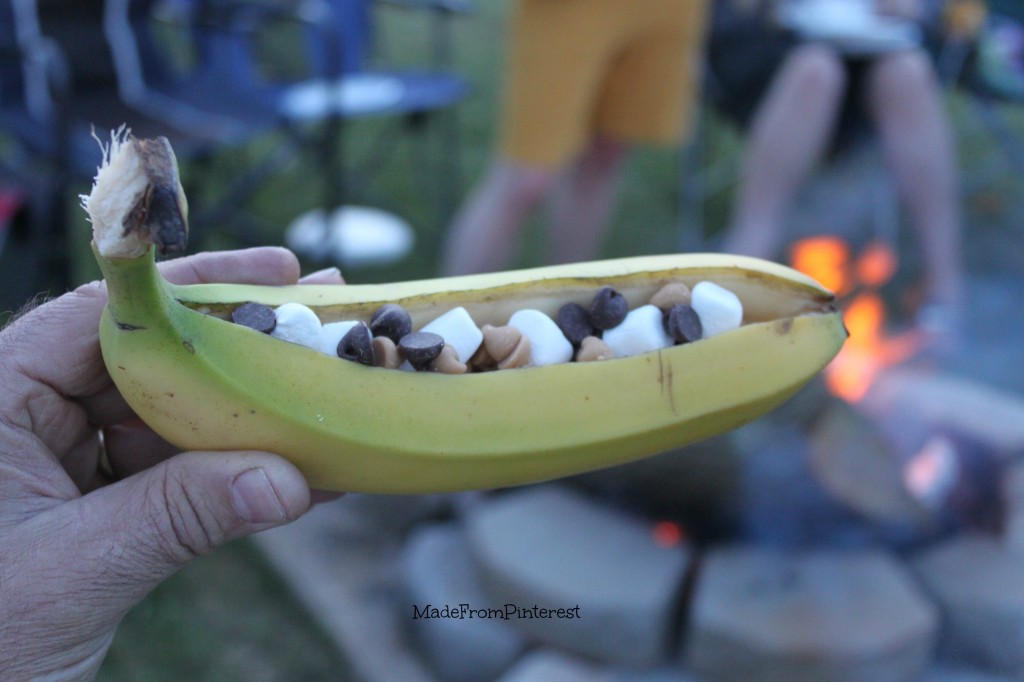 Then, mummify your creation in foil. Wrap it any way you want. Everybody at our camp had their own method. Just make sure it is wrapped well enough that the insides won't melt out, but not so well wrapped that you can't figure out how to get back in to eat your treat.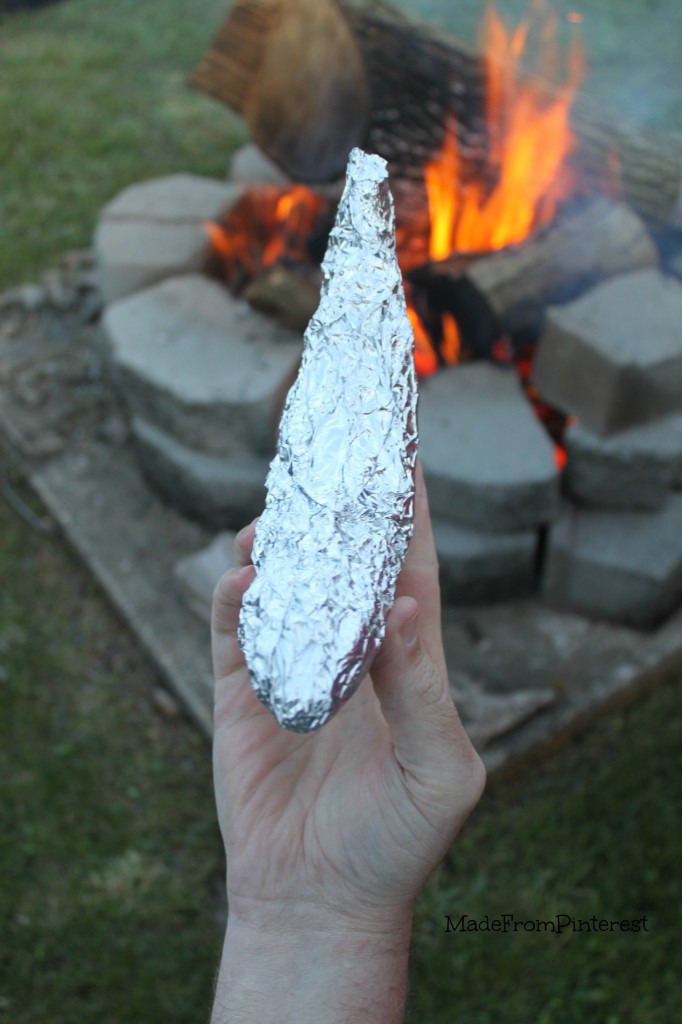 Now lay it on the fire wearing heatproof gloves or using tongs. Don't want to get burned. We were too hungry to wait for the fire to die down to coals. You can see we had some healthy flames licking our boats in a sea of fire. Let them cook 5-15 minutes. I know, that is a large window of time there, but it really depends on how hot your fire is and where you place your banana boat. We just took ours out to check and see if it was finished. If it wasn't done, we wrapped it up and threw it in for a little longer. You will get a feel for it.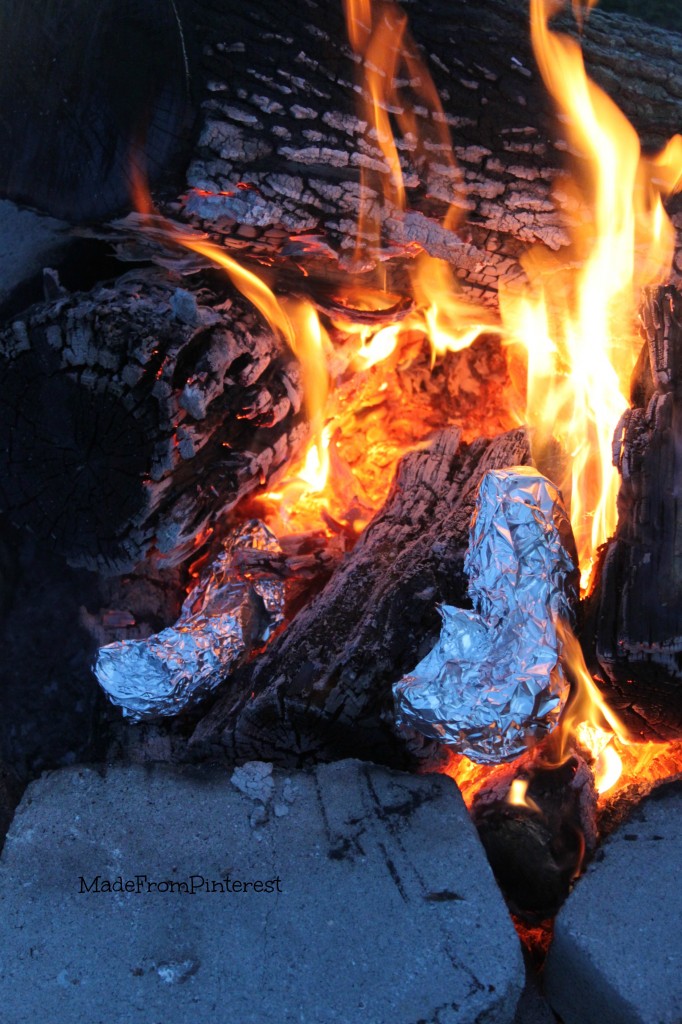 When it is done, throw it on a paper plate, grab a plastic spoon, and get goin'!
Not building a campfire anytime soon? No problem, just throw them on the grill. These will be great fun for any BBQ.
These bananas rock!
Love camping? This Clothes Pin Votive will look great on your picnic table.
People we are link partying with today: A Glimpse Inside – Catherine's Corner – Mandatory Mooch – Real Coake – 52 mantels – Gingerly Made – Glued to my Crafts – Live Laugh Rowe – Daisy Cottage Designs – Kitchen Meets Girl – 733 Blog – Southern Lovely – Chef in Training – Mandy's Recipe Box – Lamberts Lately – I am Only One Woman – Cheerios and Lattes – It's Overflowing – Be Different, Act Normal – Tatertots and Jello – The T2 Women – One She Two She –