Do you take on too many things during the holidays? I am so guilty of doing this! I just love this season so much and I always want to do more than I have time for.
If I see some great new recipes, I want to make them. If I see a fun new craft, I want to make it. Creative ways to wrap a gift? Yup! I wanna know how to do it. Someone is having a cookie exchange? You bet that I want to participate! And I usually run out of time and don't accomplish everything that I want to do.
This year though seems to be a little different. All of my children are married and this is the year that our kids are spending Christmas with their spouses families. So what does that mean?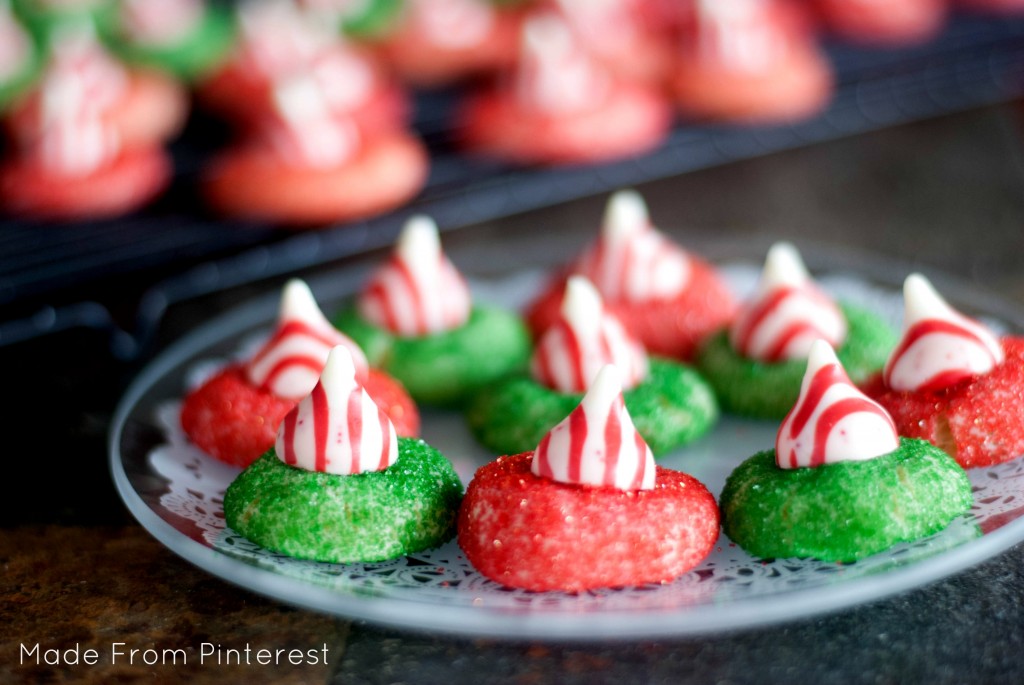 It means that I don't have to plan oodles of food for when everyone is here. It means that I don't have to wrap a lot of presents. (Amazon I love you!) It means that I don't have to worry about organizing activities and things to do that everyone will love. It means that I won't be running from the second I wake up (Grammy, where are you? Can you make me some pancakes?) to the minute that I crash at night in my bed.
I hate it.
I guess there are benefits to having a calm Christmas. And this Candy Cane Cookies recipe is one of them. Earlier this year, I read about the Great Food Blogger Cookie Swap and I thought….hey…I have time this year to do this!
We were instructed to send three batches of one dozen cookies to three different bloggers and in return, I would receive three dozen different cookies back. How fun is that?? We paid a small, small fee to participate which benefits Cookies for Kids Cancer which helps fight against pediatric cancer. How could I not want to support that?
I wanted a bright, colorful cookie to send and finally decided on these Candy Cane Blossom Cookies. Don't these just look so festive??
Whether or not you have a cookie exchange this year, you are going to want to make these!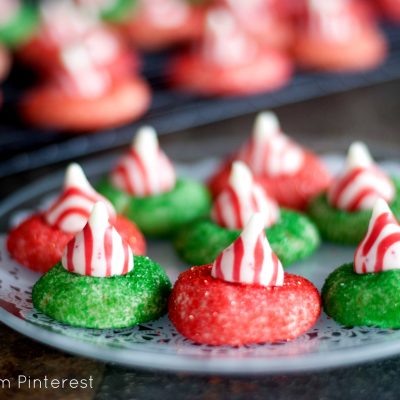 Candy Cane Cookies Recipe
Ingredients
48

Hershey Kisses Candy Cane Mint Candies

1/2

cup

1 stick softened butter or margarine

1

cup

white sugar

1

egg

1 1/2

tsp

vanilla extract

2

cups

all purpose flour

1/4

tsp

baking soda

1/4

tsp

salt

2

TBL milk

Red or green sugar crystals

granulated sugar or powdered sugar
Instructions
Heat oven to 350°F. Remove wrappers from candies.

Beat butter, sugar, egg and vanilla in large bowl until well blended. Stir together flour, baking soda and salt; add alternately with milk to butter mixture, beating until well blended.

Shape dough into 1-inch balls. Roll in red sugar, granulated sugar, powdered sugar or a combination of any of the sugars. Place on ungreased cookie sheet.

Bake 8 to 10 minutes or until edges are lightly browned and cookie is set. Remove from oven; cool 2 to 3 minutes. Press a candy piece into center of each cookie. Remove from cookie sheet to wire rack. Cool completely. Makes about 48 cookies.
This Cookie Swap was way fun to participate in and I'm glad that I had the time this year to do it but next year…..I hope the chaos will be back.
Whatever kind of holiday you are going to be having this year, I wish you a Merry Christmas!