This Candy Googley Eyes recipe will make all your food a little more fun.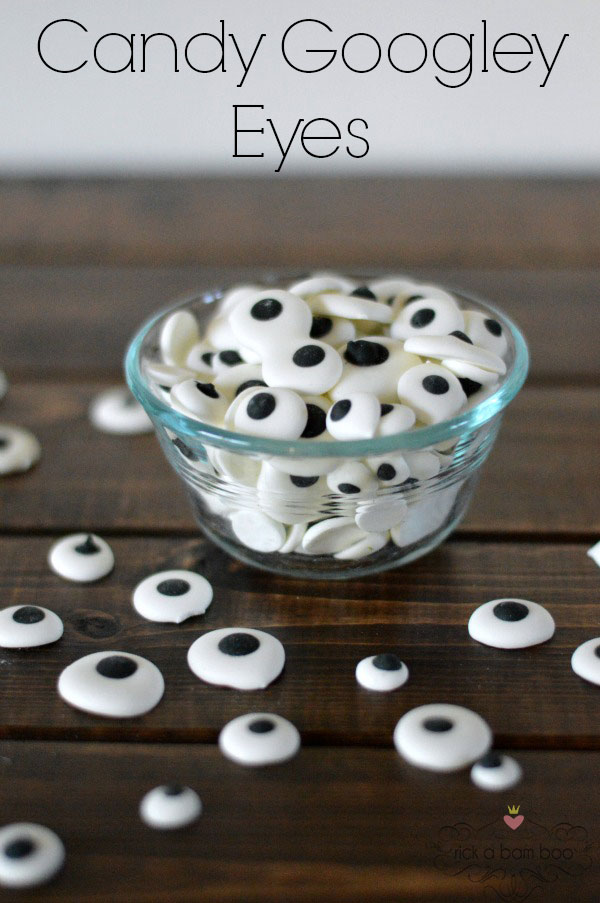 Hello everyone! Amber from rick•a•bam•boo here again. This month I am going to share a really fun recipe with all of you. How to make your own Candy Googley Eyes. These are so fun and are perfect for Halloween! Well, anytime really. Isn't all food more fun with little candy eyes?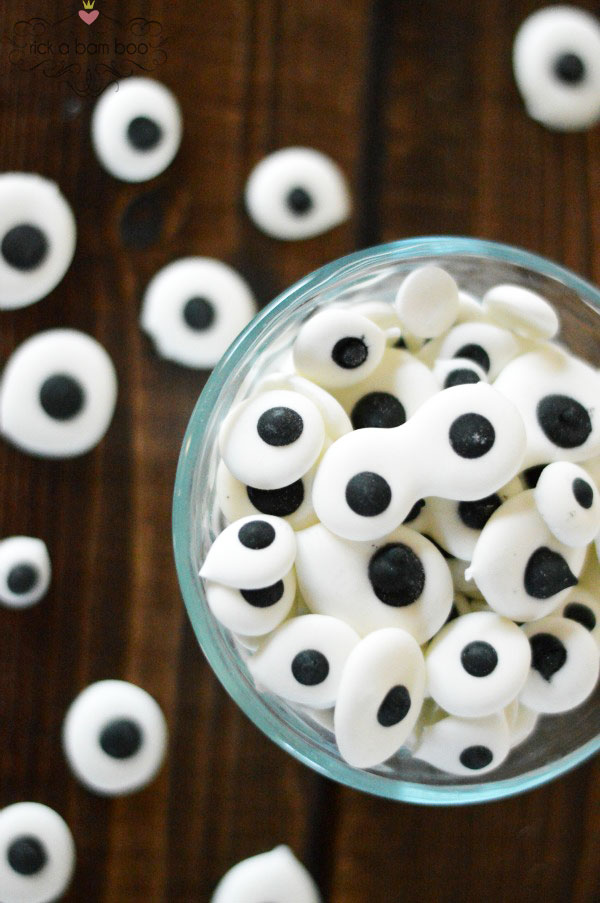 I saw these on Instagram from My Name Is Snickerdoodle and immediately went over to Pinterest so that I could pin them for later. I didn't know at the time what I would need them for, I just loved them. They ended up being the perfect thing for a monster themed birthday party for Thor.
The recipe is simple. But I'm not going to lie, they can be really hard to pipe. My piping skills are a bit rusty, but if you are a master piper then you should be fine.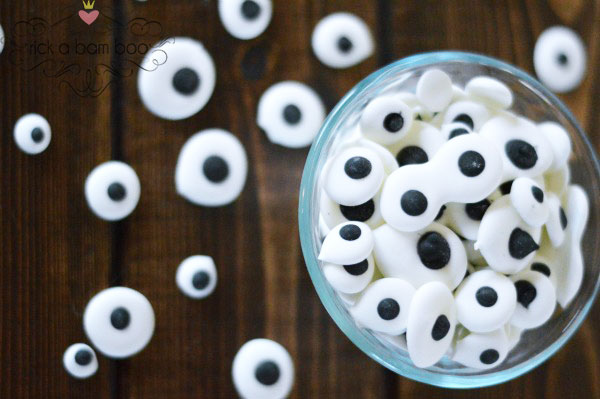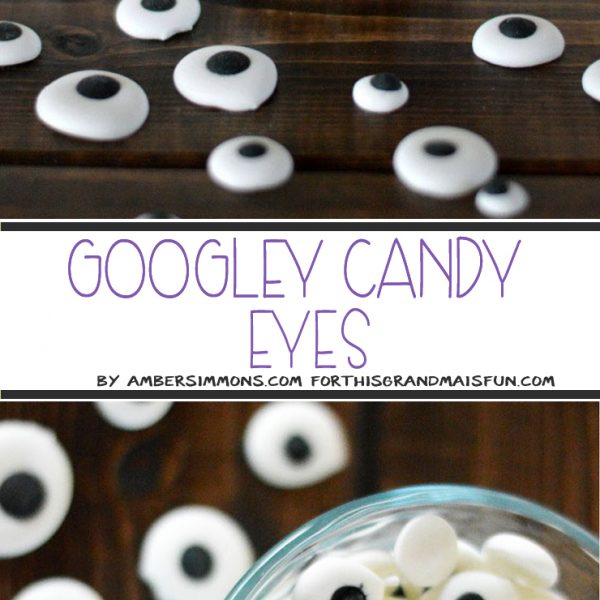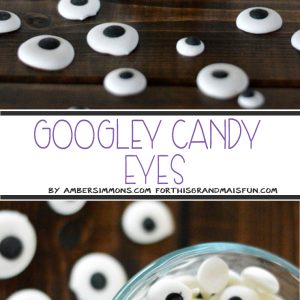 Candy Googley Eyes Recipe
Ingredients
4

cups

powdered sugar

5

TBSP

meringue powder

1/2

cup

cold water

TOOLS

black gel food coloring

2-3

cookie sheets

parchment paper

2

pastry bags fit with a #3 tip OR a freezer bag

2

large drinking glasses
Instructions
First line your sheets with parchment paper.

Then in a mixer blend together the powered sugar, meringue powder, and cold water. Beat for 3-5 minutes to make it nice and smooth. When the you lift the whisk out of the mixing bowl the part that drizzles back down should absorb back into the rest in 10 seconds or less. Add more water or powdered sugar as needed to achieve the desired consistency.

When you have the right proper texture place your white piping bag, tip down, in to a large drinking glass. Roll the top of the bag down around the glass and start filling your bag. Leave about 3/4 a cup in the mixing bowl.

Add the black food coloring a few drops at a time to the remaining mixture. Continue until you reach the desired darkness.

Fill the second pastry bag with the black mixture.

Pipe eyes starting with the white on to the prepared trays. It's okay if some of them stick together. They are googley eyes after all.

Once the white as dried a bit it is time to start adding the black. The whites are probably dry enough once you finish piping them all. Just start adding black to the first whites you made. You can add the pupil anywhere, in the center or off to the side.

When you are finished let the eyes dry for 24 hours and then store them in an air tight container. They are good for a whole year.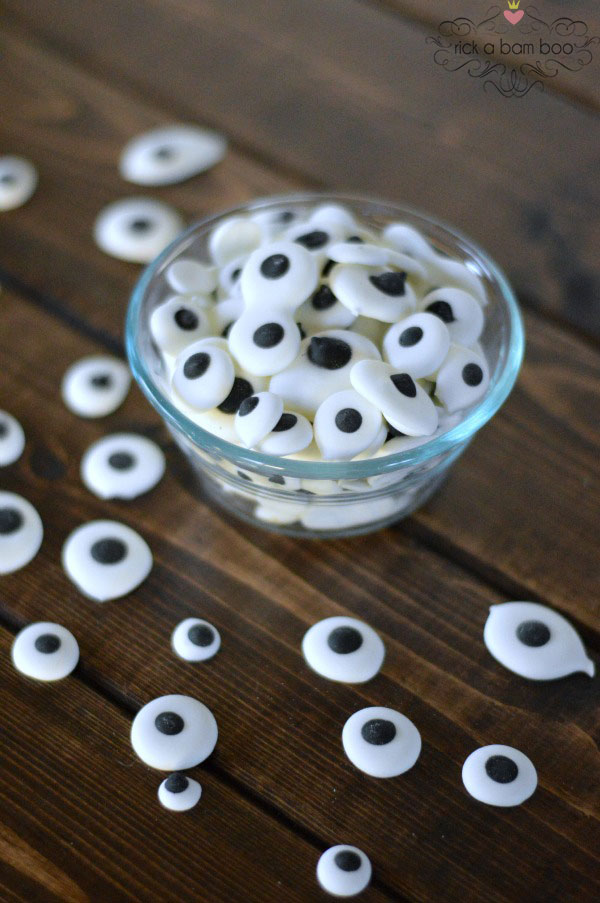 Don't worry if all your whites aren't perfectly round. That just makes the eyes more expressive. I basically just touched the black to the white to make the pupils. I didn't squeeze at all, but my black was probably a bit on the thin side.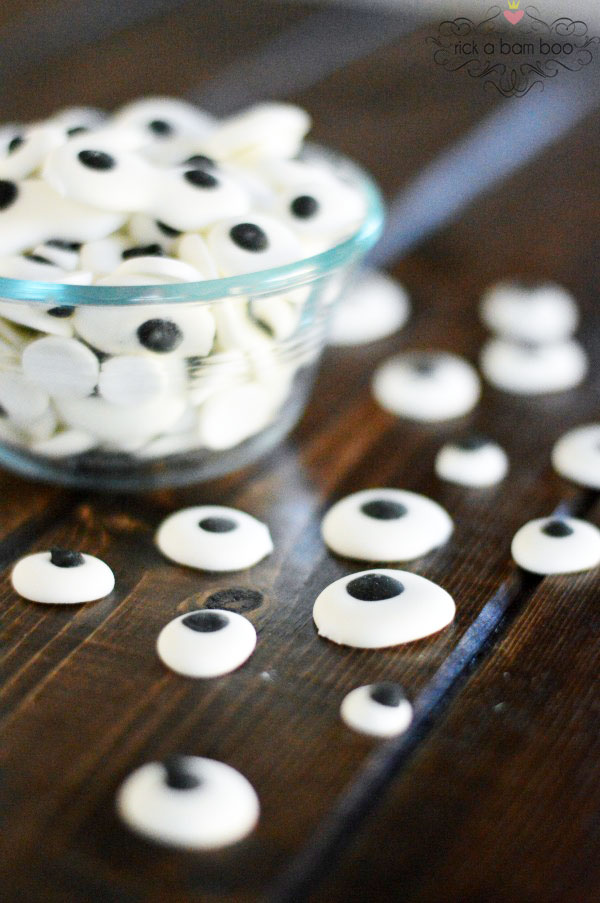 This recipe makes a ton of eyes so you can have fun with your food all year long.
Here's a peek at how awesome Thor's monster birthday cake turned out.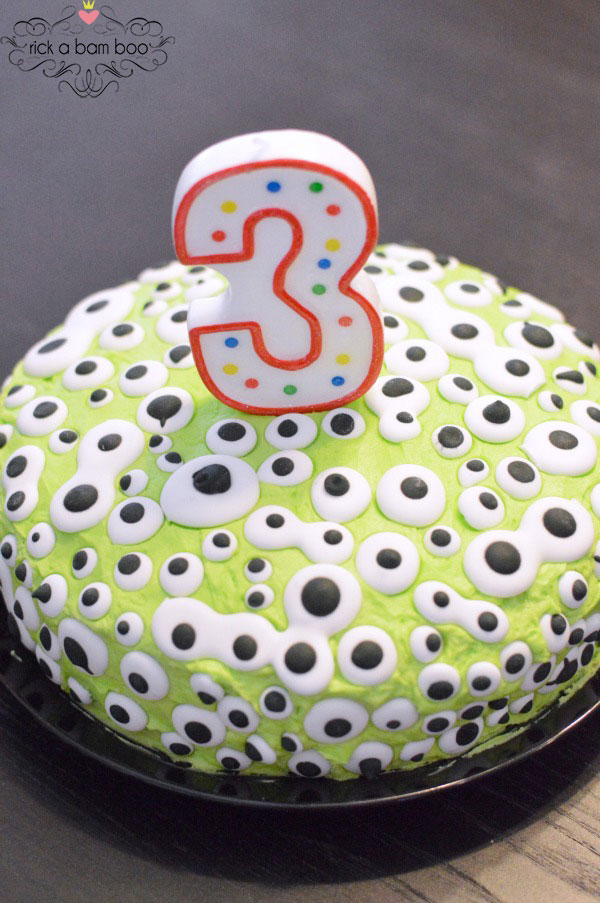 Be sure to follow me so that you don't miss any of the awesome Halloween stuff I have planned!
Pinterest | Facebook | Twitter | Google+ | Instagram
Here are a few of my recipes that you will enjoy also:
Scrumptious Italian Pasta Salad