Hi! it's Dini here from The Flavor Bender! It's been a busy month over at The Flavor Bender as I've been gearing up for Cinco de Mayo these last two weeks on my blog. Aaaand summer is just around the corner as well, and that means a bounty of fruits! Today, I'm sharing a recipe with you guys for one of my favourite ways to use up fruits – a fruit tart! Say hello to my Cheddar, Caramelized Peach and Thyme Tart!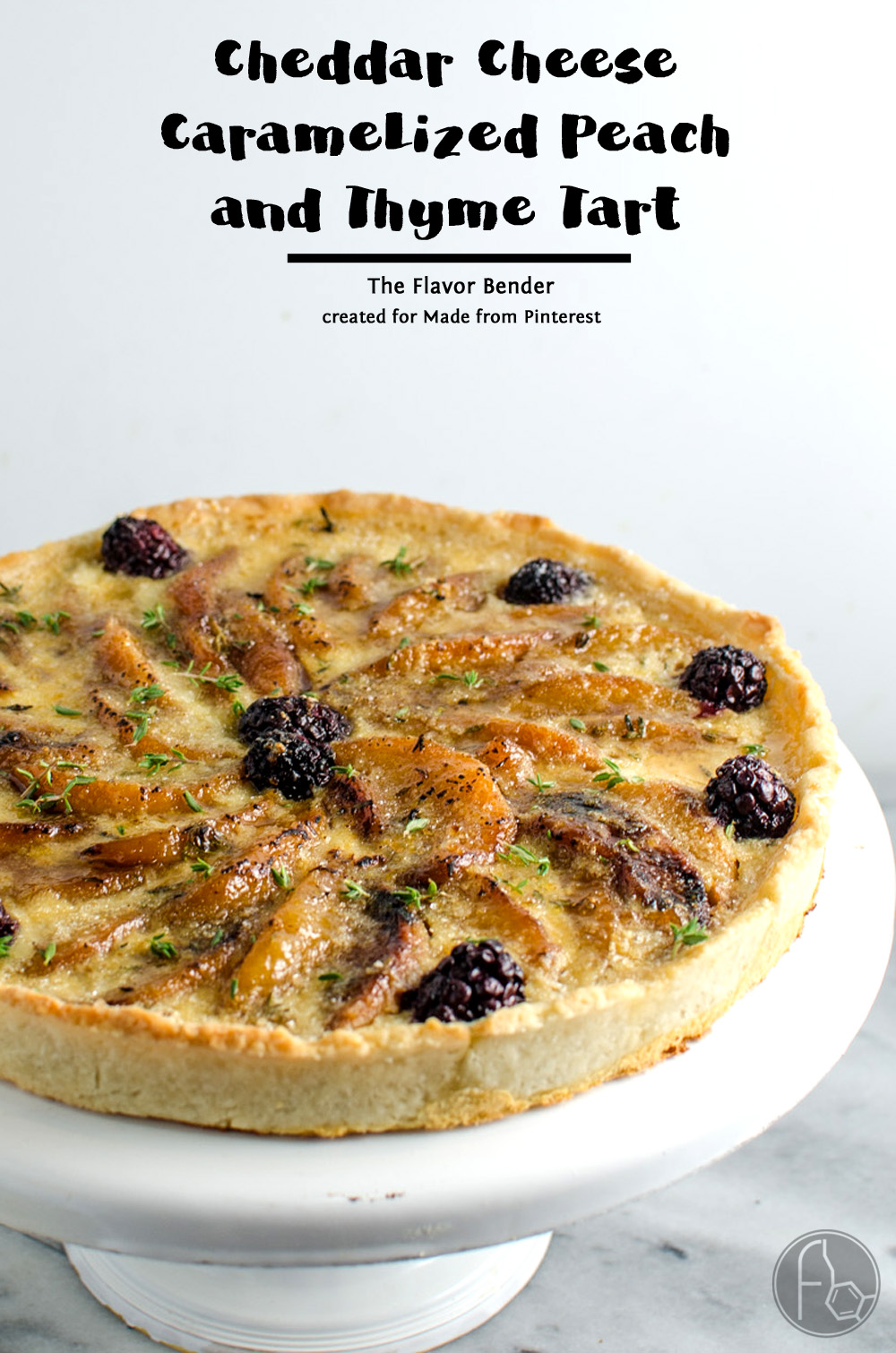 Honestly, I'm not one for summer heat. I'm a Kiwi girl at heart, and grew up in New Zealand, where a temperature over 25°C (~75°F) in the summer was deemed dangerously too hot. What I do love about summer though is the ready supply of fruits. SO. MANY. FRUITS.
And inevitably, we end up with having to find creative ways to use up all those fruits – and this caramelized peach and thyme tart is going to come in handy when those beautiful ripe peaches come into season soon.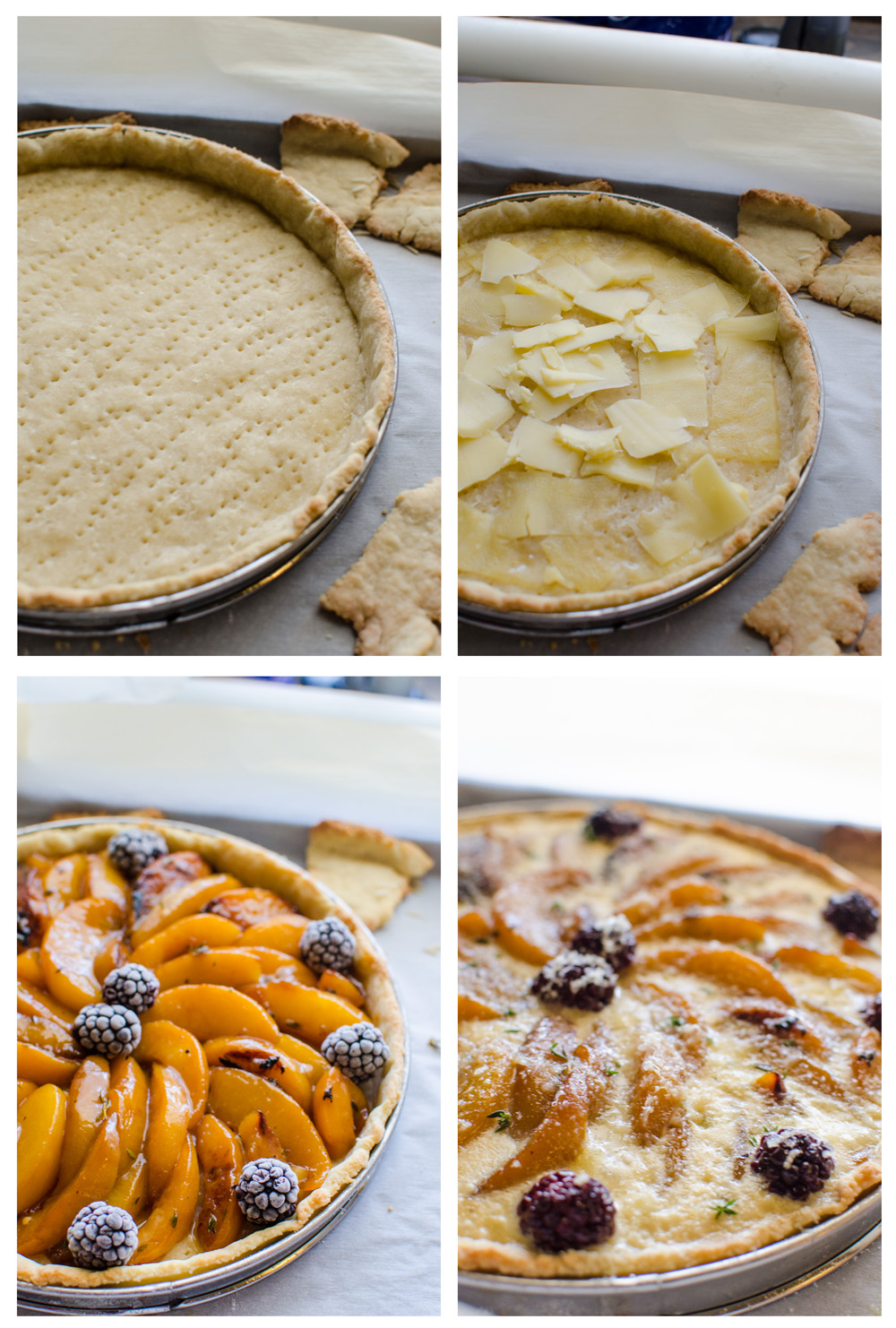 So you live on the other side of the world, and summer is already behind you? No problem! What's great about this recipe is that you can still make this fruit tart with frozen fruits too. Plus you could use any stone fruits that are available to you like plums, cherries, nectarines etc. instead of or in addition to peaches. This Cheddar, Caramelized Peach and Thyme Tart is simple to make, it's fresh, fruity, and delicious. Your family will love it!
For the crust, I used my homemade sweet shortcrust pastry recipe (recipe and video coming soon!), but you can also use ready-made shortcrust or pie crust too. Whichever is convenient to you.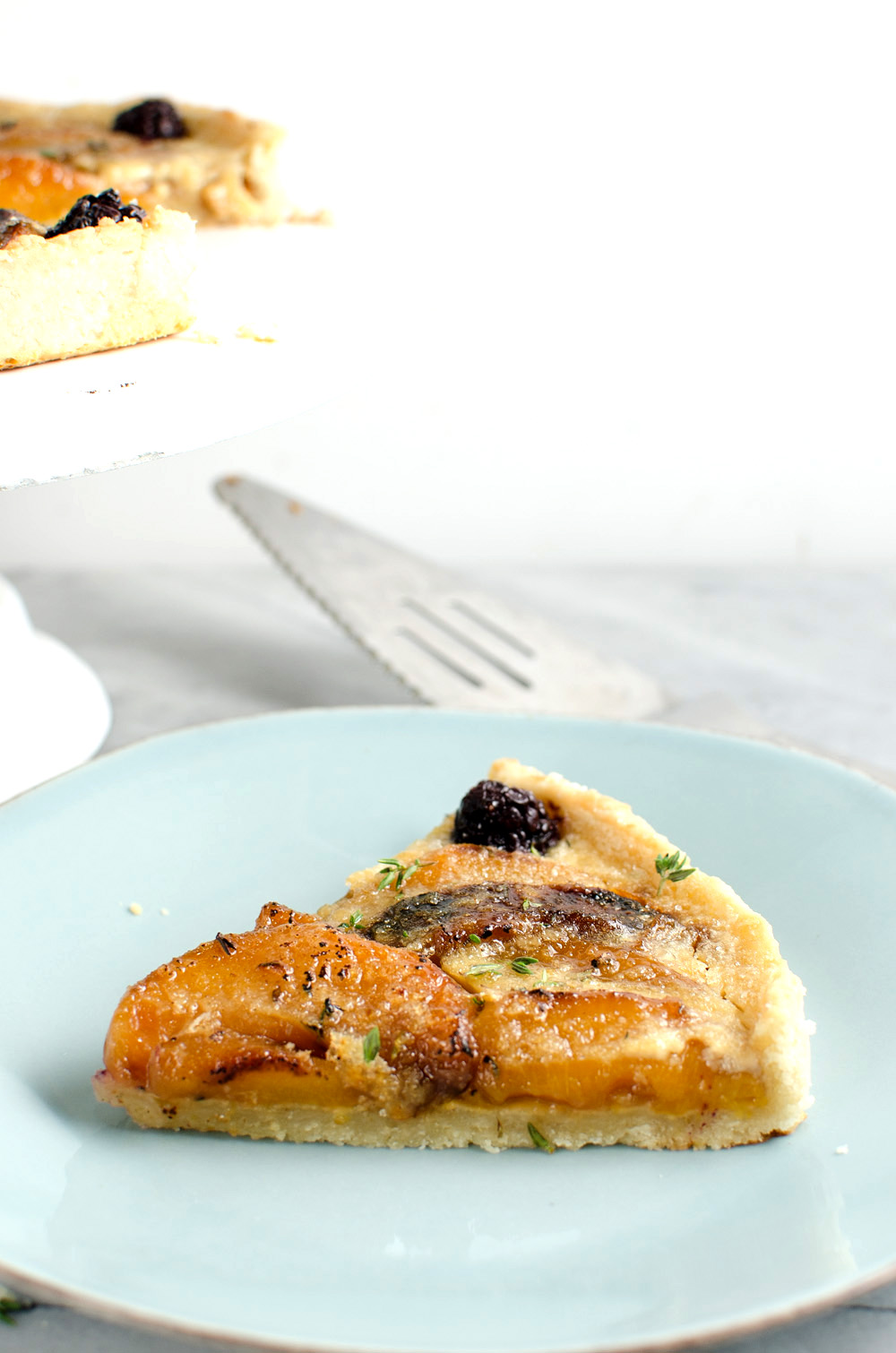 The one addition that I made to this fruit tart to make the flavours pop even more is to add some aged cheddar cheese to the base of the tart. It adds a delightfully creamy, salty, tangy flavour profile that contrasts really well with the sweet fruity filling!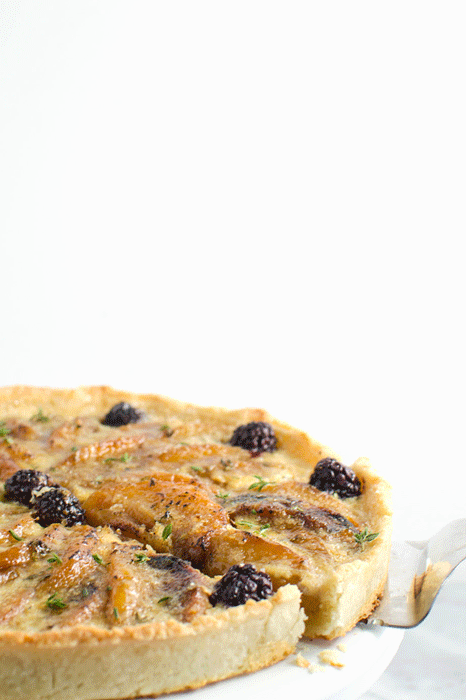 To make this dessert even better, serve it with a dollop of ice cream on top. Or to kick it up a few more notches, serve it with some Lime Sherbet instead! Creamy, sweet, tangy lime sherbet is the perfect accompaniment to this sweet, fresh tart and you can find the recipe for this easy Salted Lime Sherbet right here on my blog.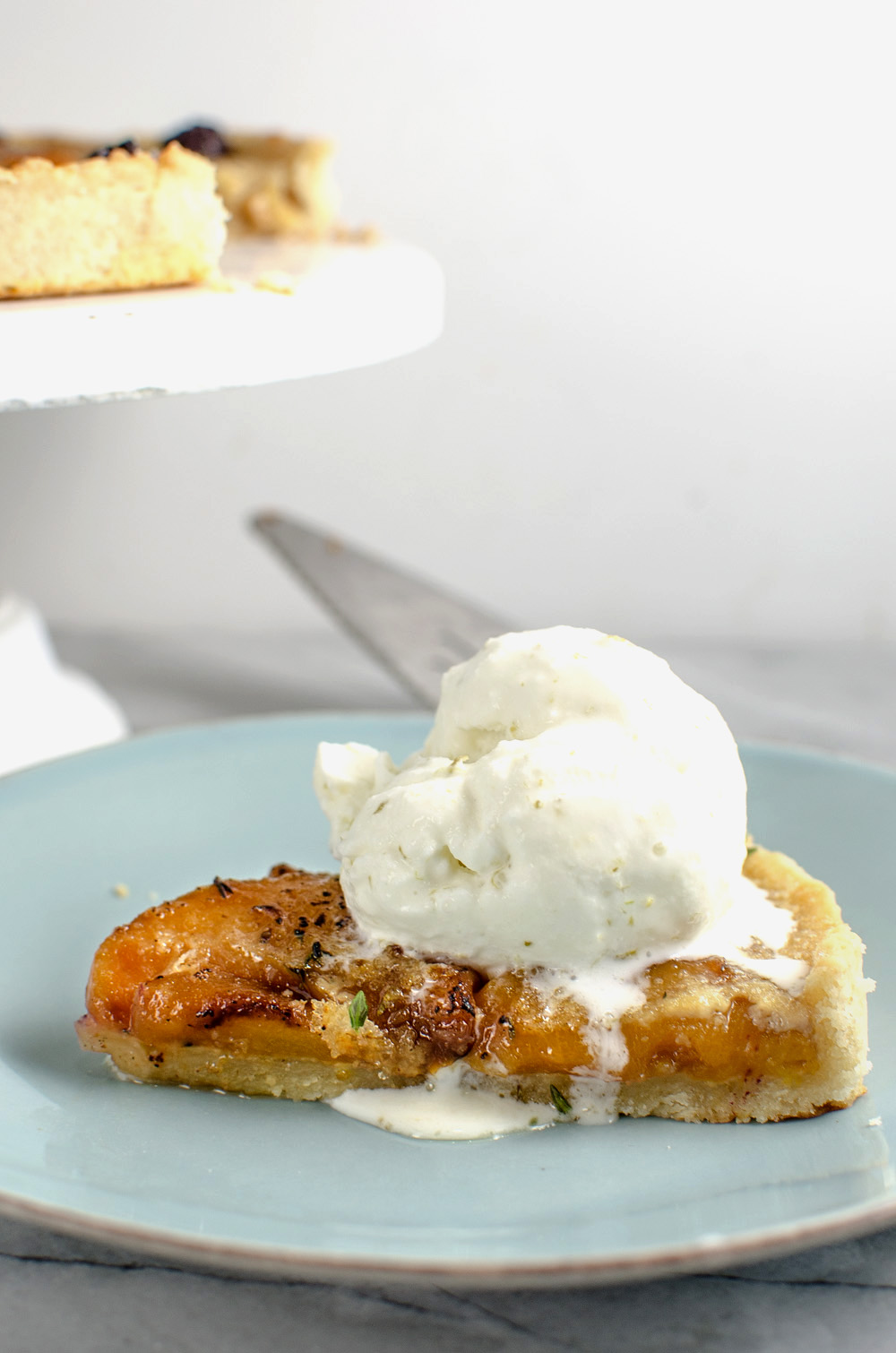 Cheddar, Caramelized Peach and Thyme Tart Recipe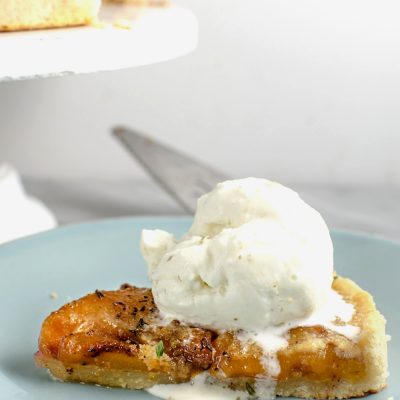 Cheddar, Caramelized Peach and Thyme Tart
Ingredients
Tart
1

lb

of Shortcrust Pastry or Pie Crust

or an 8 inch unbaked or blindbaked tart crust

16

oz

peaches

frozen is fine, but thaw them before use, OR about 3 - 4 fresh, ripe peaches

¼

cup

brown sugar

55g

2

tbsp

butter

2

tbsp

cornflour

Pinch

of salt
Custard (you may end up not using all of it)
¾

cup

milk

1

yolk

Pinch

of salt
Instructions
Tart
Grease a tart pan and preheat oven to 350°F / 180°C.

Prepare the pie crust (homemade or store-bought) and shape it into an 8 inch tart mold and blind-bake it in the oven for about 15 minutes.

Add the thawed peaches, thyme leaves and brown sugar to a pan, and heat gently (on low to medium) and mix until the brown sugar melts. Then, turn the heat to medium high and cook the peaches until they are caramelized on one side.

Turn off the heat and let it cool.

Once the pie crust has been blind-baked, place thin shaves of cheddar cheese on the bottom. Layer the peaches on top of the cheese. Add berries to decorate if you like.

Pour the custard to cover the fruits half way (do not fill right to the brim).

Bake in preheated oven for 20 minutes. If the edges of the pie crust are burning, cover the tart with foil and keep baking.

Remove the tart from the oven and sprinkle some white sugar on top and return to the oven to bake for a further 10 minutes.

Remove from the oven and let the tart cool. You can chill the tart in the fridge at this point if you prefer.

Serve at room temperature or chilled with Lime Sherbet or ice cream or some creme fraiche.
Did you love this Cheddar, Caramelized Peach and Thyme Tart? Do you want more ideas on how to use up extra fruits??
Here are some from The Flavor Bender!
3 Ingredient Easy Fruit Sorbet – 4 flavours (and more!)