This Cheesecake Bites Recipe is the best dessert I have ever made! Normally, I am a picky cheesecake eater, because I don't like overly rich desserts. These Raspberry Cheesecake Bites were creamy and delicious, but light enough that I could have eaten the whole batch by myself!
Don't worry, I only ate probably 5….ok, maybe 10! My husband had to have at least one, because he said these were the best desserts I have ever made! And I have to agree!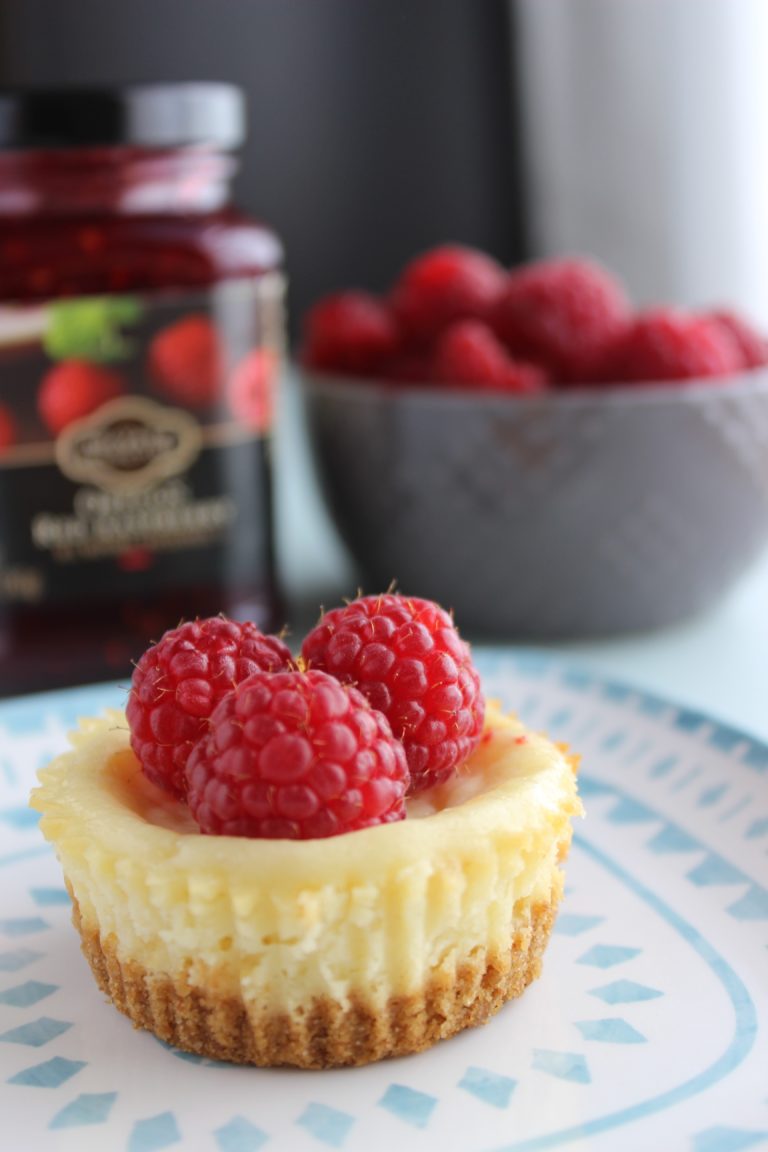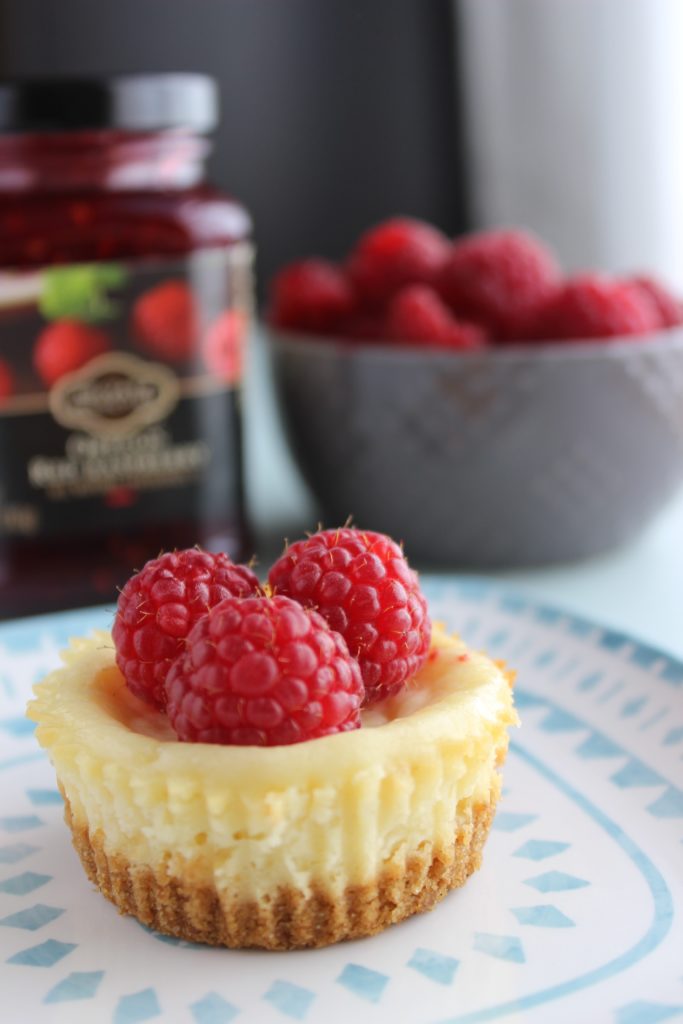 I was inspired by a pin from Real House Moms. I did make a small adjustment to the recipe! The original pin tops the cheesecake bites with raspberry jam, but I tried a few with fresh raspberries and it was even better!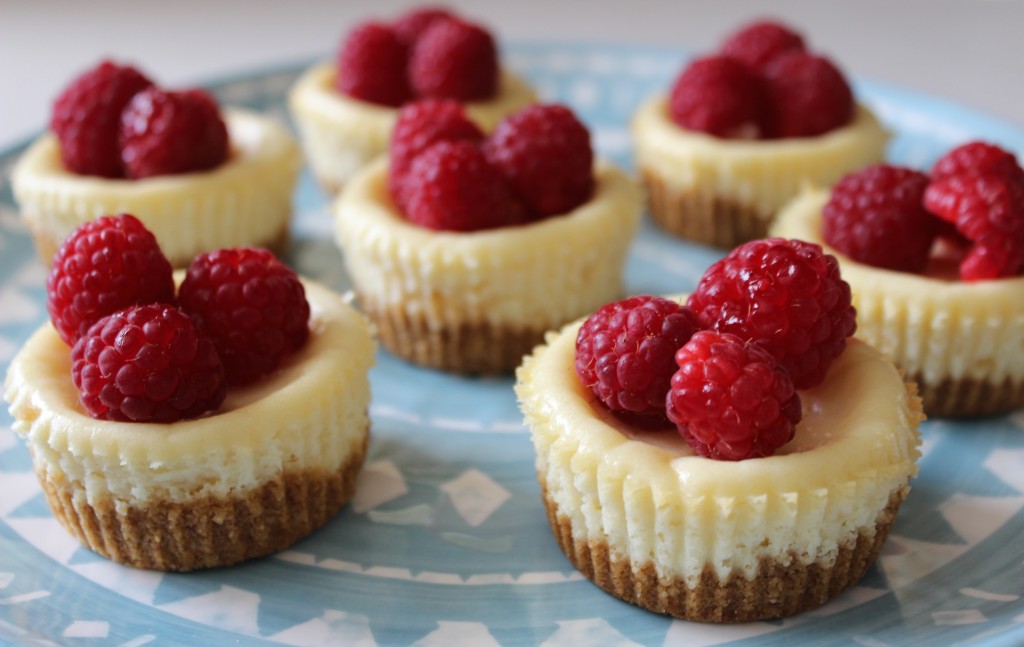 These desserts look delicate, but they are actually so fast and easy to make! The trick is spraying your tin cupcake liners with a cooking spray before adding the crust and filling.
I also like this recipe because it can be stored for a couple days in the fridge. Pre-prepped party food? Yes, please!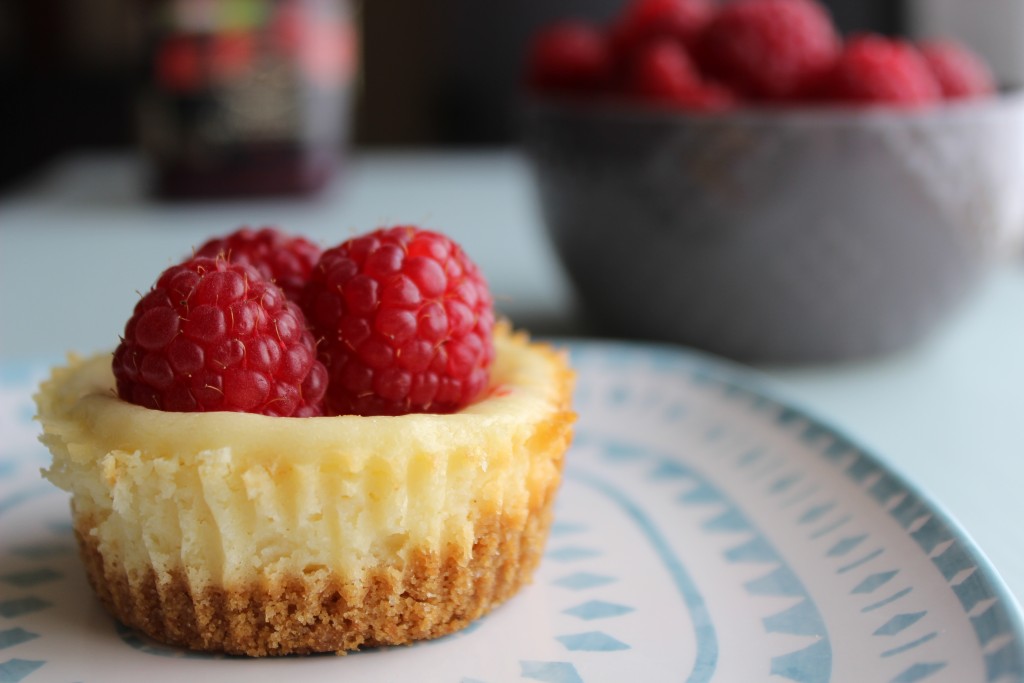 The next party I host, I definitely need to serve these! (If only to keep me from eating the whole batch by myself again!)
Raspberry Cheesecake Bites Recipe
Author: Maria
Recipe type: Dessert
Serves: 24

Ingredients:

Crust:
1 1/2 cups of graham cracker crumbs
5 T butter, melted
3 T sugar
1/4 t cinnamon

Cheesecake Filling
32 oz. cream cheese blocks, room temp (yes, you read that right)
1 1/2 c sugar
1/4 t salt
1 t vanilla extract
4 eggs

Toppings
Fresh fruit or jam!

Instructions:
Crust
Preheat oven to 325 degrees
Spray your cupcake liners with cooking spray and place in cupcake pan
Make your 1 1/2 cups of graham cracker crumbs using a blender or grinder
In a small bowl combine the graham cracker crumbs, melted butter, sugar and cinnamon
Press about 1 T of crust mixture into each cupcake liner
Cheesecake filling
In a separate bowl combine cream cheese, sugar, salt, vanilla and eggs
Using an electric mixer, whip cream cheese mixture until fluffy
Pour about 3 T of cream cheese mixture into each cupcake liner
Place in the oven for 22 minutes
Allow cheesecake bites to chill in fridge before topping and serving (2-4 hours)

Notes: Don't worry if the cheesecake bites crack while baking! The cracks seal up again and any remaining flaws will be hidden by the toppings!

This awesome post has been shared with Tatertots and Jello and Whipperberry