We are so happy to have Kim back from Cravings of a Lunatic. I'm a huge lovr of lemon, I CAN'T wait to try these Chewy Lemon Cookies
Hello Made From Pinterest Peeps. I'm back again with another fabulous recipe for you. I love visiting each month. It's a pleasure to swing by for a change of pace.
I saw these Glazed Lemon Sugar Cookies on Pinterest and just knew I was going to be making them at some point. After chatting with the Made From Pinterest crew we thought a nice easy cookie recipe would be perfect for the holidays.

For me easy recipes are key during the holidays. You want some quick, simple recipes in your recipe box so you make something fabulous in a snap. That way you keep your stress level low but you impress your friends and family. It's a win-win situation.
This time of the year there's always so much going on that I rely heavily on easy recipes. My son lives across the country from us. He goes to school in Calgary, we live in Ontario. So we fly him home for the holidays each year. We try to jam in a year's worth of time into 10 days. So easy recipes become super important to me.
One of our favourite things to do when we're all together is eat. Not even going to lie. We're giant piggies during the holidays. We relax a lot watching movies we love so we always need fabulous snacks on hand. Things like easy cookies are great to munch on while watching TV.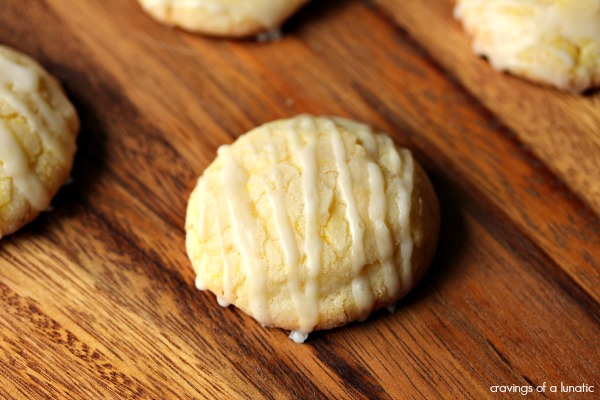 This year we've decided to do a Lord of the Rings Marathon while he's here. We're planning on watching the whole series before Sunday. My daughter's birthday is on Sunday and she's requested to see the new one. She's also requested we watch the whole shebang before we go see it.
I know right. It's crazy and ambitious, in the most lazy of ways. But we're going to make it happen. We'll also be making her favourite recipe from the movies. She is addicted to making lembas bread so be sure to check my blog, Cravings of a Lunatic, this weekend for that recipe. It's epic!
Make sure you swing by Swanky Recipes to check out the original Glazed Lemon Sugar Cookies recipe. I fell in love with her pin eons ago, and the recipe did not disappoint. It's two thumbs up from me. Easy to make, and absolutely delicious.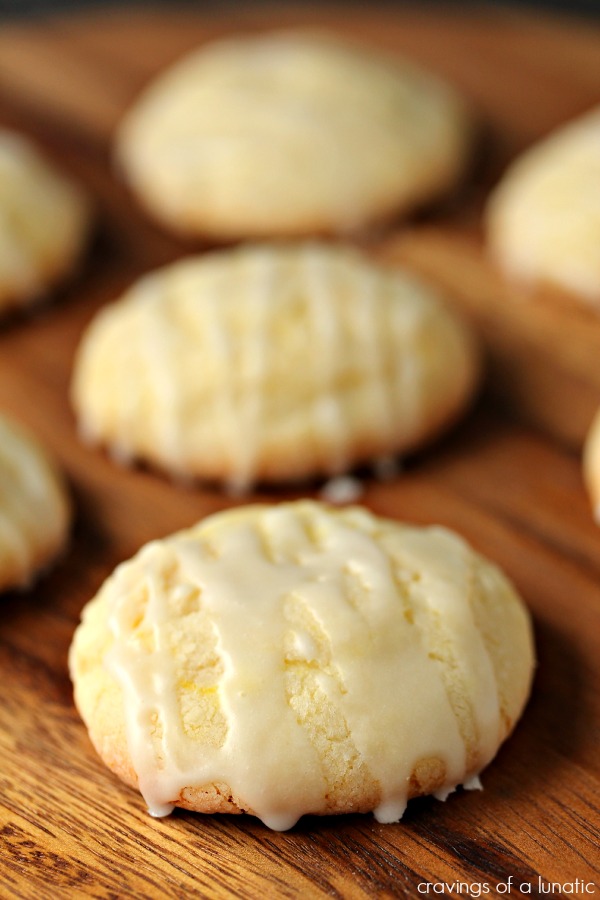 Be sure to have an awesome holiday season. Be sure to whip lots of Peppermint Bark, or some of The Best Brownies in the World for all your guests. They will love you for it. While you're making those recipes be sure to whip up these Glazed Lemon Sugar Cookies.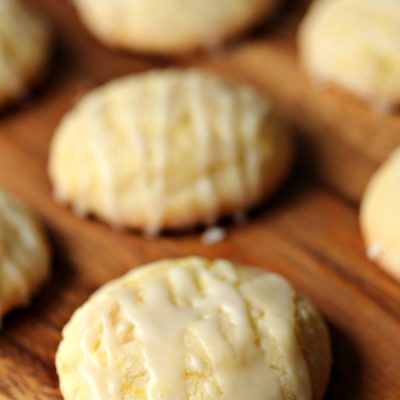 Chewy Lemon Cookies Glazed
Ingredients
1/2

cup

butter

1

cup

sugar

1/2

teaspoon

vanilla

you can substitute lemon extract, I did

1

egg

1

tablespoon

lemon zest

1

tablespoon

lemon juice

1 1/2

cups

flour

1/4

teaspoon

baking powder

1/4

teaspoon

baking soda

1/8

teaspoon

salt

1/4

cup

confectioners' sugar for coating the cookies for the crinkly effect


Glaze

1

cup

confectioners' sugar

2

tablespoons

milk

Optional: 1/2 teaspoon lemon extract
Instructions
Preheat the oven to 350 degrees F. Line two cookie sheets with parchment paper. Set aside.

Cream butter and sugar in a large bowl.

Now add the vanilla, egg, lemon zest, and lemon juice to the bowl, continue to beat until combined.

Mix the flour, baking powder, soda, and salt in a small bowl, whisk with a fork until combined. Now add this dry mixture to the wet mixture slowly, continuing to mix until combined.

You can use a cookie scoop or tablespoon to drop the cookie dough into balls into a bowl of confectioners' sugar one at a time, then transfer them to the cookie sheets.

Place in the oven and bake for about 9-11 minutes. The cookies should be crackly on top when done.

Remove from the oven and allow to cool on pan for a few minutes. Then transfer the cookies to a cooling rack. Continue to cool.

Mix the confectioners' sugar and milk together in a small bowl. You can add more of either ingredient until you get the desired consistency you like for a glaze. Now drizzle the glaze over the cookies. Allow the glaze to dry.

Serve with a big old lemon loving smile!