Today on our blog we have Jeni from Bakerette.com back with us with a wonderful "comfort" food recipe. Check her out below!
I'm excited to be back at Made From Pinterest and share one of my favorite recipes in their awesome space. This dish has great flavor!
And, of course, it has cheese in it. If you follow my blog, Bakerette.com, you will know that chocolate and cheese are my thaaaang! And this here Chicken Asparagus Pasta Bake is my thaaaang. I had one of those days where I had thawed some chicken but wasn't quite sure what to make with it. It was 5:30 pm and the family was hungry. What could I whip up with this chicken that would be tasty and satisfying? I scoured the fridge and found some asparagus, cheese (my daily staple), seasonings, and some other items. Then I found I had a hodge-podge of noodles that I needed to use up. And the light went off…I'll create a chicken asparagus pasta dish and wa-la…this flavorful casserole was born. So quick and easy. I made it just under 30 minutes. If I make this again, I think adding sautéed mushrooms would be awesome. I also think mixing in an Alfredo sauce would make it absolutely divine! But even without those two items, the dish itself is perfectly yummy!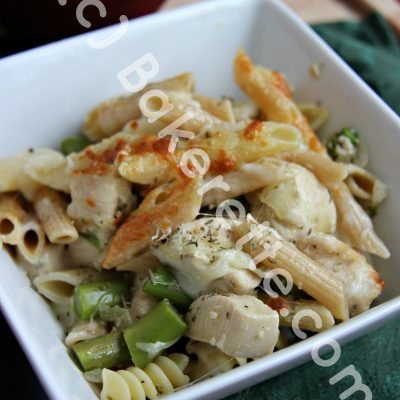 Chicken asparagus Pasta Bake
Ingredients
12

ounces

penne pasta

1

pound

asparagus

chopped

2

pounds

boneless

skinless chicken, cubed

2

tablespoons

olive oil + 1/4 cup olive oil

1

tablespoon

Seasoned Salt

I like Lawry's

1

teaspoon

ground black pepper

1

small onion

finely chopped

2

teaspoons

garlic

minced or pressed

1

teaspoon

Oregano

1

tablespoon

Herbes de Provence

2

cups

mozzarella cheese

1/2

cup

to 1 cup fresh parmesan cheese

grated
Mix-in Options
sautéed Mushrooms

Alfredo Sauce
Instructions
Coat a 9 x 13-inch baking dish with cooking spray and set aside.

In a large saucepan, cook pasta according to package directions until al dente. Rinse and drain.

In a medium saucepan, steam asparagus for about 8 minutes and spread out in the prepared baking dish.

Meanwhile, in a large skillet, warm up 2 tablespoons olive oil on medium-high heat. Add cubed chicken. Season with Seasoned Salt and pepper. Stir and cook for about 5 minutes on each side or until chicken is cooked through. Add onion, garlic, oregano, and Herbes de Provence; stir, and continue to cook one minute longer.

Remove chicken from burner and spread out over the asparagus in the baking dish. Top with cooked pasta, olive oil, and mozzarella cheese. Stir until well combined and coated.

Top with grated Parmesan cheese. Place on the middle rack of the oven and broil on high for about 5 minutes or until cheese is golden brown. Remove and serve immediately.
Notes
Adding sautéed mushrooms to this dish would be amazing. Another twist to consider is mixing in alfredo sauce for a creamier delight. Yummmm!
Thank you Sherri, Tracy, and Debbie for letting me play in your space today! Have a wonderful weekend! If you liked this recipe, you might also like these other dishes found at Bakerette. Click on the pictures for the recipes:
You can also find Bakerette on Pinterest, Facebook, Twitter, and Instagram.