Buckeye brownies. Have you ever heard of these delicious treats? I sure hadn't.
Do you even know what a Buckeye is? I hope that I don't offend anyone who lives in Ohio but I had no clue what a Buckeye was until I pinned this a pin from Sugar Spun Run and this mouth-watering dessert.
And then, just as a coincidence, my hubby and I were watching college football and happened to see the mascot for Ohio State. When I saw it, I showed my ignorance and I asked Bruce what their mascot was supposed to be. It was then that I learned what a Buckeye was.
If you are like me and didn't know what a Buckeye was, no worries! I found out for both of us. A Buckeye is a nut. Who knew, right? Buckeye is also peanut butter and chocolate candy, which is the inspiration for the ingredients.
Buckeye candies look just like buckeye nuts. They are round and a deep chocolate brown with a light chocolate dot at the top. This is what the candies look like, too.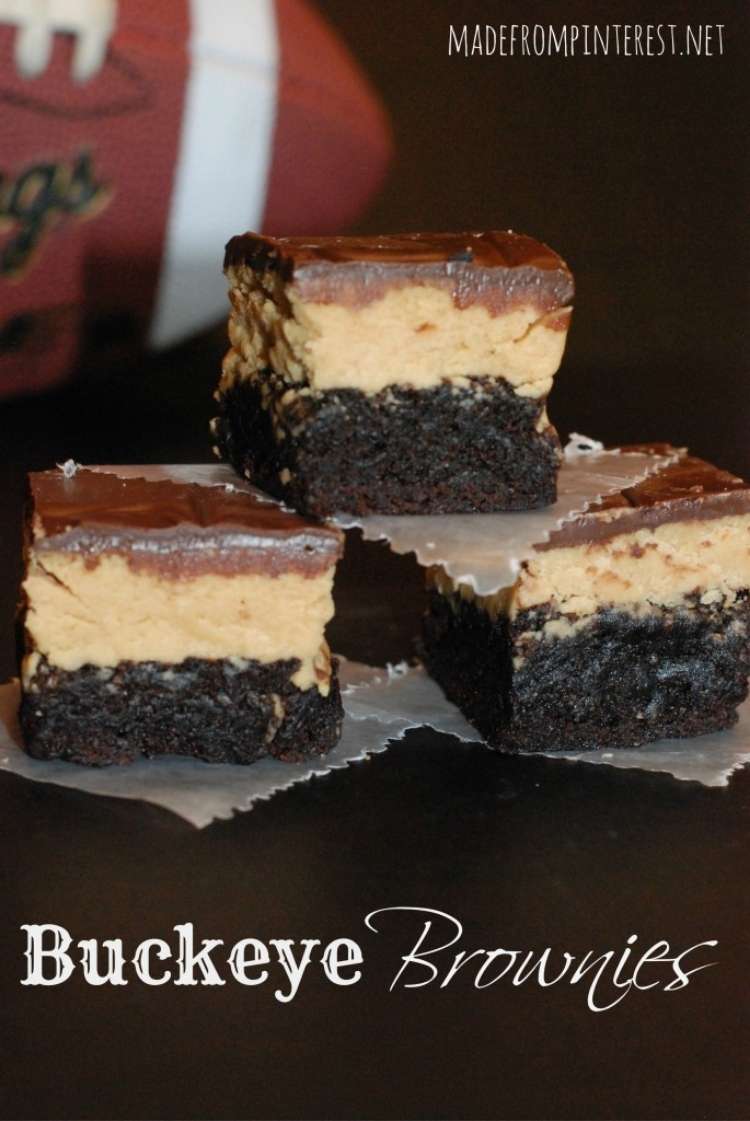 Buckeye Brownies Recipe
So even though we were familiar with what a Buckeye was, apparently Ohio is famous for making a chocolate and peanut butter candy that looks like the Buckeye Nut. Hence, the reason why these brownies are called Buckeye Brownies.
Cool, right?
Chocolatey.
Peanut Buttery.
Just like their candy counterpart, you will go "nuts" over these brownies!
They are that good.
And the best part is that they are super easy to make! A few ingredients meld together to give us a decadent, creamy, irresistible dessert!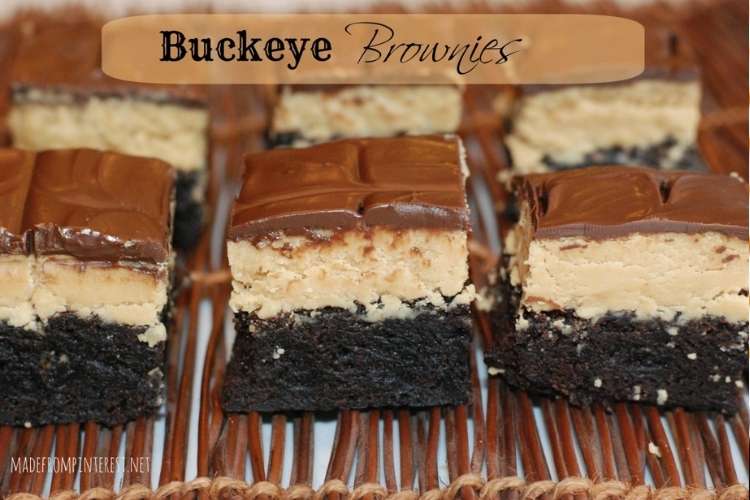 Caution: Buckeye Brownies are so good, you might skip dinner and just enjoy dessert
My daughter and her husband are living with us at the moment, while they are both in college.
Tonight when they came home, I heard my daughter come bounding up the stairs and exclaim: "Can we have some of those brownies?!" (Her husband's most favorite dessert is anything with chocolate and peanut butter)
I told her that she could have some and she said that was good because her husband was circling around the island where the brownies lay, waiting to devour them!
Guess what they had for dinner tonight? Only brownies. For reals.
Although I might not suggest that you have Buckeye Brownies for dinner, I highly recommend them for every other time. Especially while watching college football!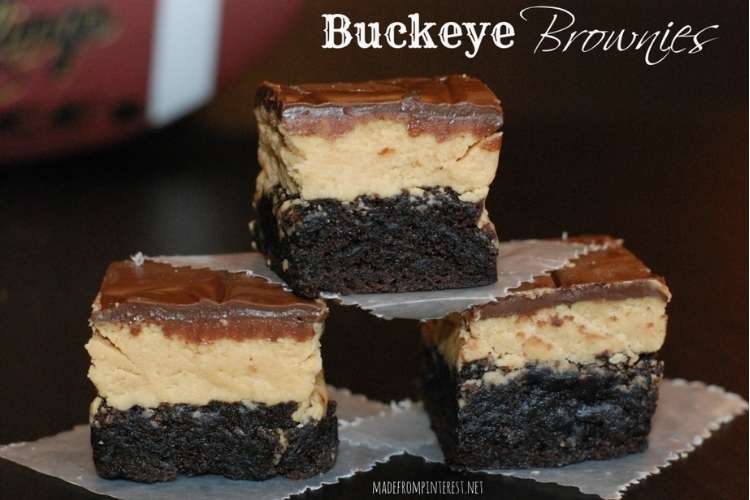 Buckeye Brownie Ingredients
So obviously we are going to have chocolate and peanut butter in these brownies, but there is a bit more to it. The base of the brownie can be made with your favorite boxed brownie mix. I personally like to use a dark chocolate brownie mix.
The next layer is a peanut butter cream that is made from butter, creamy peanut butter, powdered sugar, vanilla, milk, or heavy whipping cream, and a pinch of salt. Keep in mind that if you don't have heavy whipping cream you can also substitute half and half if you want something a bit thicker and creamier than milk.
The top layer of this decadent dessert is a chocolate and peanut butter glaze made from creamy peanut butter and chocolate chips melted together.
Here are all of the ingredients needed for all the layers of this amazing dessert:
Box of your favorite brownie mix plus ingredients on the box – you can also make the brownies from scratch as they are super easy to make.
Butter – you can also use butter in your brownies instead of vegetable oil.
Creamy Peanut Butter – this is true to the candy but you could also use crunchy peanut butter or even almond butter.
Powdered Sugar – Helps hold everything together. Regular sugar will be grainy so be sure to get powdered sugar, also known as confectioners sugar
Vanilla Extract – the real stuff, of course. Add a few drops to your boxed brownies to enhance the flavor.
Heavy Whipping Cream – you can substitute milk or half-and-half here, too
Salt – just a pinch to balance the sweetness and bring out the flavors
Semi-sweet chocolate chips – you could also use semi-sweet, or even a bar of chocolate since you are melting it anyway.
Making your Buckeye Brownies
The first step to making your Buckeye brownies is to make the brownie mix according to the package directions. Take it out of the oven and allow it to cool completely. You don't want the peanut butter cream melting everywhere so this is a very important step.
Once the brownies have cooled down, make your peanut butter cream by mixing the peanut butter, powdered sugar, vanilla, heavy cream, and salt. Add more milk or powdered sugar, depending on if your cream is too runny or dry. Once it's mixed, spread the cream over the cooled brownies.
The next step is to melt your chocolate chips and peanut butter together and then spread the mixture over the top of the peanut butter cream.
Refrigerate the Buckeye brownie for about an hour then serve!
If you happen to have leftovers, which is unlikely, you can refrigerate them. If you want to keep it for the future, it can also be successfully frozen, although the author doesn't specify how long it can be frozen for.
Tips for making amazing Buckeye Brownies
Improve your boxed brownies by making them with melted butter instead of vegetable oil. Another way to improve your boxed brownies is to use milk instead of water.
If you love chocolate, you could always add extra cocoa powder to your brownies. I have also made brownies with Nesquick, so if that's what you have on hand, it works well, too. You can also use espresso powder to add a more chocolatey taste. Don't worry, it won't taste like coffee at all, it just enhances the cocoa flavor!
Make sure to constantly stir the chocolate chips and peanut butter glaze so you don't burn the chocolate. It can burn very quickly and can't be recovered.
You can also add mix-ins to your brownies to add texture or different flavors. See notes below about mixins.
You can make the brownies the night before you need them and then just make the peanut butter sauce and chocolate glaze when you are about ready to serve it.
Variations to making Buckeye Brownies
The chocolate sauce on top can be made in several ways. You can melt the chocolate chips with butter to make fudge as the topping. To make a ganache, melt the chocolate chips with heavy cream.
Some varieties do not include the brownie on the bottom. If you are in a rush or just don't feel like baking brownies, you can just melt the peanut butter sauce and chocolate topping spread it in the baking dish, and refrigerate to harden. Either way, it will be delicious.
Buckeye brownies are perfect for potlucks and parties
Buckeye brownies are very easy to make and are sure to impress at any potluck or party. It is very easy to double and can be cut to accommodate crowds of any size.
These soft and creamy desserts and also perfect for football parties or lazy Saturday afternoons. The combination of peanut butter and chocolate is perfect comfort food.
They are also perfect for parties and holidays since the brownies can be made the night before and all you have to worry about is the toppings. This is great news for busy holidays when the oven is precious real estate.
I used to make these buckeye brownies as a potluck staple when I worked at Hopkins. Every time I brought them in, the neatly cut squares flew out of the Tupperware container before any other dessert, and I even had one of the cleaning ladies offer to pay me to make her a batch for a party.

Instead, I gave her the recipe, because though they are decadent and impressive, they're actually pretty darn easy to make!

-Sam, Sugarspunrun.com
These buckeye brownies are sure to impress at any get-together you bring them to.
Add some mix-ins to your brownie to take these buckeye brownies to the next level
Adding mix-ins to your brownies is a simple way of adding some variety and texture to this smooth and creamy dessert. One option is to mix in some chocolate chips with your brownie mix. You can also use chocolate chunks, or even break apart a chocolate bar and mix in.
You can also choose to add nuts, for example, walnuts.
Another option is to top your brownie with your mixins so you can better control where the toppings are. This way you can add several toppings to your brownie, such as topping half with chocolate chips and the other half with walnuts.
Other mix-ins can include M&Ms or even pretzel pieces to make it really pop! The only limit is your imagination. I don't really think you will need any mix-ins as these Buckeye brownies are based on candy and delicious on their own, but it doesn't hurt to add some variety once you've had the plain (although there's nothing plain about these!) ones a few times.
I'm sure you've already guessed that This Pin Rocks!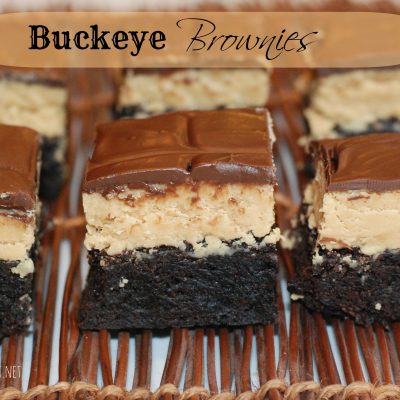 Buckeye Brownies
Ingredients
BROWNIES:

Box of brownies of your choosing. I used Dark Chocolate.
Peanut Butter Cream:
½

cup

Unsalted Butter

softened

1

cup

Creamy Peanut Butter

2½

cups

Powdered Sugar

1

teaspoon

Vanilla Extract

1-2

Tablespoons

Milk or Heavy Whipping Cream

1

pinch

of Salt
GLAZE:
1

cup

Semi-Sweet Chocolate Chopped or Chips

¼

cup

Creamy Peanut Butter
Instructions
BROWNIES:

Follow directions on a box of brownies of your choosing.

After the brownies have cooled, prepare the Peanut Butter Cream.

PEANUT BUTTER CREAM:

Beat butter and peanut butter on medium speed for 2 minutes. Add the powdered sugar, ½ cup at a time to hopefully avoid powdered sugar everywhere! Next add your vanilla, 1 TBL milk and salt. Continue to beat on medium for another 1 to 2 minutes If the cream is too thick, add a little milk. If it's too thin, just add some more powdered sugar. . Spread the buttercream over the cooled brownies.

GLAZE:

Melt the 1 cup chocolate chips & 1/4 cup peanut butter together in a saucepan on medium-low heat. Stir constantly until smooth. Let this chocolate/peanut butter mixture cool for a few minutes then pour the glaze over then buttercream. Taking a spatula, smooth the glaze evenly over top.

Chill the brownies one hour before serving.

Enjoy!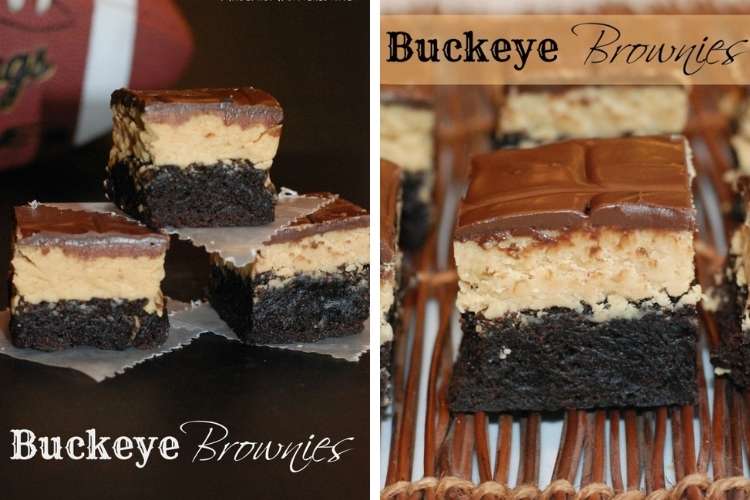 Did you love this recipe for Buckeye Brownies? Check out more delicious recipes from This Grandma is Fun:
These buckeye brownies are super easy to make and a hit at any dinner party or event. Check out these other amazingly simple dessert recipes we love