Carole from My Kitchen Escapades is back as our monthly contributor today. Wait till you see what she's got in store for us! You will just die for this Chicken Cordon Bleu Casserole!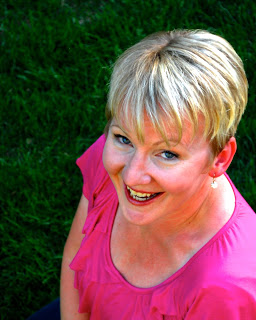 Yesterday as I finished up my work-out, I caught a quick glimpse of my 3 year old daughter outside, 100% butt-naked. Nothing. Nada. Just those cute little cheekies running down the sidewalk for all the neighborhood to see.
I dashed out the door, gathered her up and sternly asked why in the world was she playing outside naked?!? Offended, she crossed her arms and declared, "I'm not!! I have my necklace on!!"
Those chunky cheekies also made another appearance this week when checking-in on her before I went to bed. She was sound asleep and naked once more, but accompanied with an extremely large collection of toys perfectly lined up in a very OCD manner.
I've decided both of these instances are cute and adorable. I even took pictures to use as blackmail for when she is older. However, if there is a third naked occurrence anytime soon, I might have to begin seeking help.
Maybe if I only ate salads, exercised all day long and never ate anything indulgent like this casserole, I could have the same confidence that my naked 3 year old has 🙂 But nah…it's not worth it. The reason I exercise every day is mainly so I can eat more food every day.
For me, a 3 mile run is worth it if I can enjoy a creamy, delicious dish like this Chicken Cordon Bleu Casserole for dinner. Every one of my kids LOVED this dinner and that rarely happens. With six kids, odds are that at least one of them will turn up their nose at it. Not the case here.
If you would rather not use a rotisserie chicken, feel free to use any other form of cooked chicken, but be sure it is well seasoned when you cook it. I just can't pass up those delicious $5 rotisseries at Sam's Club when I am in a rush. Convenience is worth it sometimes!
Chicken Cordon Bleu Casserole
recipe adapted from tastykitchen.com
Base:
1 large rotisserie chicken, meat removed and pulled (about 5-6 C)
1/2 pound sliced deli-style black forest ham, chopped
1/2 pound sliced swiss cheese
Sauce:
4 Tb butter
4 Tb flour
3 C milk
2 Tb lemon juice
1 Tb dijion mustard
1 1/2 tsp salt
1/2 tsp smoked paprika
1/2 tsp pepper
Topping:
4 Tb melted butter
1 1/4 C seasoned bread crumbs
1/4 C parmesan cheese
1. Preheat oven to 350 degrees and spray a 9×13 casserole dish with nonstick spray. Layer the chicken in the bottom of the dish followed by the ham and finally the swiss cheese.
2. In a medium saucepan, melt the butter over medium heat. Whisk in the flour and cook for 1 minute. Slowly add the milk, whisking to keep clumps from forming.
3. Turn the heat to high and cook until the sauce thickens and boils completely, whisking often. Remove from the heat and add the remaining sauce ingredients. Pour the finished sauce over the base layer already in the dish.
4. In a small bowl, mix together the topping ingredients until the butter is evenly distributed over the crumbs. Sprinkle over the top of the dish and bake for 45 minutes. Allow to cool for 10 minutes before serving so the sauce will thicken just a bit.
Loved this Chicken Cordon Bleu Casserole? Looking for some more quick chicken dishes?
Thanks so much Carole for sharing this recipe and also a little bit about your family with us. Although I'd hate to imagine what the neighbors might think if I ran down the street sans clothing….!!
We hope that everyone will stop on by at My Kitchen Escapades and see more of Carole's great recipes!
It's a Friday party with these sites today!