Hey there! We're Molly and Chelsea, best friends and the food lovers behind Bests and Bites – where we share a mix of healthy recipes, comfort food and indulgent desserts, like this one! We've been besties for over 20 years and share a love and passion for food and the way it brings friends (like us), family and even strangers together! There's just something about a home cooked meal or baked good that says "I love you" and we absolutely love that.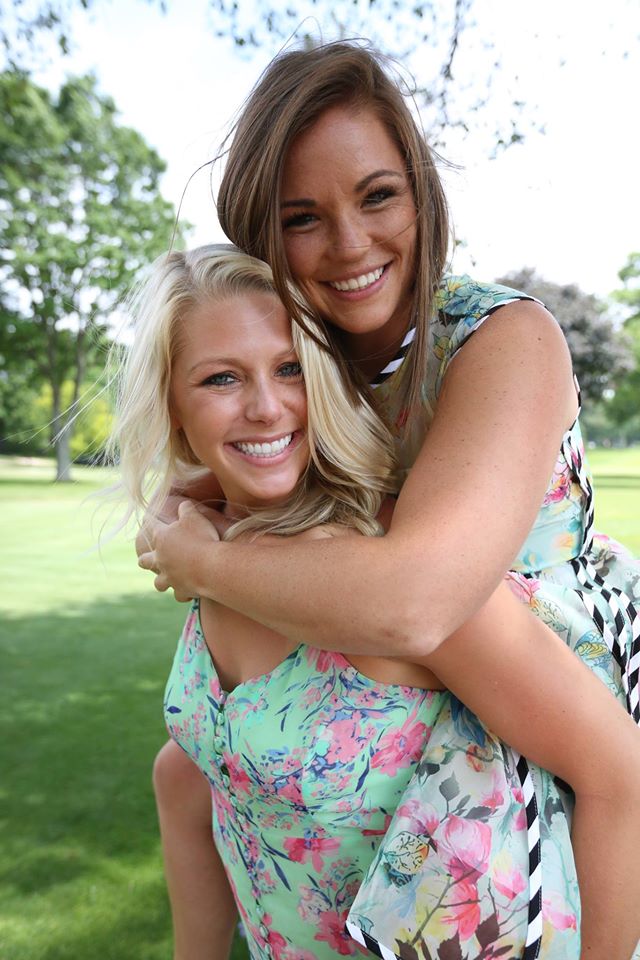 Today we have this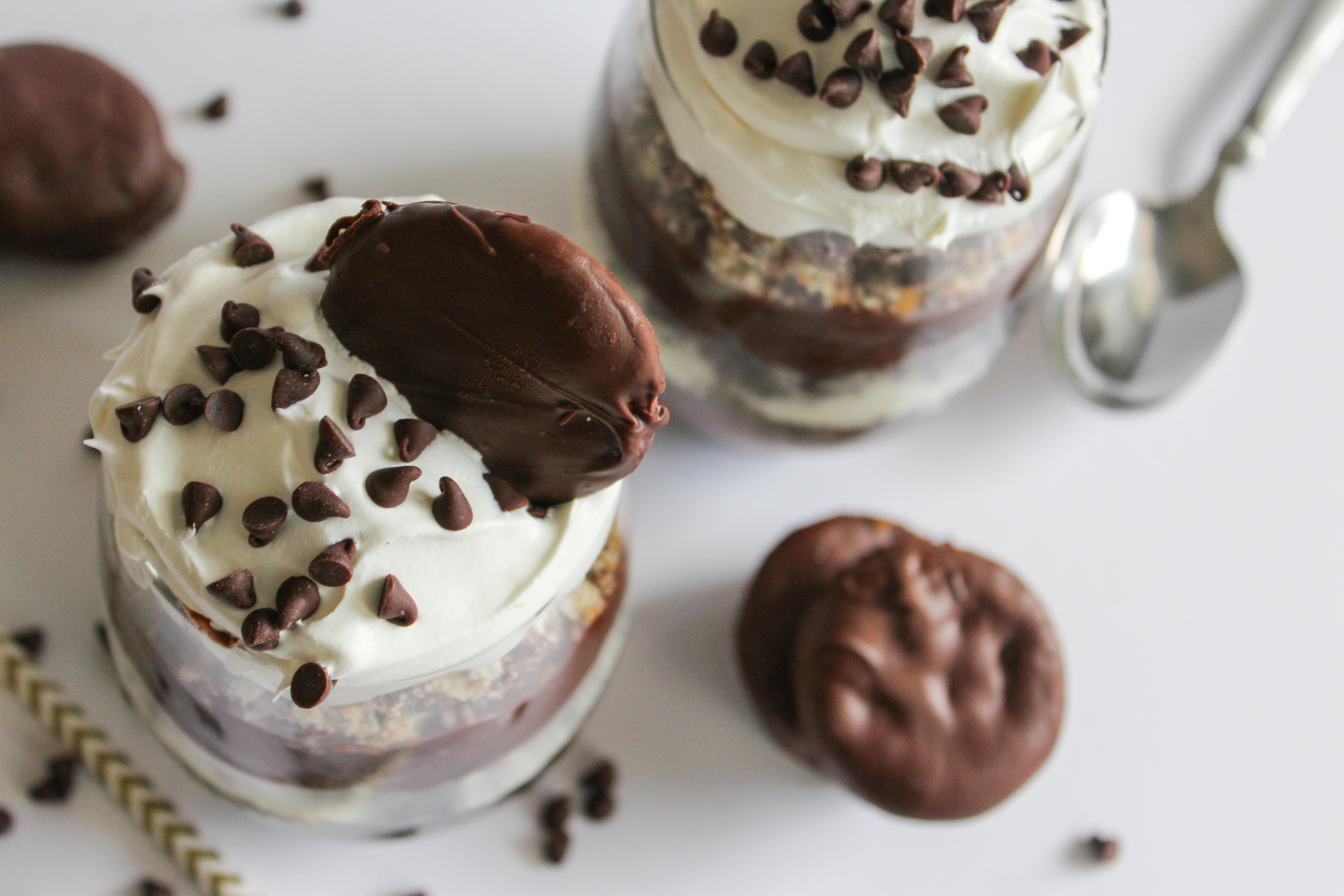 Chocolate Cheesecake Thin Mint Parfait – made with four layers of delicious ingredients that are perfect for the holidays. It is made with homemade thin mints, chocolate, and peppermint extra. Layer the cups with chocolate pudding, thin mints, a cheesecake layer, chocolate chips and repeat until the glass is full!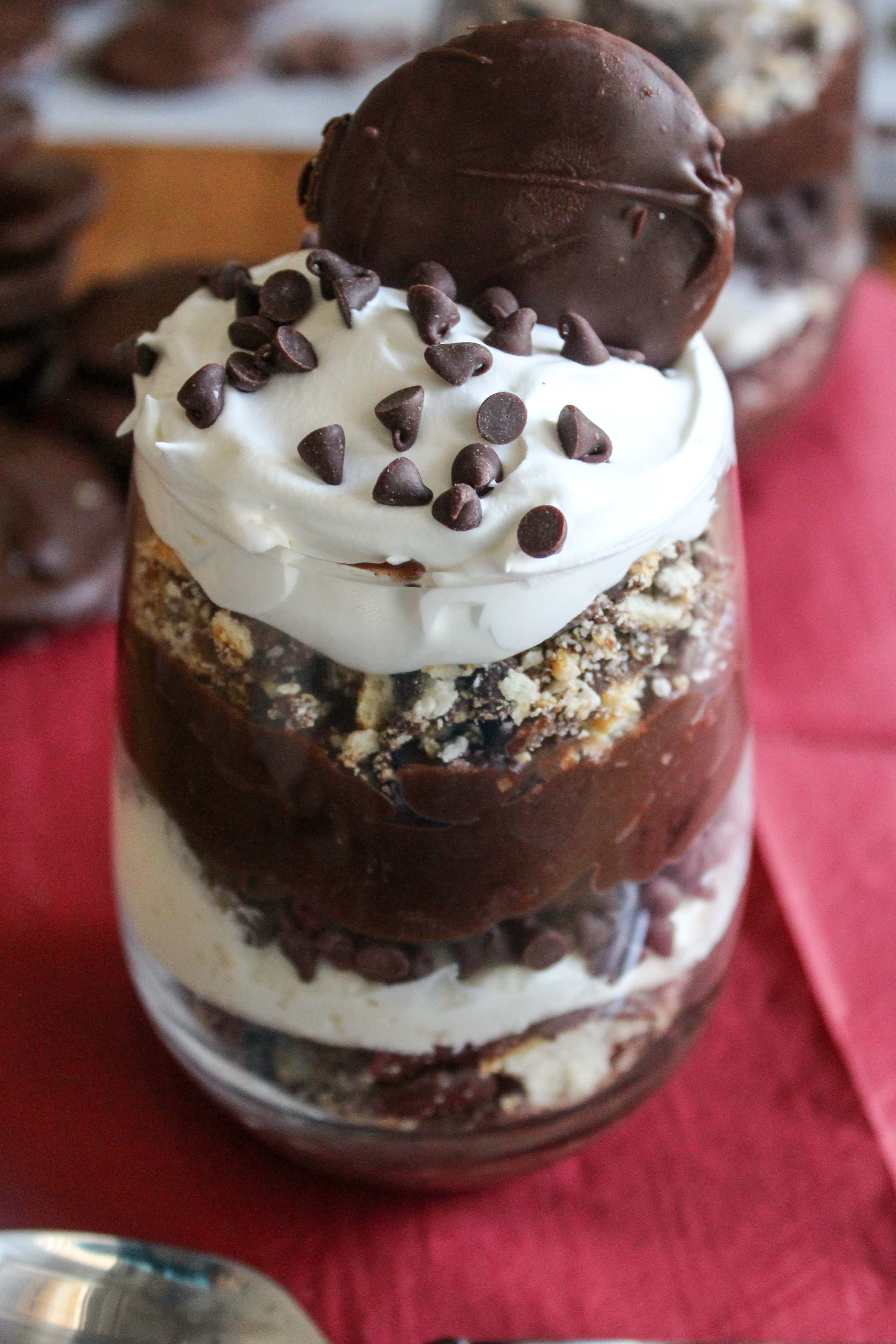 We were beyond thrilled when the sweet ladies from Made From Pinterest asked us to share a recipe. We just had to do a dessert because that's what the holidays are all about right? And this Chocolate Peppermint and Cheesecake Parfait is divine.
Chocolate and peppermint go together like peanut butter and jelly. Add chocolate and cheesecake and you've got yourself something wonderful! With the hustle and bustle going on during this magical season, we could all use a simple (but delicious!) dessert that is destined to impress friends and family alike.
It's got so many tasty things going on- the pudding layer is light and smooth, the cheesecake layer is well, cheesecake (can't go wrong), and the mint layer is made up of homemade thin mints! They're made with a Ritz Cracker and simply adding a holiday twist that's sweet and fresh.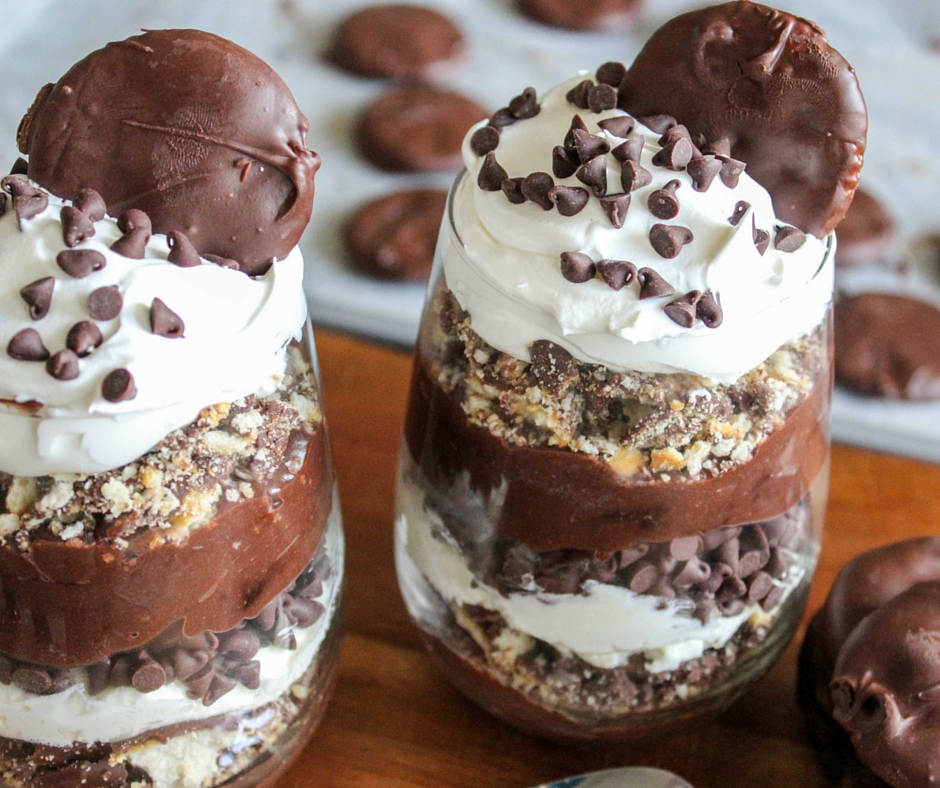 This is a quick and easy dessert everyone will love for the holidays! It's made with homemade thin mints using Ritz crackers, chocolate, and peppermint extract. Layer your cups with chocolate pudding, thin mints, cheesecake and chocolate chips. Continue to layer until its full and add cool whip and a thin mint to garnish!
Each layer takes about 5 minutes to make individually, then you layer them in a cup and you have this insanely good dessert that looks like you spent hours to make! We also love to layer these in mini shooter glasses for parties.
The very best part about this concoction is the Thin Mints. Who wants to wait until these popular treats go on sale in February? The minty flavor is made for the holidays, right?! We just couldn't wait and had to make our own.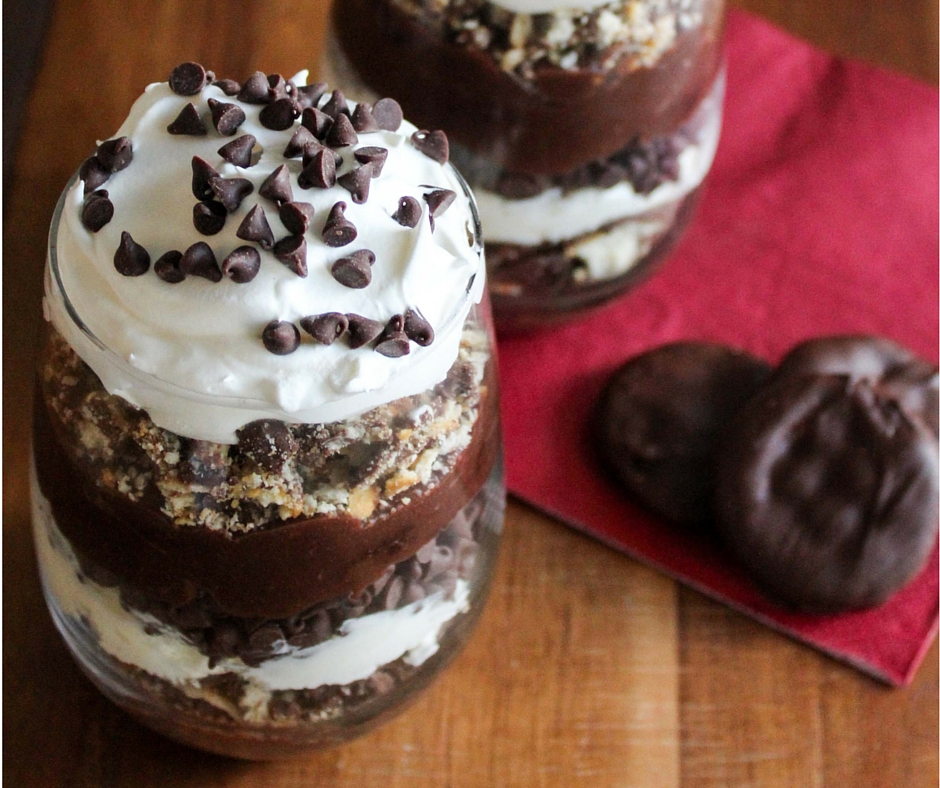 You just dip a cracker into chocolate with peppermint extract, pop in the freezer for 15 minutes, crush them up and wha-la! You've got an addicting little cookie. They add a crunchy texture to this parfait that's out-of-this-world good.
If you like this recipe, give us a virtual high five by following us on Pinterest, Instagram, and Twitter and liking us on Facebook. Don't forget to check out Bests and Bites for more indulgent desserts, as well as healthy recipes and savory comfort foods.
Thank you again MFP for having us!
Some of our most popular recipes: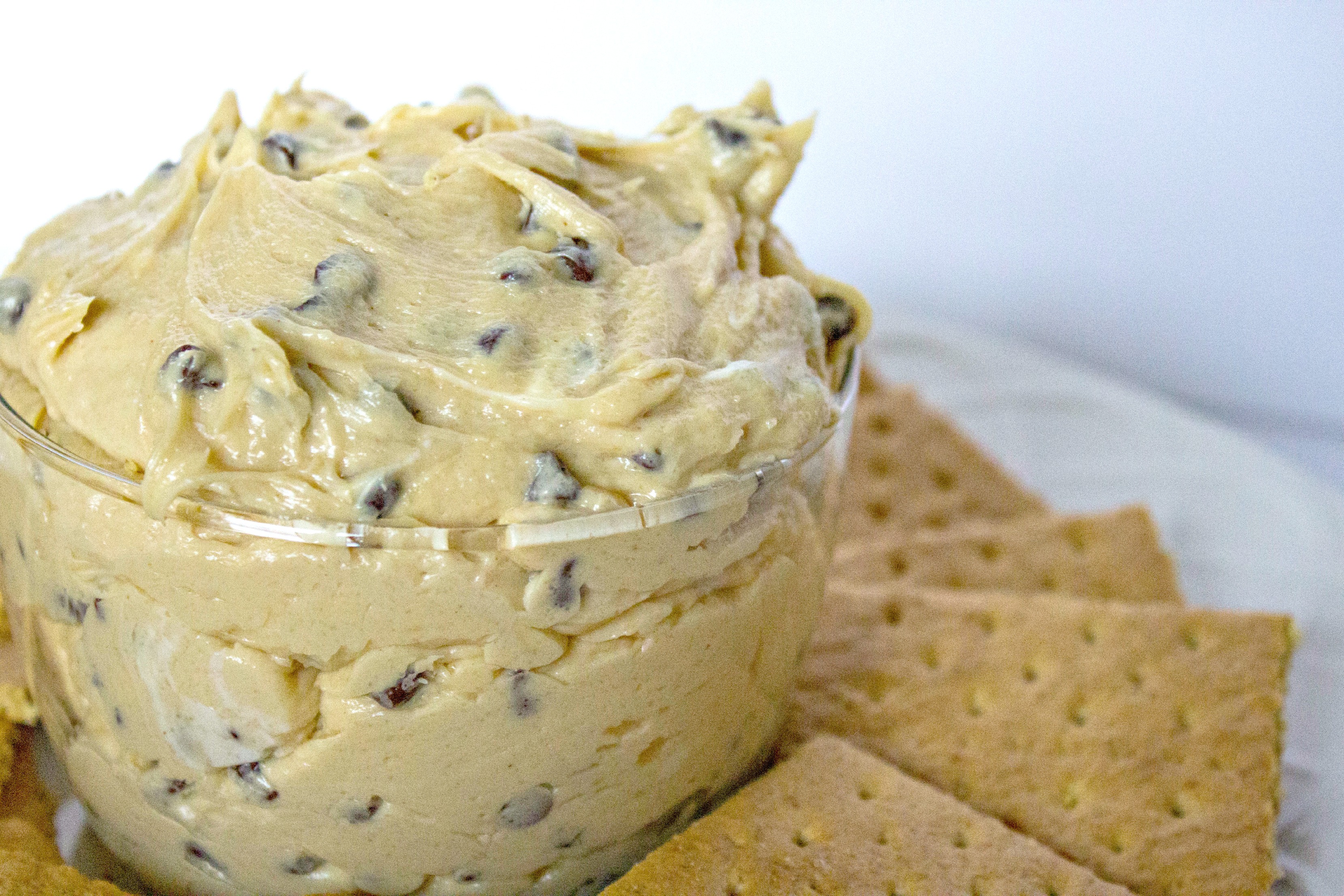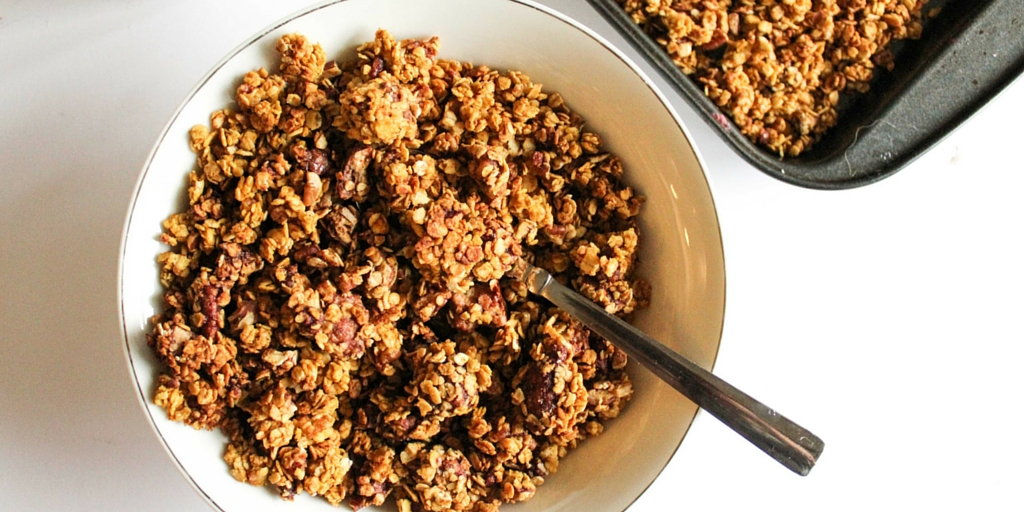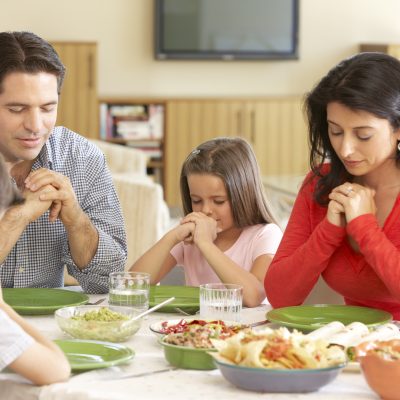 Chocolate Cheesecake Thin Mint Parfait
A mint chocolate dessert with layers of chocolate, cheesecake, and homemade thin mints. It's the perfect recipe for the holidays!
Ingredients
For the thin mints:

2

cups

chocolate chips

1

sleeve Ritz Crackers

3/4

teaspoon

peppermint extract

1/4

cup

vegetable oil

For the parfait:

1

box instant chocolate pudding

2

cups

cold milk

8

ounces

cream cheese

1/2

cup

powdered sugar

1 1/2

cups

cool whip

mini chocolate chips

as needed
Instructions
Prepare a baking sheet lined with parchment paper

Melt the chocolate in a microwave safe bowl in thirty-second increments until smooth. add the oil and peppermint extract and mix until combined

Using your hands, dip the crackers in the chocolate and place on the prepared baking sheet. place in the refrigerator for 15 minutes

Follow the pudding directions on the box using the pudding mix and cold milk and let set in the fridge for 5 minutes

In a medium bowl, use an electric mixer to whip the cream cheese, add the powdered sugar and beat until combined. fold in cool whip

Place the cooled homemade thin mints in a plastic bag and crush them using a rolling pin, leaving several out to use as a garnish

Place the pudding mixture and cream cheese mixture into separate piping bags or plastic bags with the tips cut off

Pipe a layer of chocolate pudding in the bottom of a stemless wine glass, regular glass or shooter glass

Add a layer of crushed thin mints and top by piping a layer of cheesecake. Sprinkle with chocolate chips and repeat until your glass is full. top with cool whip and garnish with a homemade thin mint.