Chocolate and strawberries were made for one another, and just when you think it can't get any better…it does. I give you Chocolate Covered Strawberry Cake.
Hi Y'all! Mandee here from The Kitchen Wife, and I am so excited about the opportunity to share with you some love from kitchen on Made From Pinterest. Since we are just getting to know each other, I thought I would share tell you about two of my favorite things, Chocolate and Strawberries. On their own these two are absolutely delectable, and it is a well known fact that together they are exquisite. But, when you put them in cake form, well THAT, my friends, is a game changer!
The story about how I came up with this recipe is kind of a funny one. It started with an invite to bring a dessert to the church picnic. I was newly married, and I really wanted to impress everyone with my wifely baking skills. We have some EXCELLENT cooks in our church and I didn't want to embarrass myself. I thought about what dessert I loved most in the world. The answer was simple, chocolate covered strawberries. I knew very well that was not a practical dish to bring to a picnic, so I decided to play around with the concept a little and my Chocolate Covered Strawberry Cake was born. Over the years I have refined it a from the boxed cake mix I originally used, but I know you are going to love this dessert and it is sure to impress at your next get together.
Chocolate Covered Strawberry Cake:
*Prep Time: 10 min. *Cook Time: 1-1 hr. 15 min. *Difficulty: Easy *Servings: 8-10


PRINTABLE RECIPE


Ingredients:
3 c. All Purpose Flour
1/4 tsp. Baking Soda
1/2 tsp. Salt
1 c. Unsalted Butter (room temperature)
3 c. Sugar
6 Eggs (room temperature)
1 c. Strawberry Puree*
1 c. Sour Cream
2 tsp Vanilla
1 tsp. Lemon Juice
8 oz. Chocolate Chips
1/2 c. Half & Half
Directions:
Preheat the oven to 325 degrees.
In a mixing bowl combine the flour, baking soda, and salt.
In a separate mixing bowl combine the butter, sugar, eggs, strawberry puree, sour cream, vanilla, and lemon juice. Mix together until smooth.
Add the wet strawberry mixture to the flour mixture and gently fold it all together with a rubber spatula.
Pour the cake batter into a greased bundt pan.
Place in the 325 degree over and bake for 60-75 minutes, until a toothpick comes out clean.
While the cake is baking you will make the ganache. Place the chocolate chips and half & half into a sauce pan. Turn on the heat to low. Melt the chocolate into the cream while continuously stirring. Once the chocolate has completely melted remove from heat and let cool.
When the cake has finished baking remove from the oven and let cool in the pan for 10 minutes.
Then place a cooling rack on top of the cake and flip. The cake should release from the pan onto the cooling rack. Allow to cool for 1 hour.
After 1 hour place the cooling rack over a baking sheet, pour over the ganche, and allow to set for 30 min.
Serve and Enjoy!
*For the strawberry puree you can blend either fresh or frozen strawberries.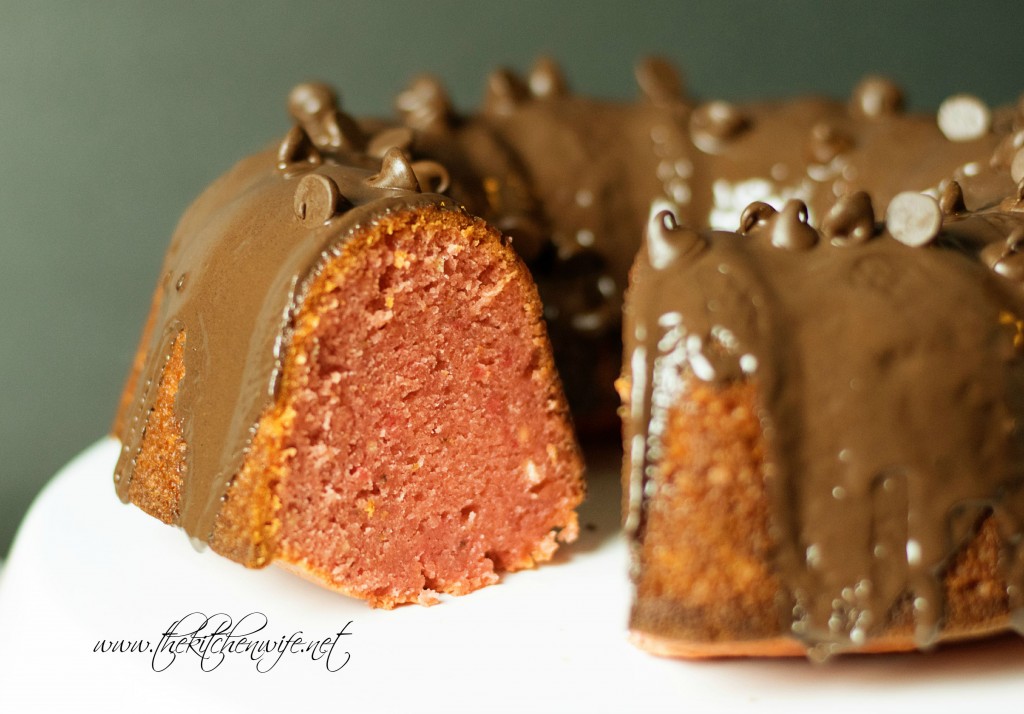 I'm pretty sure it doesn't get any more decedent that this. The brightness of the fresh strawberries combined with the richness of the chocolate, HEAVEN. If you like this dessert and are interested in some more ideas, head on over to
The Kitchen Wife
and check out all of the other fantastic recipes I have to offer.
Until Next Time…
Happy Reading, Happy Eating, and Happy Living,
~The Kitchen Wife~
This awesome post has been shared with Whipperberry and Tatertots and Jello