Hey Pinterest lovers! It's Ashlee Marie again and I'm SOOO happy to be back and share this recipe with you! Today I'm sharing two pies! This one here and a Coconut Cream Pie over at my site! I'd love for you to come check it out!
Last month I threw a Bloggers Thanksgiving for the second year in a row. It's wonderful cause we all bring amazing dishes and then after taking pictures we get to EAT and enjoy the amazing food. One of my favorites was this Chocolate Turtle Pie from Creations by Kara (one of my oldest blogging friends, I adore her and her recipes)!
Both recipes start in a pre-baked pie crust, you can buy one, but I have a great basic pie crust recipe that I love, and have never had a problem with! Some people are all butter, some are all shortening, but I'm a half and half fan for a flaky crust that tastes great, and is pretty sturdy.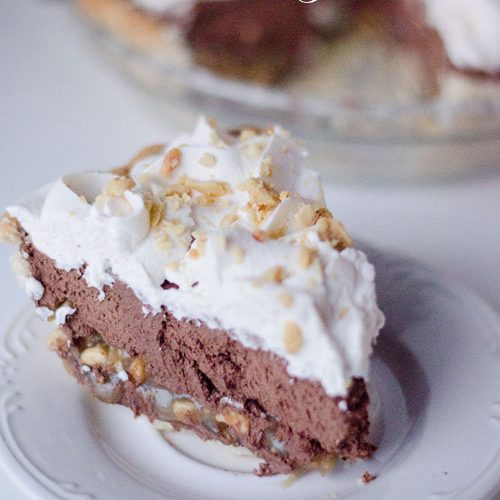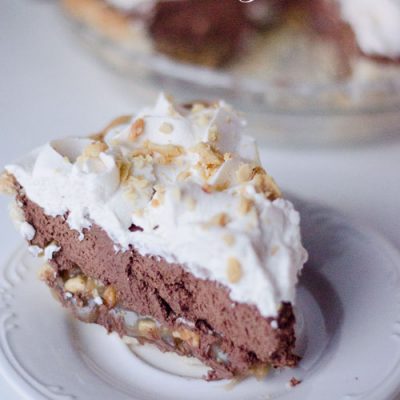 Chocolate Turtle Pie
Ingredients
1 9

″ pie shell

baked & cooled

2

Tbsp

dark and semi sweet chocolate wafers

1

Tbsp

butter

1

C

peanuts chopped

1 1/2-2

C

Caramel Sauce

6

oz

dark and semi sweet chocolate wafers

2

Tbsp

butter

16

oz

Stabilized Whipped Cream

2 C cream, whipped
Instructions
Melt the 2 Tbsp of chocolate and 1 Tbsp of butter in the microwave and stir smooth (don't over cook).

Spread the chocolate over the bottom of the cooked crust and let it set.

Sprinkle the chopped peanuts evenly over the bottom of the crust

Warm the caramel and pour it over the peanuts.

Melt the rest of the chocolate and butter, and stir smooth, let it cool a bit.

Stir the chocolate into HALF of the stabilized whipped cream and let it set

Cover with the rest of the whipped cream and top with chocolate curls or more chopped peanuts.

keep the pie refridgerated
So here is how I changed the recipe:
Chocolate – Kara uses chocolate chips, but I'm a huge chocolate snob. Chocolate chips aren't made to melt well, they have an ingredient that's made to help them hold their shape at high heats (so they still look like chips in cookies) so I use chocolate wafers, made for melting and baking. I'm also a big fan of mixing chocolates, using more than one brand/flavor.
Caramel – Kara melts caramel squares and milk/cream together for her caramel layer. It's a GREAT way to get a delicious thick caramel, but I didn't have any caramels on hand and I DID have my Caramel sauce in the fridge (I always have a ton in the fridge) so I heated it up and poured it in, Mmmmmm, worked great.
Whipping Cream – I love fresh whipped cream and I am not a fan of cool whip. If you're going to swap fresh whipped cream out for cool whip in recipes you need to stabilize it so it doesn't just deflate in the recipe. It's another step AND it changes the texture (a bit thicker) from hers, but since my husband and kids didn't try the original they didn't notice at all. I missed the creamier texture so I'll probably just go with cool whip in the chocolate layer next time but stick with fresh whipped cream for the topping.
I hope you enjoyed this recipe and I hope you check out some of these others! It's that time of year, I'm making tons of goodies and treats! Some for me… and SOME for neighbors and friends!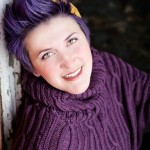 Thanks so much Ashlee for this scrumptious Chocolate Turtle Pie recipe. It is definitely going on my Christmas-to-make list!
If you liked this recipe of Ashlee's, check these out!
Sandies aka Mexican Wedding Cookies | English Toffee aka Almond Roca | Classic Sugar Cookies
This amazing post has been shared with Tatertots and Jello and Living Well Spending Less!