Moist, Decadent Chocolate Cake, topped with Sweet Coconut Cream, What's not to love?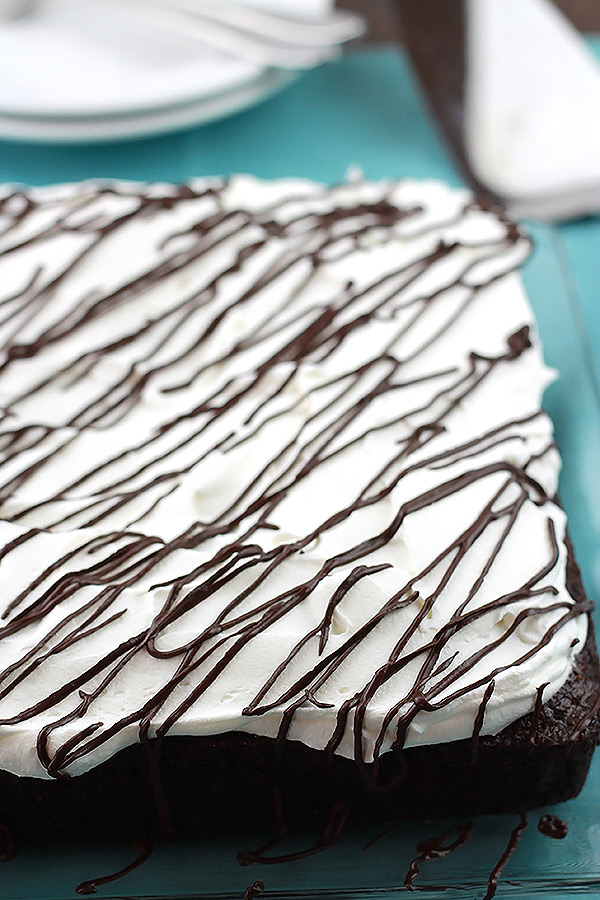 Hello everyone, Celeste here from The Whole Serving with what might just be one of the world's easiest cakes to make. One bowl, one pan. I made this recently for a gathering and it was a smashing success. Chocolate cake filled with chocolate chips, topped off with sweet whipped coconut cream, drizzled with more chocolate, who wouldn't love it.
You'll for sure impress the crowd with this one, they'll never know it's egg-free, dairy-free and oil-free. Yes you read it, it's free of it all and it has a fifty/fifty blend of whole wheat and all-purpose flour. What makes this cake so moist? The secret is applesauce, amazing applesauce.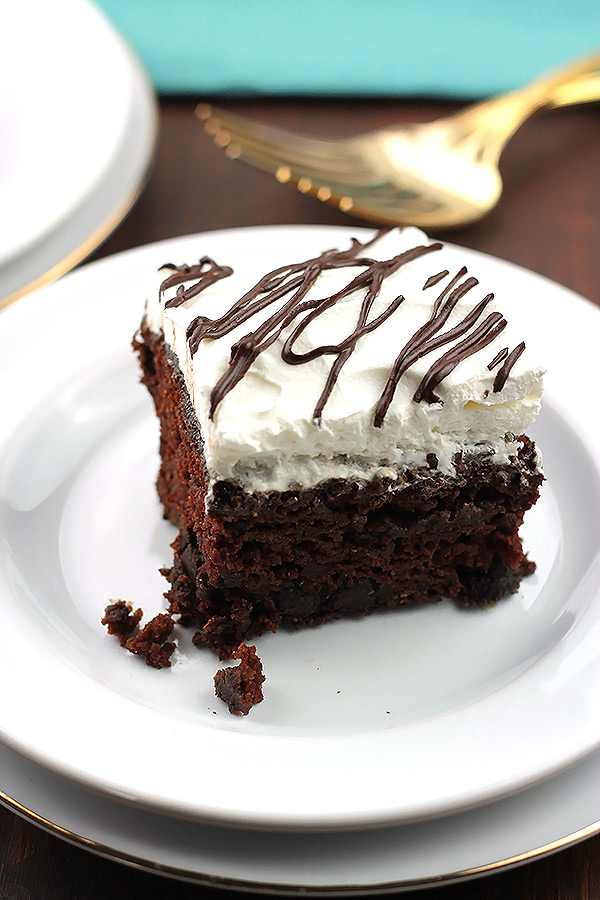 Instead of topping this cake with an ordinary icing I decided to use whipped coconut cream sweetened with organic powdered sugar. The drizzle of chocolate on top makes it pretty for the eyes and yummy for the tummy.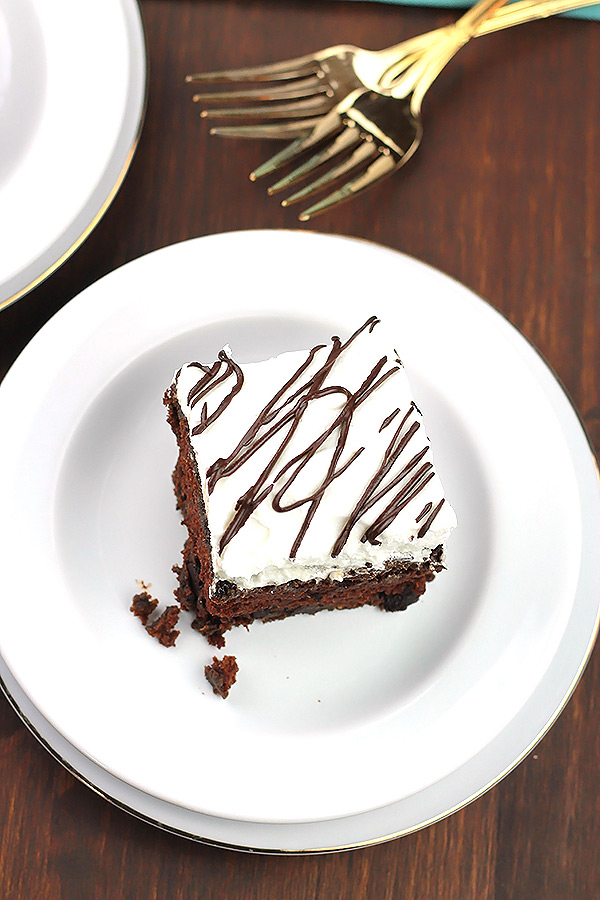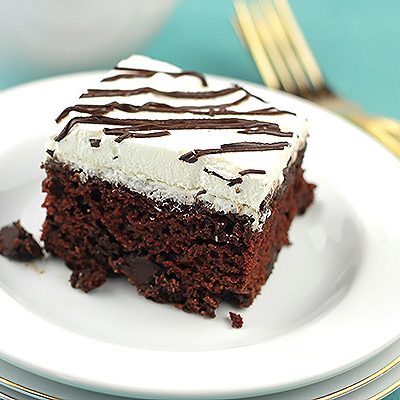 Coconut Cream Chocolate Cake
Ingredients
Chocolate Cake

1

cup

all-purpose flour

1

cup

whole wheat or whole wheat pastry flour

1 1/2

cup

all-natural cane sugar

1 ½

teaspoon

baking soda

1

teaspoon

baking powder

½

teaspoon

sea salt

¼

cup

cacao powder

1 1/2

cup

almond milk

1

teaspoon

vanilla

½

cup

unsweetened applesauce

1

cup

dark chocolate chips

Coconut Cream

1 13 to14

oz.

can whole fat coconut milk

refrigerated overnight

2/3

cup

organic powdered sugar

1/2

teaspoon

vanilla

Chocolate Glaze

¼

cup

cacao powder

2

teaspoon

plus 1 tablespoon water

2

tablespoons

maple syrup

1

tablespoon

melted coconut oil
Instructions
Pre-heat oven to 350 degrees and prepare a 9 x 9 square or round pan with cooking spray, cut parchment paper to fit the bottom of pan. Place parchment paper in bottom of pan and spray with cooking oil.

In a medium bowl whisk flours, sugar, baking soda, baking powder, salt and cacao together to remove any lumps.

Add in the milk, vanilla and applesauce and whisk until well combined.

Fold in the chocolate chips until well incorporated.

Transfer to prepared baking pan and place in oven, bake for 35 to 40 minutes or until a toothpick inserted in center comes out clean.

While cake is baking open can of coconut milk, being careful not to shake the can. Scrape out the top cream and reserve the liquid and use in smoothies later.

In a medium bowl beat the cream until creamy using a hand mixer, add in the vanilla and powdered sugar and beat until smooth and creamy. Taste and add more sugar if you want a sweeter cream.

Cover and place in fridge.

For the chocolate glaze, place all the ingredients in a small bowl and mix until smooth and creamy. Cover and set aside.

When cake has slightly cooled remove from pan and place on serving platter and allow to cool completely.

When completely cooled spread whipped coconut cream on top of cake.

Using a piping bag or zip bag with a tiny hole cut in the bottom, drizzle chocolate across the cake using a back and forth motion.

Serve and enjoy!!!
Notes
Any leftover cake can be stored in a covered container in the fridge, for up to a week.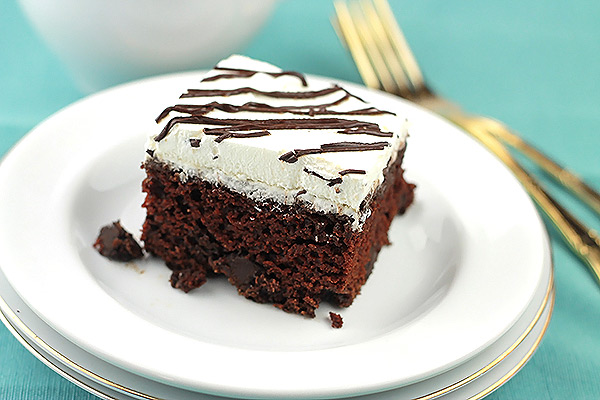 Please come visit me at The Whole Serving, to see my latest creations. Feel free to follow me on Pinterest, Twitter, Instagram, Google+, or Facebook.
If you like this, check out these tasty recipes from my blog.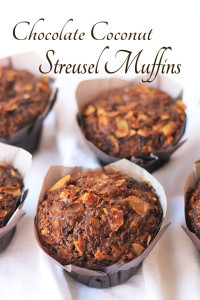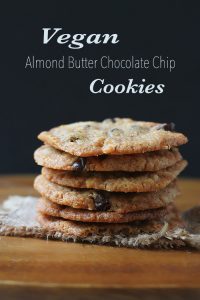 This awesome post has been shared with Home Stories A to Z