This Coconut Layer Cake is three layers of yum separated by schmear of rich Nutella and a layer of melt-in-your-mouth cream cheese frosting. Then it's all covered with even more of the frosting and sprinkled with toasted coconut. It might just get better than this, but I'm skeptical!
This Coconut Layer Cake recipe is pulled from one of my vintage cookbooks, circa 1975, but I'm pretty sure that it was around long before that. It's a sturdy cake, but not dry, and it is definitely full of coconut flavor.
And then I added chocolate. What is it about coconut and chocolate that is so very incredible when they are together? And who figured it out? There's just a thin layer of Nutella on my cake, but you can add more if you want. I didn't give an exact measurement for it because you might want it thicker… or you might feel the need to eat a couple of spoonfuls while you're adding it to the cake, who knows? Use what you want to — you've got complete creative freedom with the Nutella.
I used unsweetened shredded coconut because I felt that the cake was sweet enough. If you like stuff to be super sweet, use the coconut that you like best.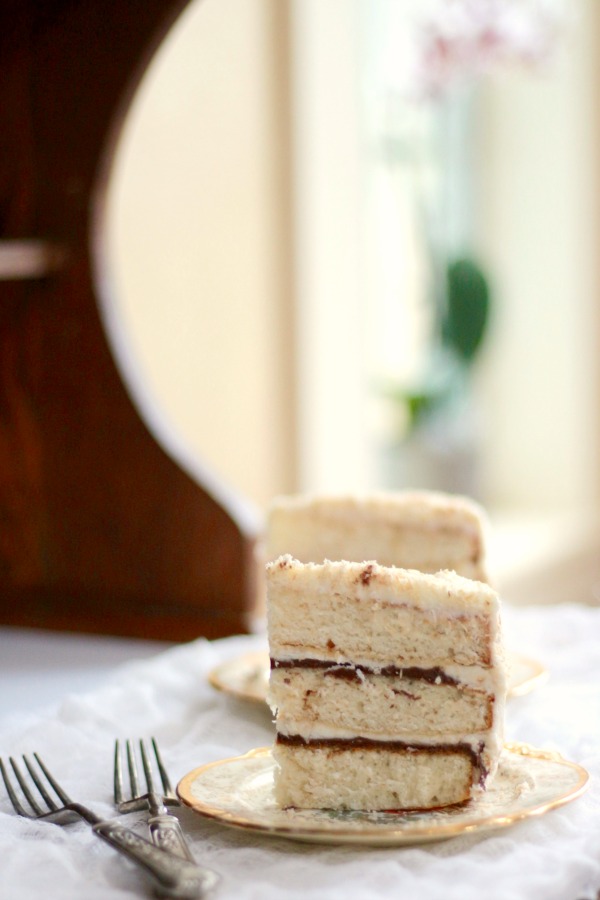 I'd also recommend assembling this coconut layer cake ahead of time so that you can chill it. It makes it much prettier when it's cut and there aren't streaks of melty chocolate all over the place. I am terrible about making a cake and then cutting it too soon — especially when I need to photograph it! With age comes wisdom I suppose because I am finally learning to leave it until the next day.
You know how there are people who love coconut and people who hate it? Have you noticed there doesn't seem to be many people that are lukewarm about it? Well, I love it and my husband hates it. So we were messaging the day I was baking and he asked what I was doing. When I said that I was making a cake, I could literally feel his anticipation radiate through the text messenger on my phone. And, when I said (after a dramatic pause)…but it's coconut cake I could totally feel the weeping and gnashing of teeth threatening his calm engineer equilibrium. Seriously, the word despondent doesn't even cover it.
He'll get over it. It's usually not too long between cakes and desserts around here.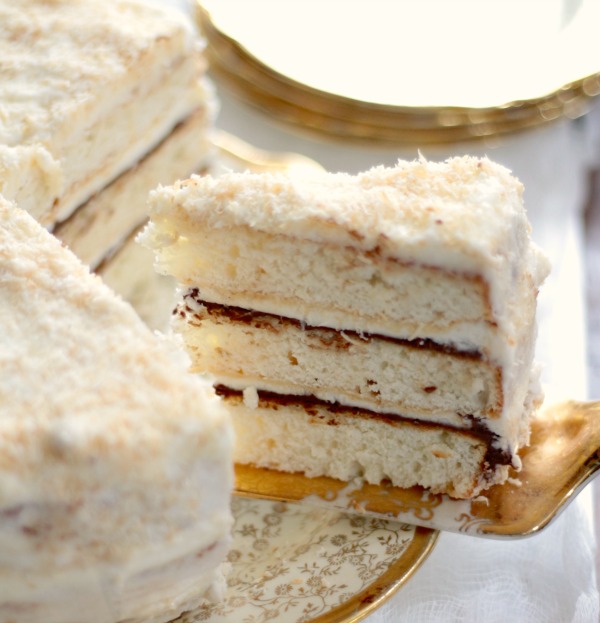 If you are one of those crazy people like me and you love coconut, then this layer cake is for you. I've even got a few more (pretty awesome) cake recipes so come visit me over at Restless Chipotle and take a look!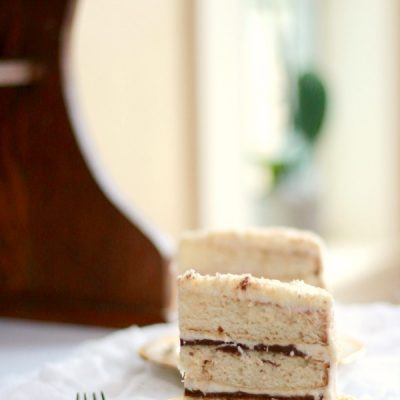 Coconut Cake with Nutella Filling
Three layers of tender coconut cake are separated by Nutella and a coconut cream cheese frosting that takes this cake over the top.
Ingredients
4

egg whites

1/2

cup

sugar

2 1/4

cups

all purpose flour

1

teaspoon

baking powder

1/2

cup

coconut oil

1

cup

sugar

1

teaspoon

coconut flavoring

1/2

teaspoon

baking soda

1

tablespoon

warm water

1/2

cup

buttermilk

1/2

cup

sweetened cream of coconut like Coco Lopez

not canned coconut milk
Filling
26.5

Jar Nutella

you won't need all of it

1

cup

shredded coconut
Syrup for brushing on cake
Frosting (you may want to double this if you like a thick frosting and filling)
8

oz

cream cheese

room temperature

½

cup

unsalted butter

room temperature

1

tablespoon

cream of coconut

1

teaspoon

coconut extract

½

teaspoon

vanilla extract

2 -3

cups

confectioners' sugar

1 - 2

tablespoons

of heavy cream
Topping
1 1/2

cups

toasted shredded coconut
Instructions
Preheat the oven to 350F.

Grease and flour three (3) 8-inch round cake pans (mine are more high sided than some)

Beat the egg whites until foamy.

Slowly beat in the sugar until the mixture forms soft peaks.

Set aside.

Mix the flour and the baking powder and set aside.

Beat the coconut oil, sugar, and coconut flavoring until light and fluffy.

Dissolve the baking soda in the water.

Add it to the buttermilk.

Add the cream of coconut and stir.

Add the flour mixture to the coconut oil mixture alternately with the buttermilk mixture, beginning and ending with the flour.

Carefully fold in the egg whites.

Spread in the 3 cake pans.

Bake for 30 minutes, or until cake tests done.

Cool in pans for 10 minutes then turn out to cool completely.

Brush tops and sides with cream of coconut.
Frosting
Beat the cream cheese and butter together.

Add the flavorings and the cream of coconut

Whip until fluffy.

Add the confectioners' sugar slowly until you reach the consistency that you like.

Whip until very fluffy.

Add cream as needed for consistency.
Assembly
Place one layer on a cake plate.

Spread with Nutella.

Cover with frosting.

Sprinkle with 1/2 cup coconut

Repeat with next layer.

Top with final layer.

Cover cake with frosting.

Sprinkle with the 1 1/2 cups toasted coconut

Chill to firm up -- take it out of the refrigerator at least 30 minutes before serving.
Nutrition
Serving:
1
g
Calories:
798
kcal
Carbohydrates:
91.5
g
Protein:
8.2
g
Fat:
46.3
g
Saturated Fat:
36.8
g
Cholesterol:
43
mg
Sodium:
204
mg
Fiber:
3.9
g
Sugar:
66.3
g
I'll be back next month, but hey, don't be a stranger! I'd love it if you'd follow along on Facebook, Pinterest, Twitter, and Instagram! I share lots of nostalgic recipes from my collection of antique and vintage cookbooks.
If you liked this Coconut Layer Cake recipe you might also like these Restless Chipotle Favorites…
Just click on the image to see the recipe.