Who doesn't love Cookie Monster? Or just cookies themselves for that matter? Combine the two for a fun version of this Cookie Monster Bark!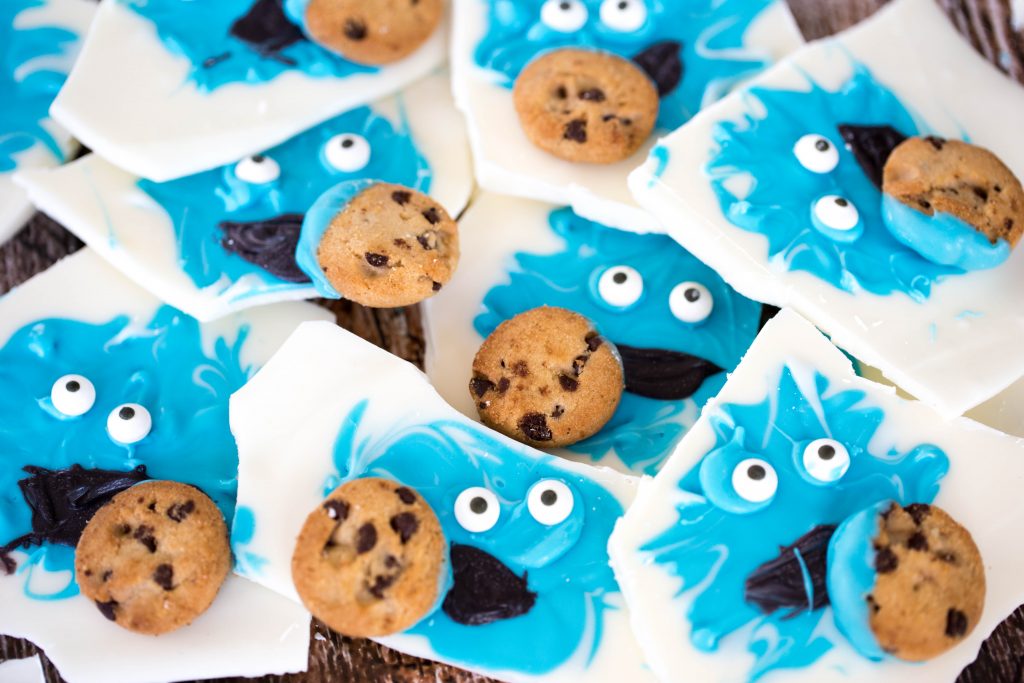 This post may contain affiliate links. What does this mean? If you purchase something we get a small commission at no extra cost to you. Thank you for supporting our blog! For more information, click to see our disclosure policy.
Calling all Cookie Monster lovers! (me waving my hand high in the air) Along with Oscar the Grouch, Cookie Monster is one of my favorite Sesame Street characters.
So single mindedly obsessed with cookies, Cookie Monster is a man…er…puppet after my own heart. A girl has got to have her cookies.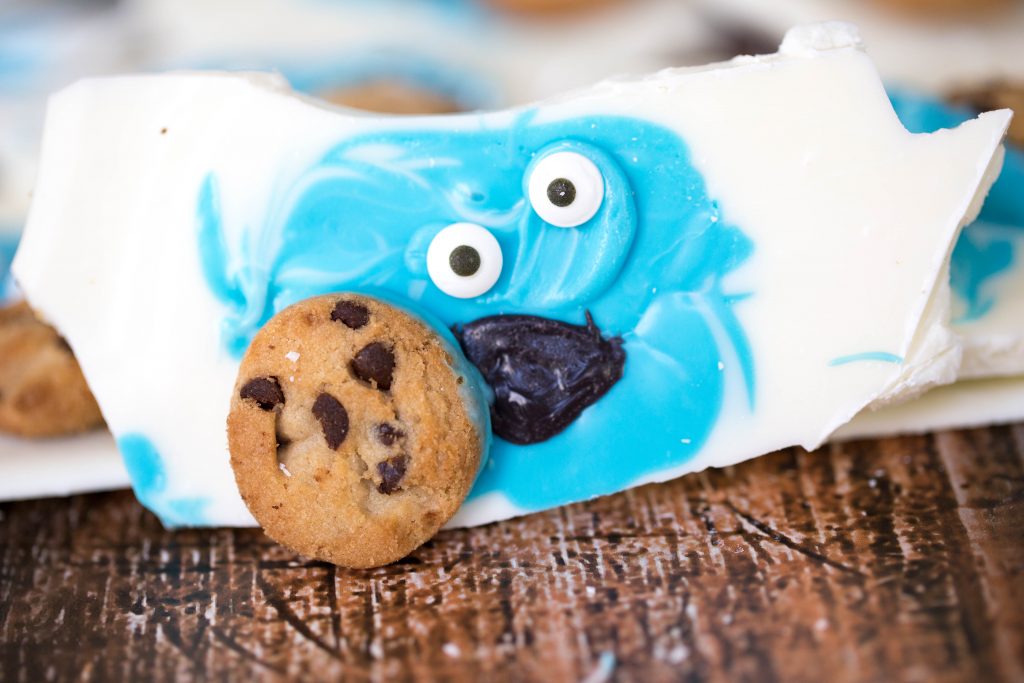 I happened upon some Cookie Monster Bark on Pinterest the other day and decided that this would be a fun project for my grandkids to make when they will be here in a few days. It is hot outside and this project requires no cooking, although now that I think about it, it is summer and this IS made with chocolate. (can you say MELT?)
We'll just have to eat the whole thing inside. I don't think my grandsons will mind.
Anyway, I wanted to put my own twist on the Cookie Monster Bark and one night while I was JUST going to sleep (you know how that is, don't you?…) this idea came to me.
It was a breeze to make and I loved how it turned out with all of the little Cookie Monster faces and mini cookies. My grandsons are going to have a blast making this.
And then eating it. It might have to be on a day when their mom is gone and it's just me and them.
Here is a quick video showing you how it's done and then the recipe will follow.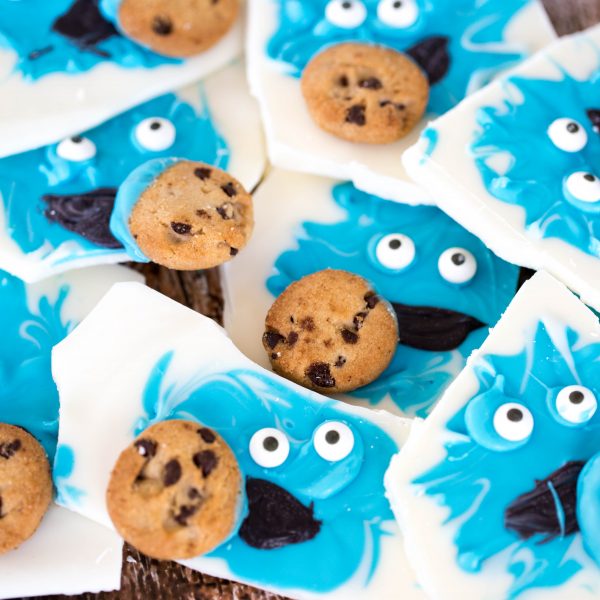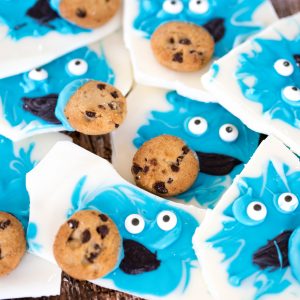 Cookie Monster Bark
Ingredients
2 - 12

oz

bags of white candy melts

1 12

oz

bag of blue candy melts

1 12

oz

bag of black candy melts

Edible Googly Eyes

Mini Chocolate Chip Cookies

Toothpicks.
Instructions
Melt the white candy melts per the instructions on the bag.

Pour the melted chocolate onto a silpat mat or some waxed paper. I poured mine onto a jelly roll sized pan

Melt the blue candy melts per the instructions on the bag. I think I used half of the bag.

Drop melted blue chocolate by the spoonful all over the white chocolate. Leave some room between drops.

Take a toothpick and pull the blue chocolate into the white chocolate by making lines all the way around the circle of blue chocolate to resemble Cookie Monsters fur.

Let set in the refrigerator for 15 minutes.

Melt about a cup of the black candy melts per the instructions on the bag.

After the bark has set, take a toothpick and dip into the black melted chocolate and draw mouths on the Cookie Monster faces.

With some blue melted chocolate, place the googly eyes on Cookie Monster. We tried to make them cock-eyed just like his!

Again with some blue melted chocolate, dip a mini chocolate chip cookie into the blue chocolate and place the cookie near Cookie Monster's mouth.

Chill in the refrigerator until completely set.

After it has hardened, cut or break the bark around the Cookie Monster faces.
So I will just end with a quote from Cookie Monster…
Me Want Cooookkkkiiiieeee!!!!!
Enjoy!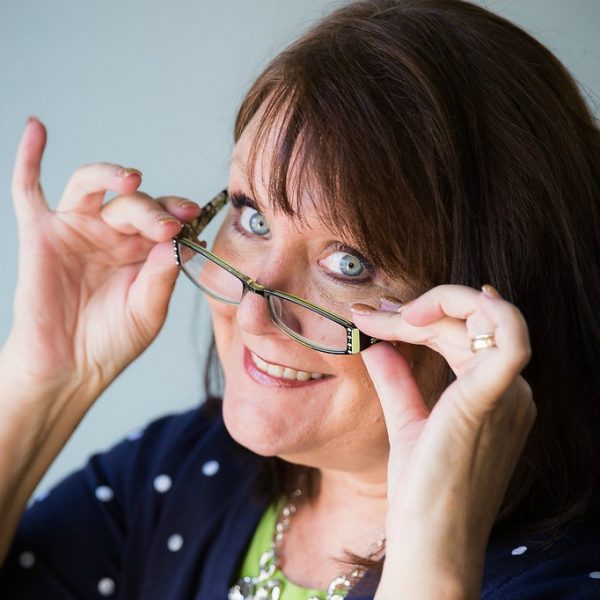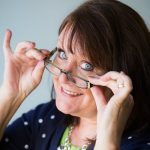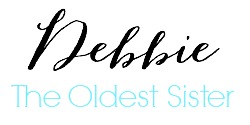 Save
Save
Save
Save
Save
Save
Save
Save
Save
Save
Save