Did you know that garlic is not just for eating? It can also help cure a cold, treat acne, treat cold sores, repel mosquitos and other insects, repair glass, de-ice surfaces, be used in a DIY surface cleaner and be used as glue. Wait there's more, some believe it aids in weight loss (hasn't worked for me!), can help cure ear infections, remove splinters, relieve psoriasis and sooth a cough.
Do I love garlic for any of these reasons, nope, zip, nadda. Why do I love garlic? Because it tastes so darn good! Garlic salt and garlic powder are staples in my pantry. I almost always have a clove of garlic in my fridge. I think you get the message. Another favorite of mine is pasta, I can never get enough pasta!. Putting the two together is a win-win in my book. So when I saw this recipe from Katie at The Cheese Pusher I couldn't wait to give it a try!

I made this dish when I was visiting my son, and my daughter and her wonderful husband in Utah. They are used to me using them as guinea pigs for recipes I want to test from Pinterest. It's nice when I can get several opinions on one recipe. My son loved it and he was thrilled that I had made enough for him to take leftovers home!
One thing about this dish is it asks you to use cream, not regular cream but HEAVY cream. My advice? DO IT! I know, I know not only is it fattening, it can make your cholesterol levels rise. But with some dishes you have to stop counting calories, forget about cholesterol levels and just ENJOY the culinary experience. This is one of those dishes. Next time I'm going to throw in some grilled chicken strips and brocolli. Oh yea, there is going to a lot of next times with this recipe because…….
This Pin Rocks!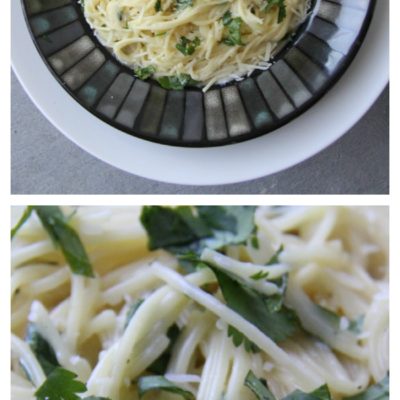 Creamy Garlic Pasta
Ingredients
2

tsp

olive oil

4

cloves

garlic

minced

2

tbsp

butter

¼

tsp

salt

½

tsp

pepper

3

cups

chicken stock

½

lb

spaghetti or angel hair pasta

1

cup

grated parmesan cheese

¾

cup

heavy cream

2

tbsp

chopped fresh parsley
Instructions
In a saucepan, bring your olive oil to medium-low heat. Next add the garlic and stir, allowi it to cook for 1-2 minutes. Next mix in the butter until melted. Add your salt, pepper and chicken stock. Increase the heat to high and let it come to a boil.

Once it is at a rolling boil, add the pasta, cook according to package directions. Reduce the stove to medium heat and mix in the parmesan until completely melted. Turn off the heat and stir in the cream and parsley. Serve immediately.
Loook who we are linking with! Uncommon Designs – Creating my way to Success, This Gal Cooks – Southern Fairytale – Sew Can Do – Making the World Cuter – Organizing Junkie – Lines Across – Ninth STreet Notions – Keeping it Simple – DIY Showoff – Alderberryhill – The Plaid and Paisley Kitchen – Flour Me With Love – Make Ahead Meals – Twelve O Eight – The Newlywed Pilgrimage – Rain on a TinRoof – Homecoming – The Blissful Bee – Cherished Bliss