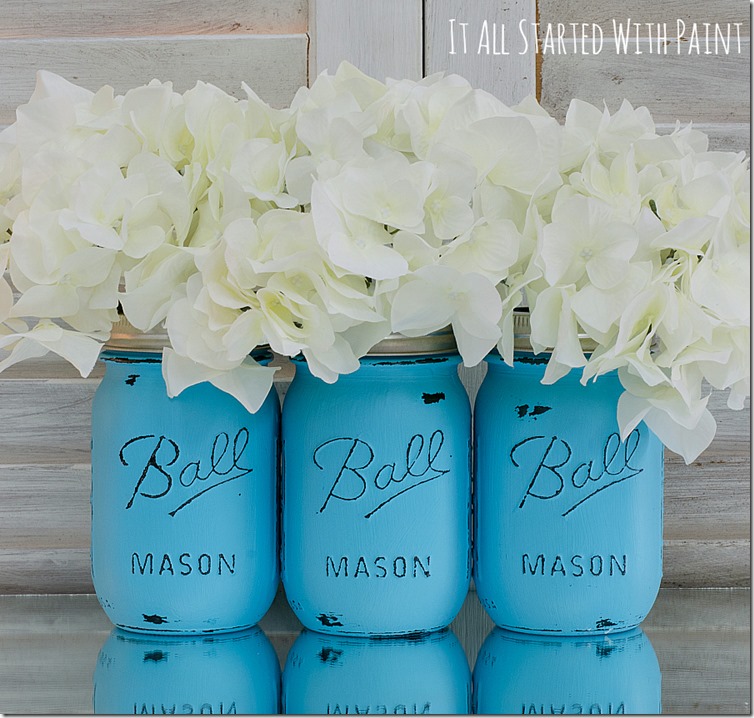 Hello Made From Pinterest readers! I'm thrilled to be back here sharing with you what I made from Pinterest this past week …
drum roll please …
painted and distressed mason jars!
And now I must bow my head in shame. You see, my inspiration pin is mine. As in my very own project that I shared last Spring here …
Are you following my shamefulness? Or is it shamelessness? Either way it's most certainly shameful for me to find inspiration from myself!
*Sigh*
Now, granted, that original project – a project that's been pinned more than 89,000 times – wasn't a tutorial. It was more of a question mark. Asking my readers if they would purchase painted and distressed mason jars if I stocked them at my Etsy shop.
But this project? This project is a true tutorial with step-by-step instructions on how to make painted and distressed mason jars …
Step 1: Clean Your Jars
Seriously. Wash them with soap and hot water. Dry completely. And if they're still greasy, wipe them down with rubbing alcohol. And wash and dry them again.
Step 2: Paint (2 Coats)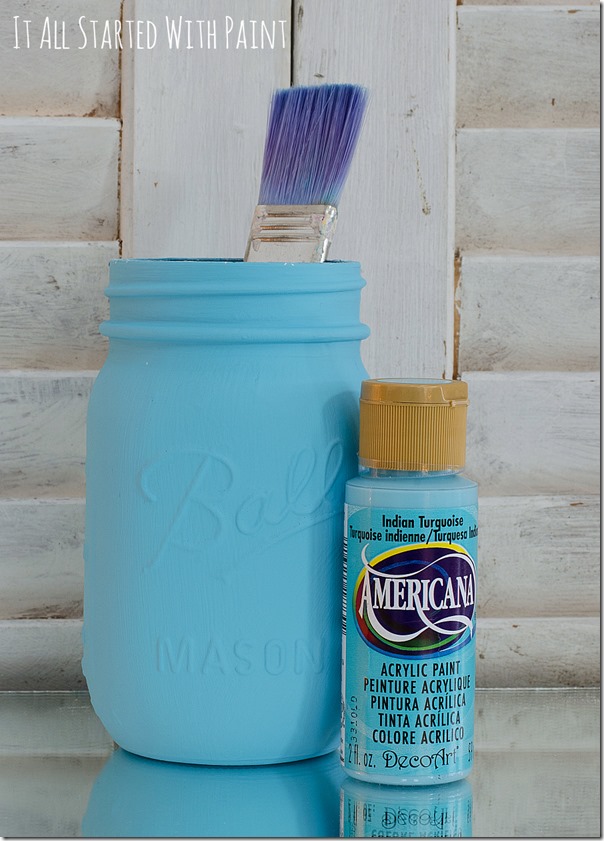 I gave my jars two coats of turquoise acrylic paint that I found at the craft store. Make sure it's not gloss. Or satin finish. Or enamel. They don't work as well. They show brush strokes and don't distress as easily.
Step 3: Patience
Let your jars dry overnight. I mean this. Otherwise when you start to distress you'll find yourself peeling off strips of paint. The paint needs to cure. Overnight.
Step 4: Distress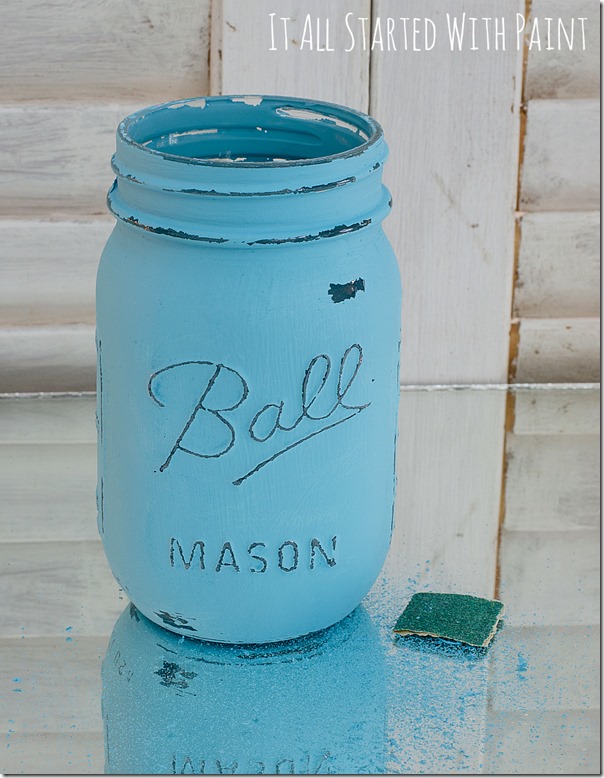 I use a little square of sandpaper and sand along the top lid threading edges, all the raised type on the fronts, sides, and backs of the jars. And then I add a few more distressed areas for good measure.
Step 5: Seal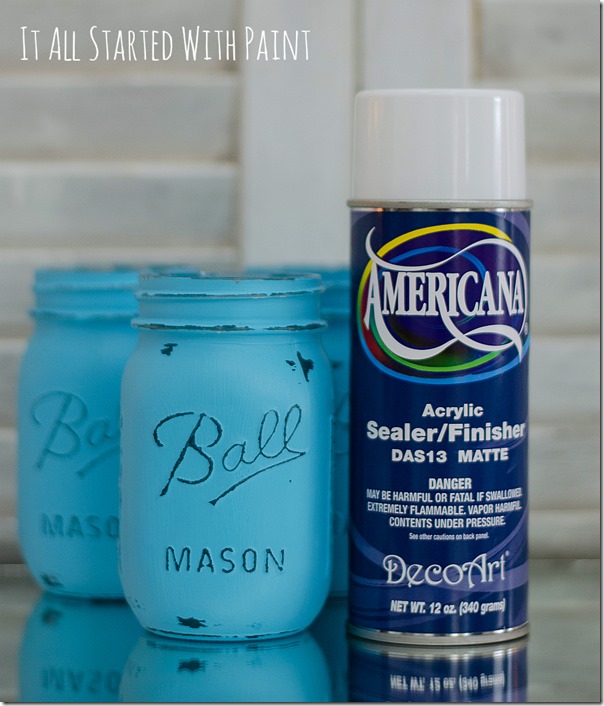 I use a matte spray enamel sealer that I found at the craft store. You could use a gloss if you wanted a shinier finish. I find the matte is much more forgiving of brush strokes. And I prefer that chalkier look. But that's just me …
Step 6: Add Flowers …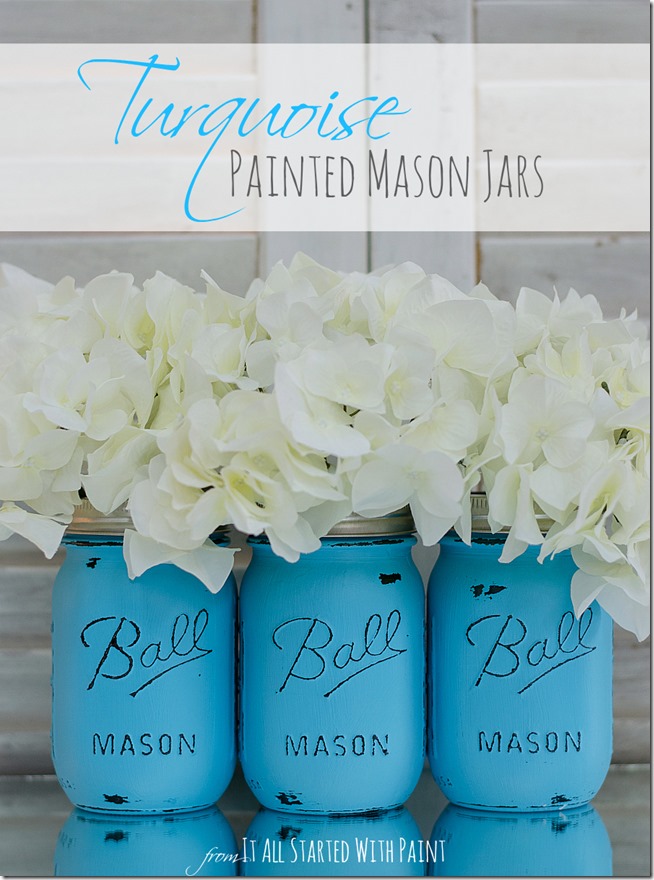 … and enjoy!
And now here comes the second time in a single post that I must bow my head in shame. Again. As I hit you with my shameless Etsy shop plug. You see, if you'd rather not spend the time making and painting and distressing your own mason jars, I'm more than happy to make them for you. Just visit my Etsy shop here …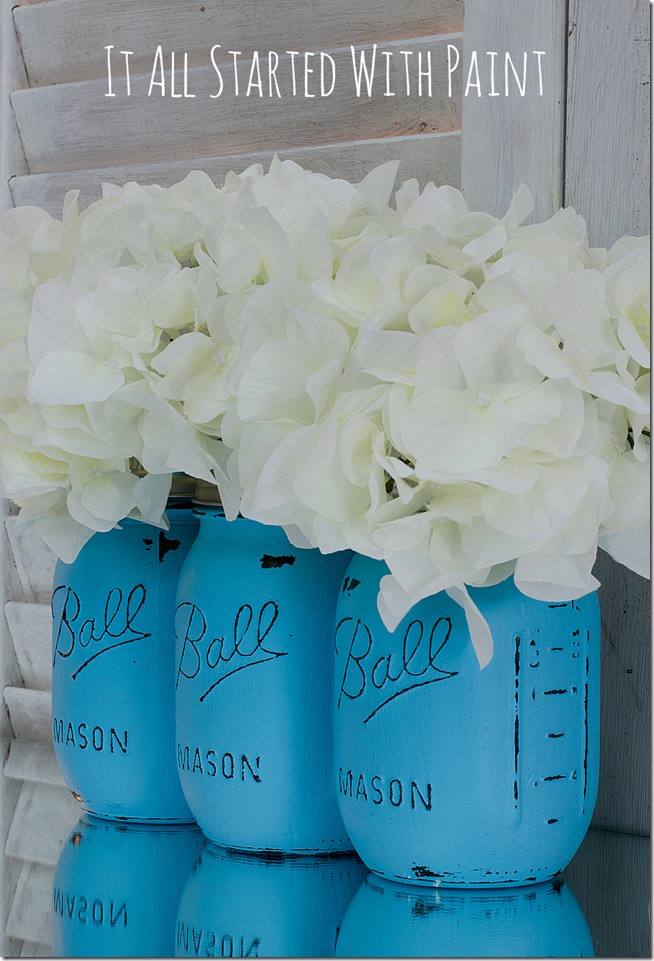 And I just added a listing for those turquoise painted and distressed jars here …


***You can also find me at It All Started With Paint and Mason Jar Crafts Love and follow me on Pinterest, Facebook, Twitter, and Google+ ***
Thanks so much Linda! It's always great to see the projects that are going on at your place!