Restaurant Steak
Have you ever regretted what you ordered at a restaurant? Sometimes when I head to one of my favorite restaurants, I think to myself, I should try something different tonight. Maybe there is something on the menu I will like even better than my standard and I will never know it, because I didn't try.
When I do try something new, most of the time, I wish I had stuck with my favorite. Not that the new dish wasn't good, just not as good as my favorite.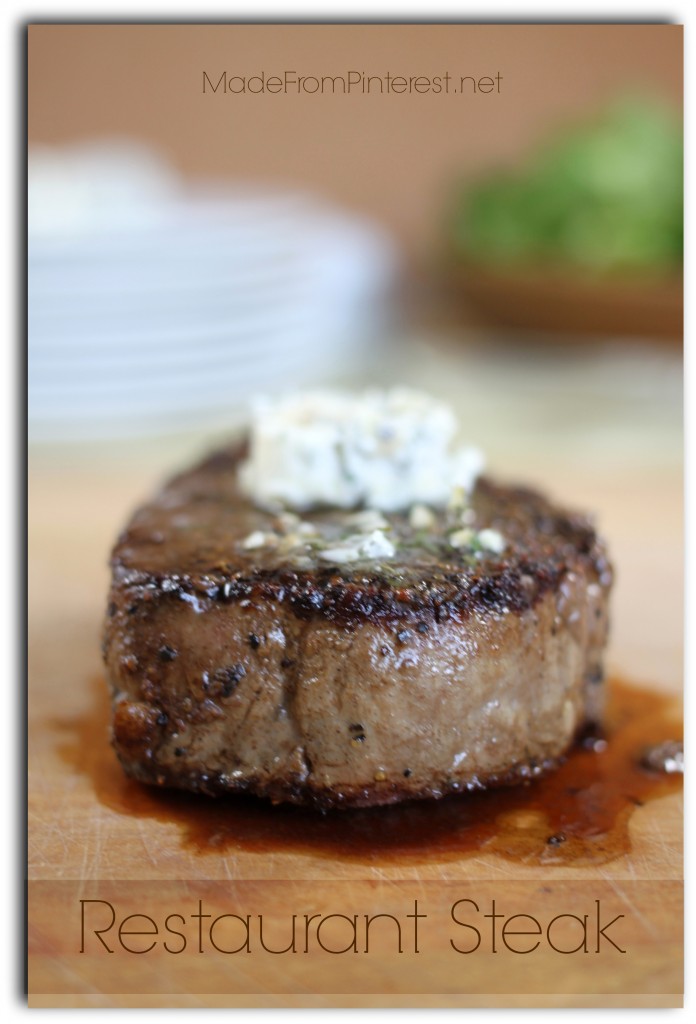 One thing I pretty much never regret, is ordering Filet Mignon. #redmeatisnothealthy #whocaresittastesgood. Valentine's Day is coming, and I have told you we have a killer fun candle lit dinner as a family every year. We have different things for dinner, but the dessert is always Easy Chocolate Caramel Fondue.
The last few years we have had Filet Mignon. I am a good cook, my filet mignon is good. I broil it a few minutes on each side, and it is tasty. But, not as good as a when I order it at a restaurant.
When I saw this pin, I hoped this technique for cooking steak would make this the best Valentine's Day dinner E-V-E-R!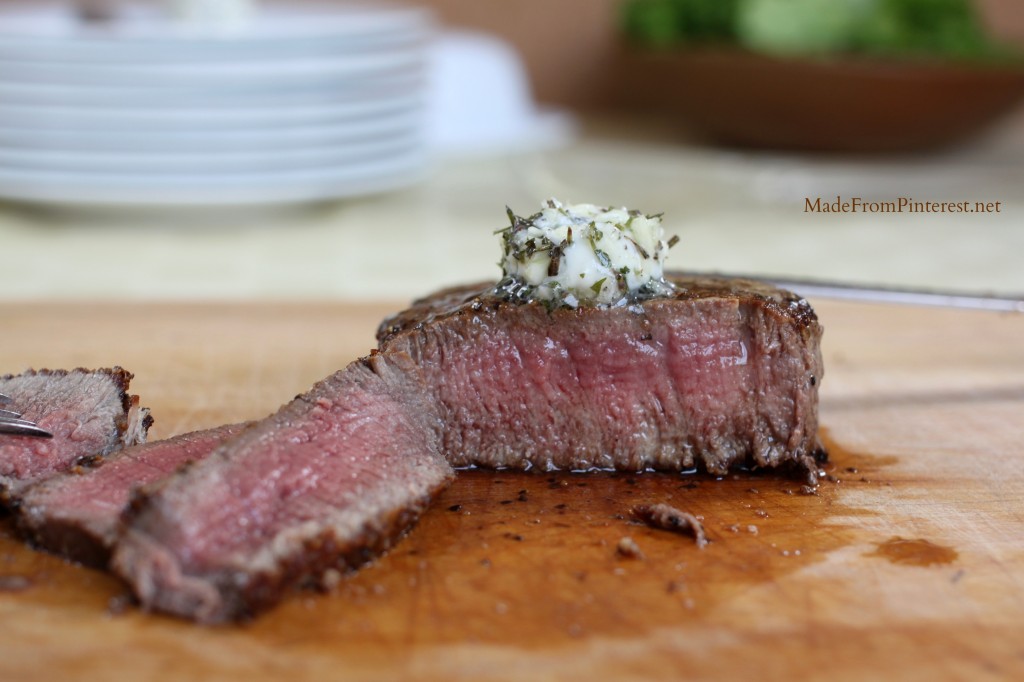 Besides, the way super funny, super cute Whit at Whit's Amuse Bouche wrote about it had me totally convinced.I also wondered, what's a bouche? It is amusing, yes? Only I google bouche and find the wikipedia entry for amuse-bouche and find out that in a restaurant it is the same thing as an hors d'oeuvre, but it is free of charge. You have to pay for hors d'oeuvres. I guess its a French thing.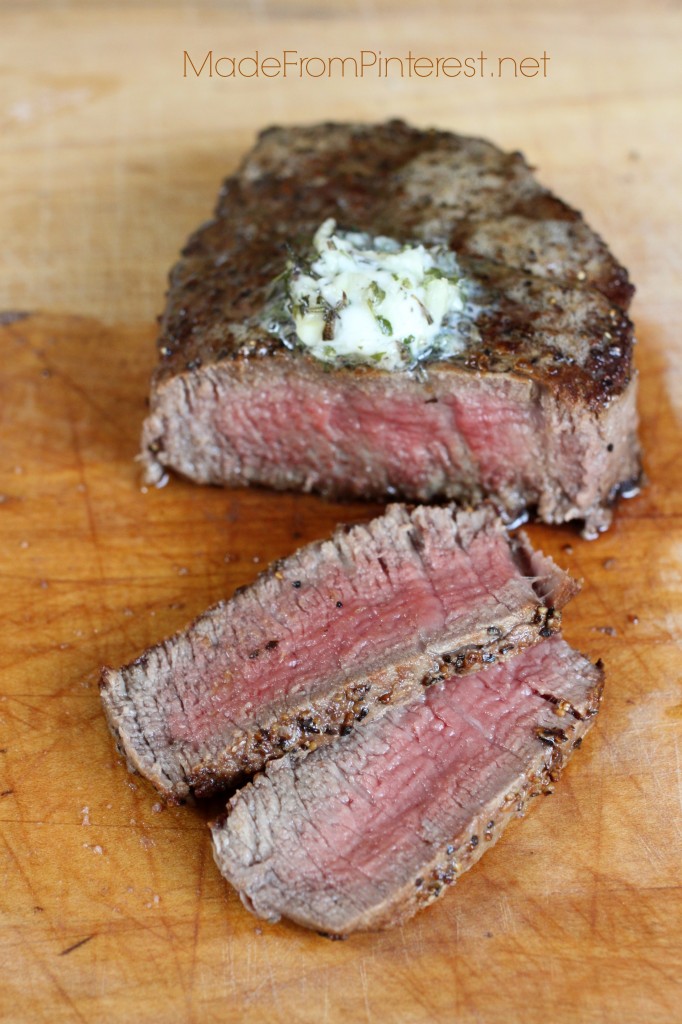 Back to the recipe. It says to use a cast iron skillet, and mine is buried in all our camping gear in our travel trailer. Would my fake All Clad skillet do the trick? I assumed I would need to add more butter so it wouldn't stick. #butteraddsmorefat #itsforaholidaysoiwillgetoverit
I was right. A little more butter did the trick, and when I added some broth to the leftover pan stuff it made an I am an amazing cook pan sauce. This takes 15 minutes to cook! That is all!
I don't order Filet Mignon often because it is way expensive. At home, it is way not as expensive, and I feel so good about my cheap, stingy, thrifty self. Hubby took one bite and said it was better than any steak he had ever had on the grill!
Your family is going to love you a little extra when you make this for them this Valentine's Day.
This steak Rocks (even though it is really tender, please don't get confused here. This is just our way of saying we rate it as really, really good.)!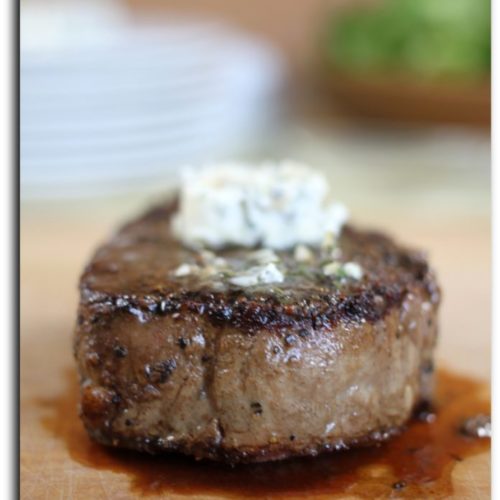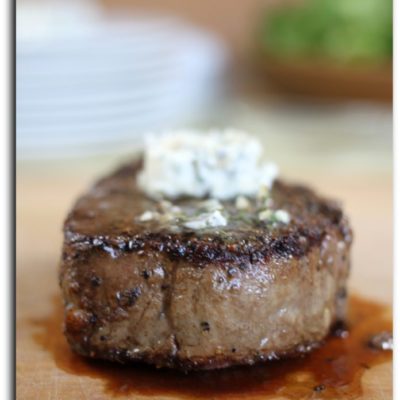 Restaurant Steak
Ingredients
2

8 ounce filet mignon

3

teaspoons

kosher salt

3

teaspoons

freshly cracked black pepper

1

stick of butter

1/2 cup - 1/2 stick softened

1

Tablespoon

olive oil

2

cloves

garlic

minced

1

Tablespoon

parsley chopped

1

Tablespoon

rosemary chopped

Note: You may use any herbs you like. Thyme and lemon are a good combo

too.
Instructions
To make the compound butter: Take 1/2 stick softened butter and combine with garlic, parsley, rosemary and lemon zest. Place in plastic wrap, roll into a log and refrigerate.

Season both sides of the steaks with salt and pepper.

Preheat your oven to 400*.

Get your pan really hot. Add remaining butter and oil. Sear steaks 2-3 minutes each side until a nice crust forms, while spooning melted butter in the pan over steaks. Once both sides have a nice crust, take the whole oven proof skillet and put it in the 400* oven for 6-8 minutes depending on the thickness of your steak.

Cook to 135* internal temperature for medium rare. If you like a little less pink you may cook a few minutes longer or 140*.

Add a pat of the compound butter during the last few minutes of the steak being in the oven. It will melt over your steak and adds another layer of flavoring.
Notes
If you want to save even a little bit more moola, you can choose a less expensive cut of steak, and cook in the oven for less time, because they will likely be thinner.
This would be great with Williams Sonoma Cheesy Potato Gratin Recipe, Lipton Onion Potatoes, or Copy Cat Cracker Barrel Cheese and Hash Brown Recipe.

Today we are happily linked with: Sweet Haute, What's Cooking Love, A Glimpse Inside, Katherine's Corner, Life with the Crust Cut Off, 52 Mantels, Glued To My Crafts, Live Laugh Rowe, Lamberts Lately, Living Well Spending Less