I love Valentine's Day! But each year it seems I find myself in a last minute hustle to come up with a cute treat for my kids classroom party or a little something special for a friend. That means I need a treat that I can put together quick and will still look like I spent a lot of time on it. Thank heavens I found this pin from Linda at Little Family Fun which gave me the perfect solution – DIY Chocolate Cupcake Toppers!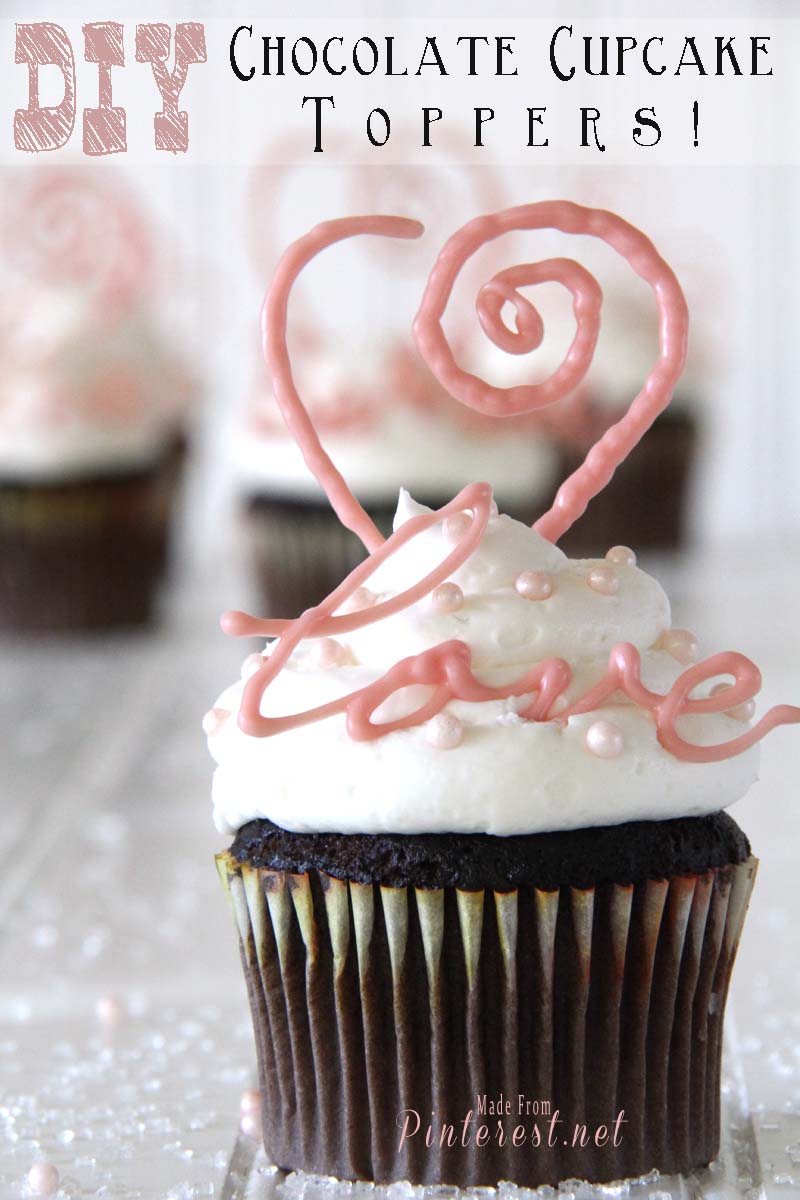 Ok I have to come clean and admit that I bought these cupcakes at the bakery department in Safeway store instead of making them myself. Sometimes you just have to cheat! Safeway was kind enough to refrost these cupcakes with white icing just the way I wanted. I came home and printed out some scroll hearts, cupid's arrows, the words "Kiss", "Love" and "Be Mine".
Supplies Needed:
Cupcakes
Melting chocolate in your desired color. I chose pink.
Parchment paper
Freezer Ziploc Bags
Printout for tracing
Wilton Colored Sugar Pearls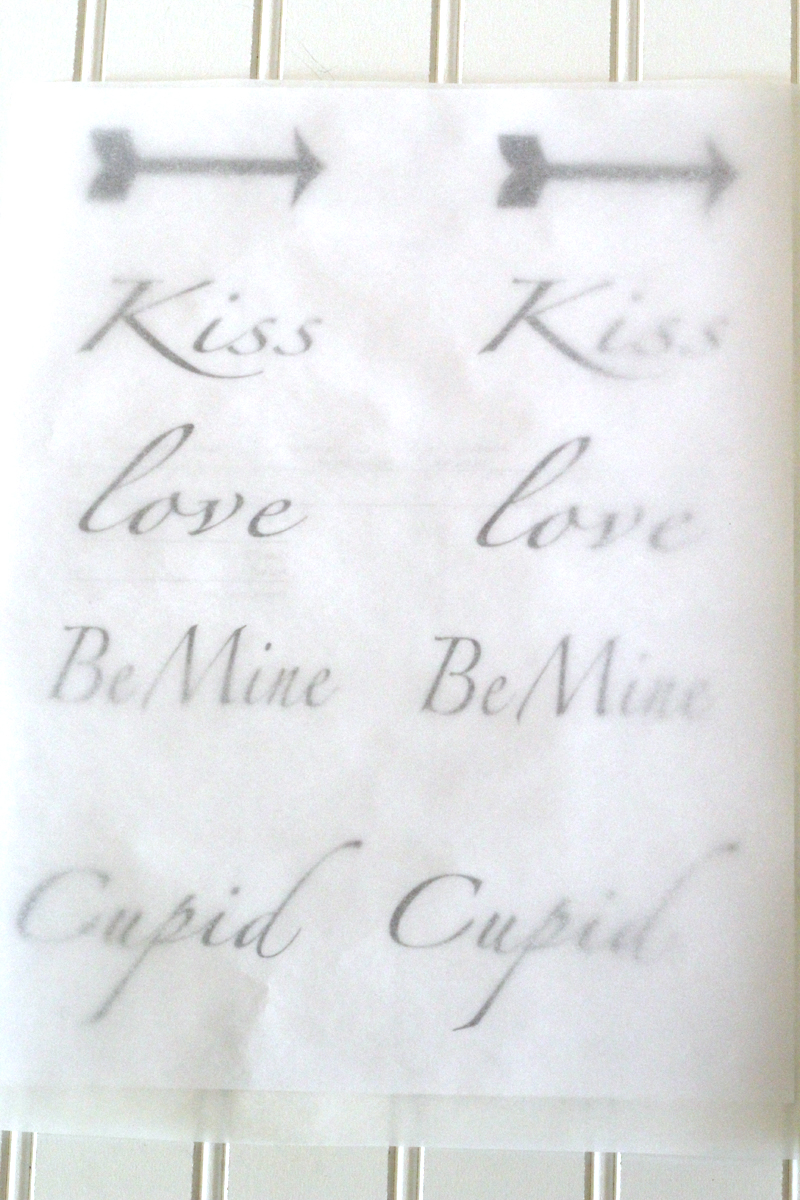 I taped my print outs down on my kitchen counter and then covered each one with a sheet of parchment paper.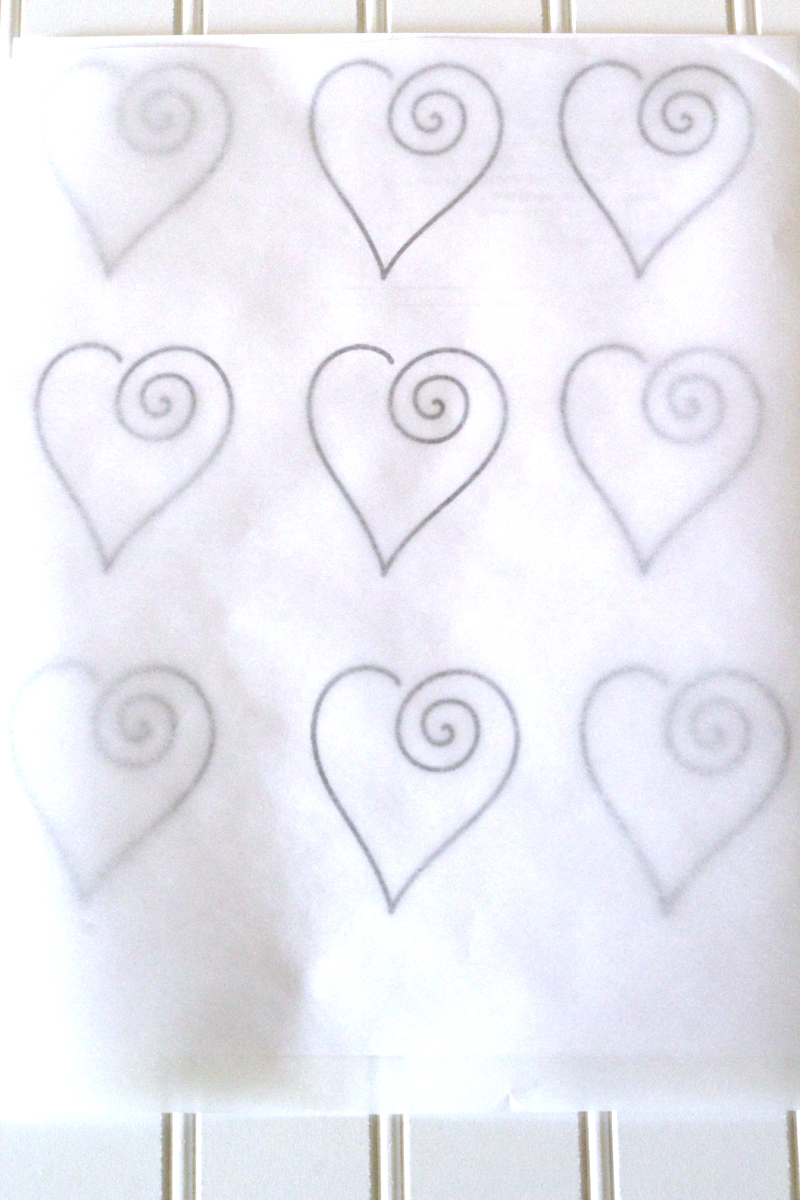 Next I melted my pink candy melts and put it in a freezer Ziploc bag. Then I cut off a small piece off the tip of the bag. I used a regular sandwich bag first but I didn't like how the chocolate was coming of the tip. The thickness of the freezer bag gave me more control when tracing with the melted chocolate.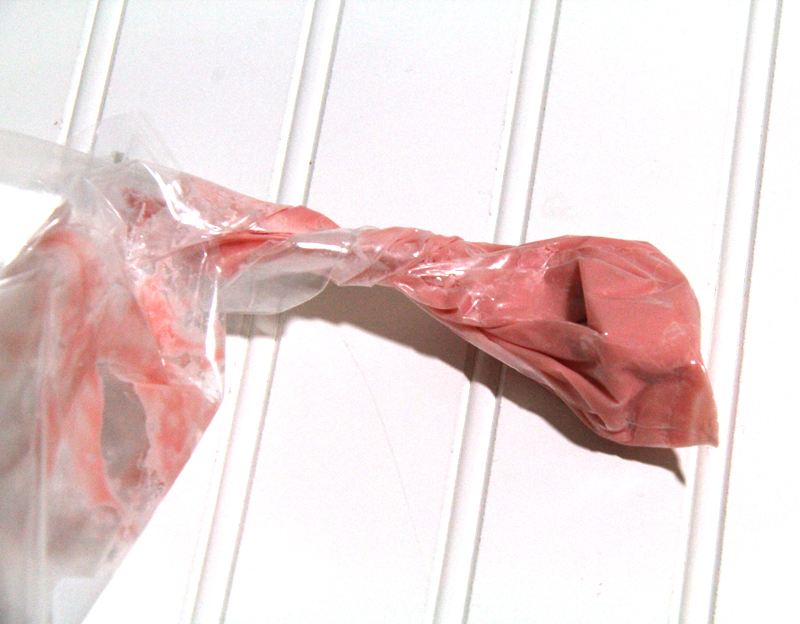 When I started tracing the hearts and words on the parchment paper, I quickly found out that my hands are somewhat shaky! With a little practice I was able to get some consistent results. If the chocolate was too hot it came out of the bag too fast and made a mess.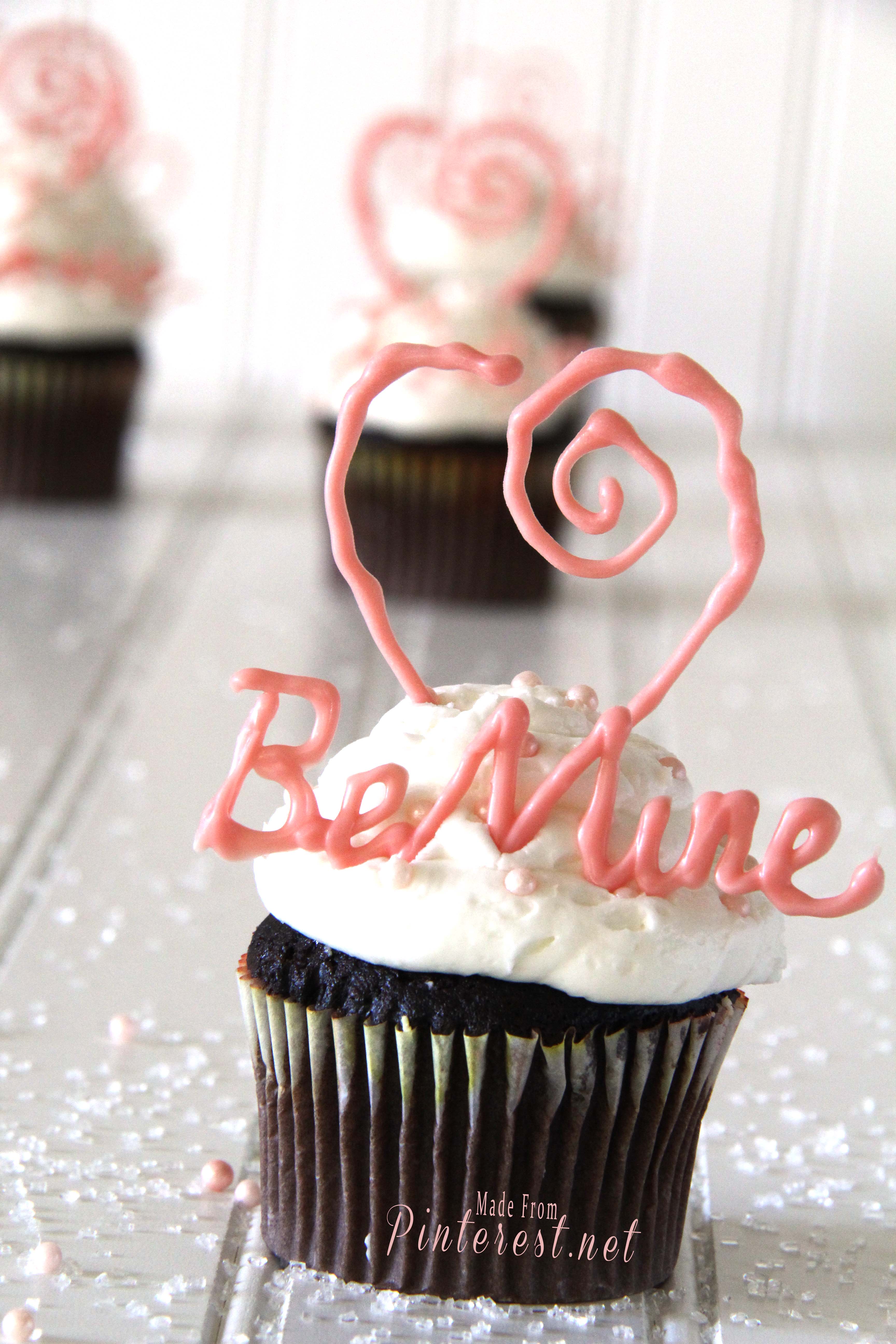 If I waited too long it hardened and wouldn't work. Once my chocolate was melted I put it in my bag and waited 2 to 3 minutes before I began my tracing.
Sometimes just the chocolate in the tip would harden, I pinched out the hardened chocolate with my fingertips and then kept on tracing.
If the whole bag of chocolate hardened I warmed it up in the microwave, waited 2 to 3 minutes to let it cool a bit and started tracing again.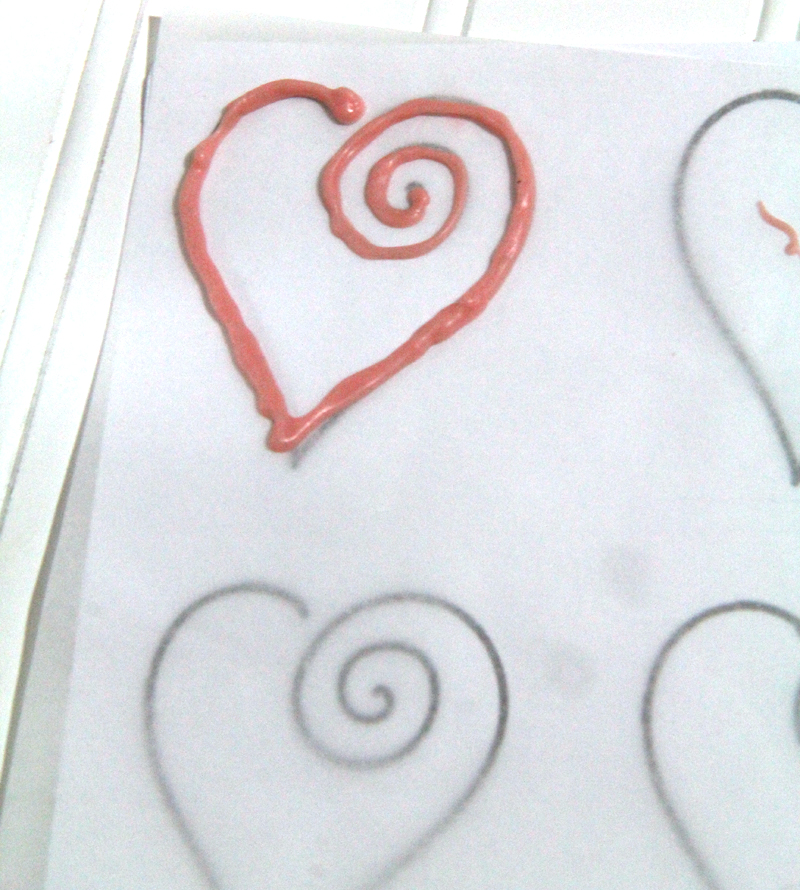 The traced chocolate hardened within 5-10 minutes, without refrigeration. These toppers are easy to make but very fragile! I made my first set of hearts with a very thin line of chocolate then most of them broke when I tried to push them into the icing on top of my cupcakes. I used a thicker line of chocolate on the second batch and that worked much better! Keep in mind that these are very fragile when choosing your design. The thicker lines hold up much better.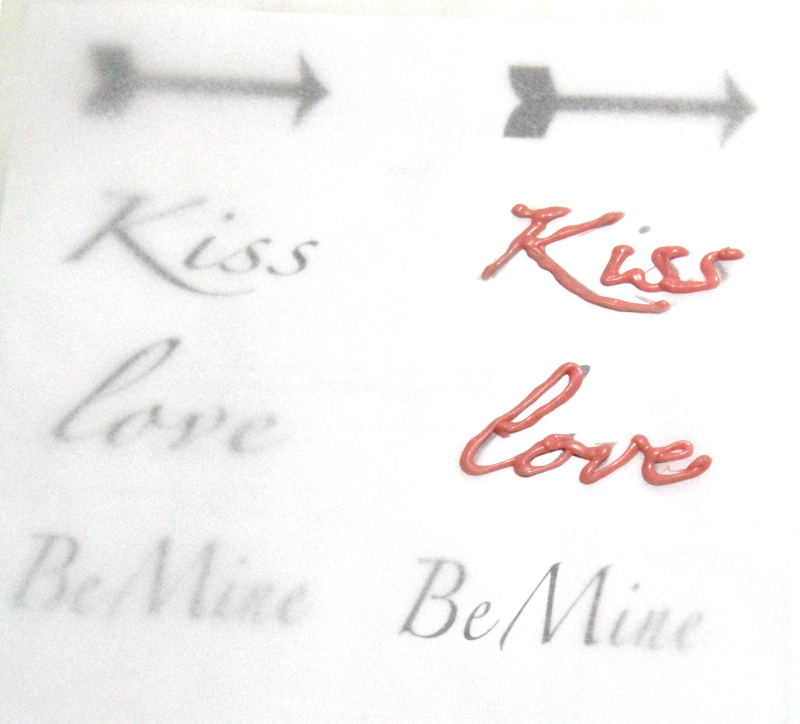 For the final touch I added some soft pink Sugar Pearls from Wilton.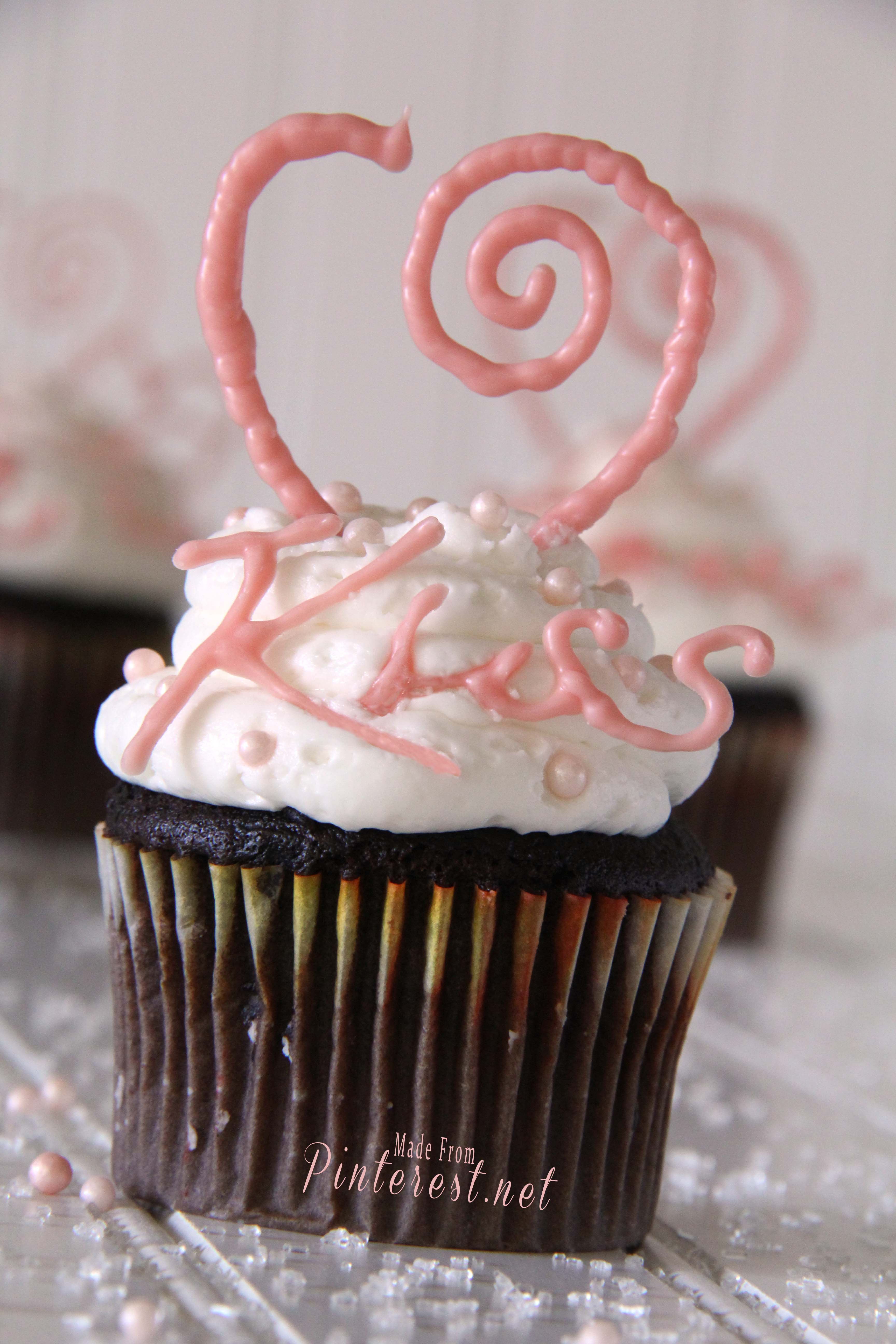 My store bought cupcakes are now a beautiful treat! The best part is I didn't spend hours making them giving, me more time to enjoy Valentine's Day. Oh yeah that means……
This Pin Totally Rocks!