Hello, Made from Pinterest readers! It's Amy from Atta Girl Says back to share a favorite family recipe with you, called Easy, Cheesy Homemade Lasagna. This recipe is pretty special in our family.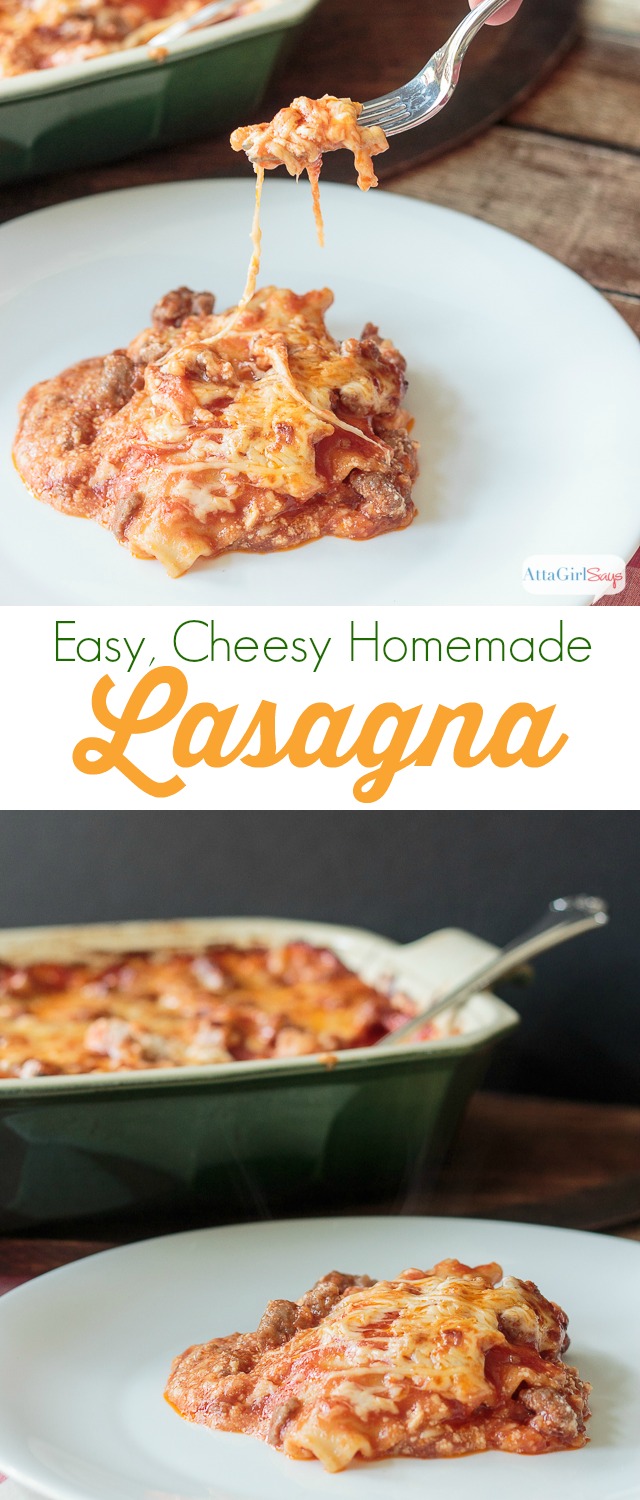 This is the homecooked meal my husband served on the night he proposed to me.
Ladies, if you find a man who will cook for you, you've found a keeper!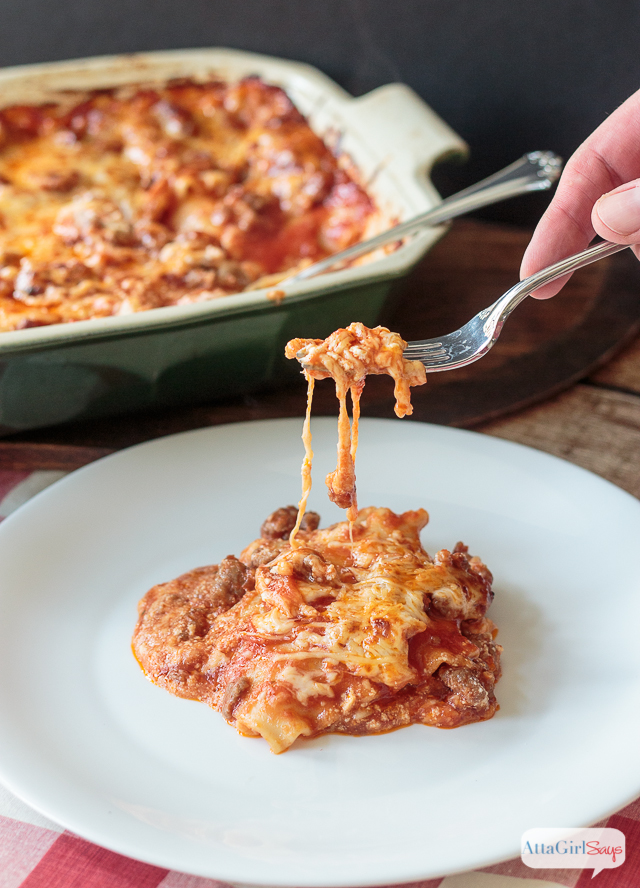 I never knew this before, but apparently my husband did a test run and made a batch of this lasagna ahead of time before he invited me over for the big pop-the-question night. He wanted to make sure the recipe was a winner before he served it to me.
I said, "Yes" when he proposed, so it's safe to say that the lasagna was a hit.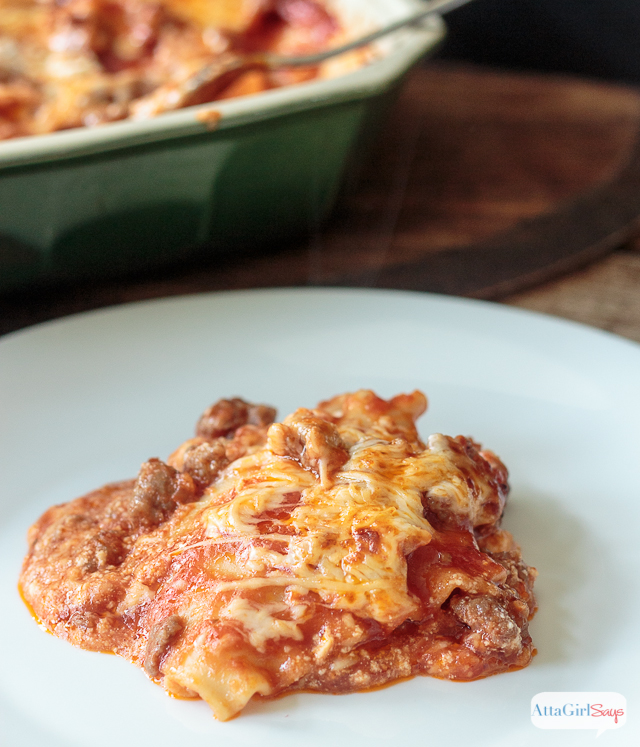 And it's still one of my favorite meals — and not just because I don't have to cook it.
This lasagna is just how we like it — moist, a tad bit spicy and a tad bit sweet and oozing with three different kinds of cheese.
And while for a from-scratch recipe, it's really easy to put together.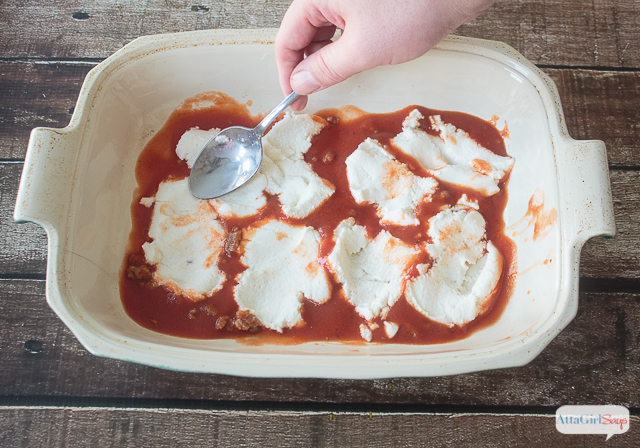 Cheese layered on sauce…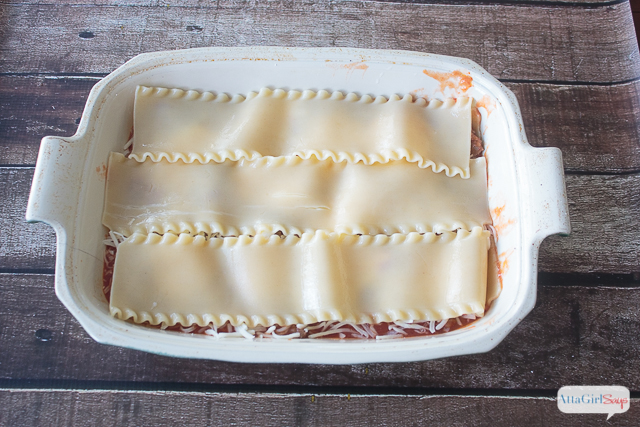 Topped with noodles…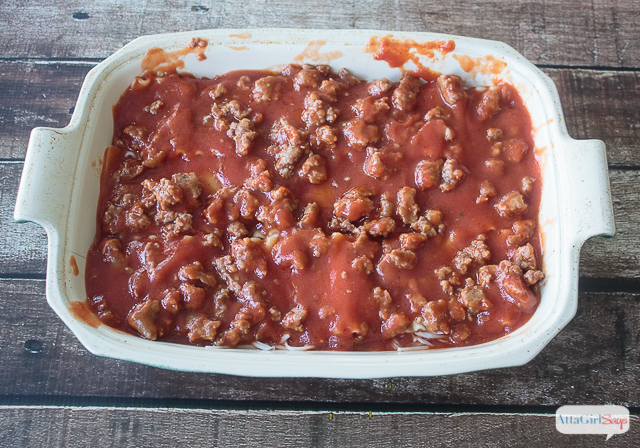 and more sauce…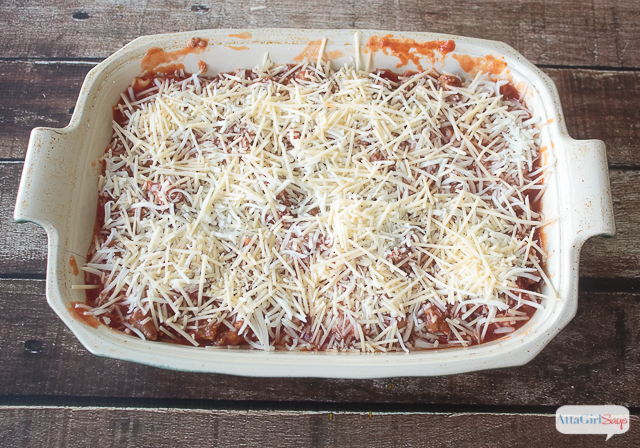 … and lots and lots of cheese.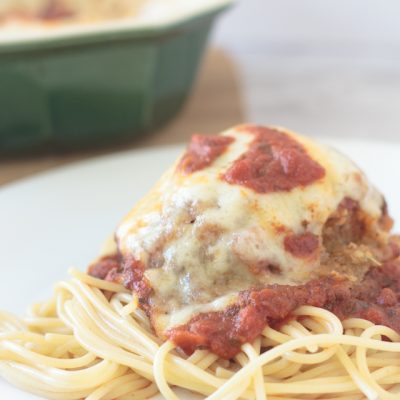 Easy, Cheesy Homemade Lasagna
A family-favorite easy, cheesy homemade lasagna recipe made with Italian sausage and three cheeses.
Ingredients
1

lb.

Italian sausage

mild or hot

2 14.5

oz.

cans tomato sauce

6

uncooked lasagna noodles

15

oz.

ricotta cheese

4

oz.

mozzarella cheese

2

oz.

parmesan cheese

1/4

teaspoon

garlic powder

1/2

teaspoon

oregano

2

tablespoons

sugar

1

tablespoon

olive oil
Instructions
Boil lasagna noodles per instructions on the box. Drain when cooked.

Brown Italian sausage in olive oil on medium heat. When sausage is completely cooked, add tomato sauce, garlic powder, oregano and sugar.

Stir, then simmer for 5 minutes, or until sauce is bubbling.

Spoon a generous layer of cooked sauce into a 9"X12" baking pan.

Spoon in half the ricotta cheese, then layer on 3 lasagna noodles.

Add another layer of sauce, the rest of the ricotta and half of the mozzarella.

Top with the remaining noodles. Add the rest of the sauce, then top with the remaining mozzarella and parmesan cheeses.

Cover lasagna pan with aluminum foil for baking.

Bake covered pan at 350 degrees for 45 min.-1 hour, or until cheese is completely melted and bubbling. You may want to remove the foil during the last 10-15 minutes of baking to allow the cheese to brown.
My hubby is a lot of things, but he's not a very confident or experienced cook. He has about three or four recipes that he makes on a regular basis, and this is one of them.
And it turns out perfect every time.
He's made it for many Sunday suppers and family gatherings. Once, he even cooked up a batch for my blogging girlfriends and I after a marathon shopping day.
I told you he was a keeper.
And so is this recipe.
You might enjoy these other recipes from my kitchen.
Cinnamon Sugar Pie Hearts