One pillowcase, one towel, one T-shirt, one pair of pajama pants, the counter, the floor and the wall. These are all the places I found hair dye after trying doing it myself for a while. I have friends who dye their own hair, and it is such a savings. These friends told me it would get easier with time, and that I would get better at it. My hair is VERY curly. I think that is part of my problem. I have a hard time getting good coverage myself. Unfortunately for me, it did not get easier, and I did not get better at it. So, that is one thing for me that is worth paying to have done professionally. But I love when I can do something at home and duplicate salon results. When I get a manicure, I often pay the little extra for a French Tip Manicure. Especially in spring. It seems a little silly to be painting your nails to look natural, why not just a clear coat of polish? Because there is something so simple, clean and fresh looking about French Tips. And it stays clean looking. It looks so elegant and finished. It can also make short nails look longer. A little more white on the tips creates the illusion of longer nails. I have tried duplicating the method they use in the salon, and I just don't get good results. Until now! This is such a simple method, and I love it.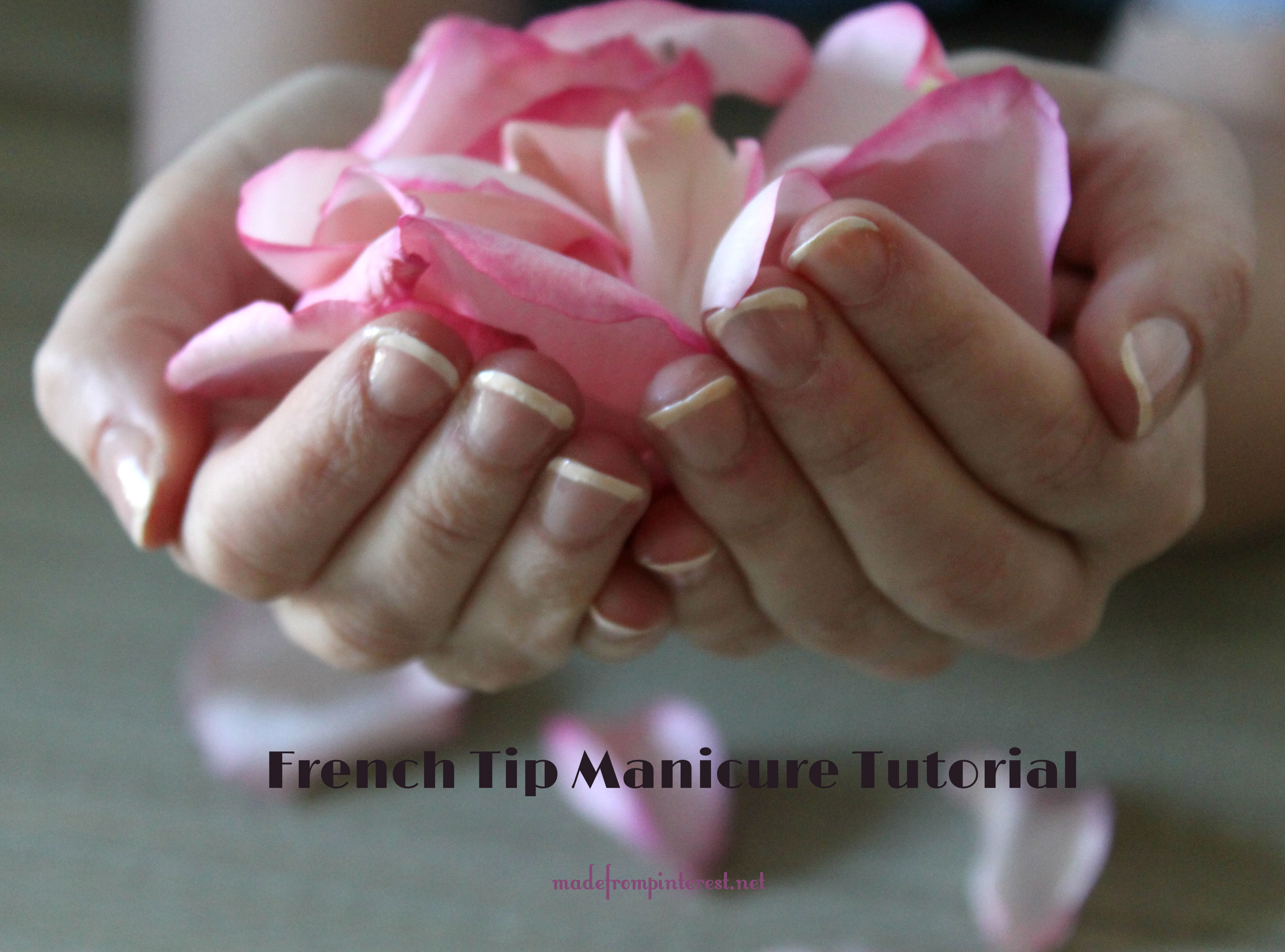 One of the reasons I love this method, is because then I have the matching polish to do any touch ups later if the edges chip. So, my polish lasts a little longer. Even when I go to the salon, I like to take my own polish so that I can repair any chips.
The supplies you will need are:White nail polish, Natural pink or beige polish, Top coat, Paper Hole reinforcerments, wood manicure stick, cotton, Nail polish remover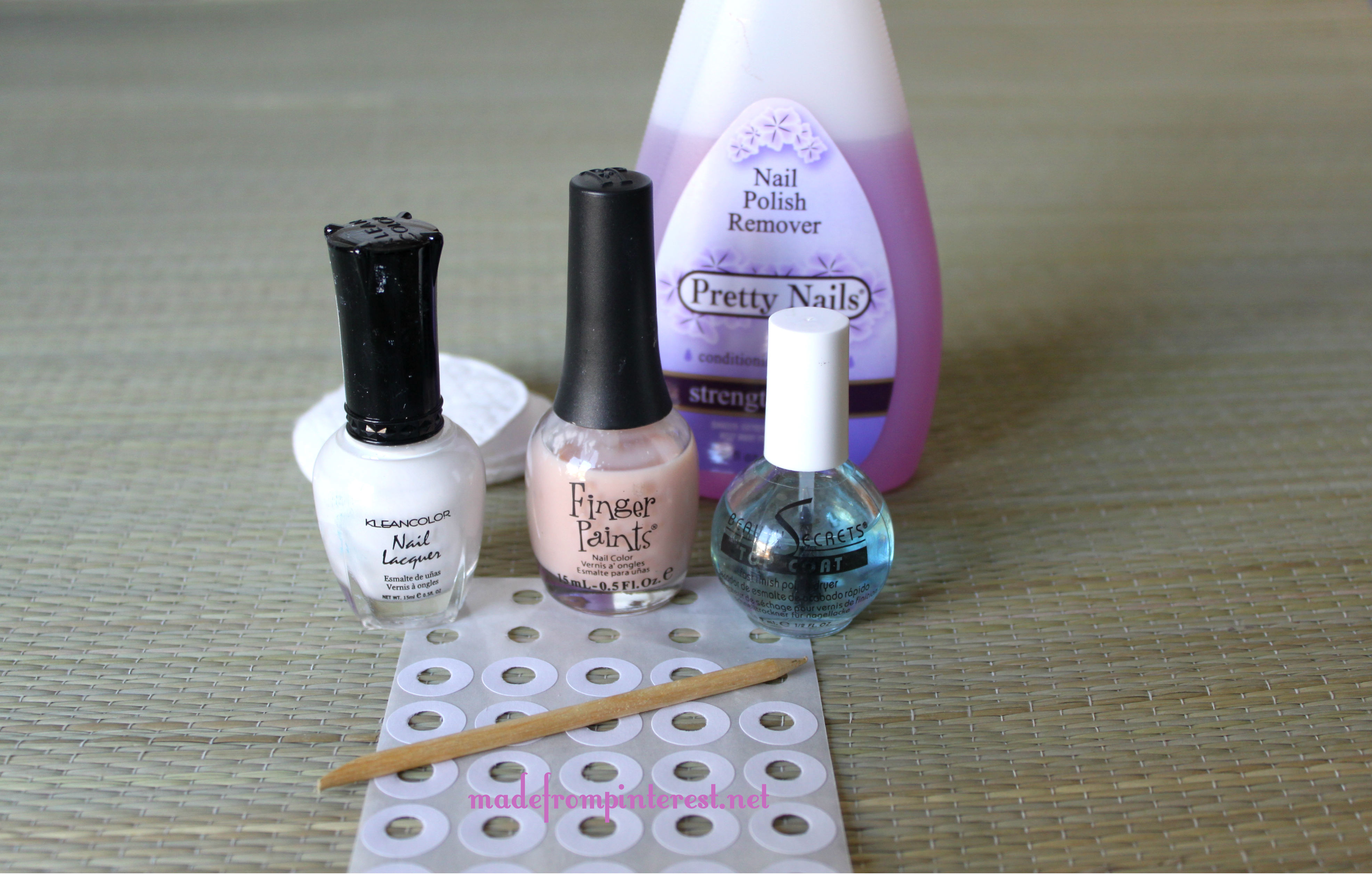 Place the hole reinforcement over your nail in the desired place. Paint the edge of your nail and then carefully remove sticker while paint is still wet. Right before painting the edge, I made sure to press the sticker down really well to get a good edge. Top with natural looking clear coat and then top coat. Done! Easy professional looking results. I kept a wood manicure stick wrapped with cotton ready. Dip the cotton tipped stick in the nail polish remover and use it to immediately remove any mess while the paint is still wet.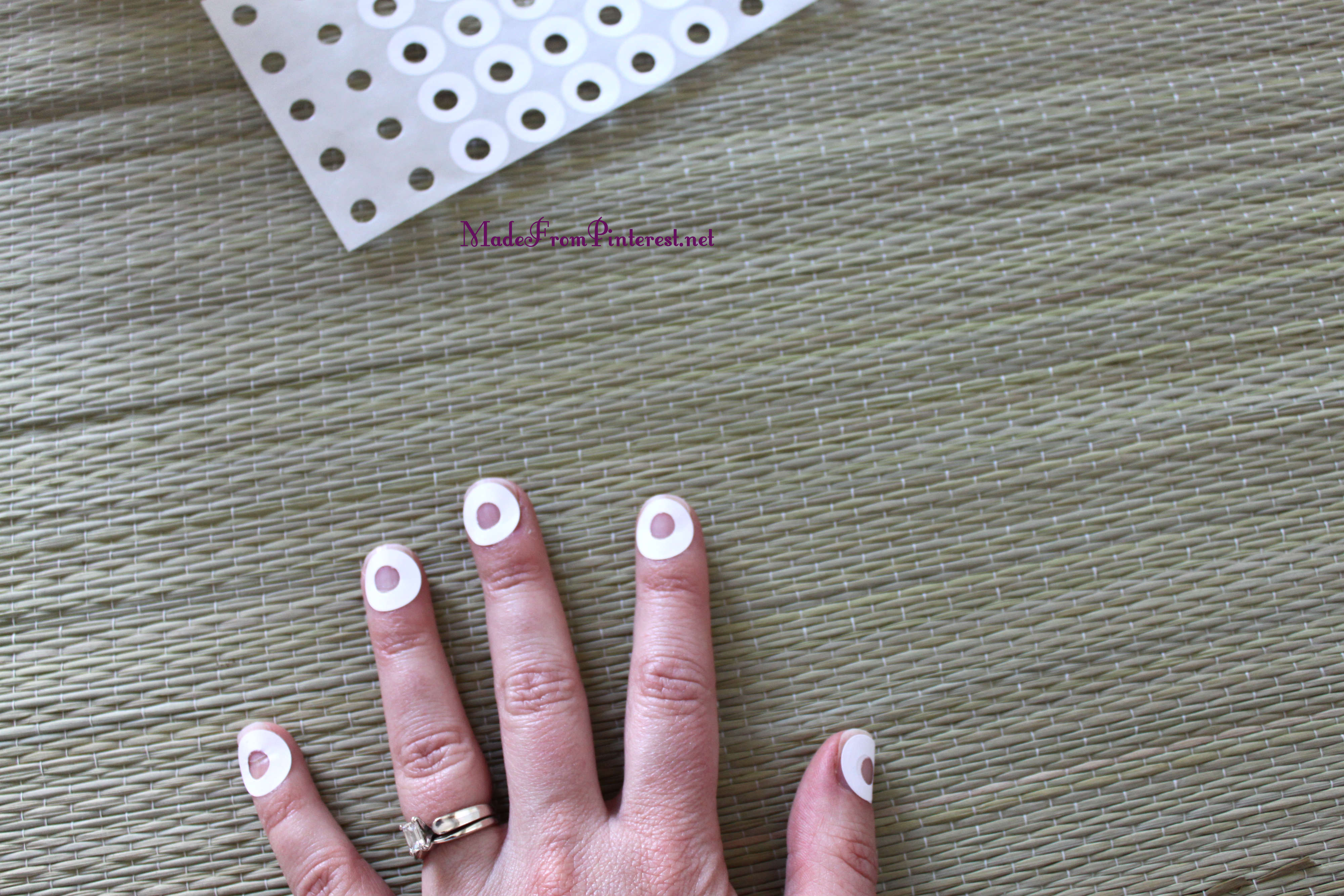 I have seen a variety of stickers used on Pinterest, and I think any of them would work. Circle stickers, circle band aids, and some people stretched their hole reinforcements by cutting them in half! I liked mine whole. It made it easier to peel it off.
Often, it is hard to a manicure on yourself, because of being right or left handed. When you move to your less dominant hand, it is hard to stay steady. With the stickers in place, it makes it simpler to do on yourself. The stickers help with the straight line if you have shaky hands. This was simple and quick. Skip the salon, save some cash, you can do it yourself!
This Pin Rocks!
We are happy to be linking with: A Glimpse Inside – What's Cooking Love – The Mandatory Mooch – seven thirty three – Momnivore's Dilemma – 52 Mantels – Gingerly Made – A lil Dash of Diva – Glued To My Crafts – Live Laugh Rowe – 36th Avenue – House of Hepworth's – Katie's Nesting Spot – Somewhat Simple – Living Well Spending Less