Confession time…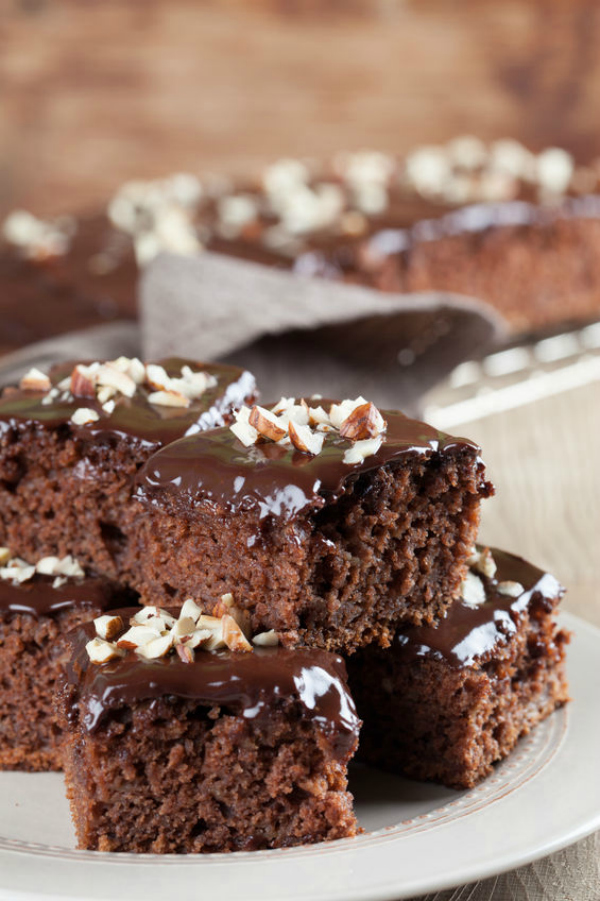 I'm a pig. Not a roll-in-the-mud kind of pig, but a I-can't-get-enough-food kind of pig. I live to eat and there's no reason I should have to live without cake. A therapist once told me the way to achieve inner contentment is to finish what I start. So far, I have finished off this gingerbread cake with chocolate ganache. I'm not talking finished "baking" this cake, I'm talking finished "eating" this cake. It was amazing.
Speaking of cake…I've never gotten the saying "you can't have your cake and eat it to." Seriously. What does that really mean? Why give me a piece of cake if you don't want me to eat it? If I have a piece of cake, of COURSE I'm going to eat it. What do you think I'm going to do with it? Frame it? Okay, I got off on a tangent here…
This version of gingerbread cake is egg-free and dairy-free making it low-fat with only 0.4 grams of fat per serving (until you add the chocolate, of course). It is incredibly moist and flavored with blackstrap molasses, ground spices, and raisins. I'm not a huge fan of molasses. I mean, have you ever swiped a lick of it? Blech. It is so freaking strong! But mix it in with all of these luscious spices and it turns into a warm and comforting dessert!
I hope you enjoy this recipe and for more delicious dishes, visit Jen at Bakerette.com or on Facebook |Pinterest | Twitter | Google+ | Instagram
Raspberry Beet Banana Muffins with Pecan Crumble Topping (dairy-free,egg-free, vegan, vegetarian)
Amish White Bread (dairy-free, egg-free, vegan, vegetarian)
Cafe Rio's Veggie Tostada with Cilantro-Lime Rice and Black Beans (dairy-free, egg-free, vegan, vegetarian)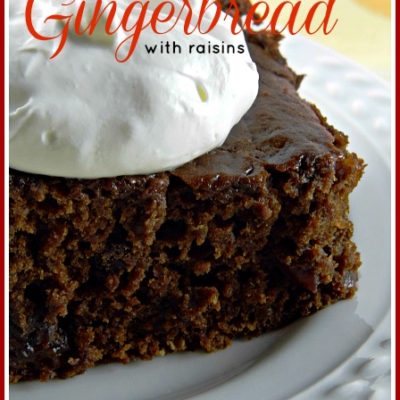 Low-Fat Gingerbread Cake with Raisins
Ingredients
1 3/4

cups

water

3/4

cup

sugar

1/2

cup

raisins

2

teaspoons

ground cinnamon

1

teaspoon

ginger

3/4

teaspoon

ground nutmeg

1/2

teaspoon

salt

1/4

teaspoon

ground cloves

2

cups

all-purpose flour

1

teaspoon

baking soda

1

teaspoon

baking powder

1/4

cup

blackstrap molasses

2

tablespoons

milk substitute or water

Chopped hazelnuts

optional
For Ganache
16

ounces

dark dairy-free chocolate

coarsely chopped

1

can

15-ounces coconut milk (not lite varieties)

1/2

teaspoon

vanilla
Instructions
In a large saucepan, mix together the water, sugar, raisins, cinnamon, ginger, nutmeg, salt, and cloves. Bring to a boil and boil for 2 minutes. Remove from stove and place in the refrigerator or freezer to cool completely.

Meanwhile, mix together the flour, soda, and baking powder. Add to the cooled raisin mixture. Mix in the molasses and milk. Pour into a 9 x 9-inch lightly greased pan. Bake at 350 degrees F for 30 minutes or untill a toothpick inserted into the center comes out clean. Remove and allow to cool completely before serving. Ice the entire cake with chocolate ganache, sprinkle with chopped hazelnuts, and serve.
For Ganache
In a small saucepan over medium-high heat, warm up coconut milk until bubbles begin to appear around the edges of the pan and steam begins to rise. Pour the hot coconut milk over the chocolate and let sit for 5 minutes before stirring, then stir together until ganache is glossy and smooth (about 2 minutes). Add vanilla and continue stirring until well blended.
Nutrition
Serving:
1
g
Calories:
165
kcal
Carbohydrates:
39
g
Protein:
2.5
g
Fat:
0.4
g
Saturated Fat:
0.1
g
Sodium:
211
mg
Fiber:
1.2
g
Sugar:
19.6
g
Recipe adapted from The Cancer Survivor's Guide, p. 217
This amazing article has been shared with Whipperberry!