Do you know what today is? It is undeniably, officially and unmistakably the start of the Christmas season! Thanksgiving is over so let the Christmas songs begin! I know that there are people who don't like seeing Christmas decorations or hearing Christmas music in, like, August (not me! I will drag this season out to as long as I can!) so hopefully those people are ready for the season now!
Soooo….then what are your Christmas traditions?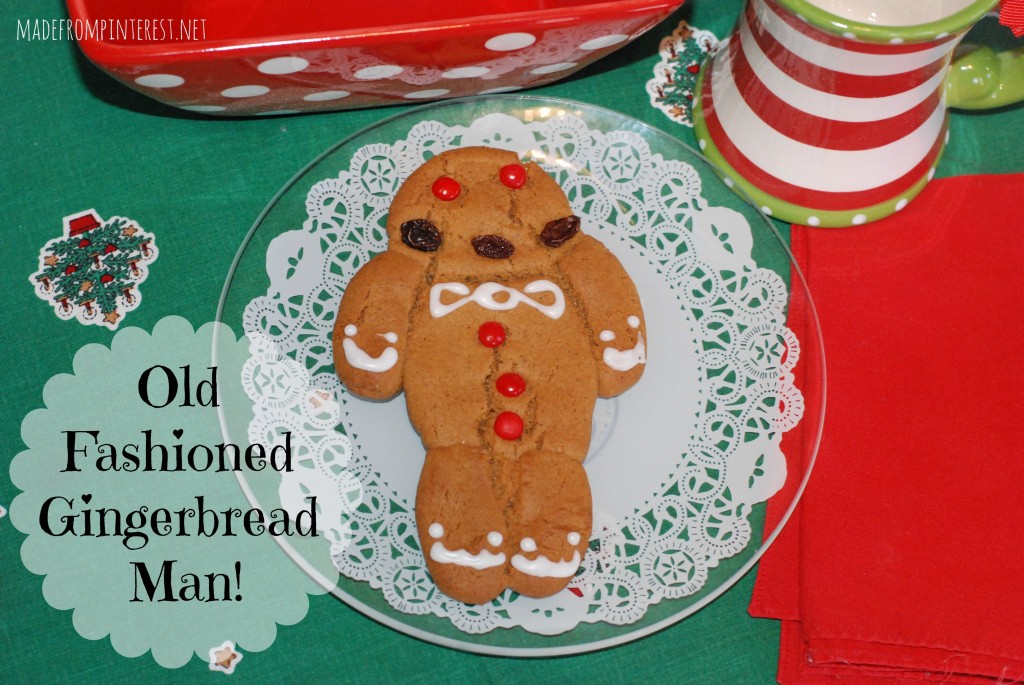 Like most of you out there, Christmas is our favorite time of year. When my children were younger and growing up, we had many Christmas traditions in our home and this recipe for this Gingerbread Man was one of them. It just didn't seem like Christmas unless we made these cookies!
I've had this recipe for 30+ years and got it from a friend of mine who received it from her grandmother who lived in Germany. Apparently this is the old fashioned way that they make gingerbread there instead of rolling the dough out and just using a gingerbread cutout.
This is a great tradition to have because even little children can make these. In fact look at the intense concentration on my little grandson's face as he is creating his masterpiece! It's like playing with Play-Doh!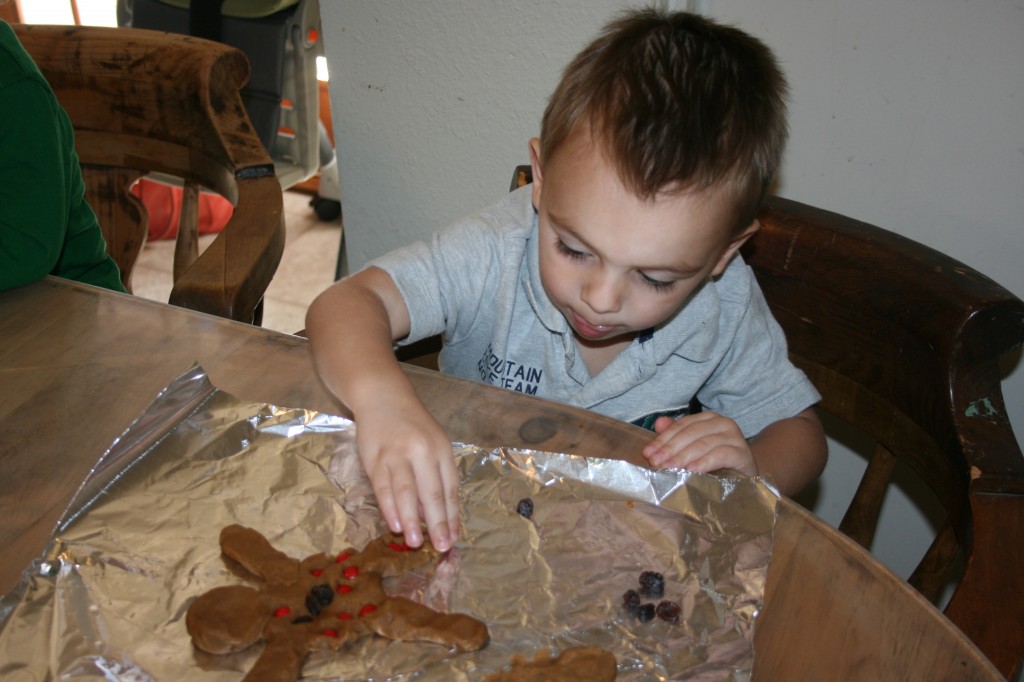 So here is how you assemble! After making the recipe below, take a small piece of dough and make a round ball in your hands. People always ask me how big to make the head to start out so here is the size that I usually make: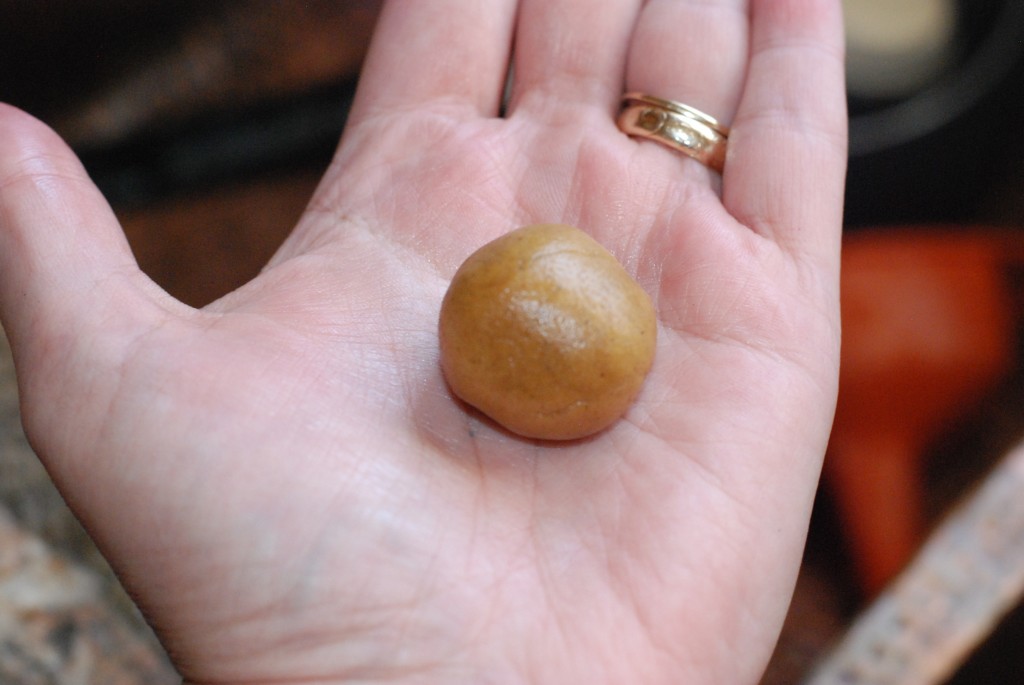 Then press this ball to make it flat:
Place your dough "head" on your cookie sheet. When we make these, everyone gets their own piece of aluminum foil and then we place the foil on a cookie sheet to bake so you can either place right on the cookie sheet or use foil.
Take another piece of dough and flatten it out in a kind of rounded rectangle for the body and place underneath the head making sure they touch.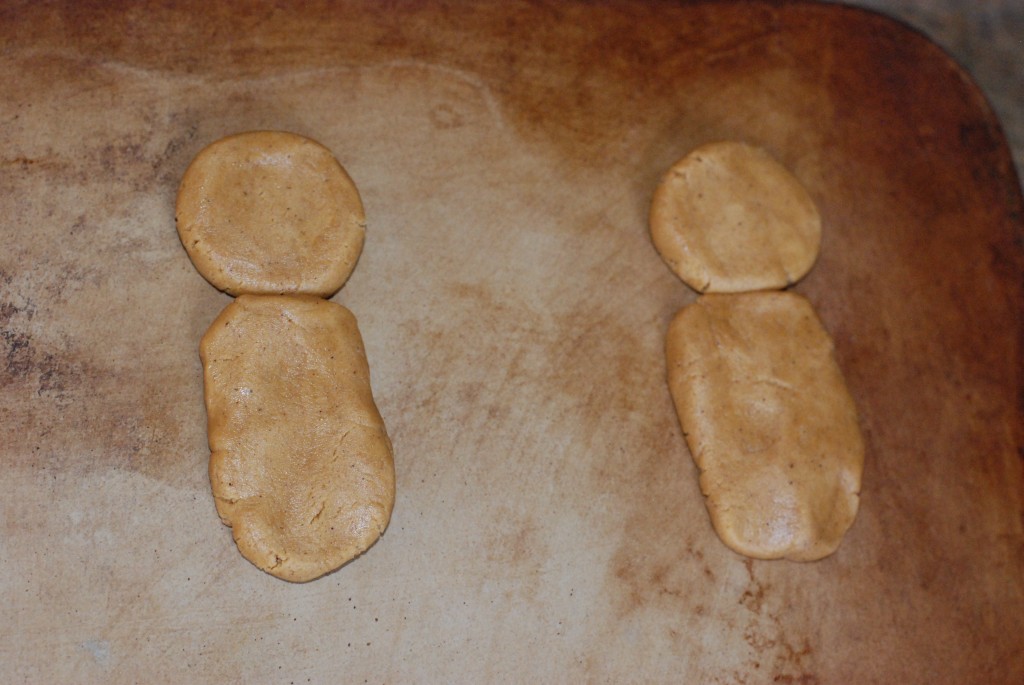 Then take some more dough and roll in between your hands to make "logs". Attach 2 logs to the bottom of the body for the legs and then attach two logs and attach at the shoulder making sure the dough touches the head and body. Then decorate with any embellishments you desire. We have used raisins, red hots, M&M's, sprinkles, candy corn, anything that we have on hand!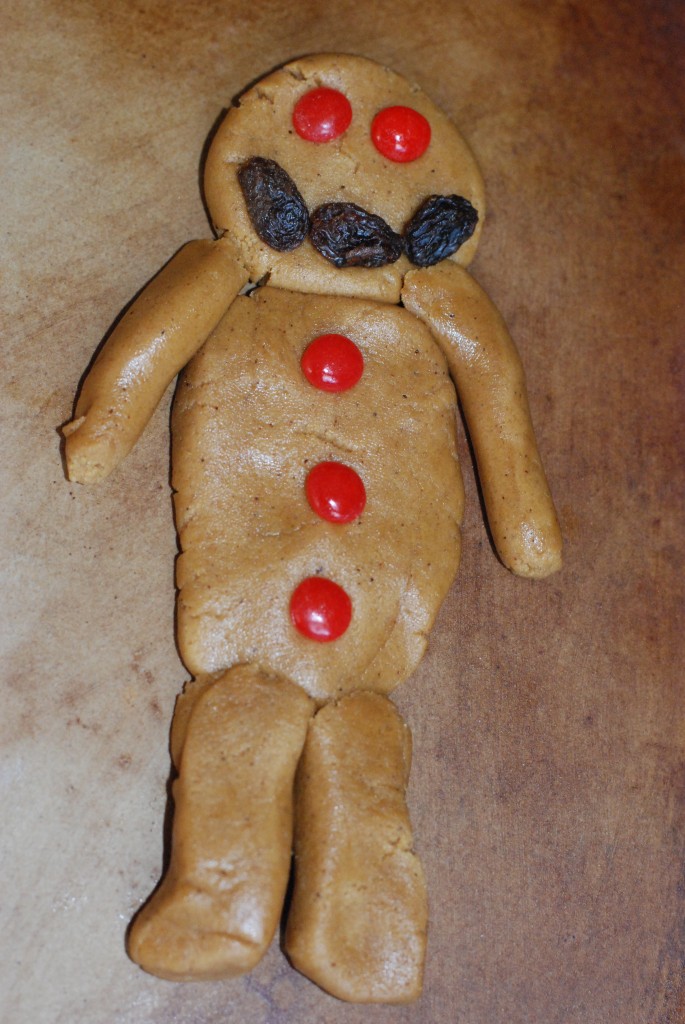 Once you bake these, they will puff in the oven and come out like this!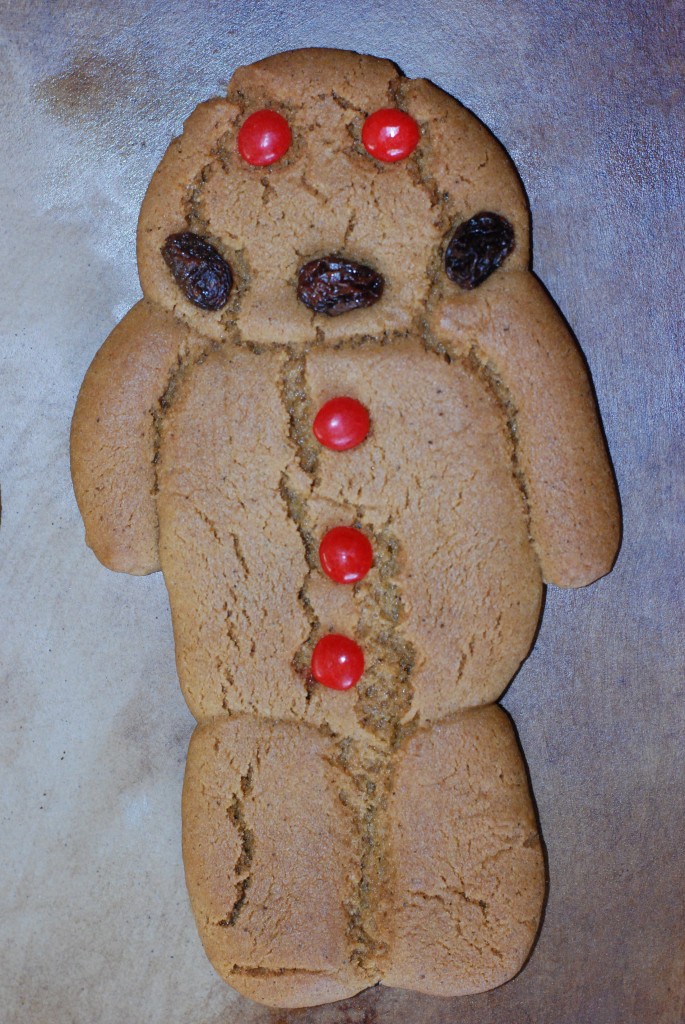 Isn't he cute? You can also add a touch of frosting as a finishing touch. We don't always do that, but here's an example: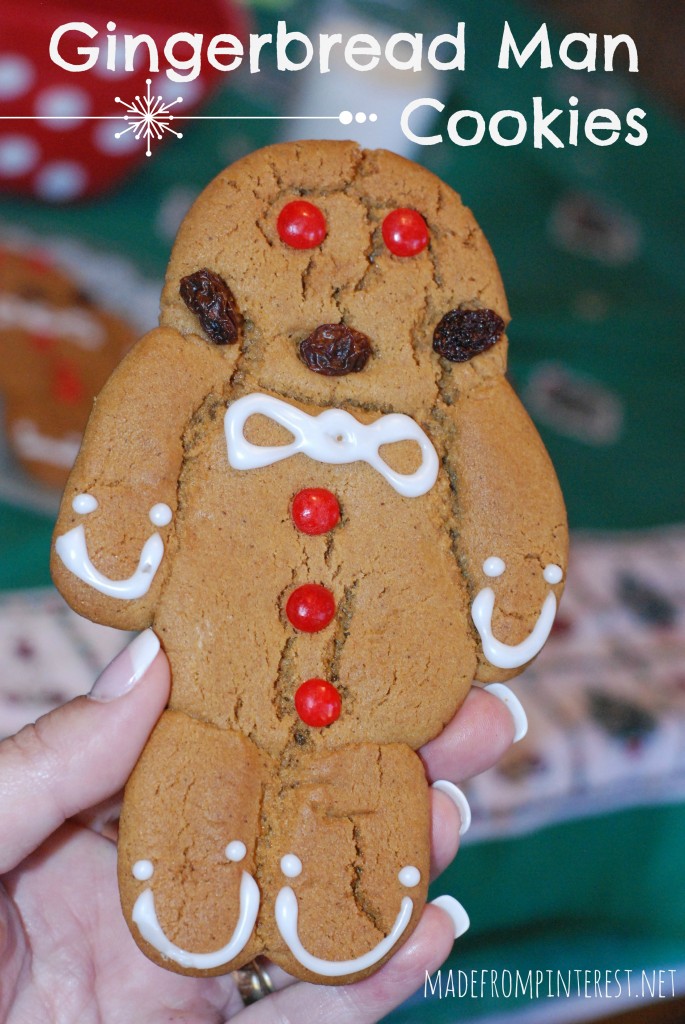 Out of the oven these cookies are a little crunchy on the outside but soft on the inside. Perfect for gingerbread! I hope that you make these cookies and who knows? It just might become your new Christmas tradition!
This Pin Rocks!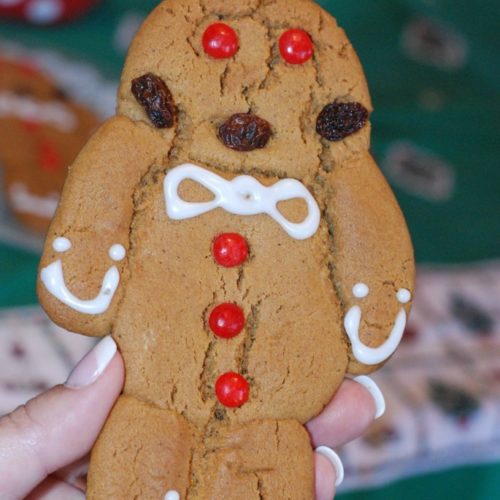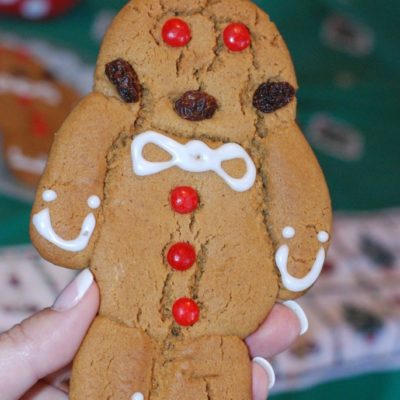 Gingerbread Man Cookies
Ingredients
3/4

cup

shortening

1

cup

sugar

1/4

cup

light molasses

1

egg

2

cups

flour

1/4

tsp

salt

2

tsp

baking soda

1

tsp

cinnamon

1

tsp

cloves

1

tsp

ginger
Instructions
Preheat your oven to 350 degrees.

Cream shortening and sugar together. Add molasses and egg. Beat well. Add all of the dry ingredients and mix dough thoroughly. Wrap your dough in a plastic wrap and chill in the refrigerator for 15 minutes.

Shape gingerbread men on a cookie sheet as you would modeling clay. Roll a small size ball for the head and a rounded rectangle for the body. Roll "logs" for the legs and arms. Make sure all body parts are touching each other and that the body and head are somewhat flattened.

Use raisins, red hots, sprinkles or any other kind of cookie decoration to decorate your gingerbread man.

Bake at 350 degrees for 10-12 minutes.

You may add some frosting embellishments if you desire after they are cool, but they aren't necessary. They are just as cute as is!
It's beginning to look a like lot Christmas!!