What do kids think of when Halloween rolls around? Costumes and CANDY, CANDY, CANDY! After trick or treating, our kids would come home and choose a spot on the family room floor. Then they would dump out their candy and start sorting it into smaller piles of their favorites. Once the sorting was completed ,the trading began. Roger and I would always score on the candy they didn't like. That meant that I could have all the Baby Ruth candy bars. Fortunately for me they never got too many of them. I love this Halloween Countdown Calendar from Camille at Makoodle because instead of candy she put funny halloween jokes inside each tin.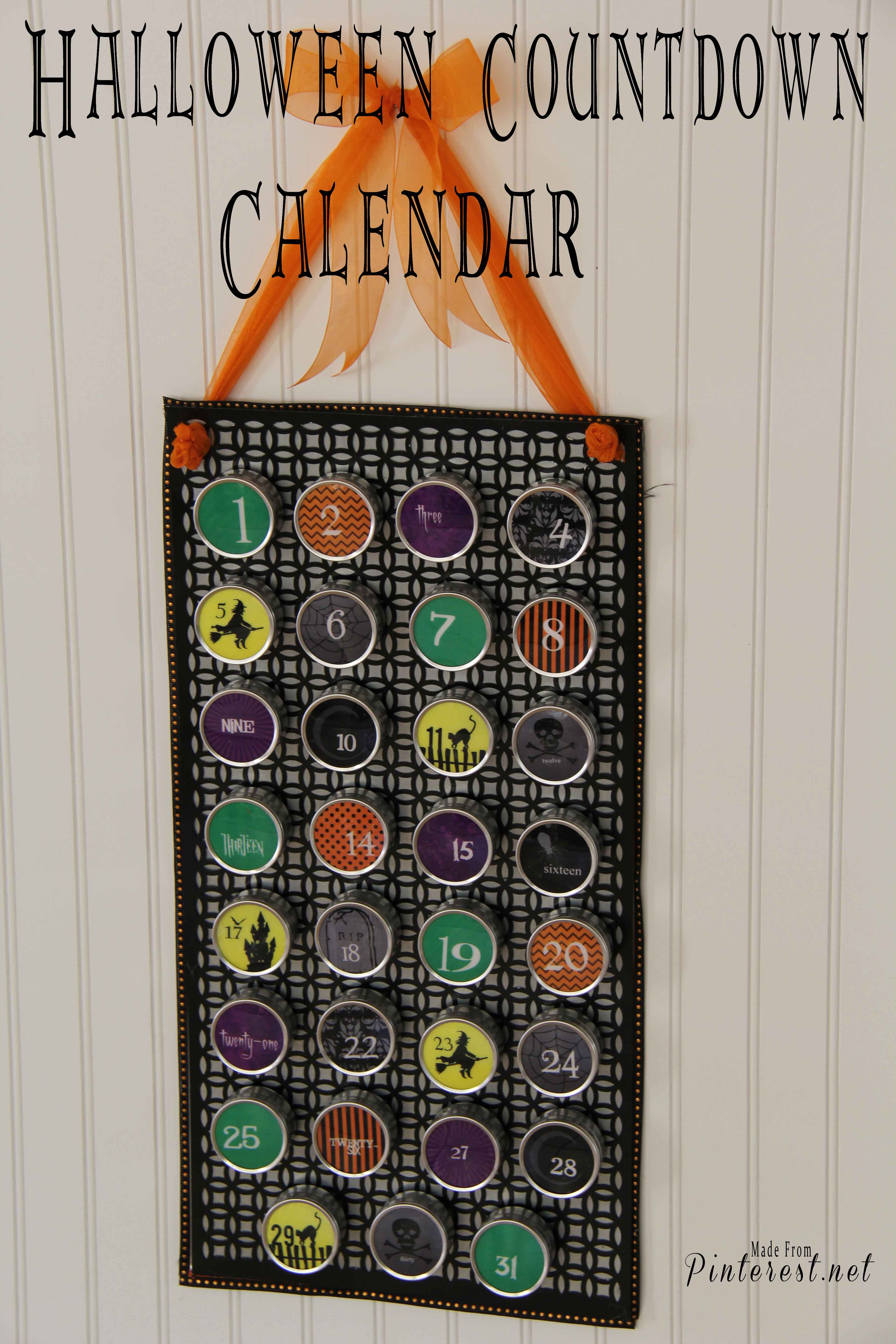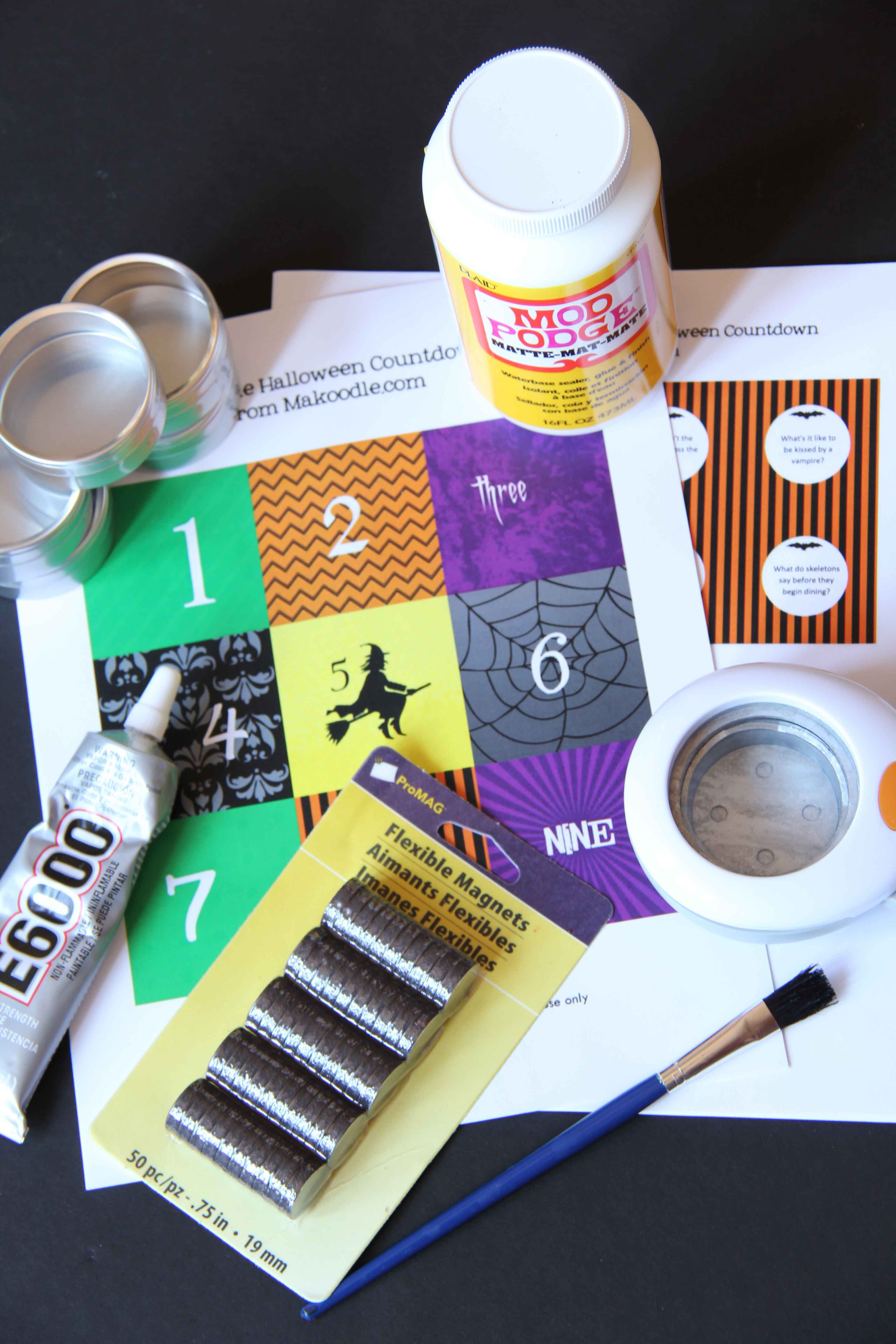 Supplies and Cost
2″ Round Tins by Wilton – these run $24.95 for 25 tins. Two sets are required equalling $44.90 ,I found mine at Jo-Ann's Craft store and used a 40% off coupon, my cost $29.44 for two sets.

Free Halloween countdown printables (see below)

2″ Fiskars Squeeze Circle Punch – I purchased mine at Michaels for 12.95, I used a a 40% off coupon, my cost $7.77

Mod Podge

Magnets – purchased at Michaels for $2.99

E-6000

10×20 Frame I did not use a frame

Metal Sheet – purchased from Home Depot $6.99

Decorative Sheet – purchased from Hobby Lobby $12.99

Metal Cutters
My Total Cost $60.18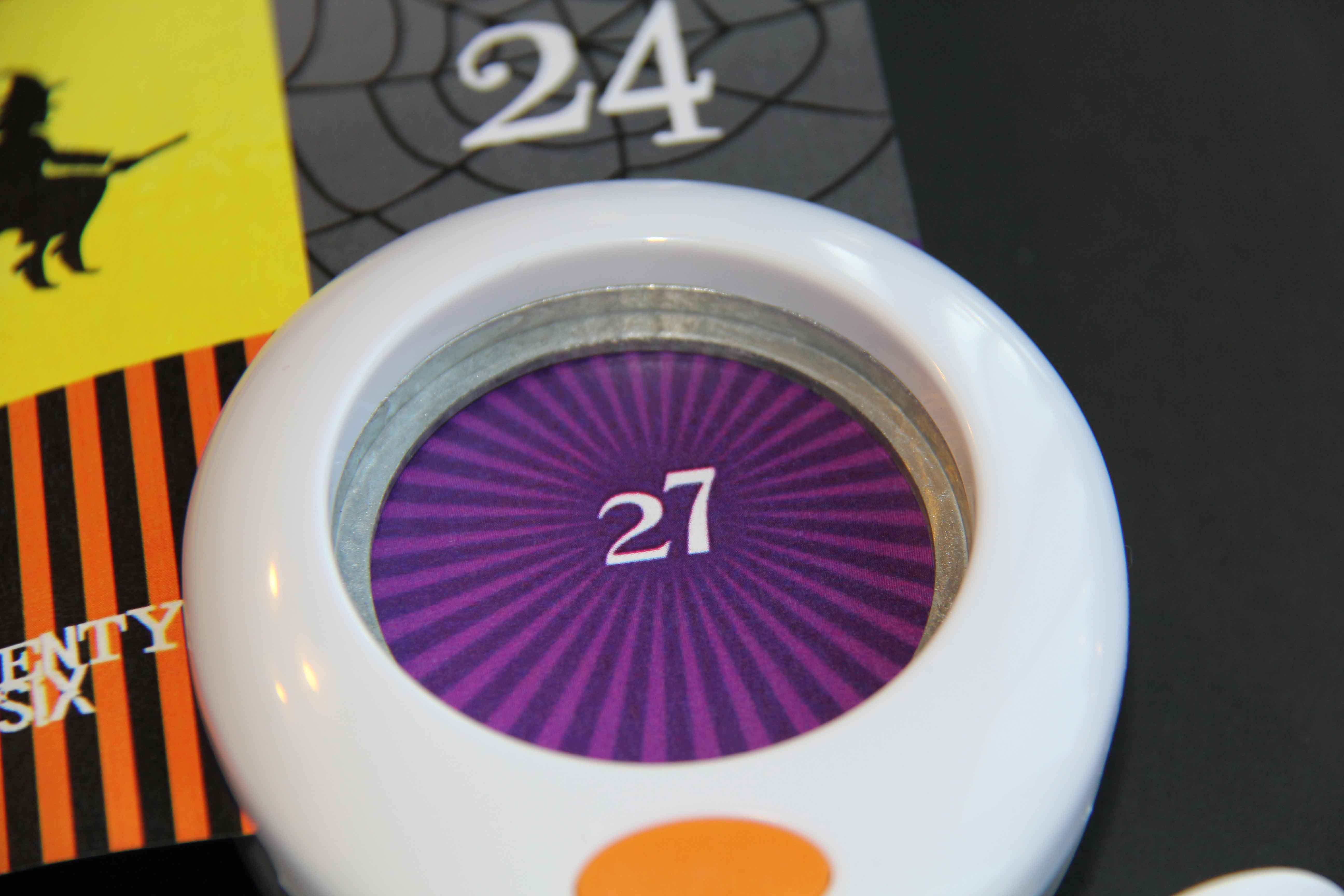 Go to Makoodle to download and print the patterns, jokes and punchlines for the favor tins. Cut the numbers out using a 2″ circle paper punch. I bought a Fiskars squeeze punch for this and it was so easy to use!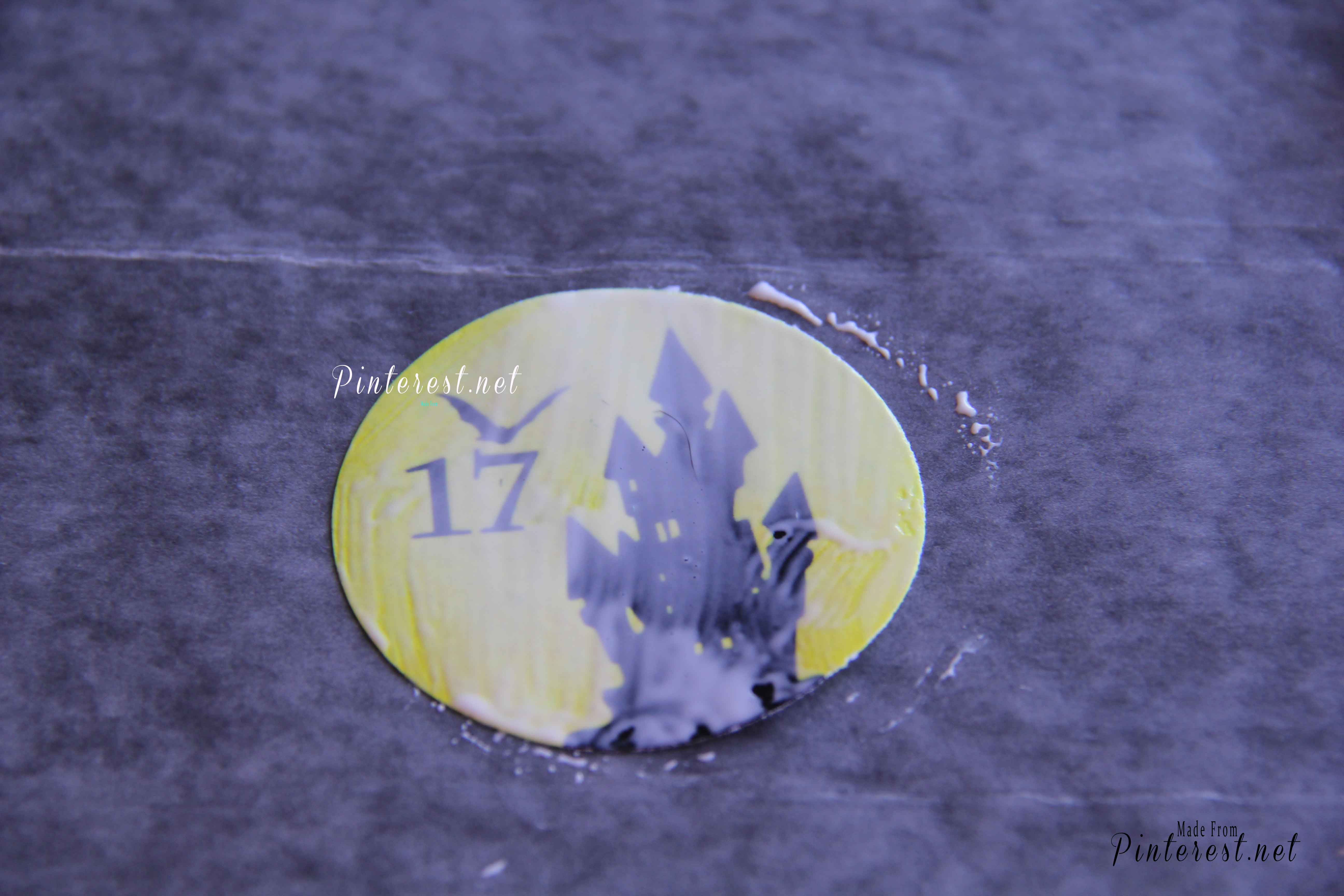 Cover each of the date circles with Modge Podge.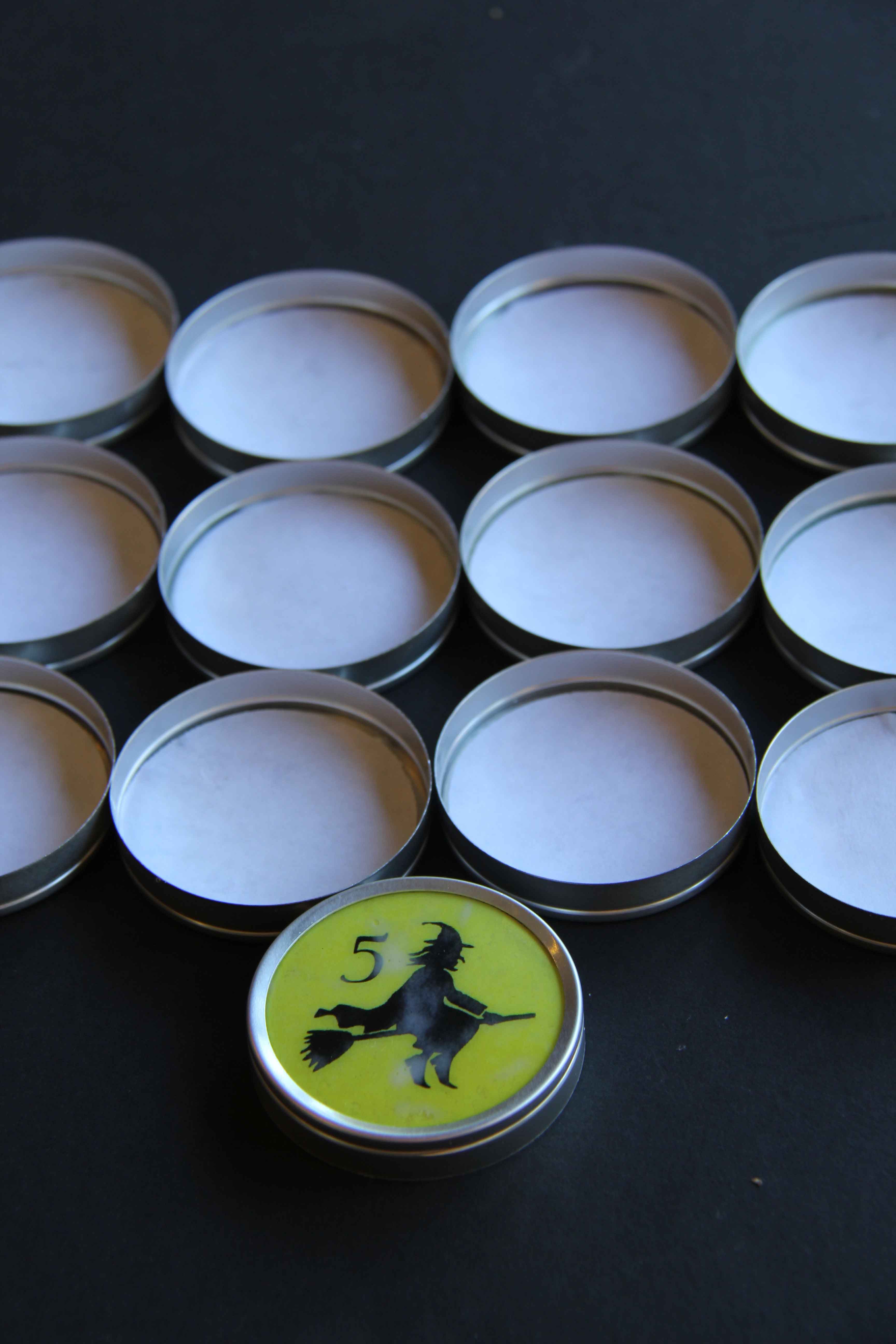 Then place them in the tin so that it is attached to the clear plastic.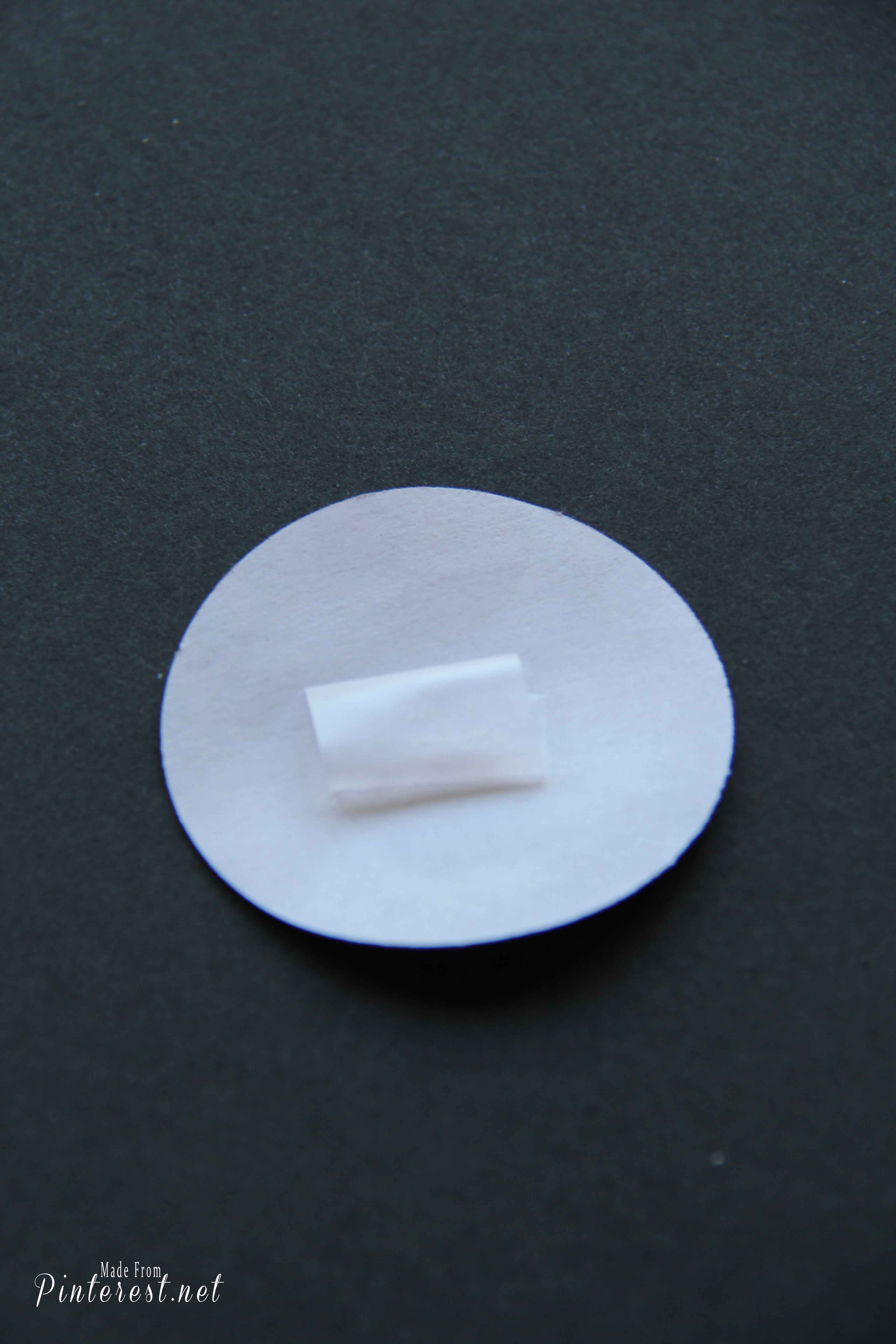 Make sure the Modge Podge has dried completely. Then tape the jokes to the bottom of the tins and the punchlines to lids of your tins.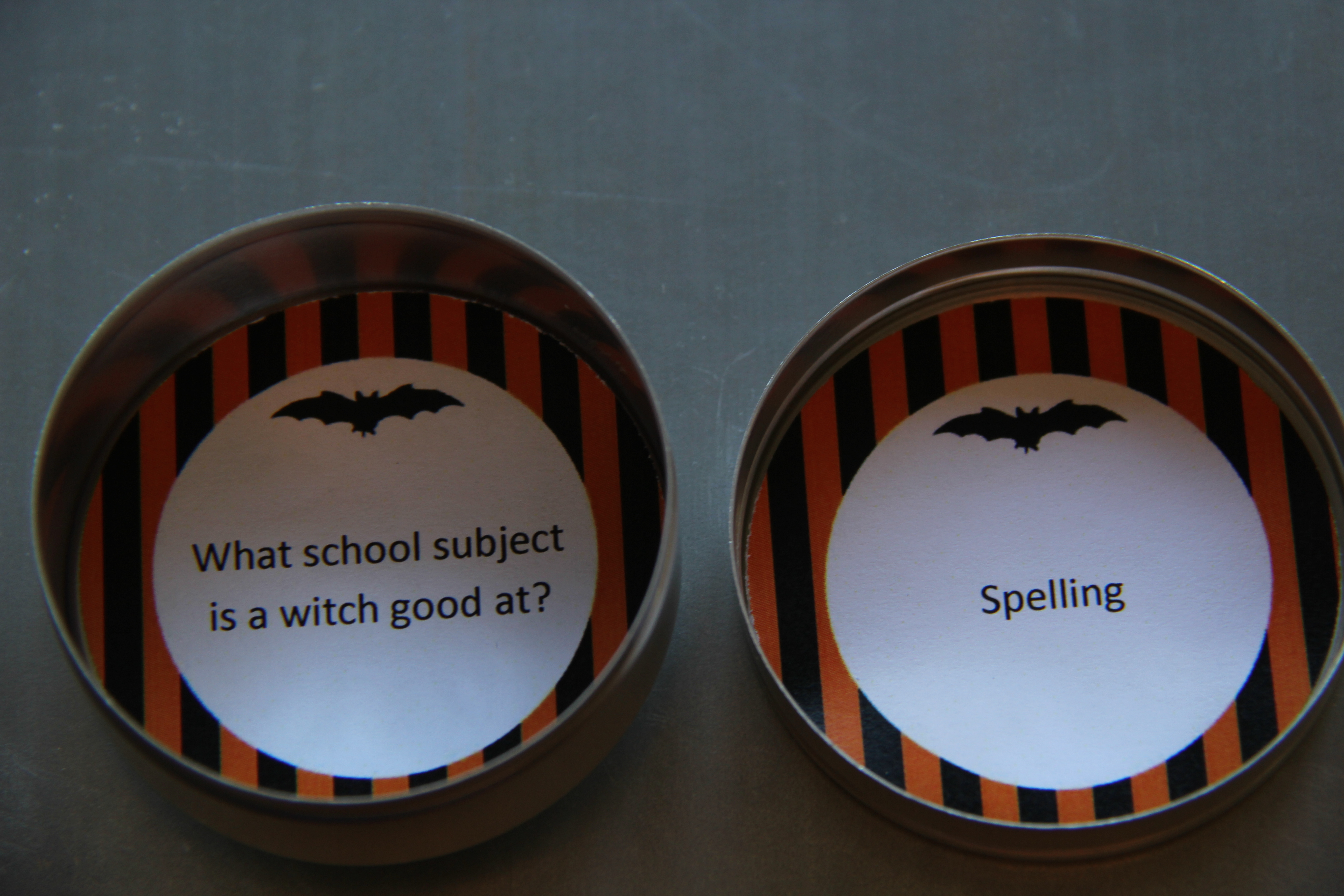 When you open one of the tins, you will see the joke on the bottom and the punchline in the lid.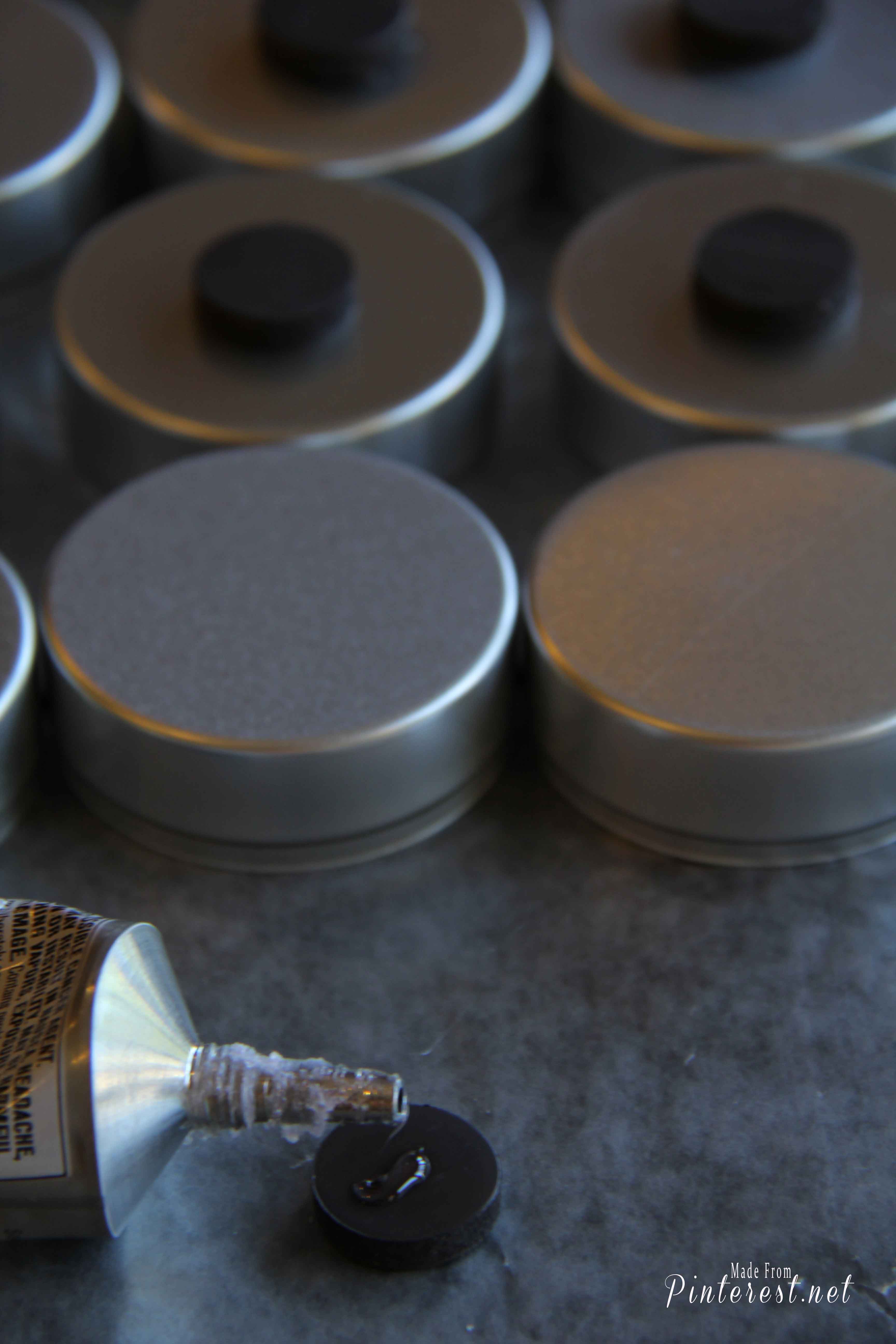 Use 6000 glue to adhere the magnets to the bottom of the tins. Camille said she has tried hot glue for this and it didn't work well. The magnets ended up coming off. The 6000 glue works great.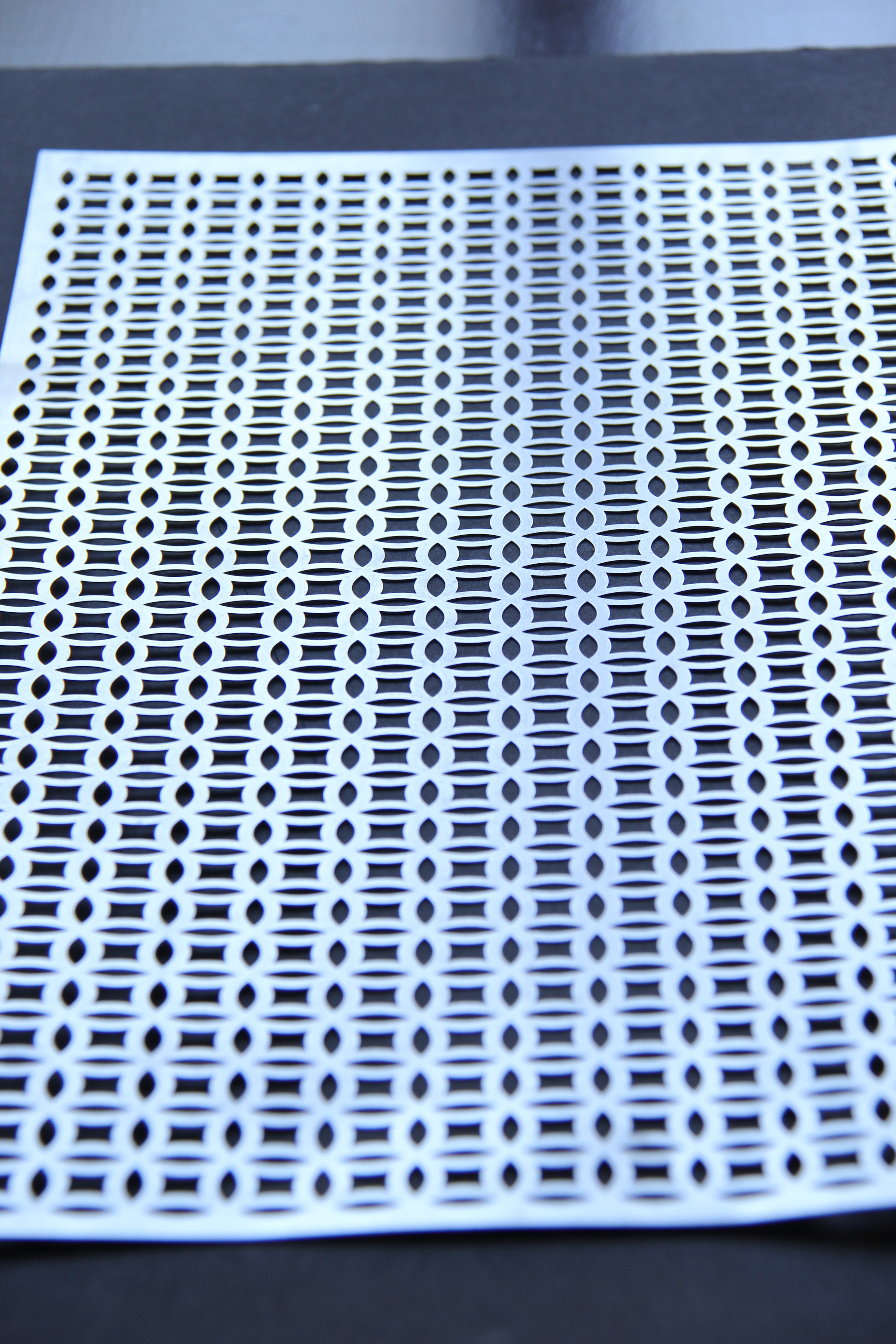 Camille mounted her calendar in a 10 x 20 frame. Instead of using a frame I put a small ribbon border around the plain metal sheet. The decorative sheet of metal in the picture above was something I picked up at Hobby Lobby. I was intending to use it in my food photography, but I decided to spray paint it black and place it over the plain metal sheet with the ribbon border.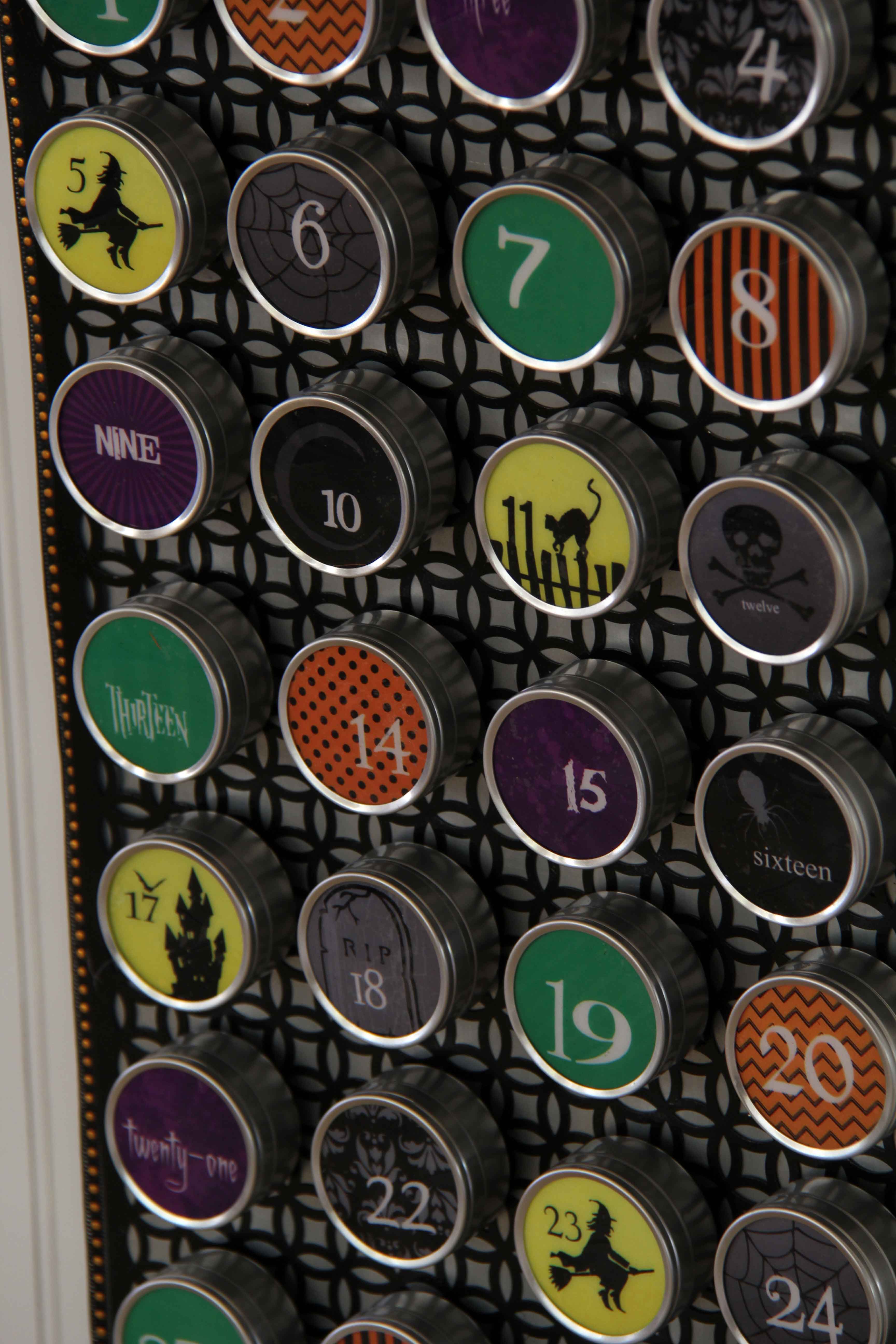 Last but not least I put the tins over the black decorative metal sheet, I love the final results!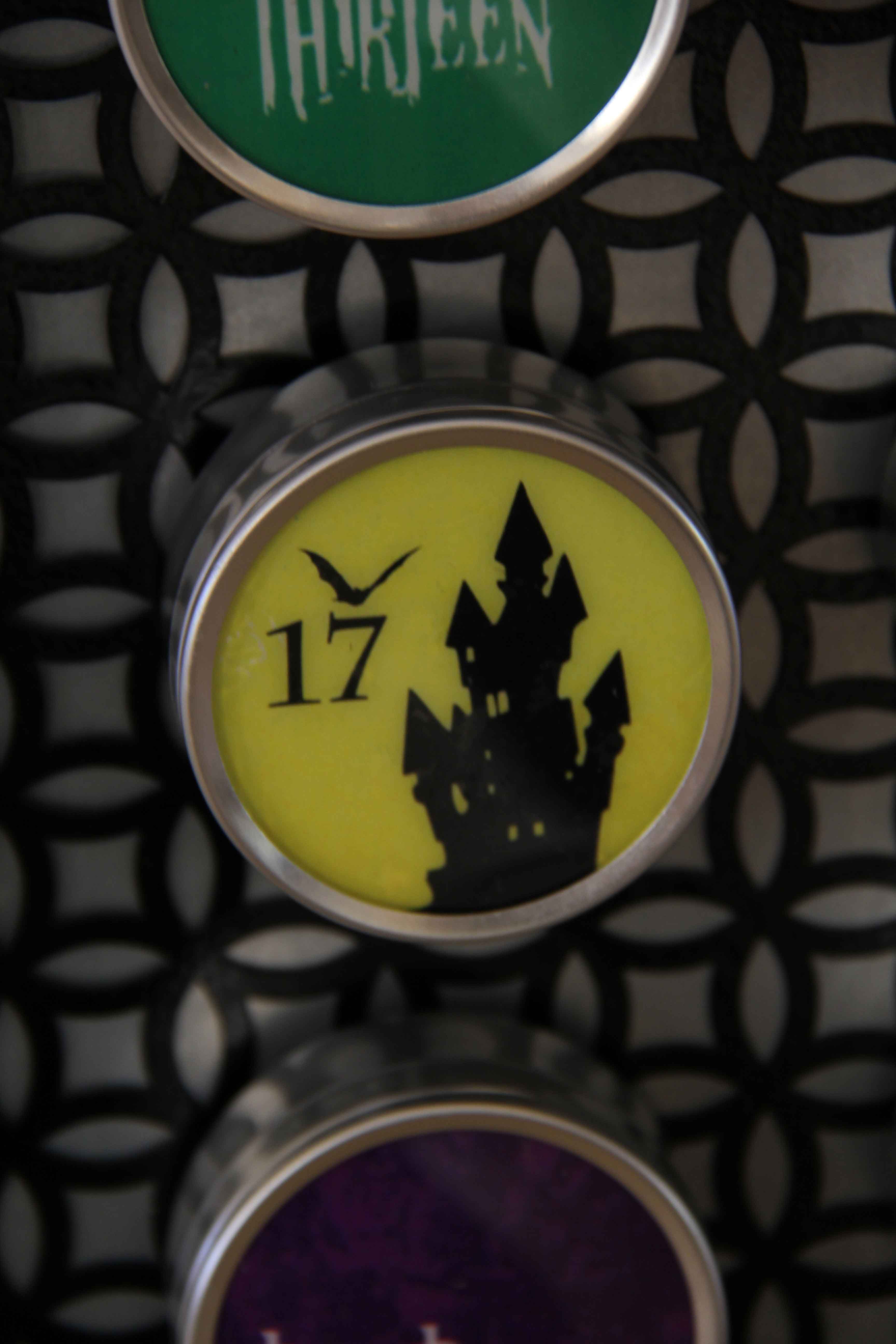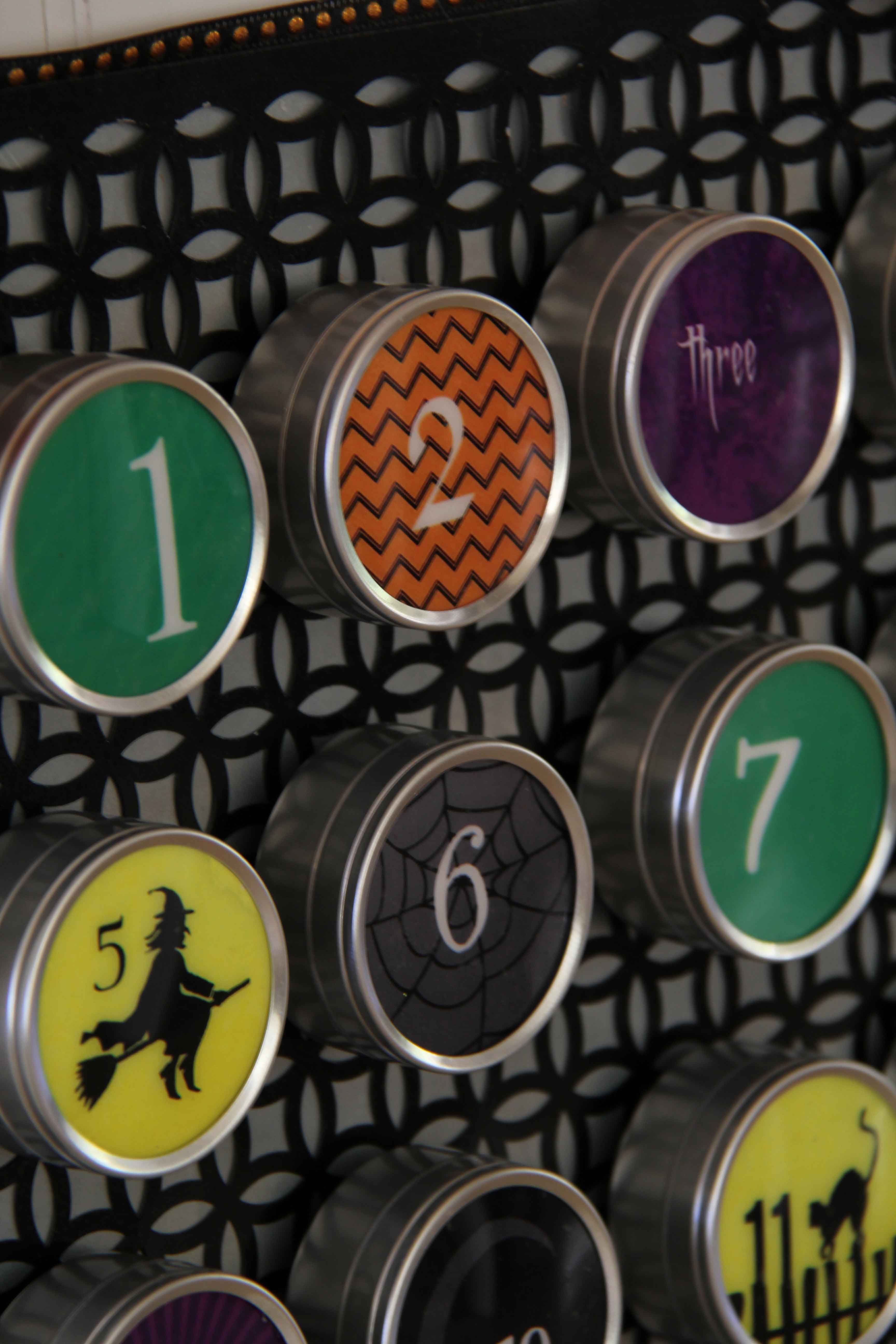 My calendar has been up for over a week now, my 10 year old son has been so excited to start counting down to Halloween with the jokes in the tins. He was thrilled to start opening the first tin yesterday. and ask me "do you know why Count Dracula took cold medicine? "Because he wanted to stop coffin". It hasn't even occured to him that I could have put candy in each tin, how often does that ever happen?
Yup, This Pin Rocks!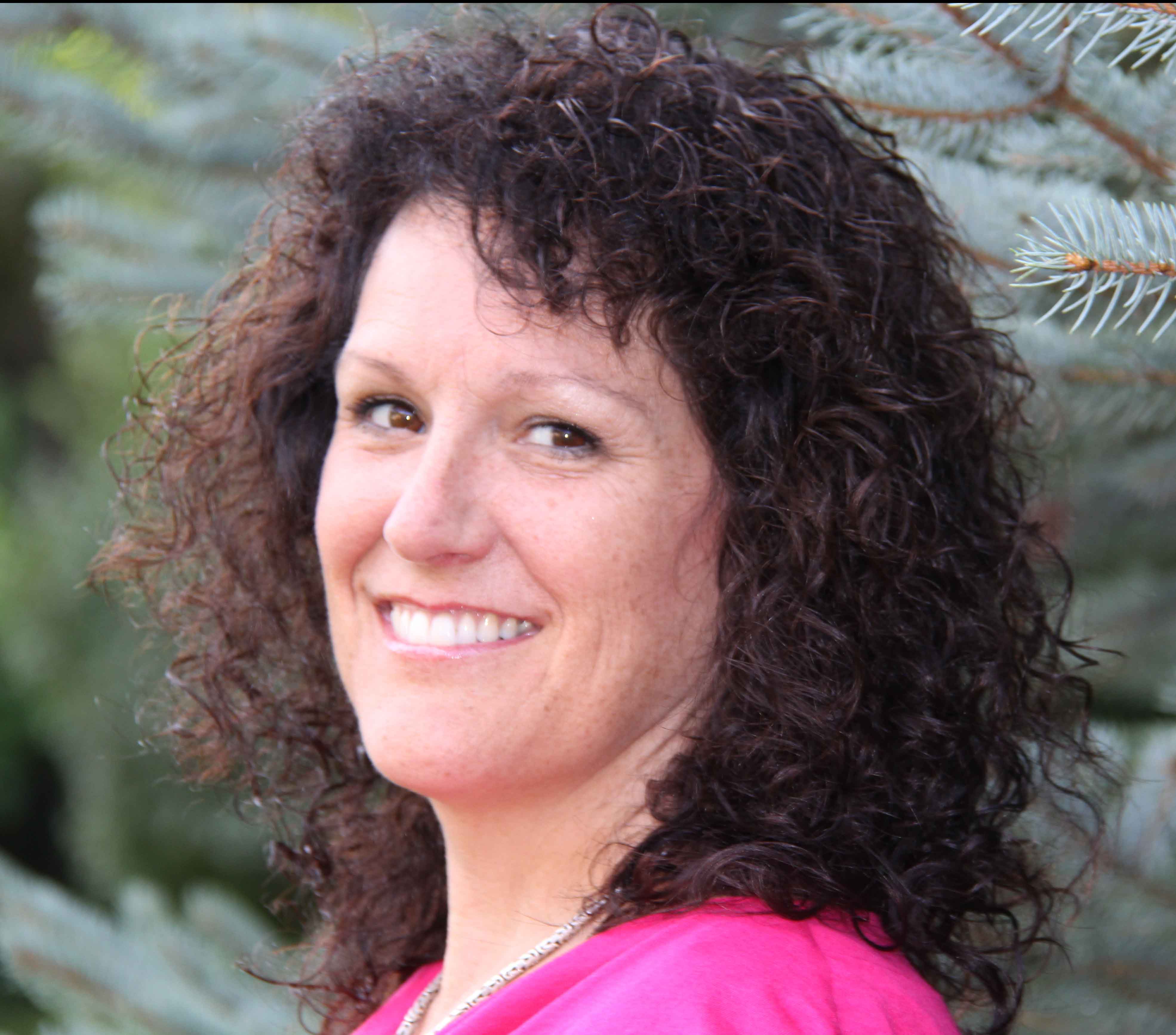 Love the Link Parties: The Happy Housie, Savy Southern Style, Worthington Court, Ducks 'n a Row, Fluster Buster, The NY Melrose Family, Sugar Dots, Seven Thirty Three, The CSI Project, The Life of Jennifer Dawn, Lady Behind the Curtain, And Sew We Craft, Ginger Snap Crafts, Someday Crafts