Mickey and Minnie. Peanut Butter and Jelly. Ricky and Lucy. There are just some things that have to go together! Like veggies and Ranch Dressing. How else would all of us people who are trying to be healthy be able to choke down eat our vegetables? Please no comments about how you all love your vegetables, I love vegetables too. SOME vegetables. Tomatoes are not one of them. But I might be able to choke one down if it had some ranch dressing on it.
Here is a great Homemade Ranch Dressing Recipe that I pinned from the Crafty Blog Stalker. The best part of this recipe is that you combine all of the dry ingredients and store in an airtight container. Then when you are ready for the dressing, you add the wet ingredients and that will give you a super fresh flavor. The full recipe is below.
Here is my jar of dry ingredients and also my dressing all made up: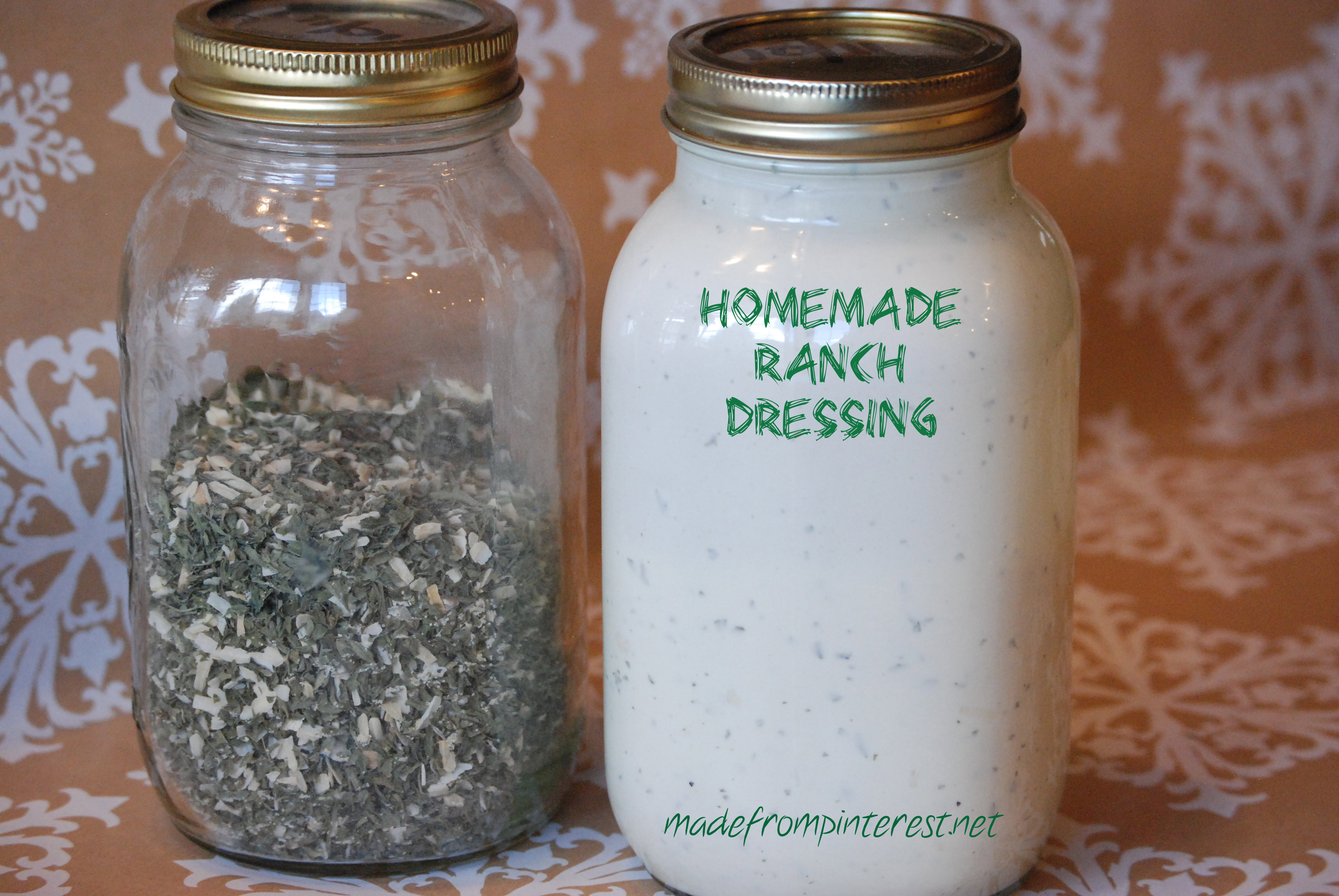 Once made up, now it is ready to use for veggies, salads, buffalo wings and even pizza!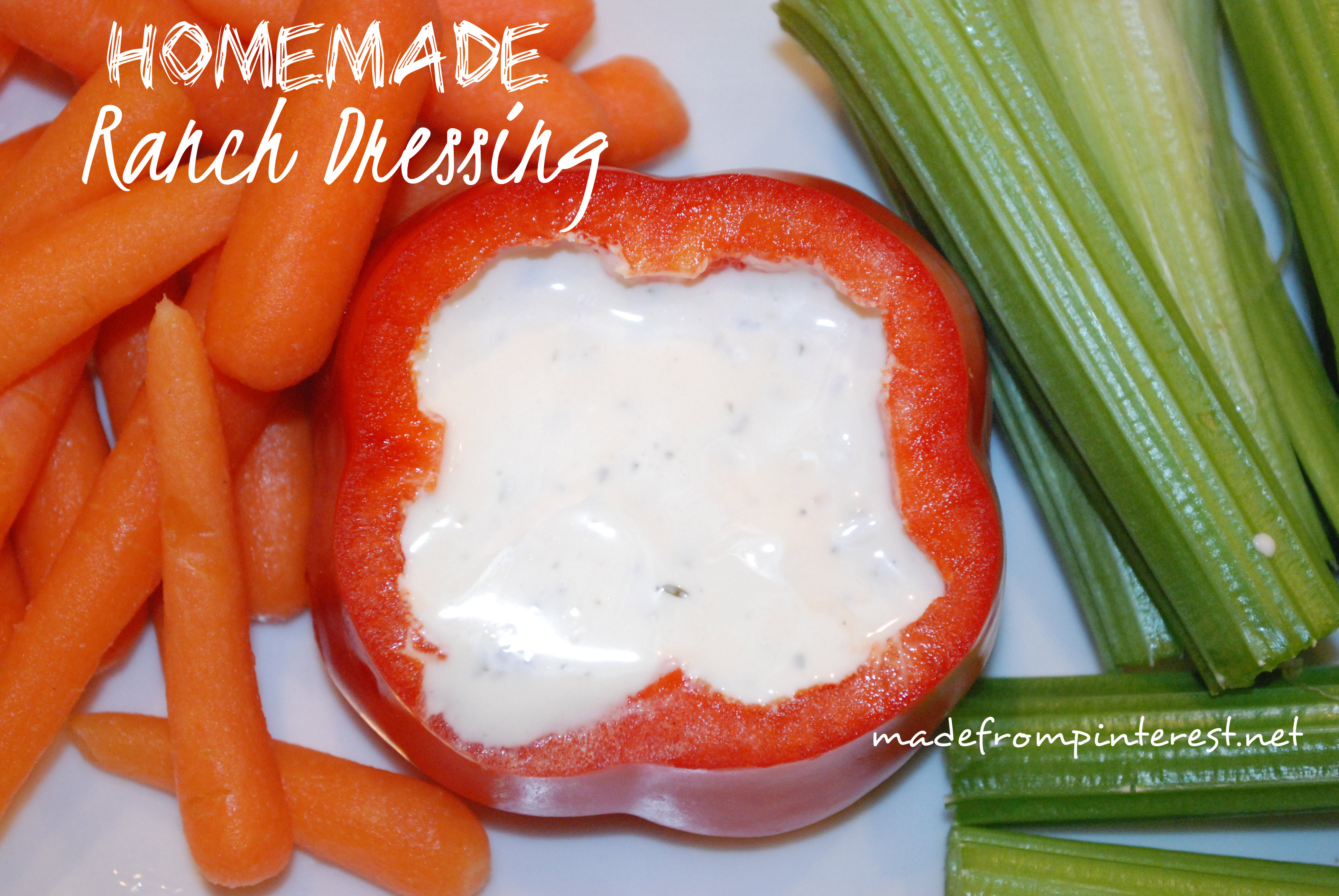 I promise that once you try homemade, you'll never go back to bottled dressing again. The difference is LIFE CHANGING!
Laurel and Hardy. Milk and cookies. Fred and Wilma. Veggies and Homemade Ranch Dressing. Matches made in heaven.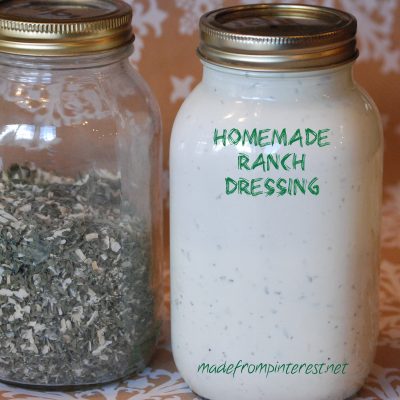 Homemade Ranch Dressing Recipe
Ingredients
Black Pepper ¼ C

Parsley Flakes 1 1/2 C

Garlic Salt ½ C

Kosher Salt 2 T

Granulated Garlic ¼ C

Granulated Onion 3/4 C

Dill Weed 2 T

2

cups

mayonnaise

2

cups

buttermilk

1 1/2

cup

sour cream

1

tsp

lemon juice
Instructions
Combine all dry ingredients, store in an airtight container. Makes about 3 ½ cups of dry mix

To Make Dressing, whisk together 2-3 TBL of mix with 2 Cups each of mayonnaise and buttermilk 1 ½ Cups sour cream, & 1 t Lemon Juice. Refrigerate for 2 hours. Makes 1 ¾ Quarts
My veggies and I can happily report that This Pin Rocks!

Check out these great sites that we are linking with today!
Cornerstone Confessions – Home Stories A to Z – The Blackberry Vine – Carolyn's Homework – Funky Polka Dot Giraffe – The Rustic Pig – Cupcakes and Crinoline – Sugar Bee Crafts – Mandy's Recipe Box – Inside BruCrew Life – Ladybug Blessings – Blessed with Grace – Nap-time Creations – Chef-in-Training