VCR's are to DVD players what store bought tortillas are to Homemade Tortillas. But not just any homemade tortillas. If you want really great tortillas, this is the recipe you are looking for. These tortillas are amazing. They are as good as what I get at my favorite restaurant. I was watching at said restaurant when they made my fresh tortilla. And I saw their secret. They stashed it away quickly when they saw that I noticed. They secreted it away like they were ashamed. But notice I did. Because it was a little bit shocking. It was…I am embarrassed to admit it…lard. That is the secret to amazing homemade tortillas. Lard, LARD, L-A-R-D. I figure if I type it over and over again, a little louder each time, it will help desensitize you after the initial shock. Hello, my name is Sherri from Made From Pinterest and I love the taste of lard in my tortillas. I am not kidding. Wow it makes a difference. Trust me, taste these compared to others, and you will get over it really fast.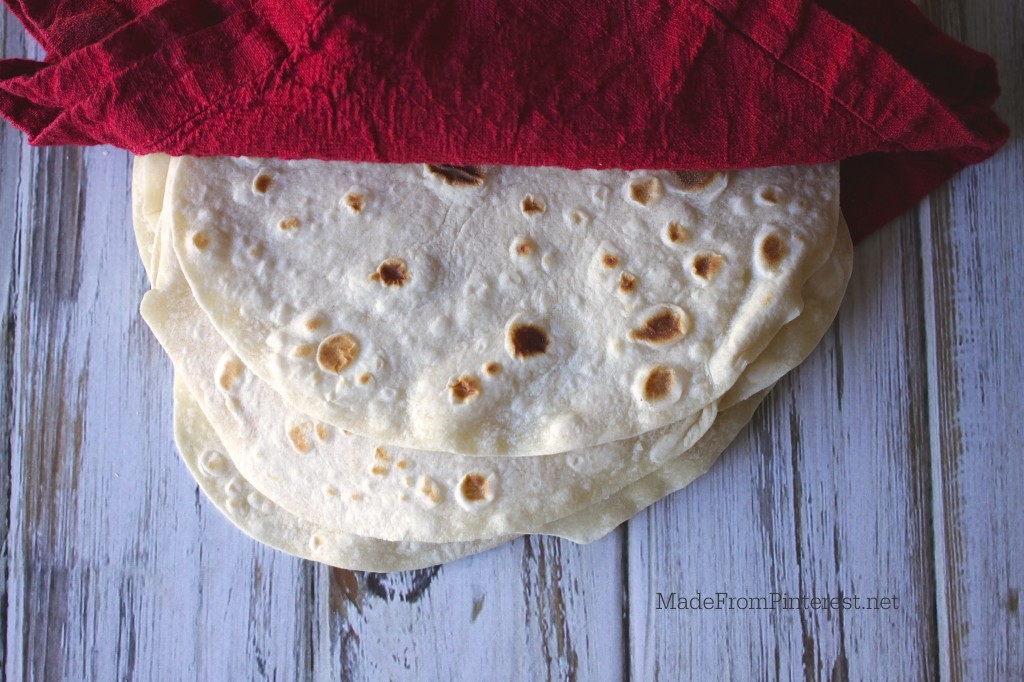 This is actually not my first attempt at making tortillas. It has been something I have wanted to master for a while now. But my last attempt was a failure. An epic failure. Epic, EPIC, E-P-I-C failure. It all started because I could not sleep. It was 4:00 in the morning and I had finally given up and gotten out of bed. But then, what to do with myself that bright and early? Cooking is one of the ways I relax, so I decided to make breakfast for the kids before school. I figured they would enjoy the surprise of a hot, fresh breakfast on a busy school day morning. I decided to make breakfast burritos, because my son loves them, but we were out of tortillas. I had always wanted to learn how to make tortillas and this seemed as good a time as any. Yeah, 4 am is great time for culinary adventure. But, alas, cooking when you are half asleep, is not such a good idea. I decided to multitask. While one tortilla was cooking in the skillet, I was rolling out the next. Apparently I took to long to roll, because the fire alarm went off when the one in the pan started smoking. The next thing I knew the entire family was rushing to the kitchen, bleary eyed and panicked, to hear my explanation that everything is okay. It was just that I had burned the tortillas. It's 4 am and you are making tortillas? To which I responded, "Yeah, well it sounds a lot weirder when you say it like that."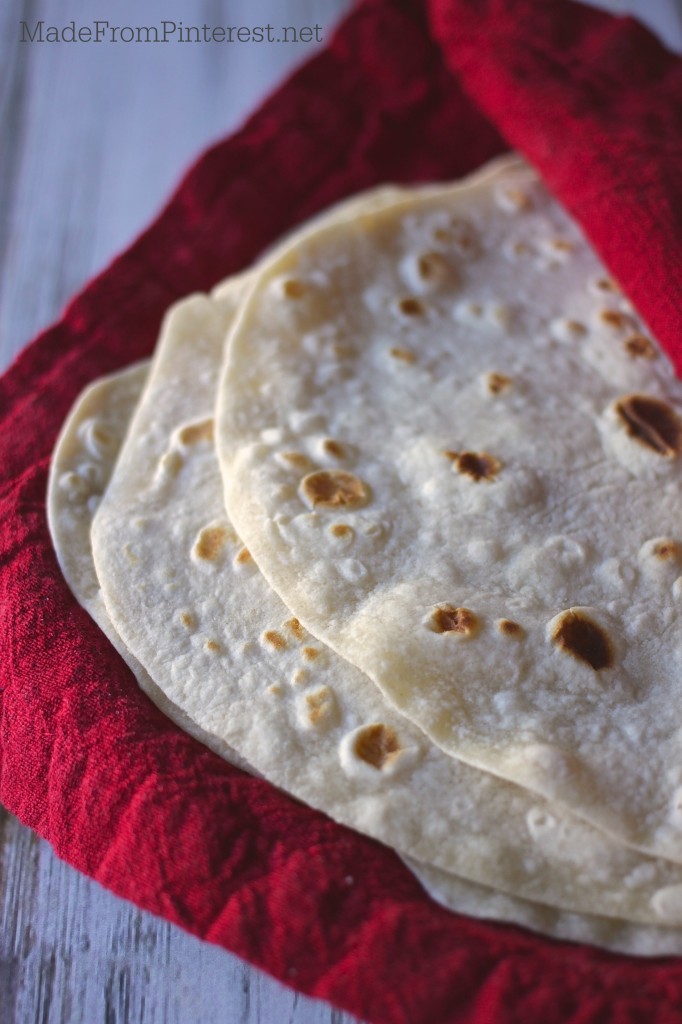 But now that I have mastered it, I think I could make them in my sleep. It is not nearly as hard as it seemed at 4 am. And it is totally worth the effort. You might not even want to bother with all the toppings or fillings and just devour these yummy tortillas all on their own. They are even good with a little bit of melted butter and cinnamon sugar for breakfast. Or you could make breakfast burritos. But here is a great little tip. These can be made in advance, stored in a ziplock back and then warmed when needed. I put a tiny pat of LARD (get over it, it tastes soooooooo good!) in the pan and warm the tortilla on each side over medium low. Ready for filling. For lunch, after I flip it over, add a little grated cheese and then cover the pan lightly with a lid to melt the cheese and top with lettuce and fresh pico de gallo. Mmmm, lardy heaven!
Thank you to Epicurious because this pin rocks!
Homemade Tortillas
Ingredients
2

cups

all purpose flour

1

teaspoon

salt

1/4

cup

lard

1

Tablespoon

vegetable oil

1/2

cup

warm water
Instructions
Mix salt and flour together.

Cut in lard and oil with a pastry cutter, fork, or two knives until the mixture resembles crumb or meal.

Stir in warm water with a fork until a dough forms. Lightly flour your surface and knead the dough until smooth and elastic, about 4 minutes.

Let sit for one hour. Or don't. I have done it both ways. I make a double batch and then while it is sitting I cook chicken, wash and prepare lettuce, grate cheese, make the pico...you get the idea. It is nice to let it rest, but if you are in a hurry, they taste great even if you skip it.

Divide into 6-8 balls, depending on how thick you like your tortillas.

Roll out one ball at a time using just enough flour to prevent sticking. To keep them round, start at the center and work your way up, then center and down. Rotate the tortilla one quarter turn and roll center up and center down. Repeat rotating each time until you have your desired size and thickness.

Heat pan over medium low to low heat. Cook tortilla about 45 seconds each side.

Tortilla will bubble and puff and get brown spots. Wrap cooked tortillas in a kitchen towel to keep from drying out and keep warm.

Store in a ziplock bag and refrigerate or freeze.

To reheat, warm in pan over low heat about 30 seconds each side.

To add extra flavor, spread a small pat of lard in the pan before heating tortilla. Delicious!
Click on any of these pictures to see one of the recipes on our site that would be perfect with these Homemade Tortillas!