A neighbor just dropped off a thoughtful Christmas gift to you but you hadn't planned on giving anything to them. Quick! What do you do?
This has happened to me more than I care to admit but this year, I'm prepared!
In my Christmas arsenal this year, I have some of these darling Hot Cocoa Mix Ornaments made up and ready to go for any last minute gift giving. A big thanks to Bubbly Nature Creations for this great pin! I pinned this months ago and was so excited to make them!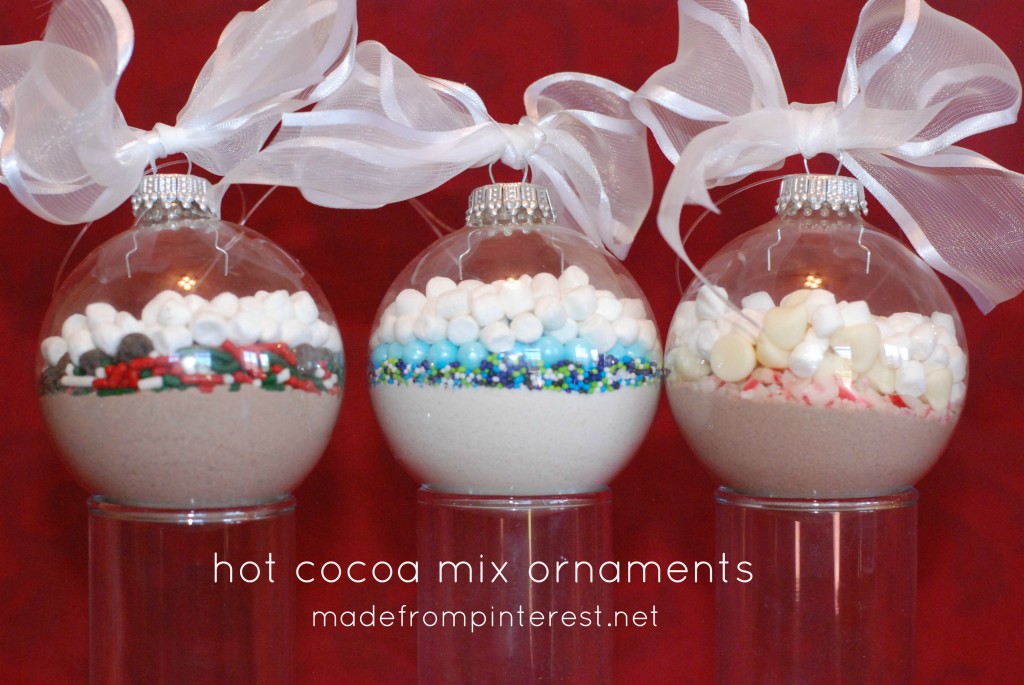 These are super easy to make but make a great presentation. I bought the clear, round glass ornaments at Wal-Mart. Make sure you thoroughly wash and dry these first. Then you will need whatever cocoa mix you desire. Just use one package for each ornament. In the middle ornament, I used a white chocolate cocoa mix. Using a funnel, pour your cocoa mix into your ornaments. I put my ornaments into a muffin tin to keep them upright while filling.
Then fill with whatever extras that you want. Some suggestions are mini chocolate chips, sprinkles, crushed candy cane, mini M&M's and the little blue balls in the middle ornament are Sixlet candies which I found at Wal-Mart near the rest of the sprinkles. Then top that off with Kraft's Mini Mallow Puffs which usually can be found near the hot cocoa mixes in your grocery store.
Put your cap on, add a bow and you have a great little gift. I especially love the white and blue one!
Now just add these to some hot water and enjoy! Neighbors coming and bearing gifts? Bring them on!
This Pin Rocks!