Awesome Sauce! All of my children will be coming home for the holidays! That means that our two adorable grandsons will also be here. My husband and I can never get too much time with those cute little guys. But that also means lots to do to get ready!
I'm sure our family is a lot like yours in the sense that there are just certain goodies that your family MUST have during the holidays. What is on your absolute must have goodie list? For my kids it is my mothers fudge, (which to this day I STILL can't make right!) English Toffee, Almond Joys and Snowball Cookies. So this week I will be making and freezing some goodies before everyone gets here.
But this year I am adding a must-have goodie of my own!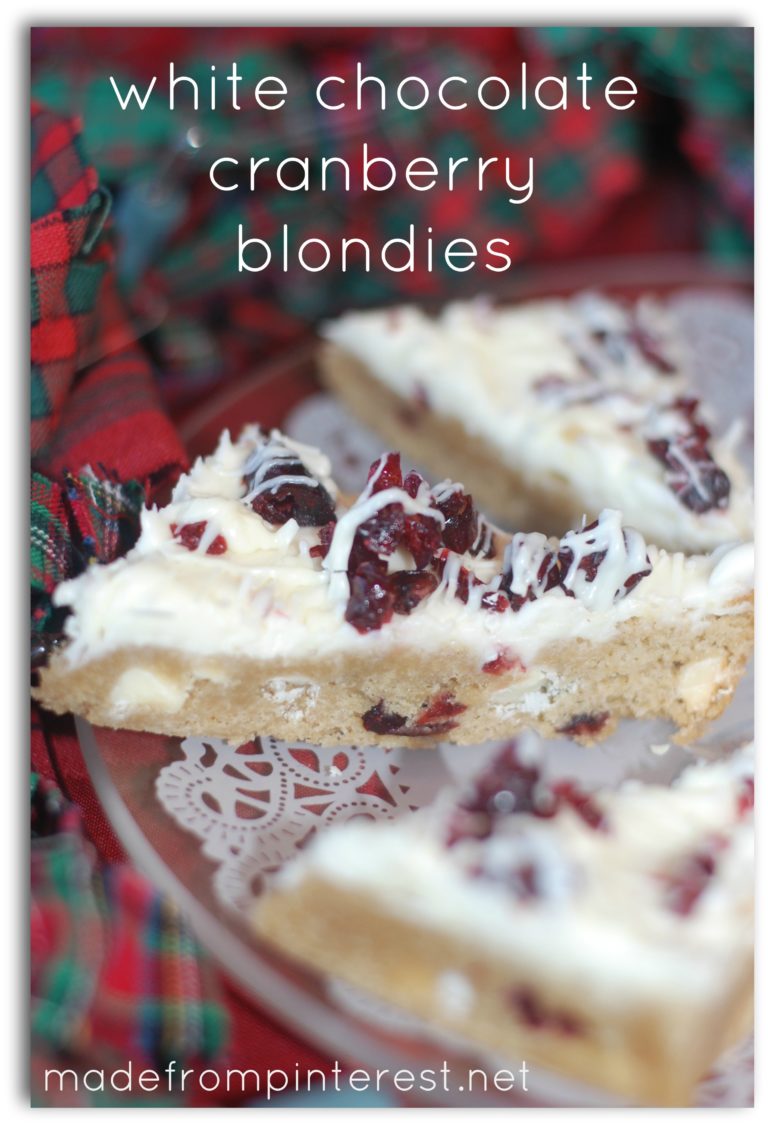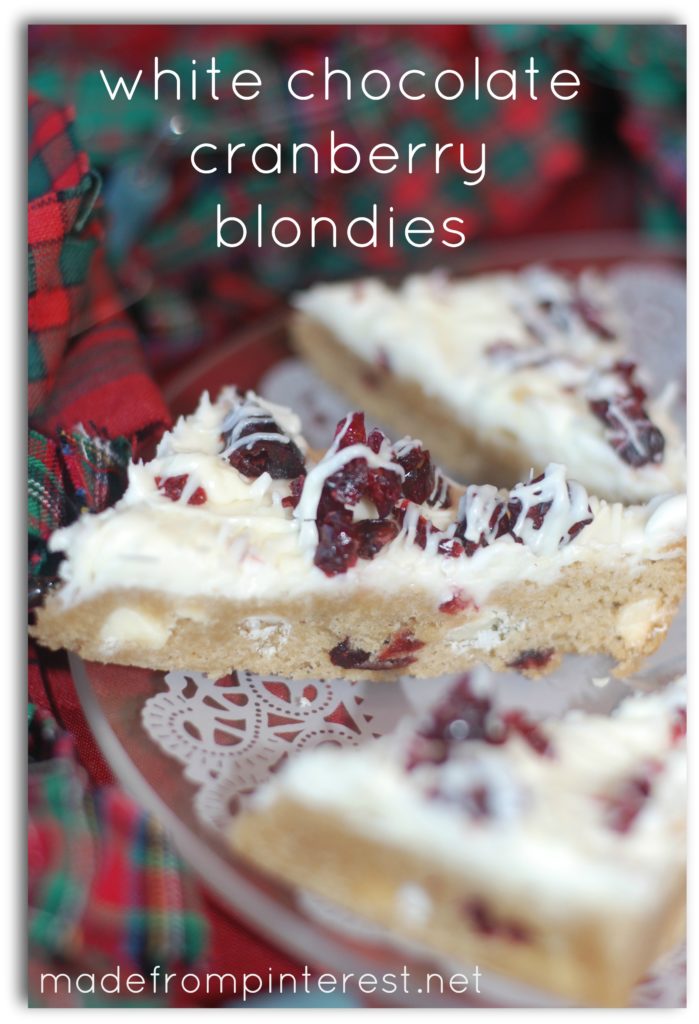 Enter these White Chocolate Cranberry Blondies that I pinned from Taste of Home. I have read that they are almost exactly like Starbuck's Cranberry Bliss Cookies and it's no surprise that Starbuck's would sell some scrumptious morsels like these! The tartness of the craisins with the white chocolate and cream cheese frosting is definitely Christmas worthy!
I love that these are a bar-type cookie and can be made in one pan and then just cut and serve. These would also make a beautiful presentation for a wedding or baby shower.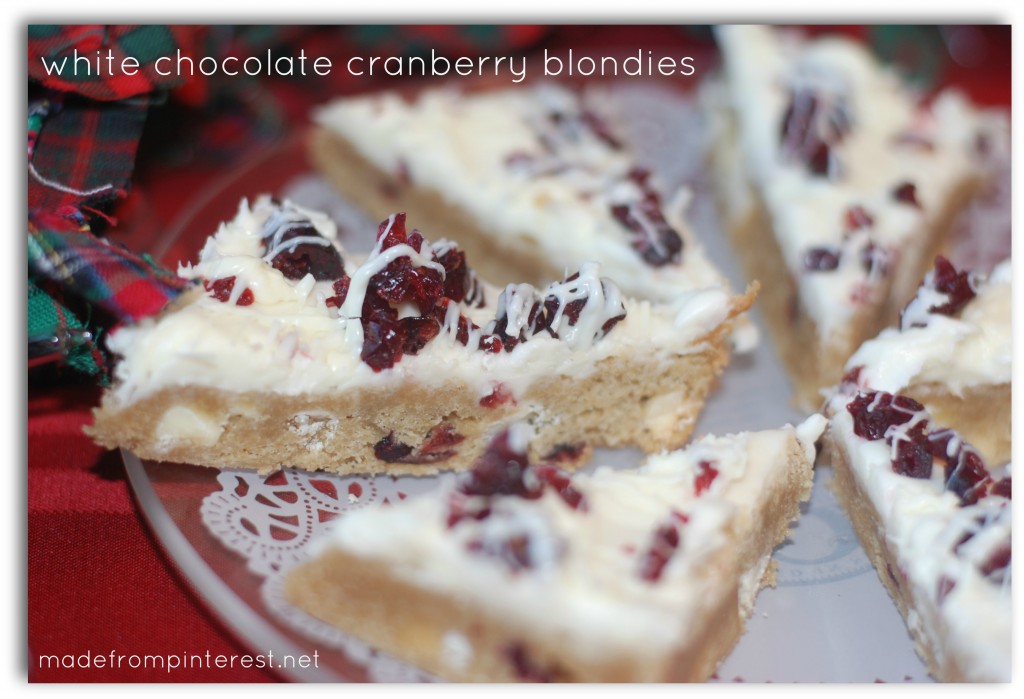 I would definitely recommend adding these White Chocolate Cranberry Blondies to YOUR must-have goodie list. Your family will love you for it!
This Pin Rocks!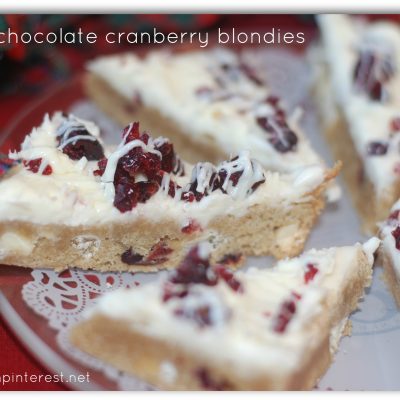 White Chocolate Cranberry Blondies
Ingredients
3/4

cup

butter

1 1/2

cups

packed light brown sugar

2

eggs

3/4

teaspoon

vanilla

2 1/4

cups

flour

1 1/2

teaspoons

baking powder

1/4

teaspoon

salt

1/8

teaspoon

ground cinnamon

1/2

cup

dried Craisins

6

ounces

white chocolate chips

FROSTING:

1

package

8 ounces cream cheese, softened

1

cup

powdered sugar

1

tablespoon

grated orange peel

optional

6

ounces

white chocolate chips

melted

1/2

cup

Craisins

chopped
Instructions
Preheat your oven to 350 degrees.

Melt your butter in the microwave and then pour into the brown sugar. Mix well. Let cool to room temperature. Next beat in eggs and vanilla.

In a separate bowl, mix together the flour, baking powder, salt and cinnamon then gradually add the dry ingredients into the butter mixture.

Stir in cranberries and white chocolate chips. (batter will be thick).

Grease a 9 x 13 dish and press mixture in. Bake for 18-21 minutes or until an inserted toothpick comes out clean (do not overbake).

Let cool.

Frosting:

Blend together the cream cheese, powdered sugar and orange peel if desired. ( I did not include the orange peel) Gradually add half of the melted white chocolate chips and beat until well blended.

Frost the cooled blondies. Sprinkle with the chopped cranberries then drizzle with remaining melted white chocolate.

Let the drizzled chocolate cool and harden then you can cut into bars. I like to cut into a rectangle shape then cut each rectangle in half into a triangle shape.

These are also beautiful for wedding and baby showers!