With Easter just past us, there is often a plethora of leftover Easter candy laying around the house. These Marshmallow Bird Nests are a great way to use up some of those leftover sweets to make something even better!
Marshmallow Bird Nests
When I was a little girl, we would go to Little Chung King every once in a while for Sunday dinner. It was the only Chinese restaurant in town and my mom's favorite place. My dad wasn't such a fan of the restaurant because they didn't have coffee. The only options for drinks were hot tea or water. (They probably sold soda too, but we NEVER got to order soda at a restaurant!) The other thing they would serve with the tea was a plate full of crunchy chow mein noodles with a tiny bowl of sweet and sour sauce and really spicy, gross mustard. I hated the mustard, but loved those noodles! We'd put away an entire plate of them before the food would come out of the kitchen. The other day I was walking down the "ethnic" aisle in the grocery store and saw a bag of those chow mein noodles sticking out on the shelf. I grabbed the bag and brought it home to introduce my boys to the tasty treat!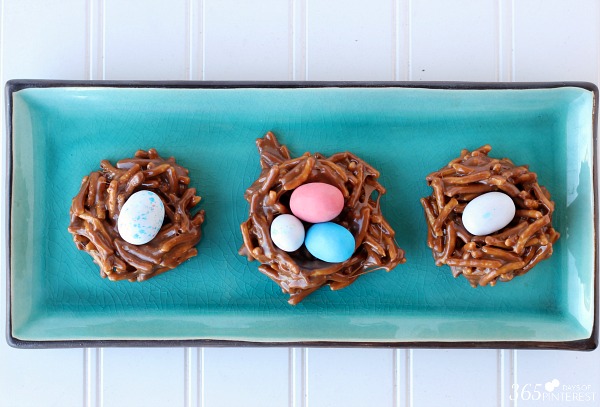 We munched on the dry noodles, but I thought they would be much more fun as bird nest treats instead of dry noodles. 🙂 We certainly have enough Easter egg candies hanging around the house right now! Sometimes they are called haystack cookies and they can be made with chocolate, butterscotch, peanut butter, honey – really anything sticky will do the trick. My personal favorite for sticky goodness is always marshmallow. I LOVE marshmallows. So marshmallows and chocolate seemed like a natural fit for our cute little bird nests.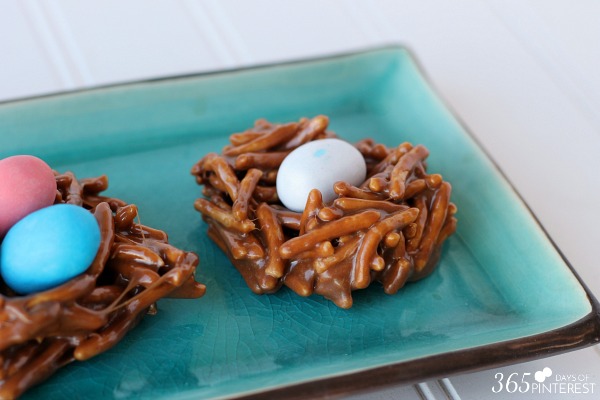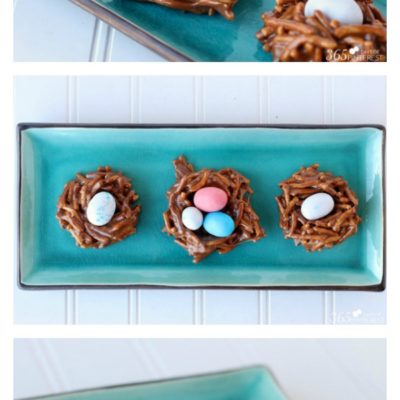 Marshmallow Bird Nests
Ingredients
1/4

cup

half stick of butter

4

cups

mini marshmallows

1

cup

semi-sweet or milk chocolate chips

5

cups

crunchy chow mein noodles

Optional: candy eggs
Instructions
In a saucepan over low heat, melt butter and marshmallows, stirring constantly until smooth.

Add chocolate chips to the marshmallow mixture and stir until melted and mixed well.

Remove from heat and add the chow mein noodles, stirring to coat.

Plop down spoonfuls of the sticky mixture onto wax paper and shape into round nests. Every nest is unique, so don't worry about getting them perfectly round! Press down the center just a bit to make room for eggs if you want to stuff the nests.

If using candy eggs, press them into the center of the nests and then allow the nests to cool before eating.
Honestly, the mixture is really flexible for these Marshmallow Bird Nests. I just eyeball it and if it seems too sticky and wet, I'll add more noodles. This recipe makes 12 larger nests (like 3 inches across) so you could easily get 24 small nests with one egg in each of them. We also added some shredded coconut to a few of them to "feather" the nests just for fun. Feel free to play around with the flavors to suit your family's tastes while you use up this year's Easter candy!
Hidden Surprise Basketball Treats