Hi to all of the Made From Pinterest Fans. This is Melanie from Artzy Creations. Today I'm sharing another cute and simple craft. I'm a teacher and I'm still in full on Back to School mode. So, in honor of going back to school, I came up with a really cute organizational craft. This Mason Jar Supply Caddy could also be a perfect for a Back to School Teacher Gift.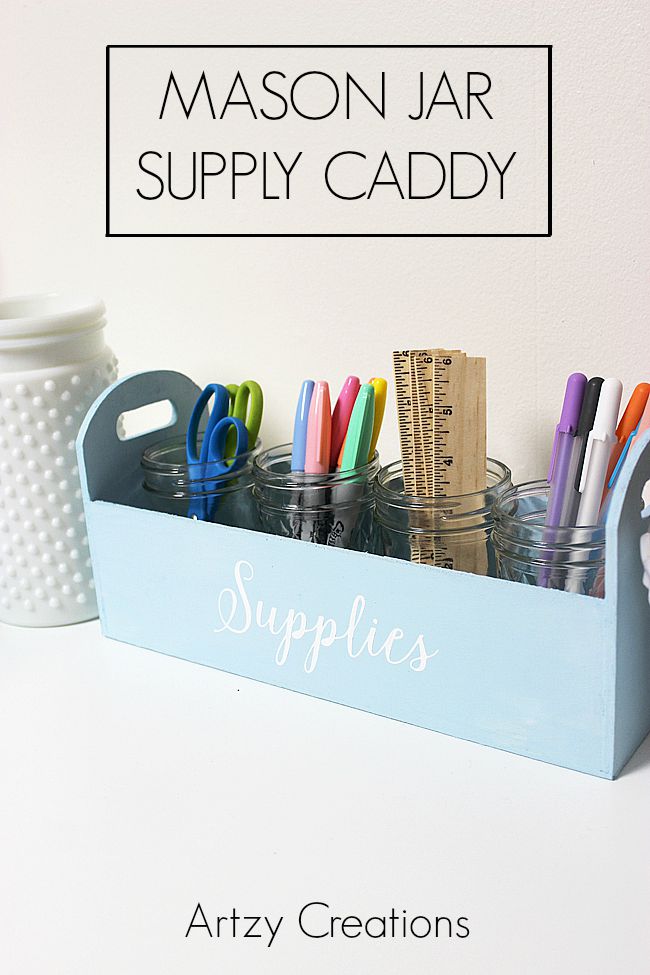 I don't know about you… but, I never have enough cute organizers for my school office or my craft supplies. This little handy Mason Jar Caddy is really easy to make and is super handy, so let's get started!
Supplies Needed:
Chalk Paint in Two Contrasting Colors (only one needed if using Vinyl)
Paint Brush
(4) small Mason Jars
Cricut or Silhouette Machine, vinyl and transfer tape
"Supplies" .png for cutpath or printing for hand transfer can be found HERE
Step 1: Paint the caddy using chalk paint and let it dry.
Step 2: Cut out the lettering using one of the cut machines and a piece of vinyl. Remove the letters and transfer to the caddy.
Step 3: If you don't have a cutting machine, you can still print out the lettering and using the old pencil and tracing method, put the lettering onto the caddy and then paint it in by hand.
Step 4: Put the Mason Jars in the supply caddy and fill with all of your office or craft supplies.
This is just a fun project that really doesn't take a lot of time or supplies. I can't wait to put this in my office at school. It's just a nice simple solution to help organize an office or craft room that doesn't require a lot of time or money and the best part is, you can customize it in any way to show off a little bit of your personality.
Enjoy!
You can follow Artzy Creations on Facebook, Instagram, Pinterest, Twitter, and Google +.