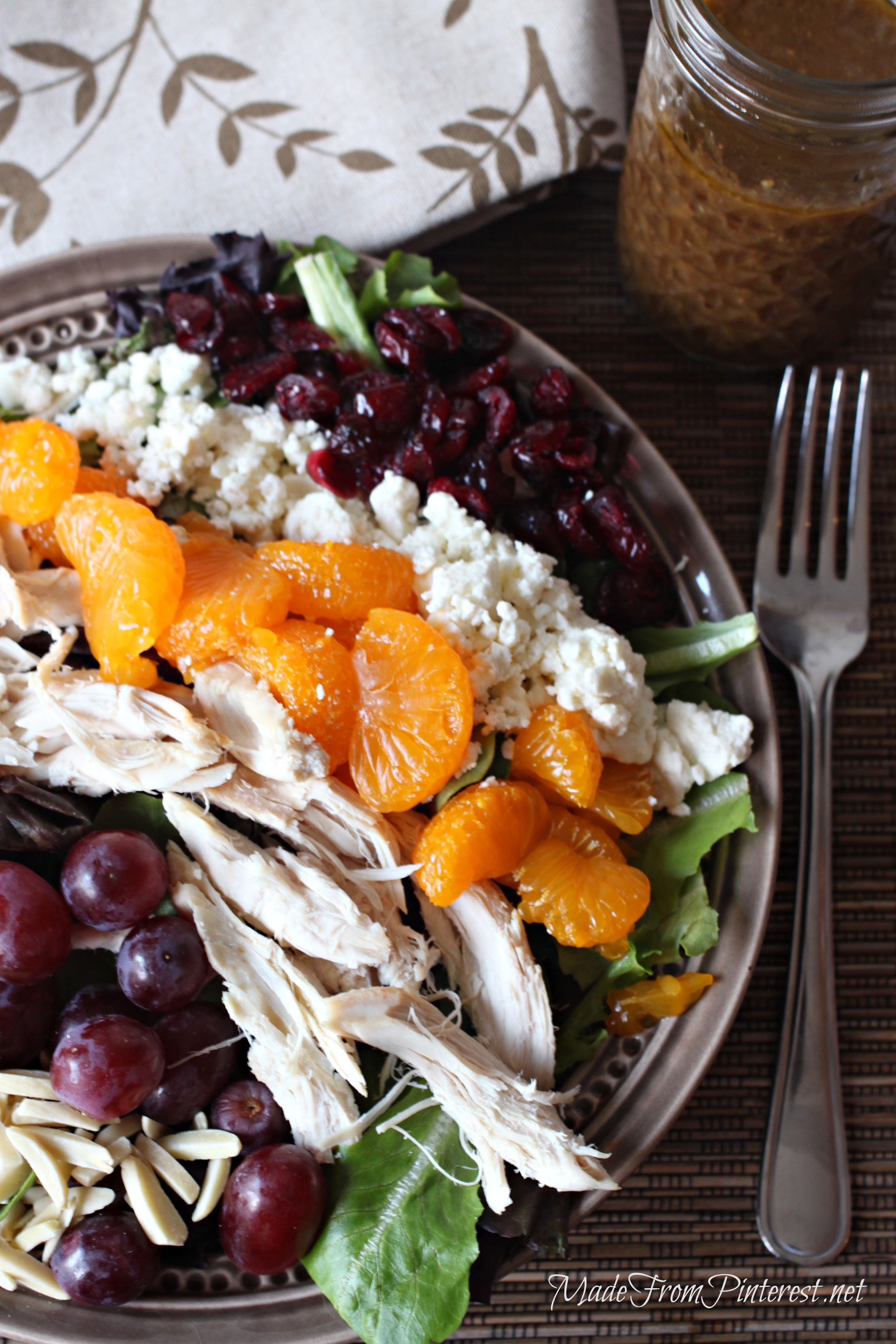 This salad was worth the wait. First, I waited in a long line. It had been a day of lines at the amusement park, so that was not unusual. While in line, I noticed there was a new girl who was being trained. She and her coworkers were having fun. But, then the line got longer. And things got more hectic. And when I ordered my Mediterranean Salad (Which did not have creamy balsamic dressing, that was my great idea!), the new girl was assigned to make it.
Her coworker hastily gave her instructions. The new girl had clearly never seen this salad before, or it wouldn't have been so hard. Just pile the ingredients in rows over a bed of lettuce. Done! Not so hard, right? Instead, she carefully and artfully was arranging my grapes, unsure what else was supposed to go on the salad. She asked for instruction as a stressed, hurried coworker passed by. They told her to add the oranges and the cranberries. They were out of oranges and cranberries. She looks at me sheepishly. Next time a coworker comes by, she informs them of the shortage.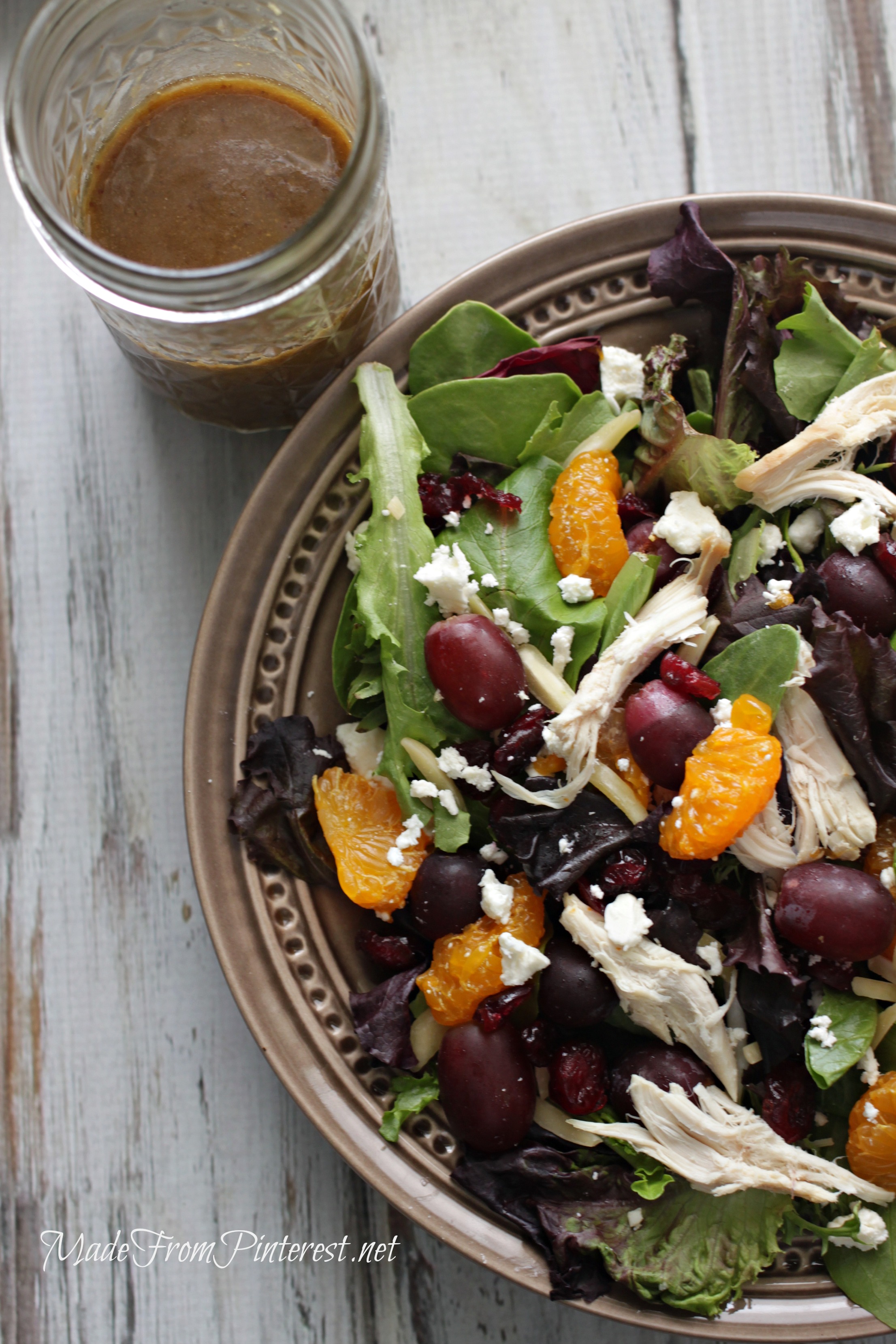 By now, the line behind me is really long. It is stressing my salad making friend out. I smile encouragingly. She doesn't see it. Her panic stricken face is riveted to my salad plate. I let people pass me in line while I wait for my salad. They say things like, "Bet you didn't think they were going to have to grow your salad?". I laugh. 'Cause it is kind of true. I don't laugh hard. 'Cause I don't want to make it worse for her. But I am hungry. And the lady behind me is trying to get past me in line with a huge stroller and two kids who have clearly shared a blue cotton candy and are a sticky, hot mess. I lean way forward to let she and the kids pass, and I think about changing my order. But this salad looks really good, doesn't it?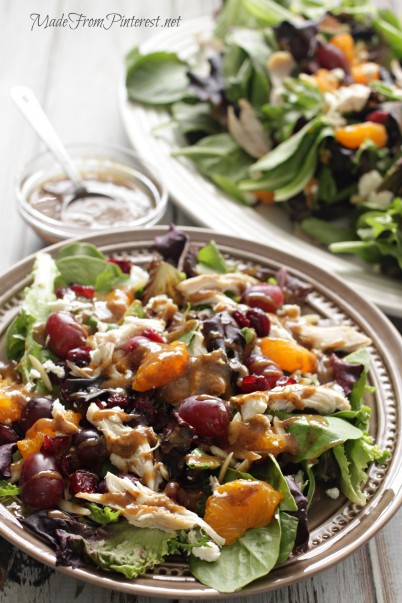 So I wait a little longer. And someone finally brings out fresh ingredients. And then, without a word, they take the plate away from my salad making friend and dump it out. Next they pile on the gourmet greens, grab handfuls of almonds, grapes, mandarin oranges, feta cheese, and dried cranberries and plop them unceremoniously on the plate in rows. I turn to say something encouraging to salad girl, but she is gone. I suspect she is hiding in the bathroom crying.
Which is sad.
But I finally have my salad. My beautiful rainbow of colors and flavors salad. Hubby pays for our food and we find a place to sit. And I fall in love. I know I will be making this salad at home. I know I will add rotisserie chicken to make it more of meal. And I know it must be topped with a creamy, garlicky, balsamic dressing (Thank you to The Nourishing Gourmet for inspiring this dressing recipe.).
Now having recreated this salad at home, without the lines, strollers, sticky kids and nervous, new employee, I can tell you that I was most definitely right on the money about this one. This salad is a perfect blend of colors, flavors, and textures. The balsamic dressing pairs well with the fruit, nuts and cheese. And the best part? It takes about 20 minutes to throw it all together. Just make sure you have all your ingredients on hand!
This Pin Rocks!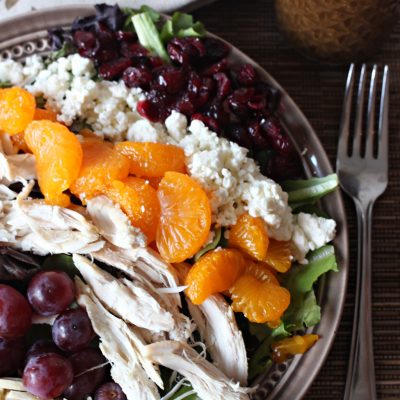 Mediterranean Chicken Salad and Creamy Balsamic
Ingredients
Salad
1

head lettuce of your choice

washed and chopped -- I used a box of gourmet baby greens

1

rotisserie chicken

2

cans

12 ounce mandarin oranges drained

2

cups

red seedless grapes

1

container crumbled Feta Cheese

1 1/2

cups

dried cranberries

1

cup

slivered almonds
Dressing
⅓

cup

balsamic vinegar

1/4

cup

honey

⅔

cup

extra virgin olive oil

2

teaspoons

dijon style mustard

¾

teaspoon

koshered salt

1-3

garlic cloves

peeled, and finely minced or put through a garlic press

2

tablespoons

cream
Instructions
Salad
Lay a bed of greens on the plate. Layer remaining ingredients in rows across the bed of greens, alternating colors.
Dressing
Whisk or blend in blender all ingredients. Refrigerate. Will keep for two weeks.

Here are a few other healthy summer meal ideas!
Corn and Black Bean Salsa with Lime Cilantro Vinaigrette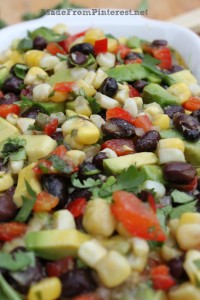 Grilled Hawaiian Chicken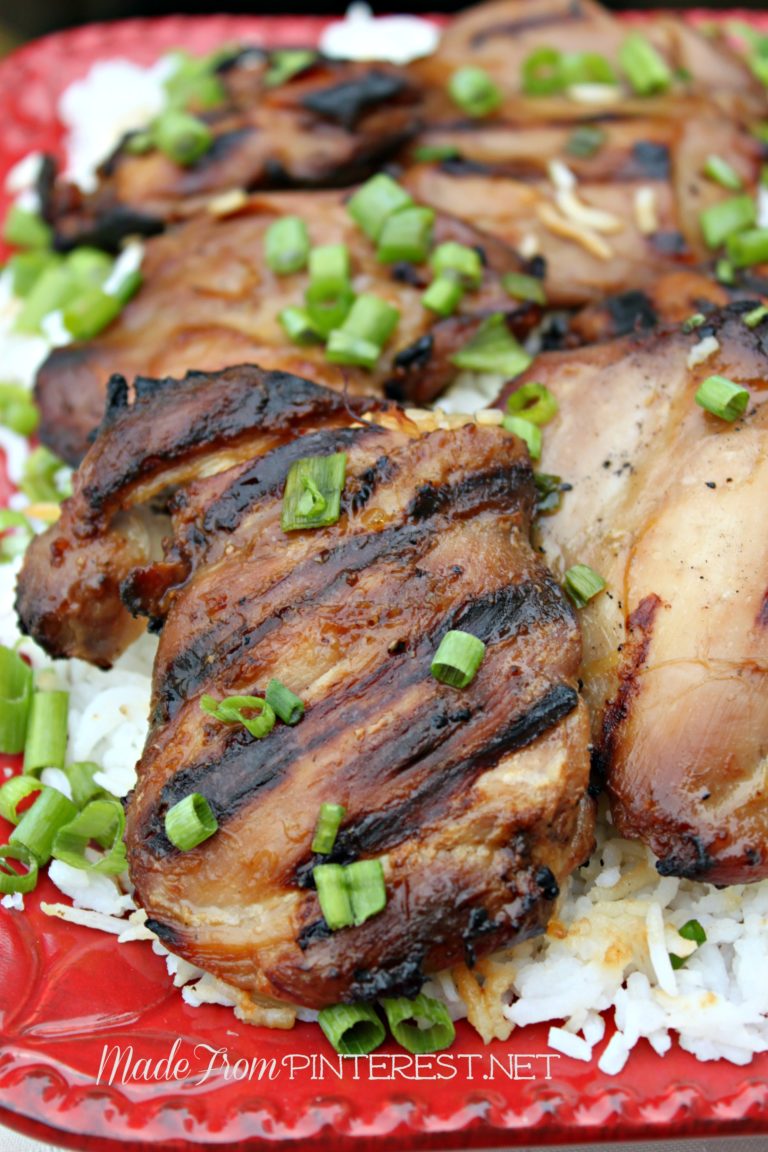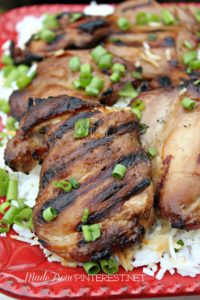 Piña Colada Smoothie
We're sharing this post with:
Home Stories A to Z, Inside BruCrew Life, The NY Melrose Family,
Living Well Spending Less